What can we help you with?
10+ Fully Compatible themes with Dynamic Pricing and Discounts plugin for WooCommerce
WooCommerce currently powers up 30% of all the e-commerce sites in the world and that number is growing day by day. As more and more store owners are preferring WooCommerce over the existing options, the demand for the right WooCommerce themes are increasing like never before.
While choosing the right WooCommerce extensions is challenging, choosing the right theme can get three-fold more hectic, as there are too many options out there. Moreover, there's no guarantee to the fact that the theme you are choosing would be compatible with plugins you are going to need.
Thus, in order to be remain in the safer side, it's advised to use the WooCommerce or WordPress recommended themes like
1. Storefront
2. Canvas
3. Twenty Series
But, with the wide variety of themes available, why would you restrict yourself to using only the above themes.
Themes are the most important factor in determining the look and feel of your website. So, it's important to choose it wisely. If you are using a multi-vendor site, make sure that you choose the theme which can easily make your store look like a multi-vendor marketplace. The following themes would help you setup a envato like marketplace –
1. Marketica
2. Electro Electronics Store
3. ShopMe
Then, depending on the products you would be selling, the choice of your theme would differ. Suppose you are selling Wedding/Festival related items. In that case you should go for the themes having flashy designs. If you are selling office/school or college related stuffs, you would better go for the minimalist designs like Azera Shop
Now, let me introduce you to the themes with which our ELEX Dynamic Pricing and Discounts plugin has been tested with. Please note that, this article certainly doesn't accommodate all the themes that can be used alongside the Dynamic Pricing and Discounts plugin. You can use any other theme which are not mentioned in this article.

Claue is clean, minimal WooCommerce theme which is mostly used for Fashion, Portfolio and Blog. Along with its responsive design and development, it comes with some amazing addon to professionalize your store. The additional benefit that you can expect from this theme –
Visual Composer
Product Bundle
WooCommerce Variation Swatches
LookBook which is an effective way to showcase fashion. A perfect way to introduce or advertise a collection.

Kallyas is a multi-purpose theme which would play well with any kind of product you are selling.
Responsive, light weight, drag & drop page builders.
With its visual page builders, Kallyas is helping you make your site load faster by loading only the necessary elements which your page would require.
It has several out of the box features like an excellent SEO infrastructure, Pricing tables, demo content install.
It also has integration with several popular and useful plugins.
The front-end page builder would help you present your featured offers the way you wish. The lucid design is capable of managing the display content and products of higher volume. The templates of the shop page give higher focus at the center of the layout. The presentation is such that each product gets equal and significant visibility.

Ronneby is an elegant looking theme on which both corporate and creative sites can be built. This theme is most suitable for blogging, portfolio and agencies. This stylish theme also can be used for an ecommerce store.
Its ultra-responsiveness adds to its great user experience.
As per the customer reviews, the best things about Ronneby theme is that it saves time. It makes creating websites pretty simple.

Porto is specifically created to suit the need of an ecommerce store. Its prominent features include – Visual Composer, Revolution Slider, Retina Ready, Responsive design, demo content importer, seo friendly.
The theme has 30 attractive homepage layouts and skins and the variation among them makes the theme suitable for any purpose.
Porto includes 30 homepage layouts and skins and it has huge variation to be suitable for any purpose.
Moreover, the theme is known to be compatible with a number of popular plugins.

XStore, as the name suggests is mostly an ecommerce store theme, yet due to its flexibility can also be used for blogging and portfolio. As per the customer reviews, XStore makes their job lot easier with their easy to use interface and regular updates.
Your products are the focal point when you are building an online shop, so XStore brings numerous options for their display and highlight.
Furthermore, you can enable or disable the 'Wishlist' which comes with the YITH WooCommerce Wishlist plugin. The header can be given a vertical position and can also be made transparent.
The premium version of the drag and drop page Visual Composer plugin is bundled up with the theme and provides both frontend and backend functionality. Further, '8Theme Layout' options anf custom shortcode system helps in creating posts.

This theme from Kriesi is one of the most elegant looking theme currently available. With a single click, any of its demo file can be imported. You can even choose to combine the features from different demos and install the required features from each demo at one go.
What's more, they frequently add demos to their site. Thus, reducing half of your task. It's Avia page builder is highly hailed.

This SEO Optimised plugin has a 90+ rating in both Page Speed and YSlow. It features the incredible Swift Page Builder, which offers endless possibilities of content creation and organisation. Limitless Blog & Portfolio configurations. It comes bundled with the incredible Swift Page Builder and thus, there's a number of possibilities of generating and displaying content. It has a wide range of supported plugins.
With features like custom shop icons, cart styles, notification animations, and a view shop switcher that lets you manage how your products are being seen, the Atelier theme will adapt to every eCommerce website. You can style the cart and choose how to display your products.
Atelier is a social, friendly theme with ten custom-made widgets. You can add Swift Framework Flickr, Instagram, Video or the Advert Grid Widget on your sidebar areas.

This is a great plugin for blogs, creative agencies, studios and lot more.
As per the reviews, the customers have hailed the plugin for its Flexibility, Customizability, Code Quality, Design Quality and Customer support.

Kalium is known as the professional creative theme that is responsible for showcasing your site the best possible way. It comes with the following addons – Visual Composer, Revolution Slider, Layer Slider and Product Size Guide. Kalium is greatly hailed for its design and quality.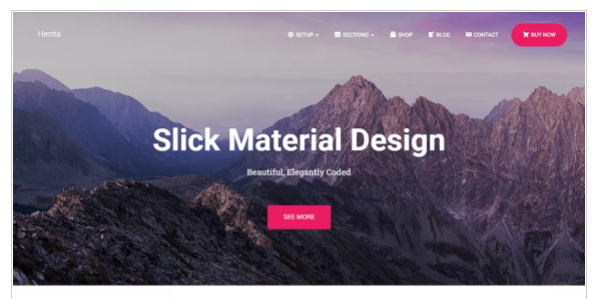 Hestia is one of the most widely downloaded free theme.
Hestia is fully compatible with most of the popular Page Builders. Thus, you need not worry about displaying your content beautifully on your online store.
It can come as a good fit for a wide range of websites like creative businesses, wedding planners, restaurants, corporate businessws, agencies, portfolios, freelancers, ecommerce stores etc.

This flagship theme from Elegant Themes has been receiving a lot of attention since its release. This huge popularity right from the beginning is attributed to its attractive design and features. The Divi page builder tool has much to do with its huge acceptance.
Since its inception, Divi has been updated regularly and now it has become the flagship theme of the Elegant Themes. Divi is known for being extremely feature rich and can possibly handle any design you wish for your website. Its navigation structure is highly hailed because it enables the visitors to get a look at every corner of your store. With Divi Builder, you can easily showcase your offers.
Looking for a DIY alternative to themes?
Have you ever thought that how much time you are investing to check each of the available themes? How will it be if you can avoid it when you can create your own WooCommerce theme? …Don't know how? The answer is really simple- A WooCommerce Theme Builder !! But, where to find a suitable Woocommerce Theme Builder to cater all your needs?
Then, your search ends here. One such reliable Woocommerce Theme Builder software is TemplateToaster. It is a great alternative to design a WooCommerce theme from scratch.
You can create robust themes with easy layout and styling options in a fully drag & drop environment. You can add responsive tables, hundreds of preset header options, multi-product grid styling, and much more.
All the themes you design, will be compatible with latest version of WooCommerce. You can design WooCommerce themes like a Pro without any coding skills.
Moreover, there is an added advantage of using TemplateToaster that it provides support for other CMSs as well. You can switch to any other CMS anytime as per your needs. So, create your SEO optimized professional WooCommerce themes in no time with minimum efforts !! We have also tested the Dynamic Pricing and Discounts plugin with it. Let's see how it works:
Once you installed and activated it, you can see find it under WooCommerce option in the left pane of the Dashboard.
Navigate to its main page and click Product Rules as shown above. When you want to specify any discount offer on a single particular product, you will use it. It takes different particulars like Offer name, Rule applicable on, Products, Minimum quantity etc. You will specify the Discount Type as Percent Discount, Flat Discount or Fixed Price. Here, fixed Price is selected that will set the Price of the product to some Fixed Price. For Example, here it is 15. So, it will show the new discounted price as 15 pounds as shown below.
Similarly, you can also specify a discount offer on all the products related to a particular category. For that, you will select Category Rules and fill the required particulars as shown below. For example- here the Offer name is "Special offer" and Product category on which discount threw is: "T-shirts". You can also put a Check for price, Number of items, Weight, or total units. Here, the check is set for price.
So, it will make the price of all the available products under the specified category -14 pounds. The resultant page will look somewhat like this:
That's it! Hope this article helps you in getting the right theme or building the right theme for your store!