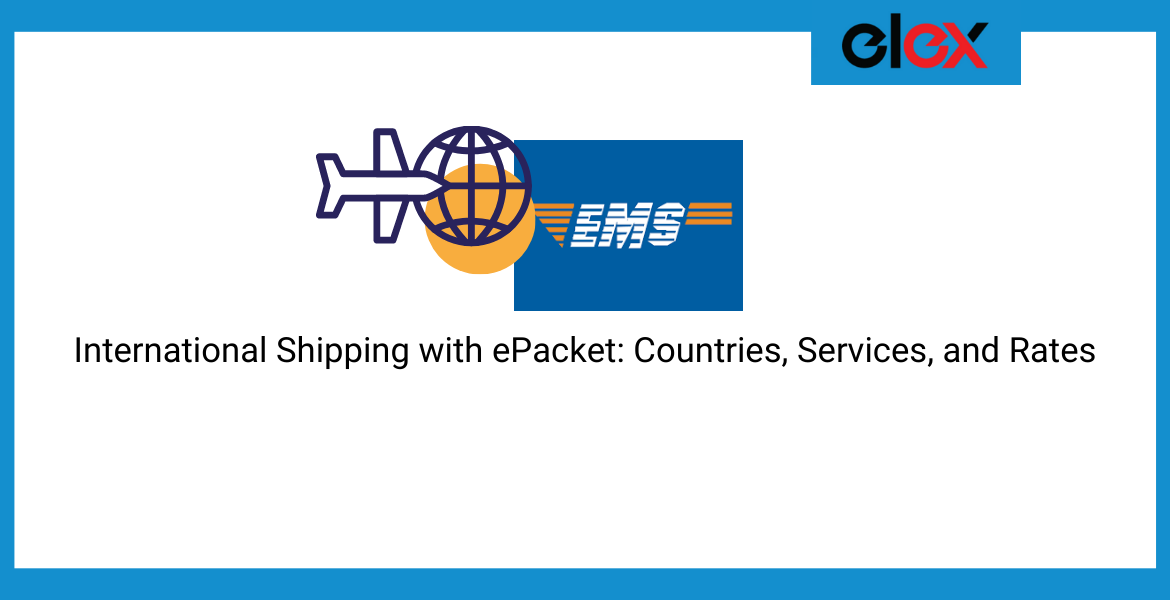 International Shipping with ePacket: Countries, Services, and Rates
Finding the right courier services is important for an eCommerce service, especially when there are a lot of options available. Since most of the shopping is done online, customers even purchase from outside of their countries. Hence more and more courier companies are coming and offering better international services to stay in the competition. As an eCommerce store owner, it is important to know and understand how the shipping industry is working. Moreover, you need to stay up-to-date about the constantly changing landscape of the shipping industry. China is one of the largest manufacturers of goods, a lot of customers prefer to buy items from China and Hongkong, which are shipped via ePacket shipping. Hence vendors need to know what is international shipping with ePacket and their services, rates and much more [ Compare the Shipping Cost & Estimated Delivery Date from Leading Shipping Carriers ].
What is ePacket?
ePacket is a shipping option that is offered by 3PL (third-party logistics provider) for shipping in China and Hong Kong. These services are the most affordable shipping option and the fastest for sending light packages. During earlier times, the China EMS was the only option for sending packages in China and Hong Kong, but then it took so much time almost a month to deliver at their respective locations. And since other options were comparatively at a higher cost, China EMS was the only possible option to opt for shipping.
In 2011, USPS (United States Postal Service) initiated ePacket services along with the Hong Kong Post
With this service, now most of the vendors can send their shipments from Hong Kong and China to the US locations easily. Before ePacket came into existence, the shipments were sent via sea, which took a long time.
Is ePacket similar to EMS?
No, they both are different from each other, even though they are offered by China Post, China's National postal service. EMS handles most of the international and domestic shipping for all sizes whereas EMS ePacket is specially designed for cross-border shipping and lightweight shipments. Moreover, they both differ in terms of packaging, pricing, tracking, and delivery timelines, etc.
What is ePacket shipping?
As the name suggests, the ePacket shipping service is meant to help eCommerce store owners to ship their merchandise to the US and other locations from Hong Kong and China in the most affordable and the fastest way. Moreover, shipping is comparatively faster, which also makes the customers happy. Again, it is important to ensure that the items to be shipped meets the ePacket shipping criteria.
USPS has its criteria when it comes to shipments sent via ePacket. They are:
Maximum length:

60 cm (24 inches)

Maximum girth (length, width and height combined):

Not more than 90 cm (36 inches).

Weight of the package: Not more than 2 kg (4.4 pounds).

Merchandise price must not exceed $400 each.

The package must be shipped from Hong or China to one of the eligible 44 ePacket countries.
What is ePacket Tracking?
ePacket tracking offers services to find where exactly the parcel is during transit at no additional cost. Customers can easily locate where the parcel is at an exact time without much difficulty. It provides end-to-end tracking. You can monitor the same on the websites of EMS, USPS or China Post. Any kind of undelivered items are returned to the shipper without any extra cost, hence the vendor has no issues when it comes to refunding for packages that are not received by the customers.
With the tracking facility, it becomes easy for the customers to keep track of their packages sent via ePacket. Moreover, they get to know the estimated delivery time of the package, which curbs the curiosity of the customers. With its self-help option, the burden for support is also reduced to an extent. You can make use of third-party shipment tracking services like :
What Is ePacket Delivery?
ePacket delivery option is a great help for merchants who are selling from China and Hong Kong to the US and other locations at an affordable price. It is a quick and affordable solution when it comes to shipping to US locations from China. Over the years the services have expanded to over 40 ePacket countries, including Canada and Australia.
Most of the delivery that is done in the final destination is executed by the local carrier, which is prominent in their respective areas like the USPS, Royal Mail, Canada Post, Japan Post etc. For each carrier, they have their respective price, packaging process and fees.
If you are looking for integrating USPS, DHL, FedEx, Canada Post, UPS, Australia Post etc., on your WooCommerce store then you can seamlessly do it using these plugins. They will help you to fetch the tracking information and even generate labels for your packages right from the store.
Know more about these shipping plugins from their product pages.
Who delivers the ePacket?
These packages are brought to the border by couriers from China and HongKong. From there, the packages are sent to their respective destinations using international couriers. Once the package arrives at the destination country, the local couriers collect the package and deliver it to the destination address. These couriers are responsible for delivering shipments to customers. ePacket covers only the package transit till it reaches customs. Once it exits the customs in the destination country, it does not guarantee delivery at the doorstep.
Which countries have ePacket shipping available?
Currently, lightweight only 44 countries have ePacket shipping options available. They are:
| Australia | Austria | Belgium | Brazil |
| --- | --- | --- | --- |
| Canada | Croatia | Denmark | Estonia |
| Finland | France | Germany | Gibraltar |
| Great Britain | Greece | Hong Kong | Hungary |
| Ireland | Israel | Italy | Japan |
| Latvia | Lithuania | Luxembourg | Malaysia |
| Malta | Mexico | New Zealand | Netherlands |
| Norway | Poland | Portugal | Russia |
| Saudi Arabia | Singapore | Spain | South Korea |
| Sweden | Switzerland | Thailand | Turkey |
| Ukraine | United Kingdom | United States | Vietnam |
What is the estimated time to deliver via ePacket to the US?
ePacket is the cheapest option to ship lightweight packages from China to the US. It takes approximately 10-20 days to deliver. Half of it is mostly taken for shipping to the destination country from China or HongKong and the other half is spent on finding out the best possible way to help packages reach the customer. Again, the delivery time does depend on public holidays, and other delays, which might cause unexpected delays. Even when the longer shipping time is considered, ePacket is one of the most feasible and cost-effective solutions.
Does the customer need to pay the customs/taxes/duties for package arrival using ePacket?
ePacket does clear through the traditional customs, but the customer might have to pay some additional duties and taxes that are applicable upon the package arrival. It is always ideal to keep a check on the local legal laws and regulations when it comes to shipping items, especially which are imported from other countries. Also, it is better to check with the vendor on any additional charges that will be levied in terms of duties and taxes for customs clearance. If the vendor has not taken any extra charges, then the customer or the vendor needs to be prepared to pay for the same when the item is reaching the border customs in the destination country. It is always ideal to have a clear understanding of the customs and other legal requirements when it comes to shipping to international destinations.
To Conclude
Customers are always keen on purchasing online and with excellent shipping solutions available, any eCommerce vendor can ship the items to any location without any hassle. ePacket shipping helped many of the customers who were keen on purchasing from China or HongKong when the rest of the services were on the expensive side. More and more eCommerce store owners are opting for ePacket services due to their affordability, tracking services, and speed.
Further Reading: