Australia Post is a Melbourne-based company that provides shipping services under government ownership with a number of domestic and international shipping services available. MyPost Business is one of the services offered by Australia Post that offers volume-based discounts to new businesses that do not have a regular minimum order quantity. eCommerce businesses can save up to 40 percent on domestic and 35 percent on international shipments. Small businesses can generate shipping labels online and in-store through Australia Post's MyPost Business service. It's a great way for small businesses to buy and print shipping labels; the more parcels they ship, the greater the discounts. In this article, we will demonstrate how to integrate WooCommerce with Australia Post MyPost Business so as to streamline your entire shipping process. But first, let's understand the features and various benefits of using Australia Post MyPost Business.
How Does MyPost Business Operate?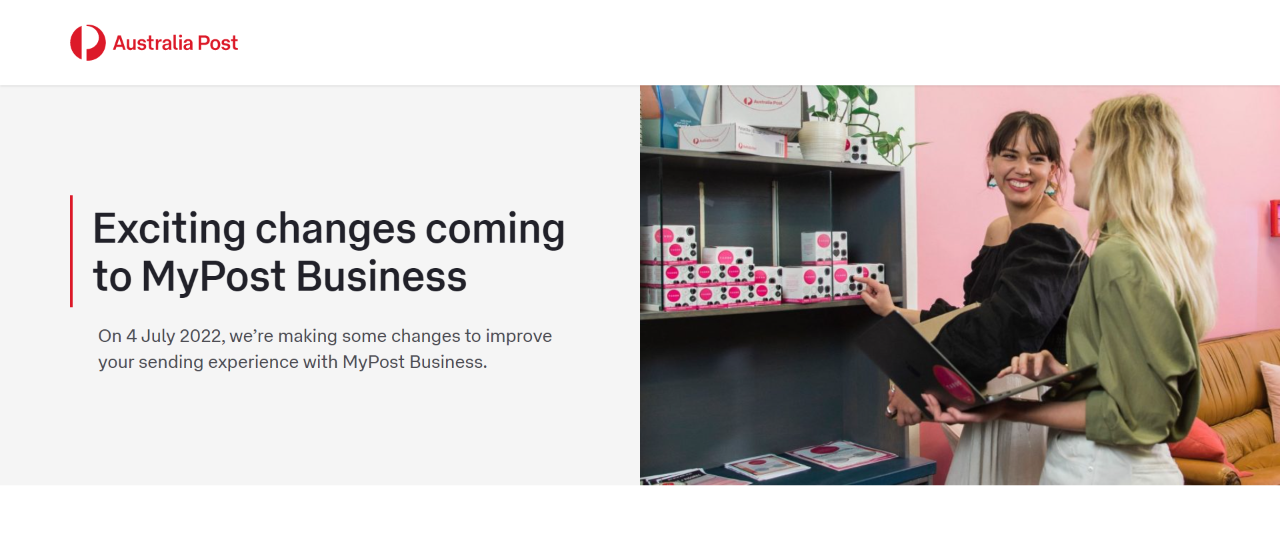 MyPost Business is a simple and affordable option for companies that send fewer than 2,000 parcels annually. You'll receive shipping volume-based discounts with a MyPost Business account, which means that as your delivery volume rises, your savings will grow. Numerous Australian businesses have benefited from setting up a MyPost Business account because there are no credit checks required, and no minimum package volume requirements, and you can set it up for free. This service has made it easier to ship products domestically and internationally.
Key Features of the Australia Post MyPost Business Service:
Discounted shipping rates based on volume

Purchase postage, print labels, pack, ship, and track shipments.

Schedule parcel pickups

24-hour support 

Process orders in bulk 

Tracking notifications

No fixed or minimum parcel volume.

There are options for both standard and express delivery.

Shipping prices can be compared.

Services are offered both domestically and globally.

Optional insurance and signature.
The discount is based on your shipping bands. Your savings band is determined by the amount you spent on shipping packages during the past four weeks, or the preceding year, whichever results in higher savings. To start saving, you must spend at least $50 over a period of four weeks. The MyPost Business team will review your eligible spending every day, and the day after you qualify, you will advance to the next band.
For a detailed guide on MyPost Business bands and discounts, go through this guide.
How to Integrate WooCommerce with Australia Post with MyPost Business?
By default, Australia Post enables you to access MyPost Business services via their website and also in-store. But suppose you want to integrate the MyPost Business services right into your WooCommerce store. In that case, you can do so using the ELEX WooCommerce Australia Post Shipping Plugin with Print Label & Tracking.
It's the quickest and simplest method for integrating Australia Post MyPost Business, eParcel, and StarTrack Courier with your WooCommerce store and automating Australia Post shipping by displaying shipping charges on the cart and checkout pages, tracking shipments, and more. By eliminating the need to visit the Australia Post MyPost website or the post office and streamlining all of your shipping processes from the admin area of your website, this plugin significantly reduces the amount of time it takes to ship packages.
Key Features of the ELEX WooCommerce Australia Post Shipping Plugin
Live shipping rates for Australia Post services

Display estimated delivery dates

Discounted volume-based rates

Shipping label generation and printing

Box packing options

Shipment tracking and notifications

Location-based service restriction

Signature and insurance options
Before continuing, the plugin must be downloaded, installed, and activated. After that, you'll need to go into the settings. You may find the settings by navigating to:
Dashboard > WooCommerce > Shipping > Australia Post (MyPost Business) (or)
Dashboard > Plugins > Installed Plugins > ELEX WooCommerce Settings > Australia Post Shipping With Tracking > MyPost Business
General settings
Go to WooCommerce > Shipping > MyPost Business > General to get started.
You may find your ReachShip Client ID and Client Secret on the My Account page of your ReachShip account; enter them in this section.
You can create a ReachShip account by clicking here by following the steps mentioned in this documentation. Visit Settings > Shipping after creating your ReachShip account.
Select Australia Post from the 'Filter by Carrier Name' drop-down menu under shipment settings (My Post)
In the resulting pop-up window, enter your MyPost Account Name and MyPost Merchant Token. Upon clicking 'validate and save settings' your ReachShip and MyPost Business account will be linked.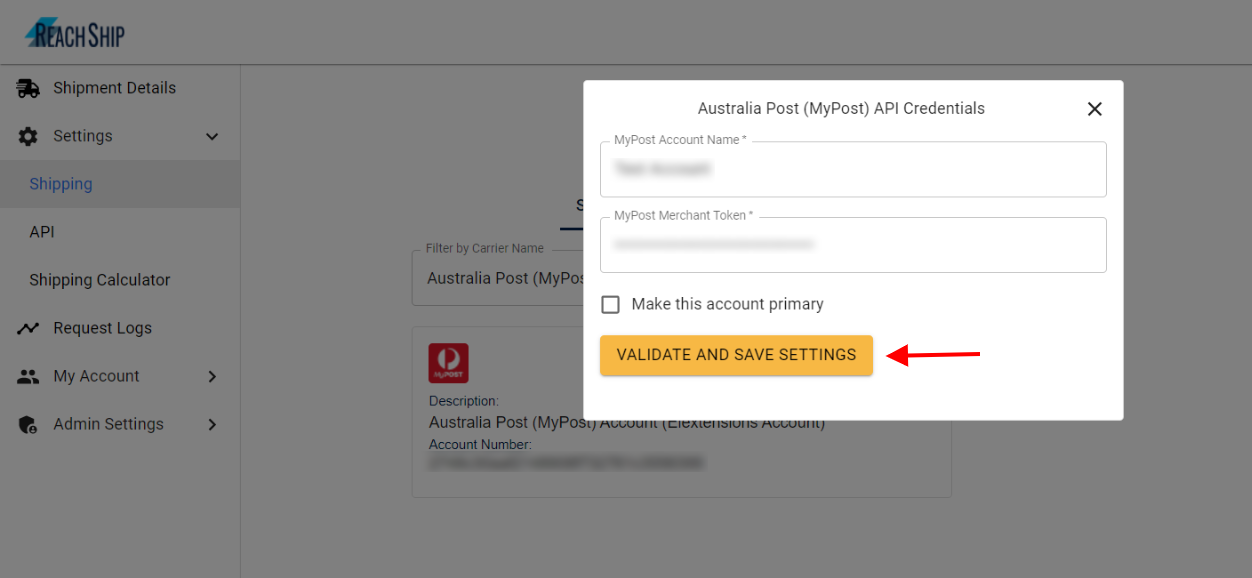 Next, go to ReachShip > Settings > API to get your ReachShip Client ID and Client Secret. To link MyPost Business via ReachShip, enter the Client ID and Secret that you acquired and click Connect in the plugin's general settings.
Next, turn on Real-time Rates under MyPost Business settings to show your buyers real-time shipping costs when they are on the checkout and cart pages. This is done by using the Australia Post API. You can choose to show shipping costs that do or do not account for GST.
Activate Shipping Label to enable the possibility to create shipping labels with MyPost business from the order admin page. Leave it unchecked if you want to hide the label creation button. 
By turning on Developer Mode, you can debug the plugin.
WooCommerce's currency options are used to determine the default currency. You must set Australian Dollars as your default currency in order to access the MyPost Business services. Enter the shipper's name, contact information (including a phone number and email address), and address information, such as the state, postal code, suburb, etc.
Click Save Changes to save the changes.
Rates and Services Settings
When the show cheapest option is turned on, the checkout and cart pages will show the lowest delivery cost discovered by MyPost. If you want more assurance when sending an item, you can enable the option to include Extra Cover. While in Australia Post's custody, it protects against loss or damage to your item. Allow clients to choose Signature Required on Delivery as an additional layer of security by turning on the option "Signature Required." Enter the method name that will show up in the cart and checkout pages if the MyPost live shipping rates are enabled under the method title/availability textbox in the method config box.
From the MyPost Business Services section, you may enable or disable each service that MyPost offers, give each one a unique service name, choose whether to allow extra cover and signature on delivery, and add price modifications in the form of dollar amounts or percentages.
Label and Tracking Settings
Enable email tracking to use the MyPost Business API to email the customer with the shipment tracking information. If you enable direct download, the label will be downloaded directly rather than opening in a new browser window. Activating the shipping label will allow you to save the generated shipping label in your WordPress database in the wp-content folder. Depending on whether you enable or disable this option, the MyPost Business logo may or may not appear on the shipping labels. The pickup service option must be enabled in order for it to appear on the MyPost Business Bulk Shipments Generation page. In order to facilitate shipment to EU countries, provide your IOSS tax registration number. Select the document layout for your shipping labels.
You can include a description of the contents of the package. This description, which is usually required for security and customs checks, will be placed on all printed documentation. Your shipment tracking message can be modified using the Custom Shipment Message feature. This message will appear in the tracking email notification, the WooCommerce Admin order page, and the Customer's Orders page. With the use of placeholders, you can automatically fill in the shipment-related information. You can structure the message by including tags like [DATE], [SERVICE], and [ID].
Packaging Settings
MyPost Business offers three options for packaging packages as follows:
Package each item separately – 

This is the default setting, in which each item in the cart is packed individually. Multiple products will therefore be packed in separate packaging.

Fill boxes with the weight and measurements –

The entire contents of the cart are put together in custom boxes that match the sizes listed in the Table of Box Sizes.

Based on Weight –

With this option, you can pack your goods according to the weight of the package.
After you've set all of the settings the checkout page will display the MyPost Business services as shown in the accompanying screenshot.
To Conclude
If you operate a WooCommerce store from Australia, Australia Post is an excellent shipping option to add to your WooCommerce site. With Australia Post MyPost Business, you can access some of the best tools and discounts for eCommerce. Many WooCommerce store owners who are just getting started can benefit from the extra support and volume-based savings offered to small and medium business entrepreneurs. We hope this article has helped you understand how to easily integrate WooCommerce with Australia Post MyPost Business. If you have any questions regarding Australia Post MyPost Business, please let us know in the comments section below.
Further Reading