It's one of the simplest ways to get leads for your business's products or services. A Request a Quote plugin can do a lot more than just answer visitors' questions. Alternatively, you may change the Add to Cart button to Request a Quote and a Contact Form. This guide will teach you how to easily integrate the Request a Quote plugin features to turn your WooCommerce site into an effective B2B tool for receiving inquiries and quotations.
The following are some of the plugin's key features:
The Add to Quote button differs from the Add to Cart button in that it allows users to inquire about a bulk order by inputting the quantity of products after selecting them from the shop or product pages.

Remove Add to Cart: To display the Add to Quote button, remove the Add to Cart button from the shop page and product pages. Both buttons can be displayed at the same time.

Include/Omit items: This option allows you to individually include or exclude products from being available for getting a quote based on categories and tags.

User roles to include/exclude: Toggle the 'Request a Quote' feature on or off for specific user roles.

Custom Templates: This feature allows you to create a custom email template, as well as Google Chat/SMS notifications for consumers.

Custom Request a Quote form: Rather than using the standard WooCommerce checkout, you can give a separate custom form for wholesale purchasers to fill out in order to make an order.

When a quote is placed, you can set up a notification to be sent to the admin through email, SMS, or Google Chat.
All of these features (and many more!) are bundled into a single solution to help you serve your WooCommerce wholesale stores or sell wholesale products in your online store.
How to integrate the Request a Quote button?
As you may be aware, WooCommerce does not have this functionality out of the box. As a result, we'll show you how to use the ELEX WooCommerce Request a Quote Plugin to add a Request a Quote functionality to your store's products. In essence, the plugin allows you to add an Add to Quote button to your WooCommerce store. This can be used in addition to or instead of the usual Add to Cart button by hiding the Add to Cart button.
When clients click a product's Add to Quote button, that product is added to a Quote list, which includes product data as well as other fields for the customer to fill out.
Let's see how to add this feature,
Step 1 Installation and Activation
The plugin is available for purchase on the ELEXtensions website, and it may be installed just like any other WordPress plugin. If you need assistance installing and configuring a plugin, see How to install and configure a WordPress WooCommerce plugin.
After you've installed and activated the plugin, go to WooCommerce > Settings > Request a Quote.
Step 2 Configure the button to your preference
You may set how the buttons appear on the website right away, as well as choose a page to display the list of items that clients can select for a pricing quote.
To begin, you can personalize the Add to Quote button by adding custom wording and selecting a suitable color. You can also decide whether the quote list will open in a different page, when the button is clicked, or if the quote list will be presented in a lightbox.
When a product is successfully added to the quote list, the plugin also allows you to specify the position where the alert is shown. This alert can be displayed below the Add to Quote button or at the top of the page. You may also specify a heading for the quotation list and select a page for it.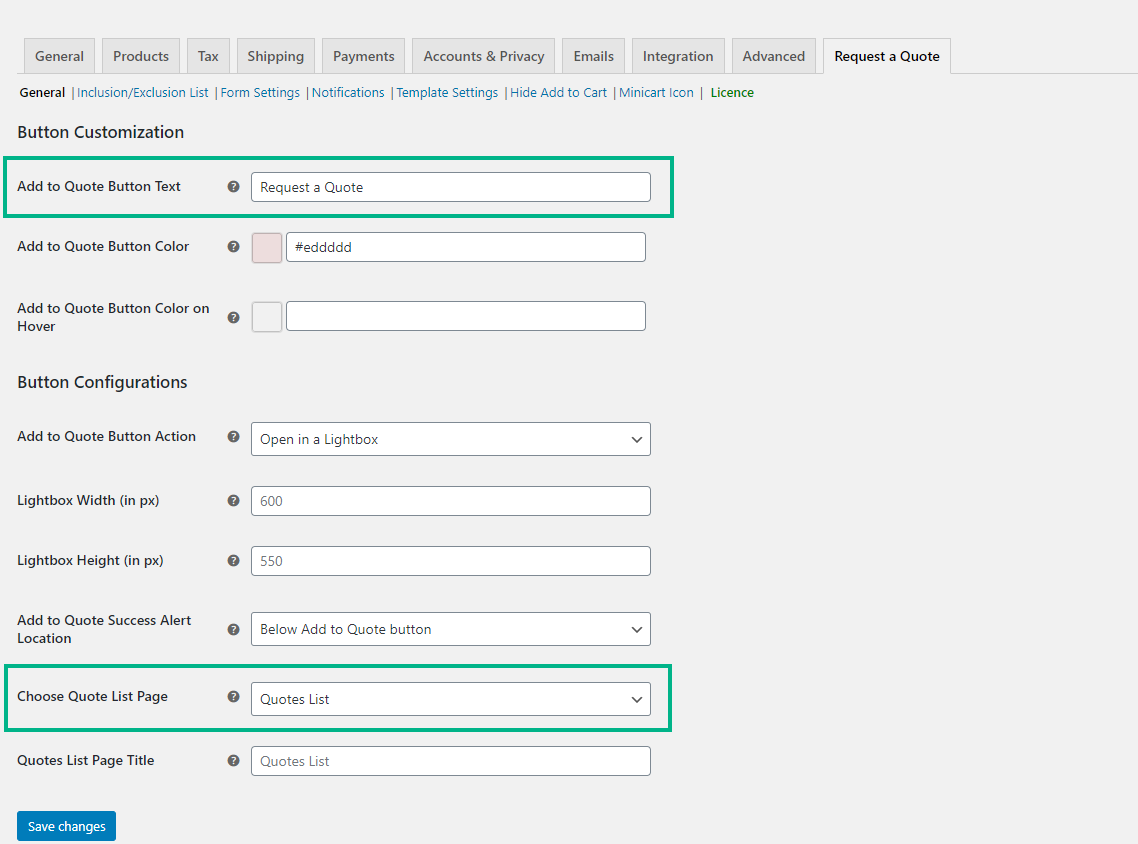 The next step is an important one!
Step 3 Inclusion and Exclusion of the Button
The plugin includes controls that allow you to limit the feature to selected items or people. By specifying a product's name, category, or tags, you can include or omit it. To have this choice, you can also include or exclude specific user roles.
Unregistered users are likewise prevented from establishing quote lists by the plugin. Instead, send such visitors to the signup page. Another intriguing option is to show or hide the 'add to quote' button, depending on a product's stock status.
If no goods or user roles have been specified, the plugin will apply the 'add to quote' option to all products in your store.
Step 4 Notifications
A store that allows customers to seek estimates will require an effective notification system. When a new quotation is placed, the store owner must be contacted, and when a quote is acted upon, the client must also be told.
You can use the plugin to send email notifications to customers and store owners. You can set up multiple types of notifications for different instances, such as when a customer requests a quotation, when it is accepted, or when it is rejected. Furthermore, you can even include a payment link in the notification that is delivered once a request is authorized. Additionally, store owners can receive SMS and Google Chat notifications.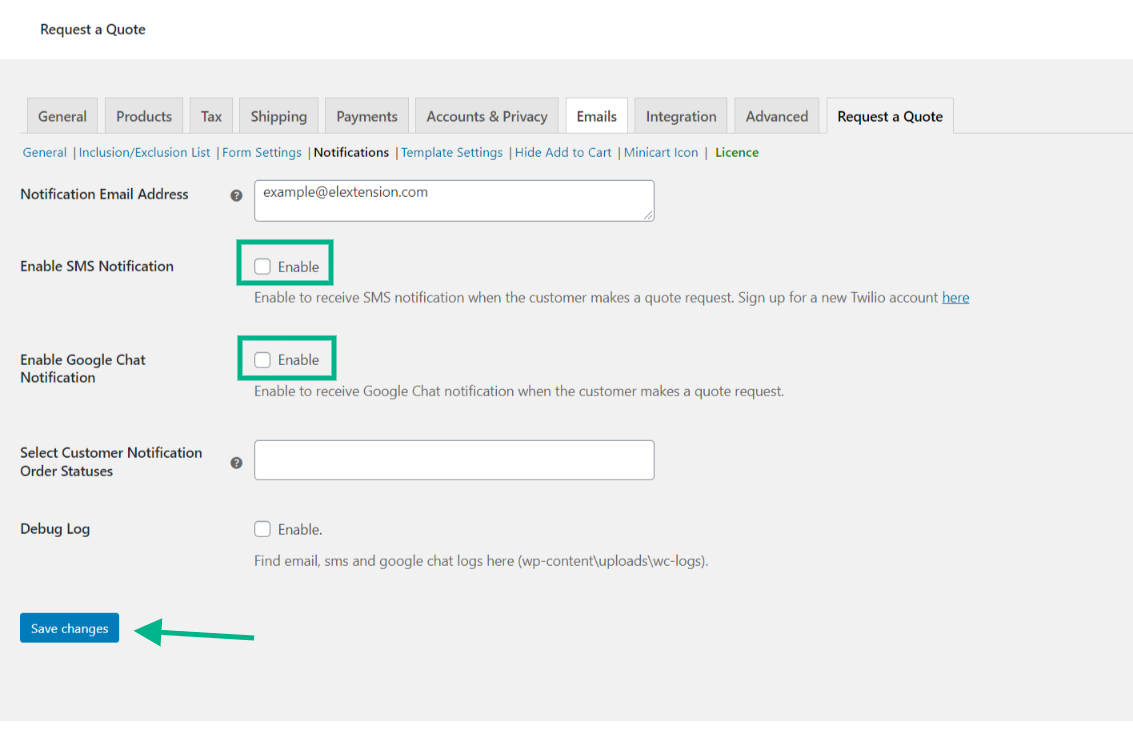 You can adjust each notification template in the template settings by utilizing the dynamic placeholder in the body.
Visit ELEXtensions website to check out our wide range of plugins and articles in correspondence to them, in order to boost your sales and make your WooCommerce site the cream of the crop.
Further Reads:
How to Add Coupon Codes & Discounts to Recover WooCommerce Abandoned Cart
A Complete Guide to Add WooCommerce Catalog Feed to Facebook