How To Integrate DHL India Shipping With WooCommerce?
If you are planning to integrate DHL India shipping with WooCommerce then you can start by setting up using a simple plugin. After integration with DHL, you can conveniently deliver to customers worldwide, print labels, track orders, and use all the other available services provided by DHL.
What is DHL?
DHL is an international courier company that delivers packages and mails across 220 countries and territories. It offers fast and secure international and domestic delivery services for documents and parcels. There are various benefits for DHL partners and customers that you can check out on their official website. 
Benefits Of Using DHL
DHL has a wide network of 5,00,000 employees around the world and is known as the largest supply chain company. Also, DHL is famous for deliveries through ocean and airmail. Let's see more benefits of using DHL services below.
DHL offers easy shipping gateways where you can prepare packages. 

Print stickers on the packages at your convenience and get an automatically generated tracking number. 

They provide services for bulk download for adult traders.

After your label is generated you can view the reports and track them easily with DHL's integrated tracking service. 

Receive convenient notifications for shipment status.

Get regular SMS messages regarding delivery status with a tracking link.

DHL also provides insurance for high-value products. 
Shipment Problems Faced By E-commerce Store Owners 
There are various problems associated with running an online store. Let's discuss a few of them below and how you can resolve them.
Tracking Shipment
Customers and store owners both are clueless on how to track their shipments and how to get the tracking number. Generally, the tracking number is provided by the store owner to the customers. You can read this article to resolve all your tracking-related problems. Everything You Need To Know About DHL India Shipment Tracking
Packaging Items
The products at your store might be of different sizes and weights. Store owners need to pack the items in a very efficient manner so that it's safe for delivery and doesn't cost much.
Taxes and Customs
Different countries have different tax slabs and customs for deliverable items. You need to have a thorough knowledge and manage your taxes and customs in an efficient manner.
Integrated Shipment Service
There are a lot of shipment service providers in the world. So, it's important that you choose the right fit according to your store. If you are based in the United States, you can learn more about other shipping service providers in this article. The Best Shipping and Mailing Services in the US
Shipment Rates
While dealing with available shipment courier service providers the rates can vary and it's difficult to integrate and manage them in one single platform. By integrating DHL shipping using a plugin you can directly show shipping rates and manage them from the admin panel.
Package Labels
To avoid any confusion or loss of items during shipment you should provide a proper label to each package. Read this article to resolve your package-related issues. How to Automatically Generate DHL Paket Labels on WooCommerce?
All the above problems can be easily managed by the ELEX WooCommerce DHL Express plugin. Let's discuss how you can directly integrate DHL services using this plugin.
To integrate DHL India shipping with WooCommerce we will use the ELEX WooCommerce DHL Express plugin. It can automatically generate your labels, track orders, and display shipping rates from the admin panel. You can easily choose from the available shipping services and even customize shipping rates, packaging, etc. Conveniently ship your products domestically or internationally by integrating your shipment with DHL. This plugin is rated 4.9 out of 5 reviewed by more than 127 existing customers. 
How to Setup ELEX WooCommerce Express plugin?
After you have purchased the plugin from the official website ELEXtensions, you can start uploading it.
Go to Plugins > Add new. Upload the purchased plugin from here. When you are done, click the Activate button. 
You can click the DHL Express option from the Installed Plugins just like displayed below. 
You can also access setting by clicking the option WooCommerce > Settings > Shipping > DHL Express > General
How to integrate DHL India shipping with WooCommerce?
For detailed instructions, you can read the documentation for this plugin here: How to set up WooCommerce DHL Express in ELEX WooCommerce DHL Shipping Plugin with Print Label?
Let's take a closer look at each of these options in detail.
In the

General

tab, you can switch between

Test mode

or

Live mode

when you are completely ready. 

Fill in your

Account number, site id

, and

site password

which you will get from the DHL website. When you are done, click the

Validate Credentials

button.

You can tick the boxes to

show real-time rates

, and

enable shipping labels

. Leave the rest of the options as default, and then scroll down. 

The

Default currency

will change according to the country that you have selected. Now, insert an

Indian address

and fill in all the other details. Then click the

Save changes

button. You will see that the default currency is changed to

INR

. 
Rate and Services
In the rates and services tab, you can Show Delivery Time, DHL Account Rates, Breakdown Charges and Enable Insurance Charges, etc. 
In the

Shipping Services & Price Adjustments

tab, you can select your desired shipping service. Default shipping services are

Express Domestic

and

Express Worldwide

.
Label & Tracking
Here you can Enable default service for label generation, Show only chosen services on rates and services section, and allow customers to print labels. In the Shipping Label, you can select printing sizes from the available options. You can provide a Shipping Content Description and Comment for your shipment. In Company Logo, you can upload your store logo that will be displayed on your package. You can explore other options according to your requirements and make the necessary changes. 
Packaging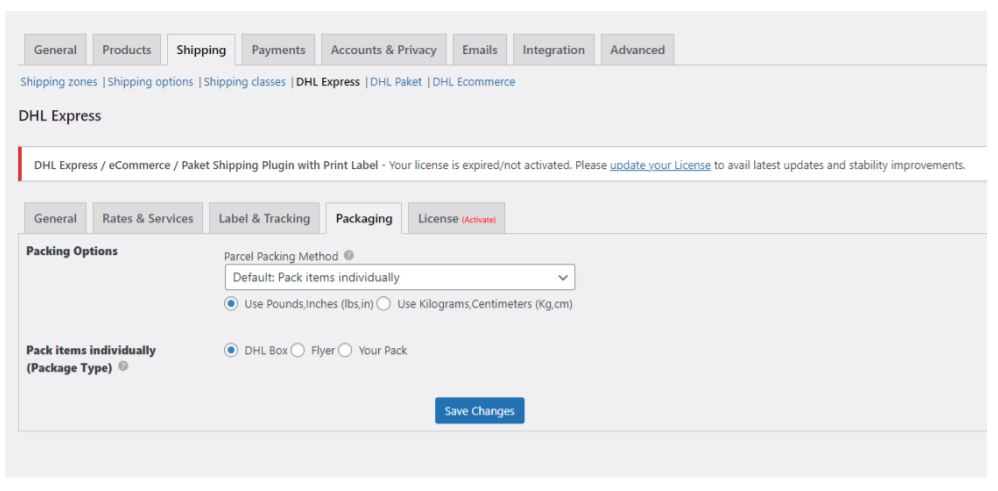 In the Packing Options, you can select how your products will be packed. You can choose from three available options.
Default Pack items individually
Pack into boxes with weights and dimensions
Weight base: Calculate shipping on the basis of the order total
Select the option which is most suitable for your WooCommerce products.
The options below depend on one of the three options selected above. You can customize the package type, individual weight value, or set dimensions.
License 
If you want to get support and updates for the plugin, you can activate the plugin licence by filling in the details below. Now, you have successfully integrated DHL India Shipping with WooCommerce.
How to use this plugin on the front end?
Let's go to your store and order a product. You can see the shipping rates and estimated delivery time. When you have successfully placed an order it can be accessed from the WooCommerce dashboard.
Now, go to WooCommerce > Orders. Click on the latest order from the list. Then you will see a screen like below.
Here you can edit your

Billing and Shipping Address

. The

Order Number

and the chosen

Delivery Method

are displayed on the top left. You can also see the customer's

Email id and Contact number. 
Order notes

show a small summary of your order details.

Scroll down to

DHL Express

options. Here, you can change the weight, length, width, and height of the delivery package.
When you are done making changes, click the

Create Shipment

button.
When your shipment is generated you will see a new tab like below.
At the top left, you will see the Shipment Service provider name and the Shipment Number with a hyperlink. This number can track your order directly from the DHL website. Just click on the number and you will be redirected to the official DHL website where you can track your delivery status.
Here you can easily track the shipment status, delivery time, and service area of your package.
If required, you can also check the More Shipment Details tab where you see delivery time and date and unique piece id. In All Shipment Updates, you can see all the shipment details from when it left with the delivery courier till the shipment was picked up and successfully delivered.
How to print labels using the plugin?
When you click the Shipment Label option you will be redirected to a new tab.
You can see that your WooCommerce shipping label is successfully created.
Directly below the Sample text, you will see the barcode. Here you can view all the Shipper details. The receiver's contact details and address are displayed below it. You can view the shipment service code and product details. In Shipment details, you will see the reference number, customs value, and content that you entered. It will display product weight and the total number of pieces. You will also see a barcode that is automatically generated for your shipping label. 
Follow this step-by-step guide and integrate DHL India shipping with WooCommerce. If you have any questions or ideas you can mention them in the comments section. 
Further readings
Why and How to Protect WooCommerce Order Page
12 Important Things to Include In Your eCommerce Email Footer
How to Add Google Fonts to WordPress