Customers' happiness and the growth of a business are positively correlated. Customer support is actually a provision of service you must offer before and after the purchase of products or services from your store or business website. Better customer service enhances the enjoyment and the easiness of customers using your products or services. Thereby, it uplifts your brand value. To make customers more comfortable and reachable to you improves the overall customer support experience. Here I have come up with a solution that will help you to set up an open source helpdesk & support ticketing system for your website or eCommerce store. This solution can be implemented in any eCommerce site including Shopify, BigCommerce, Magento, WordPress, or any independent websites.
Customer support should be in the form of helping, soothing, resolving their issues as soon as possible by keeping a balance between informal personalized communication and professionalism. This will help you to retain the existing ones as well as attracting new customers. It does not limit only on the 'customer support', but also on providing precise documentation, case studies, and business case articles. In return, they will support you with better testimonials and top reviews! Each review and testimonial counts, isn't it?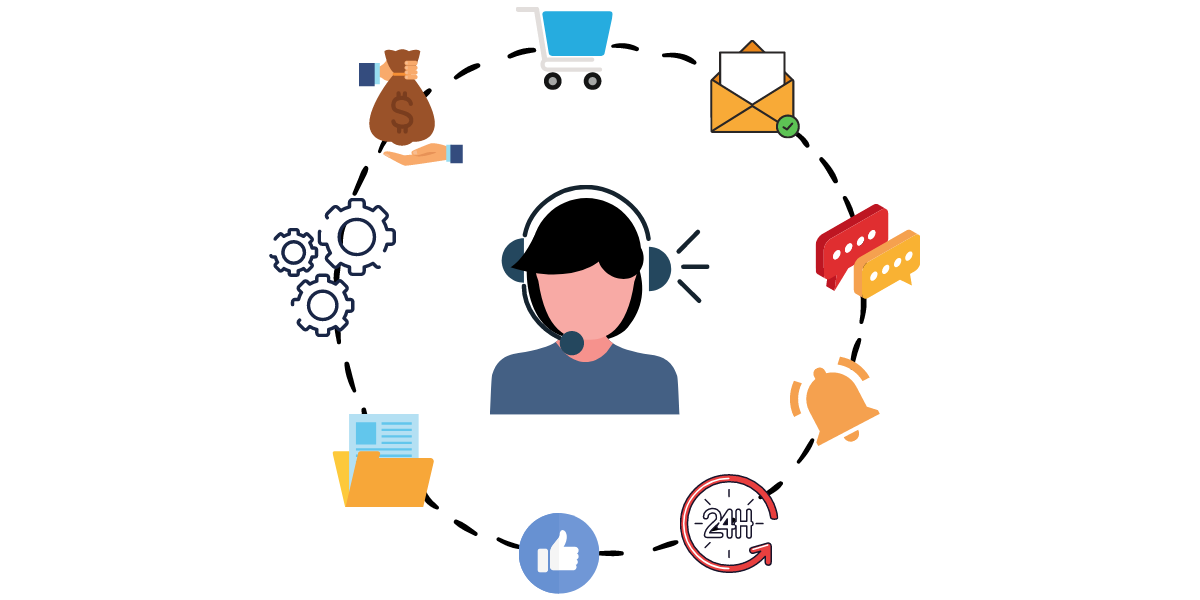 So how can you implement a user-friendly, yet robust open-source customer support system in your eCommerce store or website to make it in the track of your day-to-day business operations?
It is easy as you can find a number of software, plugins, or extensions to incorporate the customer support system into your website and eCommerce store, or for making it a separate subdomain. But you have to think more before choosing one from the list. Well, to not hamper the workflow of your main website or eCommerce store, the best option is to make the customer support system a subdomain.
Let me briefly explain the benefits of the subdomain before moving to the step by step procedures of the entire configuration.
Benefits of Making Your Customer Support System as a Subdomain
If your eCommerce store sells an amass of different products in different categories and variations, it already needs to load all these products and information every time the customer visits your store. The same happens on any other website. If your website contains many web pages, forms, and so on, the same loading issues will arise. What will happen if you incorporate a support system along with your website or eCommerce store like this?
Customers will skip from your site within seconds if they see it is loading and loading for seconds, isn't it? Hence the increased loading time will negatively affect your site performance, and thereby it will increase the bounce rate, which in turn is not a healthy sign for an optimized website. So it is better to keep your support system as a subdomain of your website for the better performance of both your website or online store as well as your support helpdesk system.
It will be as 'support.maindomain.com' from the main domain of your business website. So customers can make sure that the support system is a fragment of your main website.
Hope you got an idea about the concept of the subdomain. Now let us get down to the steps to set up an open source helpdesk & support ticketing system for your website or eCommerce store.
1. Set Up a Subdomain of Your Website or eCommerce Store
Step 1: Create a Subdomain
To create a subdomain, you need to go to your cPanel > go to the Domain section > Subdomains > Enter the new subdomain name (eg: 'support').
A suggested document root directory will be automatically generated when you click on the 'Document Root' field. This will be the location of the subdomain on the server where all its documents will be stored. Then click the Create button.
Sometimes there will be a slight difference in the buttons and its name of the above-mentioned options and buttons in your cPanel. But the main functionalities are the same.
Step 2: Map Subdomain with the Main Domain
There is no use of subdomains unless and until you link your subdomain with the main domain of your website. Your site could be built with WordPress, Wix, Squarespace, or any other website builders as well as if you own an eCommerce store, it could be built with WooCommerce, Magento, BigCommerce, or any other services. It is important to map them with the subdomain you have created.
If your site is built with WordPress, you can follow the below steps for mapping.
For WordPress Websites,
If you have built your website or store with WordPress, it is quite easy for mapping. Check the below steps.
Step 1: Go to .htaccess in the root folder for providing permission to your subdomain.
Step 2: Validate your subdomain in WordPress in the URL Rewrite Management. If you have set the path correctly, it will be easy to redirect to the page.
For adding a subdomain to your WordPress website, you need to add a mapping subscription to the website you want the subdomain on.
For doing that, go to My Site > Manage > Domains and click Add a Domain to This Site.

Then click 'Use a domain I own'.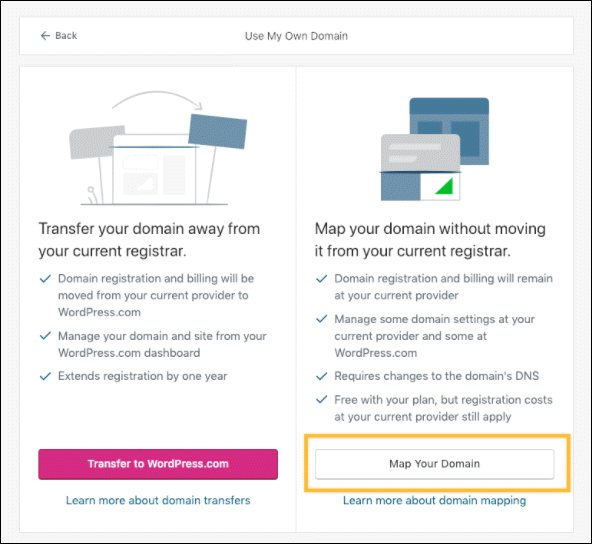 Click Map Your Domain as I marked in the above screenshot. Then enter your subdomain, such as support.mydomain.com, and click Add.
If the subdomain you have entered is already registered or mapped here already on the same account, your job is done!
Now, you can go to My Site > Manage > Domains, select your subdomain, and click Make Primary.
For the Websites or eCommerce stores Hosted by Other Hosting Service Providers,
If your website or eCommerce store is built with any other hosting service providers such as Hostinger, GoDaddy, Cloudways, BlueHost, or so on where you can host your support helpdesk system, follow the below steps and configure accordingly in your domain provider.
After getting your subdomain, use CNAME to point to the subdomain from your main page. Check the following steps.
Here I am taking the example of GoDaddy. Other hosting service providers' interfaces and buttons may slightly differ from this. But still, the major functionalities and steps are the same.
Step 1: Log on to GoDaddy. Go to the Accounts section and open the Product page.
Step 2: Open your domain from the domain settings page > Additional Settings > Manage DNS.
Step 3: Choose Add and then go to CNAME under Type, enter the corresponding data there.
Host – Enter the hostname, which should not exceed 25 characters.
Point to –  Enter the URL of the destination site you want to point to. Type @ to point directly to your root domain name.
TTL – Time to hold cache information by the server.
Step 4: Save the settings.
After setting up these, it will set the pointer to the subdomain from the main website site. You should be able to achieve it by adding a CNAME record.
After you got your subdomain mapped to your website, get your support desk plugin configured in your subdomain.
Now, the question is which support helpdesk should be chosen for your website or eCommerce store.
2. Choosing a Support HelpDesk for Your Customer Support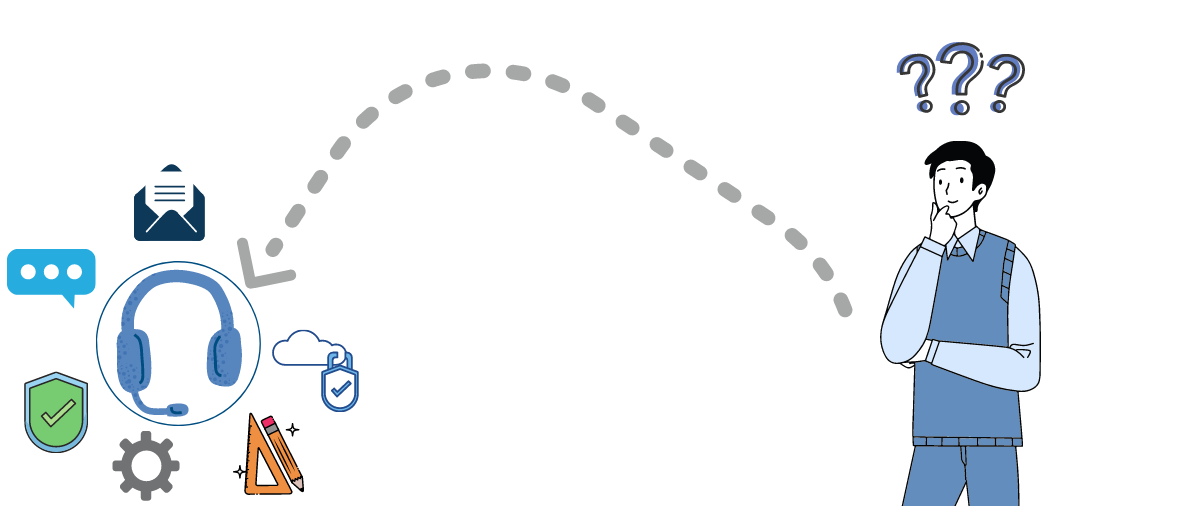 As we have been discussing throughout this article, it is clear that choosing a tool, plugin, software, or extension to set up the helpdesk is not a tedious task. But choosing the one which allows you to make it as a subdomain is important. All plugins or services do not offer this feature. If you are looking for a free WordPress plugin that allows you to make your customer support system a subdomain of your main domain, ELEX WordPress HelpDesk & Customer Ticketing System is the right choice.
ELEX WordPress HelpDesk & Customer Ticketing System in a Nutshell
This plugin will help you provide excellent customer service experience to you, your agents, and the customers. Even though it is a free version plugin, it is wrapped up with a handful of promising features that will uplift your customer engagement by converting customer queries through emails into convertible tickets. Unlike any other SaaS-based customer support ticketing systems, this plugin ensures 100% data security and avoids any security breaches for flawless workflow. It lets you store your data in your own server, which means you will be the exclusive owner of your data. No external sources can monitor or control your operations and data management.

Other major features offered by this plugin are:
It does not have any limit of adding as much as agent profiles and storing tickets.

Built with AJAX, which makes agents' tasks easier.

Options to trigger actions automatically such as email notifications.

Integration of IMAP and Google OAuth to convert unread emails to tickets as well as converting specific emails to tickets.

Option to filter and block spam emails.

Reply templates to make the agents' task easier.

Detailed customer support performance report as well as agent satisfaction score.

Easy to integrate with WooCommerce, and many more.
There are more advanced options available in its premium version. If you need to upgrade the plugin, you can do it accordingly as and when the requirement arises.
To know how to set up ELEX WordPress HelpDesk & Customer Ticketing System in your WordPress website, refer to an article: How to set up WSDesk – WordPress Helpdesk Plugin?
After setting up the helpdesk in your subdomain, you can add additional features and options to your helpdesk system to improve the support experience. Integrating a live chat will always improve customer engagement since it makes communication more informal and adds a personal touch to communication.
3. Add a Live Chat with Your HelpDesk & Customer Support System
Adding a live chat always improves customer engagement and increases the comfortability of customers to reach you for clearing their doubts and asking any queries as soon as possible. There are so many live chat plugins and add-ons available in the market both free and premium ones.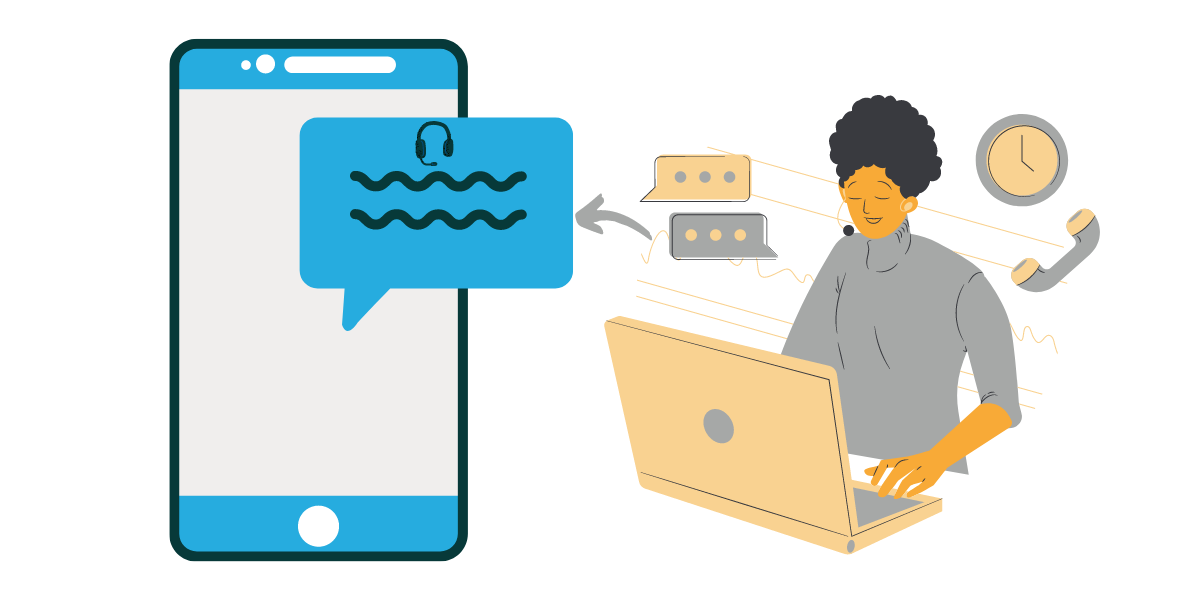 To begin with the live chat, you can start from the free version live chat plugins itself without spending much on it.
Benefits of Adding Live Chat to Your Customer Support
Fast and convenient method of communication.

Helps to build rapport with customers through personalized communication.

Increases customer engagement.

Can be used to give product suggestions and details through chats at the same time when the customer hovers on your website.

AI integrated chatbots lets you provide answers to the customers even when you are offline.

Agents can understand the purchase history and issues faced by the customers easily since the chat keeps all the previous conversations.
If you are looking for an advanced AI integrated live chat plugin, which also helps you to trigger automated chat replies, I recommend WSChat – ELEX WordPress Live Chat Plugin. It comes with a handful of advanced features such as high security on your data, an option to monitor live chat visitors of your website, and initiate the chat from the agent's side, triggering email notifications, no restrictions to adding as many agents as needed as well as storing chat history, customizable chat widget, and many more!
To know how to integrate it with your helpdesk support system, refer to an article: How to Set Up WSChat – ELEX WordPress Live Chat Plugin?
But, if you are looking for a free version live chat plugin or solution, you can try tawk.to, Drift, etc.
4. Set Up a Detailed and Precise Knowledge Base
A precise and well-explained knowledge base always makes the customers have the confidence to set up a product or fix any issues they encounter by themselves. And it reduces the customer queries and tickets since they solve their issues from the details given in the knowledge base. So write a clear and simple knowledge base and give proper navigation from your product pages and support helpdesk systems.
Hence write the configuration steps in the right order, use enough screenshots as needed to give more clarity to the customers, and give links to other knowledge bases or articles for further reading if you cannot include all details and features of the product in a single document. And also do not forget to update the content and screenshots on the documents as and when your product or services get updated.
You can also give it as a suggestion to the customers when they try to send a query to you. In the premium version of the ELEX WordPress HelpDesk & Customer Ticketing System, you can find this option to suggest knowledge base articles to customers when they enter the subject of the issue.
Benefits of Good Knowledge Base Articles
Saves time for both customers and agents.
Reduces customers' queries and tickets.
Immediate solution for the customers.
A knowledge base is a solid resource for the customers as well as employees and agents in your organization.
It can make your customers proactive on the issues they are facing.
Well, these are the major steps you need to consider when planning to set up a customer support system in your organization or business, or anything.
Are you too workaholic and do not have time to concentrate on anything other than your business? There is a solution for it as well.
Looking for a Fully Manageable Open Source Helpdesk & Support Ticketing System?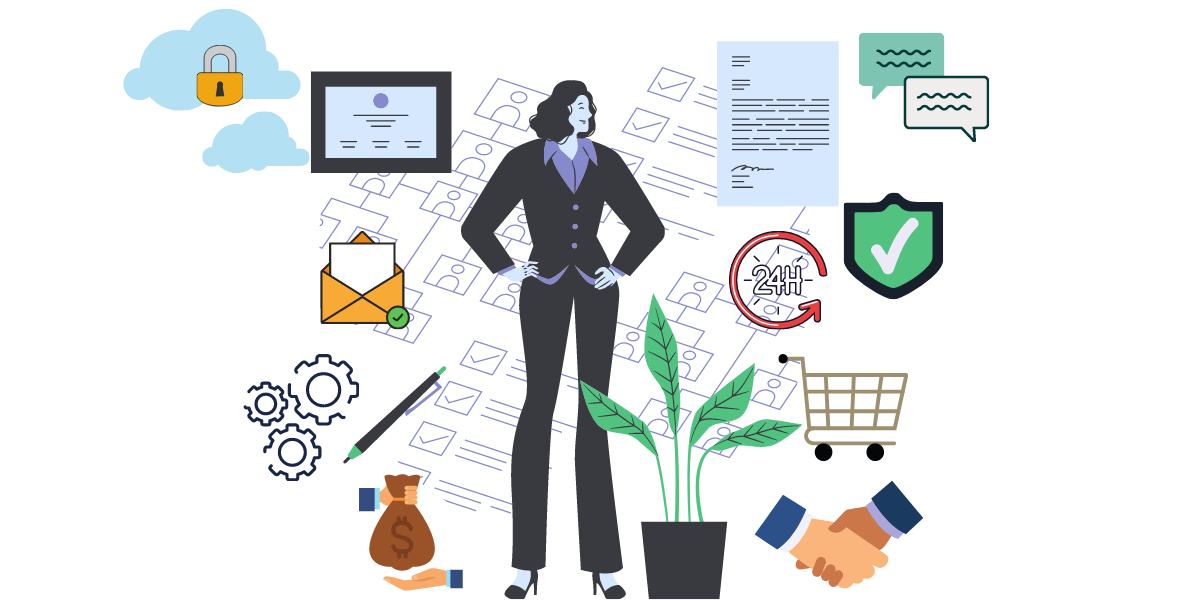 All the above steps need to be done in a properly managed, controlled, and by taking dedicated time for it. If you are looking for a fully managed helpdesk and support ticketing system which is a complete helpdesk solution, Open Source HelpDesk & Customer Support Ticketing System – Simple & Flexible is there to help you out.

This is basically a subscription-based service, you can enroll for it and simply sit and focus on your other tasks. Yes, this is a managed hosting service, which is packed with an open source helpdesk system that is powered by WSDesk- an established helpdesk plugin that serves 10000+ customers. Do not be concerned about the customization and personalization aspects, since this service also includes the personalization of your helpdesk system.
The expert team of this service provider helps you build the desired helpdesk system from scratch irrespective of the platform in which you have built your website or eCommerce store such as WooCommerce, WordPress, Shopify, Magento, BigCommerce, and so on. If you are already using any third-party support helpdesk system, do not worry about the migration to Open Source Helpdesk & Customer Support Ticketing System as they will pull all your tickets from third-party services and push into the helpdesk system.
If you do not require any personalization, and just want to directly use the open source support help desk system, you can directly use it since the service is wrapped up with rich advanced features that will satisfy all your requirements.
Advantages of Open Source HelpDesk & Customer Support Ticketing System
Highly customizable open source support helpdesk platform.
Works smoothly on any website or eCommerce platforms such as Shopify, BigCommerce, WordPress, etc.
Ensures 100% data privacy and security.
Capable of managing a multitude of customers and agents in a single platform.
No extra charge or hidden cost for adding unlimited agent profiles.
Manages unlimited tickets and seamless assignment of tickets to the respective agents.
24/7 support to solve any issues and doubts faced by the customers.
Highly flexible to customize the helpdesk system according to your profession and the nature of work.
Helps to charge for your support and consultations.
Expert assistance to create knowledge base documents, integration of third-party services, and software such as live chat or any other features.
You can either opt to get this helpdesk service and manage by yourself, or you can opt for the option of fully managed service by their expert team. If you opt for the latter, you do not have to worry about anything since everything will be managed including the updates and customization, etc., by their team.
Final Thoughts
Loyal customers are always assets to any business and organization. So treating them with more than what they exactly want and being there for them at any time will help to make them comfortable with you, and thereby your brand will gradually establish a reputation in the customers' mind. Hence give the best customer support experience to the customers with Open Source Helpdesk & Support Ticketing System.
Further Reading: