If you are an online retailer, all you want is to get your product good visibility. If you are already into Google Ad campaigns then Google Shopping is a no-brainer. Google shopping is one step closer to your shoppers and that is why they are popular. This is a beginners guide to Google Merchant Center and how we can promote WooCommerce Google Shopping with faultless Google Product Feed.
Before getting into the detailed guide, let us take a look at these:
What is Google Shopping?
Google Shopping ads are results that are displayed whenever a user searches for a product. It is usually displayed as Sponsered ads on the top of the text results.
All these ad owners have paid Google to get their ads up there. If you take a detailed look at the Google Shopping page you might find much more customized options like filter by price, brand, type, department, size, etc.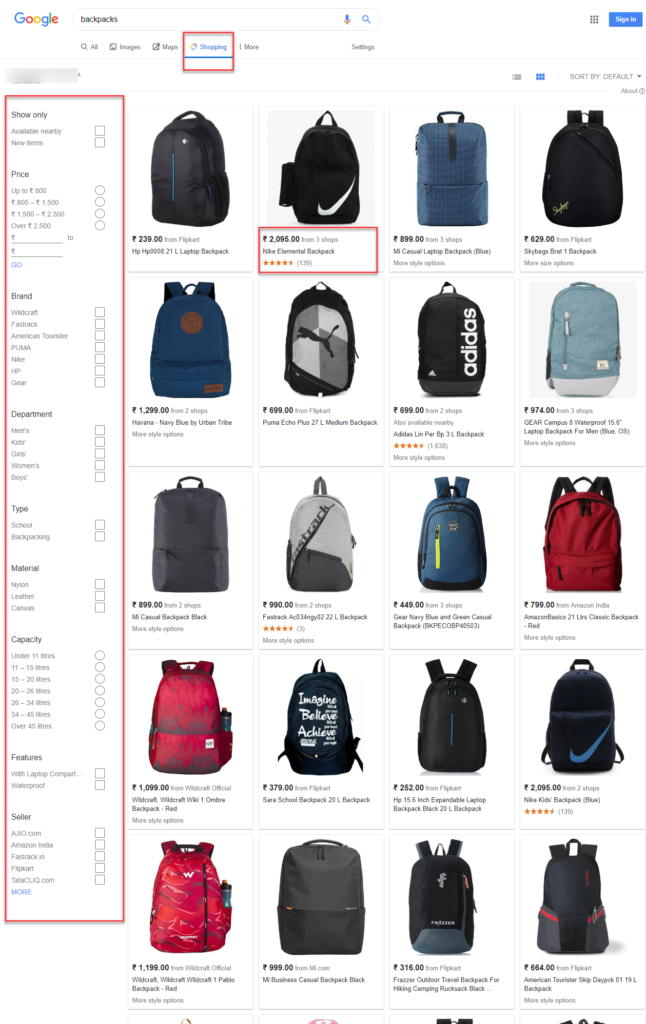 When you take a look at the Google Shopping page, you can see the popular picks and much more. The products can also be searched on the basis of departments that will help to get a customized view.
Don't the results look impelling
Google Shopping looks more like any other estore. When you click on any of the products, you can better description of the product. It contains the vendor details, the price, and the comparison option with other products.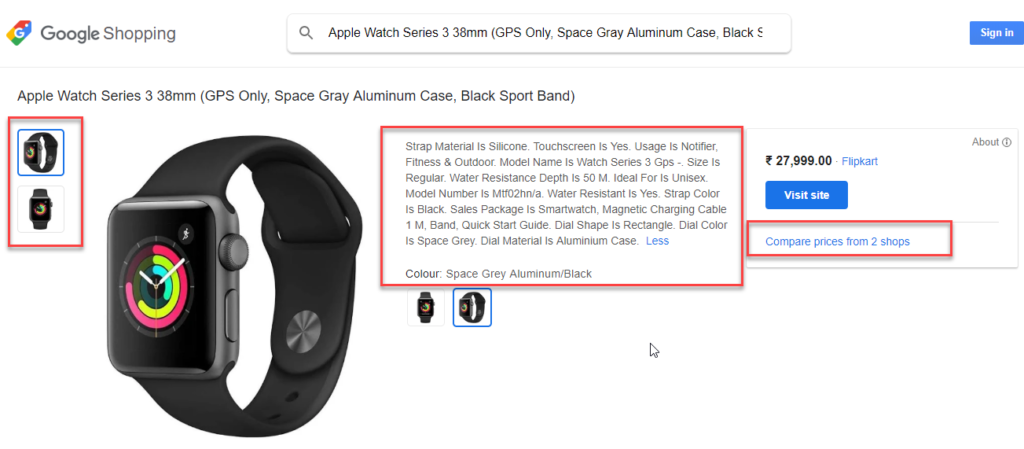 So you can see why all the retailers are in a cat race to get their space in Google Shopping.
How Google Shopping Works
Google Shopping is empowered by Google Merchant Center and Google Ads. These two important products by Google help you get your ads posted on Google Shopping. Google Merchant Center helps you organize your product details in the way Google Shopping needs. It simplifies your process to get a showcase. We shall be discussing the same details further. Google Ads again help to organize and focus on the target audience and run the ads specifically where the target audience can be obtained. It hosts Ad campaigns. In a way to do successful Google Shopping ad campaigns, three factors play a vital role, they are :
Product Feed Creation and optimization –  Creating a Google Product Feed is important to keep your communication to Google easy and explicit. You can create a product feed for a WooCommerce platform using one of the popular plugins ELEX WooCommerce Google Product Feed plugin. You can also create a product feed manually.
Local ads – Google Shopping Supports even local stores to post their ads and gain a good clientele.
You get a "Trusted Store" label – Been able to get your products in Google Shopping, gives you a "trusted" store ratings, which will boost your market presence.
Secured Payments – Like all other eStores Google Shopping lets shoppers pay using Android payments as well as delivery via Google Express.
Advertising – Dynamic remarketing is something that Google Shopping is implying. It is quite an effective way to showcase ads based on previous visits to the store.
Visit Google for Retail, and you get to know plenty of opportunities Google has in store for small to big retailers.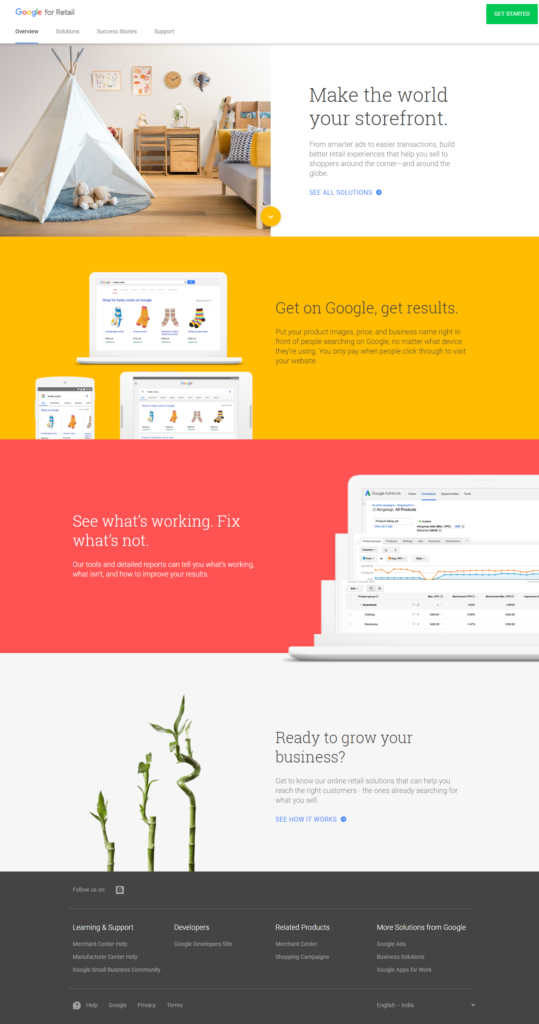 Why use Google Shopping
If you look out for the advantages of Google Shopping, it is all evident. The key advantages of Google Shopping include :
Keep your products stand out from the rest –  The shopping results appear on top of the Google Shopping search results, hence it is easier for shoppers to view the ad.
Grabs better attention than the text ads – The ads appear with high-quality pictures and price details which is much more compelling than other ads. The images easily drive attention.
Better quality leads – Mostly when people search on Google they must have gained enough details to finalize their product.
Conversion rates are higher –   with Google Shopping ads, the CPC is reduced to 23% and the conversion rates are 26% higher. It gives a good traffic to the eStore.
Broader Reach – A single query is enough to show the prospective products to the shoppers. It raises the awareness of the product among people.
Search volume is high – when you want to buy a product, you search on Google Shopping, which can provide you with hundreds of results.
Targeted reach – When someone searches for "blue Nike shoes," they intend to get results on those particular attributes. This will bring the search results down to a level matching the attributes. In a way, Google Shopping lets you get a focus on the targeted audience.
In a way, Google Shopping is the ideal window that prompts any prospective customer to purchase and also promote the sales of a brand easily.
Who Should Be Using Google Shopping or Who shouldn't?
Google Shopping can be used by any retail owners if :
The product category is in high demand or has a higher search volume. (Tip: Use Adwords Keyword Planner)
The product has a built-in-demand. It must not be like, "What is a Bluetooth headset?", but "buy a Bluetooth headset".
You own a well-optimized landing page, which can promote upsell as well.
Do not use Google Shopping when :
You have to promptly generate demand for your product.
Competition is high, so your ads might not be profitable for you.
When you can't compete for the price. Like when you are reselling branded goods.
So in short, choose products that are in proven demand, has potential commercial intent and excellent conversions from landing page.
How to sell on Google Shopping?
Selling on Google Shopping requires two elements:
Google Merchant Center
Google Ads
Which we will be discussing further down.
How to optimize your Google Shopping list
Now that all the products are on Google Shopping, how do we go about optimizing it? Your responsibility does not end there when you just upload all your products on to Google Merchant Center. Here are some tips on optimizing the Google Shopping List :
An Informative Title: Your title is a key point when a customer searches for the product. Like for example, when you search for a Nike product, you affix the brand name before the product.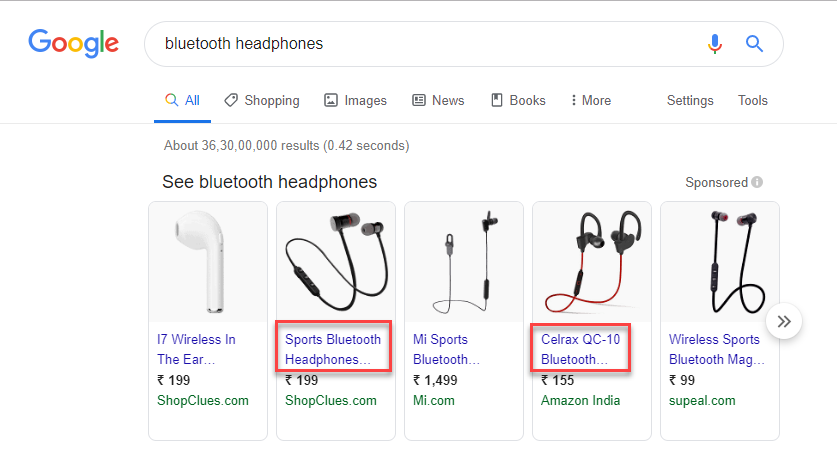 Special offers – Keeping special offers for your products, it will distinguish your products from the rest of them in the market.
Review: Reviews make or break your brand easily. Reviews give the customers a better understanding of the quality of your product.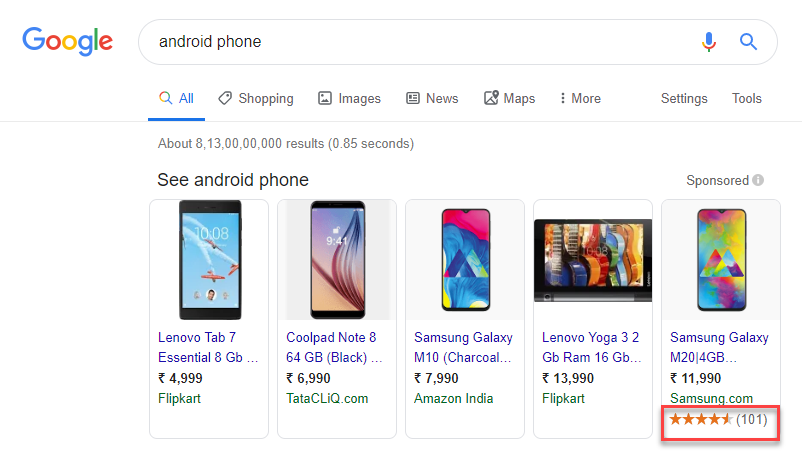 Again reviews are shown only when the retailer posts both good and bad review comments.
Better pictures: You must present your products in a visually appealing manner. It does capture attention easily. Always prefer to use a white background.
The diagonal view is ideal – Most of the products shown on Google Shopping use a horizontal view. It is ideal to use a diagonal view which is the perfect way to show the product. It is important to use your own pictures when you put them up.
Following a couple of these tips can surely let you successfully bring out your brand to success.
Google Merchant Center – A Beginner's guide
Let us take a look at the role of Google Merchant Center in Google Shopping. As we mentioned earlier, we know that for Google Shopping we need Google Merchant Center and Google Ads.
In order to get your products on to Google, all you need is an efficient Google Product Feed. Google Product Feed is generated using multiple methods like –
Manual – Using a template from Google Merchant Center in Google Sheets, wherein you can manually enter all the details of your products into the various columns.
Automated – Using product feed plugin for respective platforms. If you are using a WooCommerce platform, then ideally, it would be best to use WooCommerce Google Product Feed tools like ELEX WooCommerce Google Shopping Feed Plugin. It will generate an error-free WooCommerce Google Shopping feed.
Find out how you can generate a WooCommerce Google Shopping feed successfully here.
Once a feed is generated,  it will contain a link that points to the feed. In the case of ELEX WooCommerce Google Shopping Feed Plugin  it gives an XML/TSV/CSV file in the end.

The feed URL is now input into the Google Merchant Center.
Let us take a look at the Google Merchant Center.

What is the Google Merchant Center?
Google Merchant Center is a product by Google that helps retailers to upload their product feed into Google Shopping ads. To create an account you must log in to merchants.google.com using your Google account. It is important to set the location when you are creating the account. Even though Google Merchant Center is exclusively used to help merchants, it has certain rules and regulations to follow. Take a look at the guidelines to follow at the Google Merchant Center.
The basic ones to follow are :
Use only products available for direct selling exceptions only in the case of Affiliations.
Use the common official language for your website, product data and the language at the time of submission.
Ensure refund and return policies are crystal clear.
Collect the information regarding users promptly and clearly. Also, ensure privacy.
Follow the shopping ads policy listed here.
Claim your URL and Verify the same.
Ensure your website requirements match the guidelines set – secured checkout, the privacy of data, Billing and conditions and accurate information.
Ensure your product data matches product data specifications.
It is important to adhere to the several policies listed in Google Merchant Center, before launching any kind of campaigns for your products.
Creating a Google Merchant Center Account
Follow these steps to create Google Merchant Center account :
1   Signup/ Login if you have an existing account for Google Merchant Center.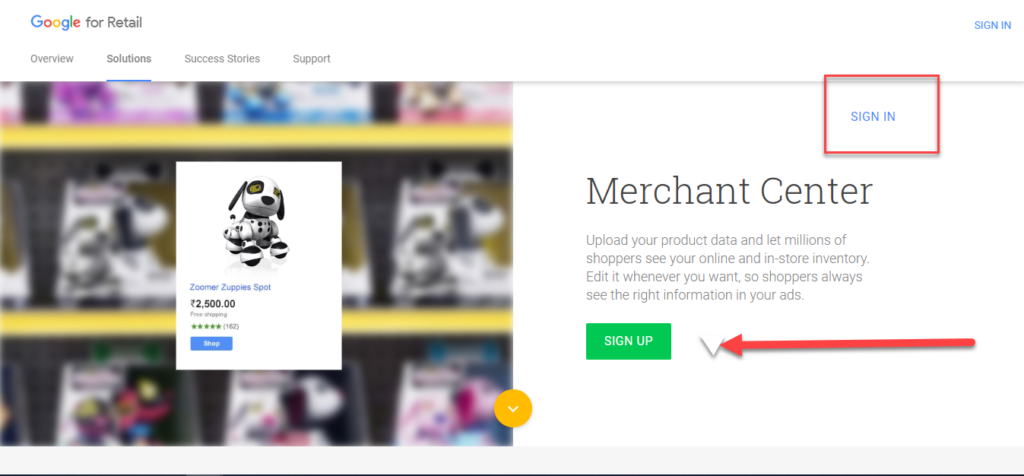 2.  Fill in the necessary details here.
3.  Google Merchant Center policies favouring the merchants, hence it is better to follow them.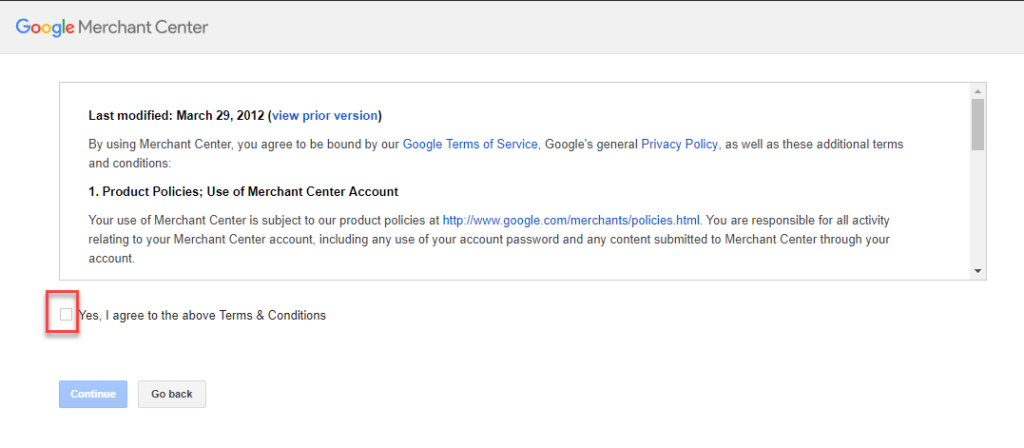 4. Now you get a Google Merchant Center account successfully done.

How do you get your products on to your Google Merchant Center?
To get your products on to Google Merchant Center, all you need is a product feed from your store. If you are using the WooComerce platform, it is ideal to use ELEX WooCommerce Google Product Feed Plugin.  It generates product feed easily adhering to the rules listed by Google Shopping. Generating WooCommerce Google Shopping feed using plugin will reduce the burden of getting it done manually.  Google Merchant Center lets a retailer use various methods to upload a product feed. We can take a look at it, further in the article.
Create Your Product Feed
Follow these steps to get your Google Merchant Center account fed with your WooCommerce Google Shopping Feed.
First, create a feed.

Add the feed details.

 Language selection is important to allow Google Merchant Center to help you upload product feed in various languages. Languages are shown with respect to the location chosen.

Check out the various country and language combination available with Google Merchant Center. It also lets you add new countries and languages if required.
Input the name of the feed. Also, provide a method to set up the feed.


Each method mentioned here can be used exclusively to set up Google Product Feed.
The methods are :
1. Google Sheets  – Google Sheets are the simplest way to upload your Google Product feed to Google Merchant Center. You need to manually enter all the data regarding the various product attributes. The file size is limited to 20MB.
2. Regular uploads using Google Storage Cloud, FTP, SFTP or from a local file. You can upload it from your system to the Merchant Center. Again the file size limit is 20Mb.
3. Schedule Fetches – Set up a schedule to fetch the feed data from your hosting site. It works with the URL of your feed location, which will be fetched at the time specified.
4. Developing Content API – Here with content API, the feed can be programmatically managed by the merchant.

Final Set-up requires you to input the URL of the feed generated. Here is the URL of the XML file generated by ELEX WooCommerce Google Product Feed plugin.
 It also lets you set up refresh schedule which will let Google Merchant know when to fetch the product feed data from the estore.
Finally, the feed is created and ready to be used.

How to link Google Merchant Center to Google Ads?
Creating a feed is not the endpoint.
You need to link the Google Ads to Google Merchant Center. Google Ads will help you optimize the ads and let you decide campaigns for Google Shopping.
Best Practices
Keep a check on your product quality and feed.
Prepare and always optimize your feed even for bigger events.
Optimize and use Unique product Identifiers.
Check the sale prices of products.
Product Specifications from Google Merchant Center
Google Merchant Center eases any hurdles regarding Google Merchant Centre usage. Here are certain Product Specification guidelines specified by Google to ensure that your products are in-line with Google Shopping.
In fact, following these guidelines are important to get your Google Merchant Center account right.
Basic Product Data 
Browse through various guidelines here.
Find out about the unique product identifiers GTIN and MPN and why they are important.
Conclusion
To conclude it is important to realize that Google Shopping is increasingly in demand. Another key point is, in order to ensure that you as a merchant get the required exposure on the internet, use Google Merchant Center efficiently. Make sure you keep all your product feed data optimized and up-to-date. Ultimately following these important guidelines set by Google Merchant Center, you can see the traffic augmenting into your store.
Further Reading