For a long time, marketers have used discounts as a marketing strategy. Most people enjoy a good deal, and you may use it to promote a product or service. If you own an online business, it's critical to provide your customers with convenient and secure payment options.
Because some payment processors or gateways are better than others, you must carefully select your payment processor or gateway. Some, for example, do not charge transaction fees, benefiting both customers and merchants. This is why offering a discount or other incentive to clients who use a specific payment method might be a good idea.
Because the built-in WooCommerce functionalities have limits, you can't provide clients discounts based on their payment method.
Store owners are attempting to separate themselves from the rest of the market as the eCommerce arena remains incredibly competitive. How you handle pricing in your shop is one such distinct feature that has the ability to attract attention. Customers are constantly seeking the greatest deals on a product, and only a few retailers would wish to avoid offering any discounts. We'll go through how to give discounts based on payment types in this post.
The reasons for providing discounts for certain payment methods
The majority of internet merchants allow a number of different payment methods. Customers may use PayPal, Stripe, bank transfer, WooCommerce Payments, and other means to pay.

There isn't a single payment method that will suit every company. Depending on where your customers are located, you may need to provide a variety of payment options, including local gateways.

The problem is that adding more payment channels makes it more difficult to keep track of payments, arrange payouts, and calculate fees. Some payment methods have higher processing fees and pay money out on schedules that may not be convenient for you. However, if customers favor specific payment methods, deleting them is not an option.

Offering rewards based on the payment method a customer chooses is an excellent way to encourage them to utilize alternative payment methods. Even little discounts (such as 5% or 10% off) may entice customers to alter their payment methods. As a result of the discount, everyone is satisfied. That is, assuming the discount does not cut into your profit margin too much.
The perks of discounts based on the payment method
Give consumers a % discount off the subtotal in the Cart if they choose a specific payment option while making a transaction.

Include a discount for all of your company's current payment methods.

On the Checkout Page, you may personalize the discount label.

At any time, the discount can be engaged or removed.

To save even more money, discounts for several payment methods can be combined.
Details about the plugin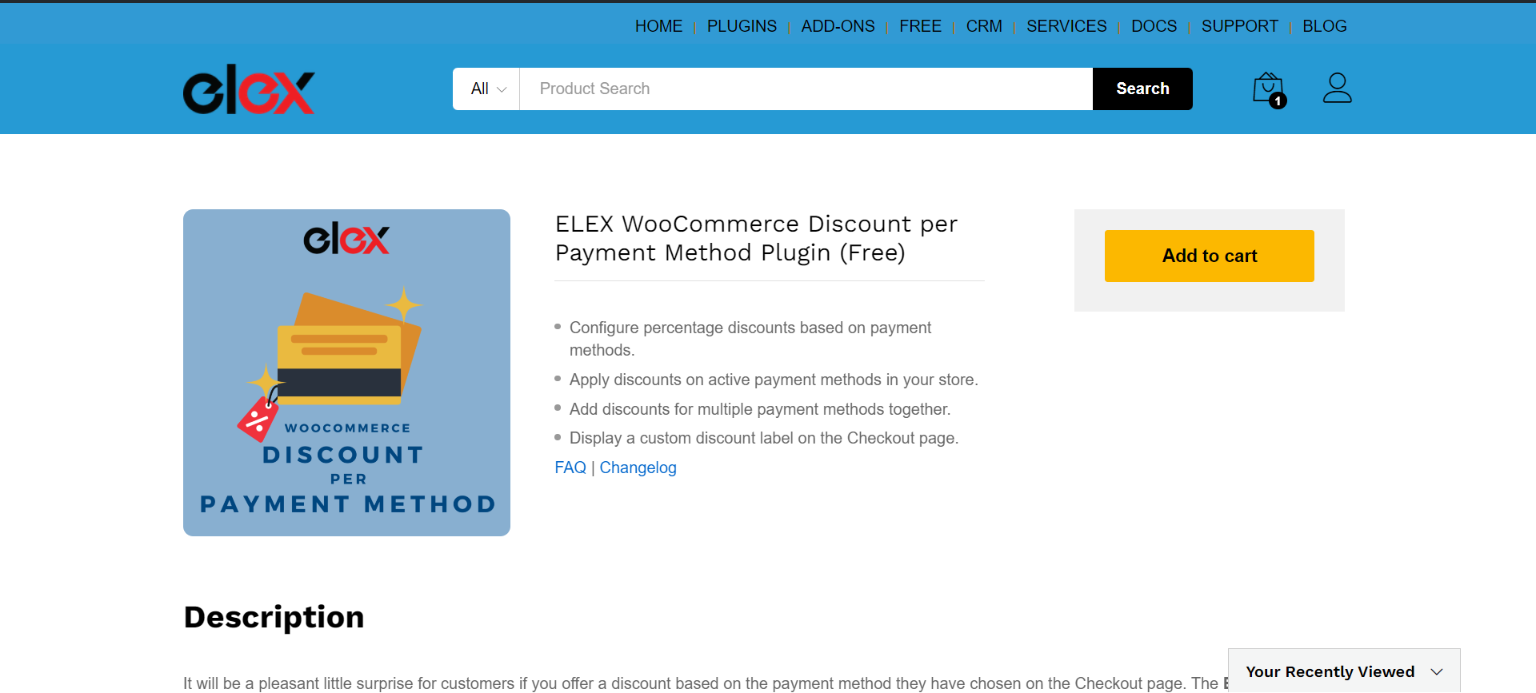 The ELEX WooCommerce Discount Per Payment Option plugin allows you to offer consumers percentage-based discounts based on the payment method they select at checkout. The percentage discount entered will be subtracted from the subtotal amount in the cart.
By putting the discount in the relevant field of each payment method, the admin may apply the discount to all current payment methods in their WooCommerce shop at once. They have the ability to enable or disable the store discount as needed, as well as remove the discount when it is no longer needed.
The following are a few of the plugin's features:
When customers choose a certain payment option to complete a purchase, apply a percentage discount to the Cart subtotal.

You'll be able to add a percentage discount to any active payment method in your WooCommerce store.

Use a custom label to inform the customer of the amount deducted from their shopping subtotal as a discount.

Allow any discount in your company to go into effect as and when it is needed.

At the same time, apply discounts to all of your WooCommerce store's current payment options.
How to Install and Use the Plugin
The plugin must first be installed and activated. Download the plugin's zip file after purchasing it from the ELEXtensions website. Go to your WordPress Dashboard > Plugins > Add New > Upload plugin and click Install Now after uploading the zip file.
Click Activate Plugin when you've completed installing the plugin.
To check the plugin dashboard, go to WordPress Dashboard > WooCommerce > Settings > ELEX Discount Per Payment Method.
First, add a payment method to the list. By default, no payment method will be given. You may add another payment method by clicking the '+' sign under Actions after selecting one from the drop-down menu under the Payment Method section.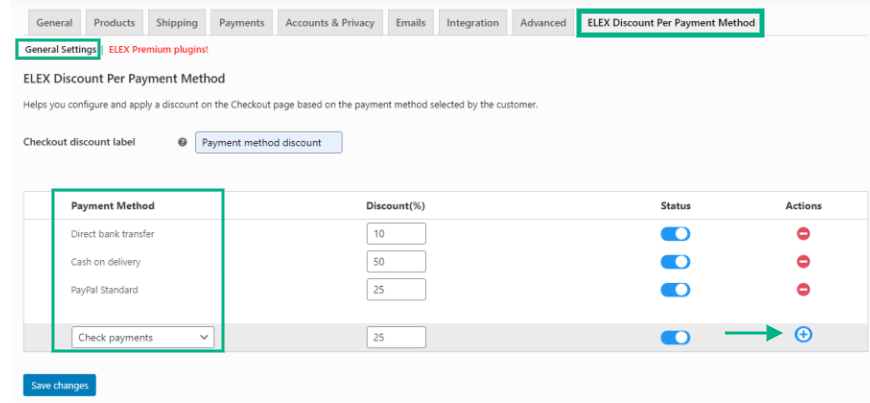 If the payment method drop-down does not display all payment options, go to Dashboard > WooCommerce > Settings > Payments and enable the relevant payment modes.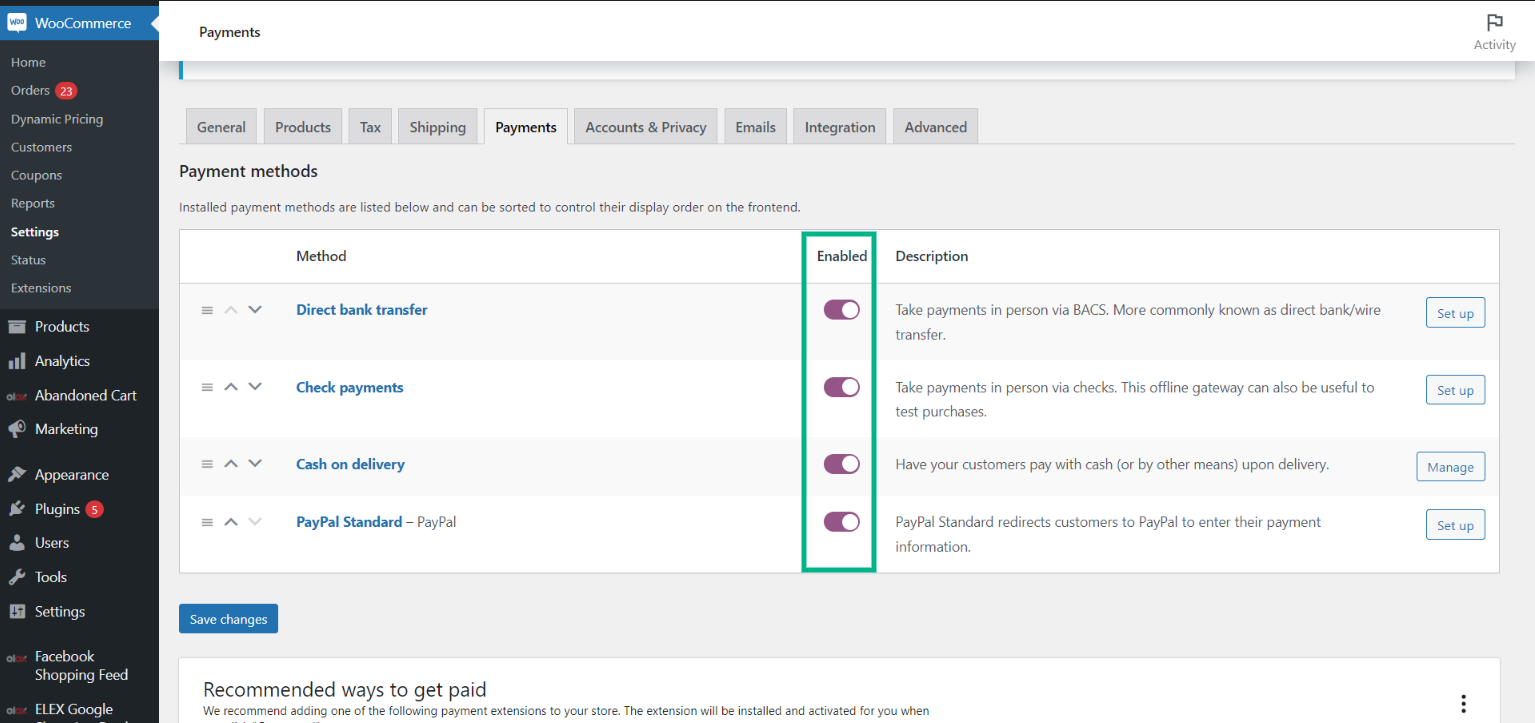 You may enable or disable the preferred payment method by turning on or off the status button next to it in the plugin settings.
In the Checkout Discount Label box, you can add custom text to create a label that will show next to the discount on the checkout page. The default custom text will be "Payment Method Discount."
Once you've completed defining the payment method discounts and updating the parameters, click Save Changes.
Conclusion
When starting an online business, it's vital to make sure payment methods are safe, reliable, and fair. To increase your profits, you might wish to encourage your consumers to select a specific payment option during checkout. One of the simplest ways to achieve this is to provide product discounts. One of the greatest plugins for this is the ELEX WooCommerce Discount Per Payment Method.
Further Reading