United Postal Service or UPS created the Digital Access Program to enable faster fulfillment options for eCommerce merchants. This new and advanced shipping experience allows a wider audience base by integrating various shipping softwares. In this article we will learn how to integrate UPS Digital Access Program (DAP) with WooCommerce?
What is the DAP Digital Access Program (DAP)?
UPS Digital Access Program (DAP) provides a one stop solution for delivery, tracking, order management and to simplify logistic complexities for your shipping needs. DAP aims to deliver high quality experience similar to e-commerce organizations. SMBs (Small and Medium-sized Businesses) offer similar shipping services at competitive prices. 
DAP is in collaboration with major companies that spearhead web store hosting, delivery executions and order management. 
With DAP UPS aims to broaden their range to pursue their journey of innovation and collaboration with leading shipping companies. Using shipping software allows individual shippers and online store owners to access UPS discounts at pre-negotiated rates. WIth DAP you can save upto 75 percent of total charges incurred by UPS shipping as it curbs the need to pay retail rates for local UPS.
Benefits of using UPS Digital Access Program (DAP)
Attractive Rates and Reliability
Mostly, discounts are accessible to only high volume shippers. However, with UPS DAP, as the rates remain constant for everyone, you can ship any number of packages without being stressed about the rates or affecting your budget and trust the reliable service of UPS and rest assured that your products will be delivered safely. Furthermore, there is no minimum or maximum cap, no sign-up fees required or additional commitments which make UPS DAP a perfect shipping partner. 
Uniform and Speedy Service
How can a cheap service provide quality to customers? UPS DAP is here to challenge this line of thought. The users who assume that shipping 100+ packages at an affordable price means degradation and compromise in service, rest assured because UPS DAP's policy is all about ensuring that the same familiar and reliable UPS standard service would be provided to all its users.
DAP leverages the UPS network efficiently to provide choices to the customers, convenience and speed in its delivery process, from ground shipping products to overnight delivery services. With DAP's huge database listings and the available wide-ranged drop-off locations, it ensures that users are comfortable in shipping any size of package. UPS DAP network caters to more than 200 countries and allows the business to expand on both domestic and international level with improved time-in-transits compared to other air service carrier companies across the globe. 
Starting With UPS DAP is Easy
EasyPost has integrated UPS DAP in its network carriers which allows the users to start the shipping process at the earliest. Create an EasyPost account and move towards the Carrier Accounts page visible under the email username to "Create" your account to access these rates.
You will also be provided with the USPS account during the sign-up process. You can gain access to a discounted set of rates from two of the biggest shipping carriers in the world. Before starting you are encouraged to email the companies and ask for their promo codes where you can find some lucrative offers.
The offers have been designed so efficiently to save you additional costs. UPS DAP is extremely SMB-friendly and offers attractive features and is a one-stop solution for everyone.
How to integrate UPS Digital Access Program with WooCommerce?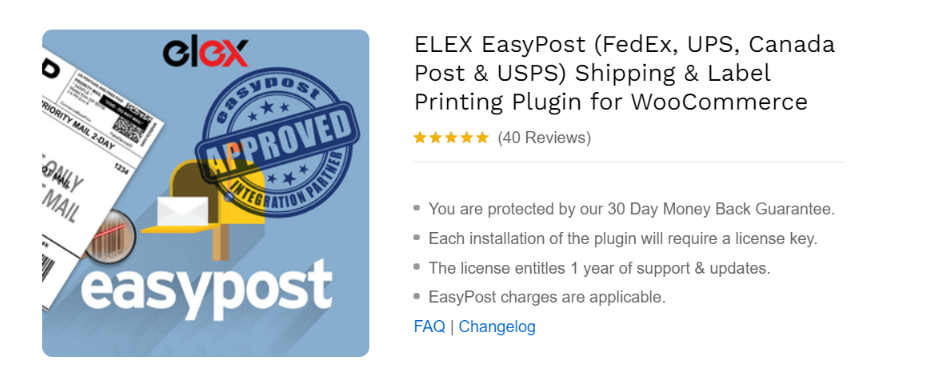 To use and display UPS Digital Access Program on your Checkout page, you can use our ELEX EasyPost (FedEx, UPS, Canada Post & USPS) Shipping & Label Printing Plugin for WooCommerce.
Features of ELEX EasyPost Plugin
Access live shipping rate from major shipping carriers
This plugin calculates shipping rates based on the product weight, dimensions, shipping address etc., to provide the customers with the best and most accurate prices. The plugin also fetches shipping carrier postage rates from the EasyPost account for domestic and international shipping services.
Track Shipments
The tracking number can be received by generating the labels of USPS/FedEx/UPS, is added to the order notes in the order completion email and also sent to the customer's email id. This aids in shipment tracking for owners and the customers.
Customize Packaging Options
Calculate weight, dimensions and other necessary measurements of the items in the cart, the rate is applied to the final price of the order in cart. Post order completion, the items are packed into the configured boxes.
How to Set up UPS Digital Access Program with WooCommerce?
From your WordPress dashboard Install the above plugin and activate it.
Now, go to WooCommerce > Settings > Shipping > EasyPost > General. This will direct you to a screen like below.
Here you can Enable the Realtime Rates to display UPS DAP rates on your Cart and the Checkout page. You can use the Debug Mode and Status Log for developers to view any technical issue and debug the same.
Select the API Mode as Test if you are still in the development phase or else select the Live mode. Enter the API key for Test or Live mode. Learn how to obtain the API key for EasyPost and all of its advanced features in this article: How to set up ELEX EasyPost Shipping Method Plugin for WooCommerce? (with Video)
Click the Save Changes button and proceed to the next tab Rates & Services.
Here, you can type a custom Method Title. Select the Method Available to All Countries or Specific countries. Enter the correct Zip Code, Sender State Code and Sender Country. Now scroll down to the bottom of this tab where you will see an option EasyPost Carrier(s). 
From the available options choose UPS DAP. Directly below it you will see a list of services for UPS DAP. You can select multiple shipping services among these options, assign a custom name for these services and adjust price or percentage. When you are completely satisfied click the Save Changes button.
Customers can now choose the UPS Digital Access Program rates from the Checkout page and place their orders. 
Now that you have a decent knowledge of how to integrate UPS Digital Access Program (DAP) you can start setting it up on your WooCommerce store. Just follow the above simple step by step guide to use UPS DAP on your online store. If you still have any questions or queries you can mention them in the comments below. For any update or ideas you can write to us directly.
Further reading