Nowadays, we use chat for both formal and informal communications. When it comes to informal chatting, we use platforms like WhatsApp, Facebook Messenger, etc and for formal communications in companies and offices, we use Skype, Google Hangout, and so on. These platforms have been replacing formal email communications and phone calls. Because chatting feels more comfortable and convenient for us. The same way many websites have adopted live chatbots to their company websites to help their customers to reach out to them as soon as possible when they need any assistance.
Sometimes a customer needs to ask a presale query before proceeding to a business deal or sometimes your existing customers need a solution from you if they are stuck on any issue while using your product or services. For these kinds of communications, it is necessary to have a live chat plugin in your WordPress site to provide a chatbot on the website. In this article, I would like to discuss with you how to do live chat on WordPress website.
Let us begin with choosing the best live chat plugin for your WordPress site and the benefits you will get when you integrate with your site. 
Basically a live chat plugin provides a platform for the customers to ask queries and from the back end, you will receive their message and you can reply to them. This is the basic process that happens here like any other chatting platform. But when it comes to a business website, we require many more advanced features along with that. It should offer high security and privacy to your data since there are chances of sending sensitive information like certain credentials through the chat. Hence it should ensure that no security breach will occur. The data should not store in multiple server locations and you should be the exclusive owner of your data without any external dependencies. And if you have recruited agents to solve the tickets if you receive many tickets every day, the plugin should favor making their task faster and efficient. There should be an option to save unlimited chat history to refer them in the future if any requirement arises.
The plugin should also open for customizations on the chat widget. Because every website and the niche of their business is different. So the theme and colors should match with the chat widget. For that, it should provide an option to customize the widget colors to make the widget to fit into any website theme and colors.
As we know, most of us use smartphones rather than PCs and laptops, many customers will reach you via their mobile phones. Like you have optimized your website for mobile phones, the live chat plugin should be mobile optimized to make the widget work properly on mobile screens. These are the essential features you should check in a WordPress live chat plugin before integrating with your site. WSChat – ELEX WordPress Live Chat plugin offers all the above essential features, in addition to that it offers a handful of advanced features to improve your chatting experience.
Let us go through this top-notch plugin and check how to do live chat on WordPress with this plugin.
How to do live chat on WordPress with WSChat – ELEX WordPress Live Chat plugin?
WSChat – ELEX WordPress Live Chat plugin helps you to integrate live chat plugin seamlessly with your WooCommerce store. Its user-friendly interface lets you configure the chat, widget, and the notifications for the agents accurately. So now, let us check how to do a live chat on your WordPress site. 
First, you need to install and activate the plugin. 
You can go to the dashboard -> WSChat -> Settings.
There you can enable the 'Widget Status' for making your status online for customers to reach you. You can set up the widget and other advanced features for improving the chatting experience with the help of a document How to Set Up WSChat – ELEX WordPress Live Chat Plugin?. After enabling it, customers can see the chat widget on your WordPress website as online and they can send a query or message to you. Check the screenshot:
Like any other chatting app or platform, customers can send messages. In the back end, you will receive the message on a tab. For that, you can go to WSChat -> Live Chat.
Check the screenshot:
Here you can see the active chats and recent chats. In recent chats, the conversation will be stored up to 10 minutes after the session has been expired. Then the conversation will be moved to Chat History. You can retrieve it at any time since this plugin offers unlimited chat history. 
For replying to the message of customers, you can click on the chat conversation and send the reply. Check the screenshot:
You can send the reply as usual by typing and clicking on the send button. You can even send some attached files and emojis to the customers. This reply will be displayed to the customer as:
Like that, you can continue the conversations. You can add customization features for customers with WSChat – ELEX WordPress Live Chat plugin. They have a default mute button on the widget. You can enable 4 options for them to improve their chatting experience. They are:
Attachment:

For sending attached files along with the text response from the customers.

Video recorder:

They can record and send a video on the issues they are facing instantly with this option.

Send chat history:

They can enter a mail ID and send the entire chat history to that mail ID in just one click.

Chat rating:

They can rate your services and assistance by clicking on the 'like' or 'dislike' button. You can check this on the detailed report provided by this plugin.
You can find this on WSChat -> Settings -> Chat Settings.
After enabling it, you can find the buttons on the chat header. Check the screenshot: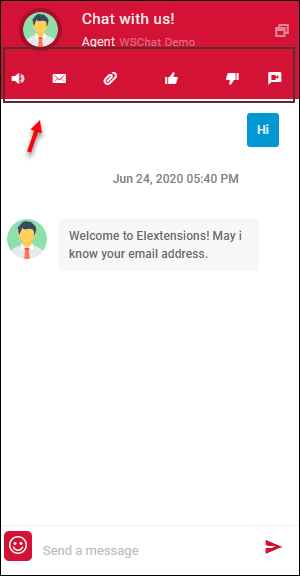 The colors of the chat widget can also customize from your side if you want to make the widget to fit into your website perfectly. You can customize chat widget background, Header Background, Header Text Color, Chat Background, Agent Message Background, Visitor Message Background, and Message Text Color that matches with your website design and theme. 
Likewise, you can set up these features according to your requirements. It also provides interesting emojis to improve the chatting experience.
Now, let us check other advanced features by this plugin.
High security of data
As we have already discussed, unlike any other third-party live chat plugin, this plugin does not store your data on multiple server locations. You will be the exclusive owner of your data and you can manage it without any external dependencies. This ensures that there will not be any security breach on your data and any external entity cannot hamper your works. Since it is independent, you can access it from anywhere at any time using a web browser.
Features for agents
The number of agents depends on the number of tickets you receive every day as well as the scale and the domain of your business. You can create as many agent profiles as possible with this plugin and you can also import agents from WSDesk – WordPress Helpdesk & Customer Support Ticket System Plugin, as it is compatible with WSChat – ELEX WordPress Live Chat plugin. There is an option to set up sound and email notifications to the agents when a customer sends a message. And they can initiate the chat from their side as well. The pre-chat form can be set up for replying from their email ID for making the replies faster if the agents can't reply from the dashboard at the time.
Monitor the real-time visitors
You can monitor the live visitors of your website in a tab. This tab will display the information such as the IP address, the page they are viewing, the operating system of their device, and the time they spend on your site. This will help you to initiate presale queries to the customers.
AI integration
For triggering automated responses for frequently asked questions and common questions from the customers, you can integrate AI(Artificial Intelligence) with this plugin. Using Google machine learning's Dialogflow tool, you can configure it easily. It will help you to provide answers for your customers in text, image, audio, video, and any other file formats right after they raised the question. You can also personalize the answers with Dialogflow. And can integrate Google Assistant and other third-party platforms such as Facebook Messenger, Amazon Alexa, and Telegram, etc with your chatbot. For more details of setting up this, you can go through Detailed Guide on Setting up Dialogflow.
Detailed report for performance analysis
You can view the detailed report for a particular time period. You can view the ratings, quality scores, and the number of tickets associated with all agents. This will help you to understand where you need improvements and this will give an insight into the overall performance of your customer support service.
Wrap Up
It is important to integrate a robust live chat plugin to your WordPress site to improve the customer support experience and sales of your business. WSChat – ELEX WordPress Live Chat plugin will help you to provide the best customer assistance experience with its advanced features and help you to increase the conversion rate of queries into sales. 
Further Reading