If you are integrating your UPS account with a third-party, you can easily bill your UPS shipments to your account or even the third party.
What is a Third-party shipper?
UPS offers several options to manage shipping costs to decide who pays for the shipment. Basically, it is either the shipper or the receiver who is automatically billed.  A third-party biller is basically one with a valid UPS account number and is accountable to receive the shipment irrespective of any location with a limited charge applied.
The third-party billing rate is applied to the entire shipping charge, which also includes the base rate as well as the applicable accessorial charge
UPS Billing options
The third-party billing option by UPS commenced in 2016 with a surcharge fee of 2.5% of the total bill of shipping cost to be charged upon the third-party.UPS offers several billing options to offer flexibility to the customers. In case the billing options are not specified, then the billing is charged upon the shipper.
Here are the following Billing options in UPS :
Bill Shipper – This is completely a prepaid option, where the bill is charged upon the shipper's UPS account.
Bill Receiver – This is pure collection of the bill, wherein the bill is charged on the receiver of the shipment.
Bill third-party – UPS allows to charge the bill upon a thrid-party other than the shipper and the receiver. In here, the third-party needs to have a valid UPS account number and also has agreed upon incurring the charges.
Bill  Payment Card –  UPS allows to bill the shipment to a payment card, which is available upon creation of a shipment on UPS.com or while using a UPS shipping document.
What is UPS Third-party Billing
All you need to do is a third party who is willing to accept the charges other than the shipper and the receiver. Moreover in order to validate the third-party requires a valid UPS account number and a zip code. Majorly the third party must be a pre-approved one as well as owns a UPS account number which is valid to receive the shipments.
UPS Third_party Billing with ELEX EasyPost
The ELEX EasyPost Shipping Method Plugin for WooCommerce helps to add the third-party billing details without much effort.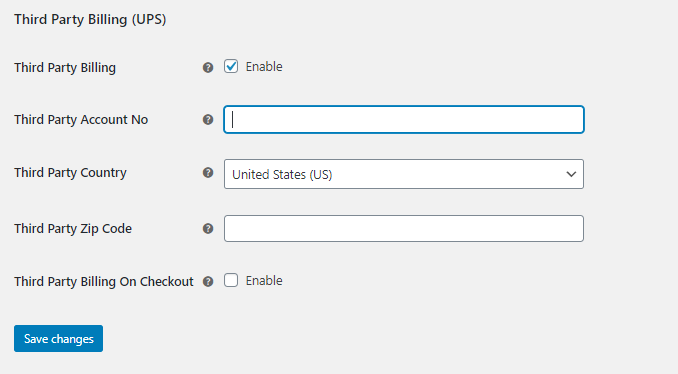 Here you need to enter the third-party billing UPS Account number, the third party country and the third-party zip code. You can also opt for billing the Third-party upon shipment checkout.
The plugin makes it easier to collaborate with third-party and ease your process of shipping with EasyPost. Get to know how to set up the  ELEX Easy post plugin here. The plugin also works well with Multi-vendor setup and is compatible with WooCommerce Multi-Vendor Support for ELEX Shipping Plugins.