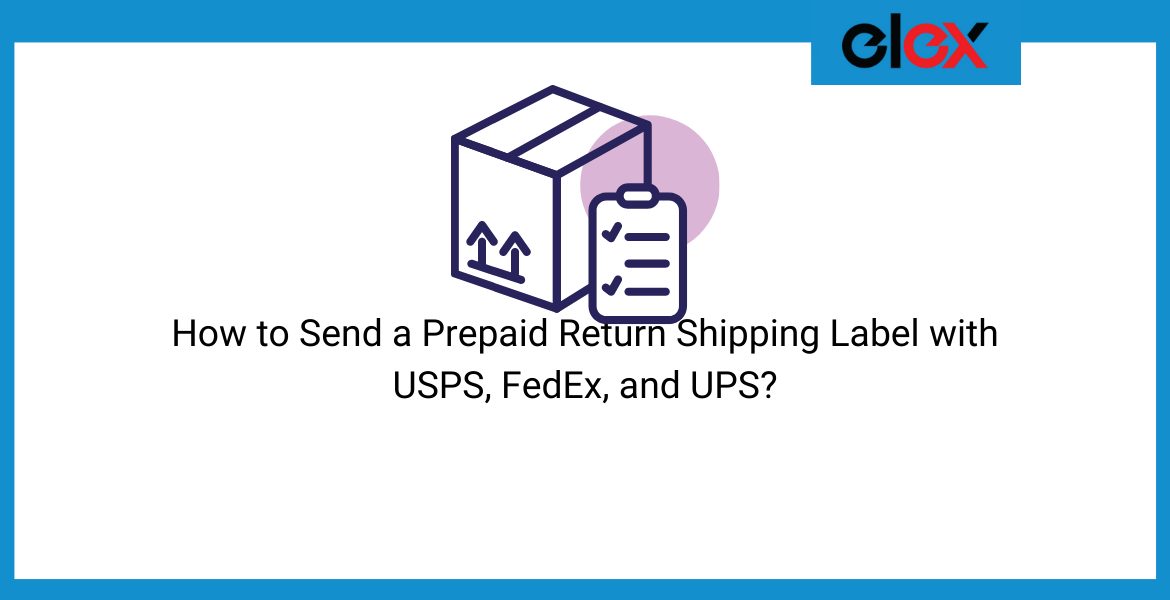 How to Send a Prepaid Return Shipping Label with USPS, FedEx, and UPS?
In this article, you will learn how to send prepaid return shipping labels with USPS, FedEx and UPS using our ELEX EasyPost (FedEx, UPS, Canada Post & USPS) Shipping & Label Printing Plugin for WooCommerce.
Returning Shipment – an unavoidable aspect
Most eCommerce businesses have to deal with return shipments, and it is quite unavoidable. Even though it is a hassle, most stores do have options for returns to ensure that their customers are happy. If you see, almost 30-35% of products purchased are returned by the customers. It is essential that as a retailer you take proactive steps to ensure that no customer goes for returns and if they do, then there are no complaints about the return services. Also, you need to proactively work on the customer's interests, so that your customer is happy with your services. All these will help you retain your customers and grow your sales.
Even though you run your store so diligently and keep up with quality, there are chances for returns. So instead of worrying about the returns happening, why not utilize this in a better way? Make it hassle-free, simple and facile. This will surely gain you a positive review from your customers, which is surely going to help you grow your sales exponentially.
This is why we do have return shipping labels. It saves a lot of time and also money when it comes to shipping. Here we take a look at how we can send these return shipping labels and make use of them effectively.
What is a Prepaid Return Label?
A prepaid return label is a shipping label, that is prepaid as well as pre-addressed, to help your customer return their shipment at the time of delivery without much difficulty,
Using this method, you can process the returns quickly without any possible errors like address mistakes. Moreover, the seller can choose the shipping options, which are cheaper and control the return costs. In this way, the whole return shipping option can be optimized to suit the business need. Besides, if the return shipping labels are not used, you are not going to incur any extra costs.
How does Prepaid Return shipping label work?
To create a return shipping label, firstly you need to choose the corresponding shipping service \which you want your customer to ship their items for return. Provide the business address to which you want the shipment to be returned. You can also let your customers choose the number of items returning if in case you are shipping multiple items. And finally, make the payments to cover the return shipment charges.
Using corresponding shipping courier companies, you can easily create a return shipping label. Make sure you choose the cheapest option to be conscious of your budget. Now if you see there are two ways you can ensure that your customers are getting a prepaid return shipping label :
Send it along with the shipment: This sounds ideal because your customer can right away return the shipment without any hassle. All you have to do here is, just take the shipment to the courier service and place the return.
Allow the customer print it: You can email your customers the return shipping label and then allow them to print them and attach with the item they are returning. Once done, they can take the item to the respective courier office.
How do I create a USPS prepaid Return shipping label?
The preferred way of getting your USPS return shipping label is through USPS Click-N-Ship. It offers a convenient and affordable way to create a prepaid return shipping label for your customers.
With USPS, we can find several shipping classes for return shipments. It is easy to get USPS return shipping labels printed and sent to the customer. You can even get return shipping labels for Priority Mail and First Class options.
As per the USPS shipping, the way to get return shipping labels to customers are :
Include them in the shipment, while you ship the product to the customers.

A faster way is

integrating a tool to your website to get the return shipping label

printed and attached to the order.

Allowing customers to print their return shipping labels as per need.

You can also request a return label through any print and deliver label service.
How do I get a Prepaid FedEx Return Shipping label?
Here are the steps to get a shipping label from FedEx.
Firstly, sign in to the FedEx account, or create one.

Go to the "

Ship"

tab and then choose "create shipment".

In the

prepare shipment

tab, you can see the "Create Return Shipment "option in the list.

Provide all the necessary information regarding the company's shipment information and the contact's shipping information like address, contact number etc.

Choose the return label type from the drop-down that suits you.

Choose the package type for the return shipment.

Also enter the package details like a box, tube or envelope and the number of packages etc.

If you want to change the billing account, then you can click "Bill transportation to" and provide an alternative 9 digit FedEx account number.

Then Click Ship, the shipment will be processed. You can then use the tracking number displayed to track the shipment and then print the shipping label.
Find out a range of options in return labels with FedEx.
Mainly they are used exclusively for medical, legal documents, etc. It will cost nothing until it is used. You can also email the return shipping label to your customers easily via FedEx. FedEx also has FedEx Express billable stamps, which have preprinted addresses and also the shipping options, which are cost-effective and help you manage returns shipping easily.
How do I create a UPS Prepaid Shipping label?
You get a wide range of options when you are choosing the UPS Prepaid return shipping options. Using UPS CampusShip, you can easily facilitate return shipments at a nominal fee. To get the return labels, enter the 'return to' and 'return from' addresses, and then provide the weight and dimensions of the package.
Once done, you get the UPS return shipping options. The following are the return service options from UPS.
UPS Returns – Print Return Label – Using this service, you can send the return shipment labels either with the shipment or separately upon demand.
UPS Returns Plus – Using this service, a preprinted UPS return label is carried by the delivery person when they are off to pick the return package from the designated return address. A max of 3 pickup attempts is made to obtain the return package.
UPS Electronic Return Label – Using this option, you can easily email the return shipping label to the customer. The customer can print and attach to the package to return.
UPS Print and Mail Return Label – With this service, you can print and mail the return label to the respective customer with a suitable option.
How to create your prepaid return shipping label for USPS, UPS and FedEx for your WooCommerce store using ELEX EasyPost Return Shipping Label Add-on?
EasyPost lets you obtain real-time rates and shipping labels for your UPS, USPS and FedEx shipping carriers on your WooCommerce store. To integrate the EasyPost services to your store, you can make use of the plugin ELEX WooCommerce EasyPost Shipping Plugin with Print Label & Tracking. Here are some of the prominent features of the plugin to look for :
Access both domestic & international real-time rates from FedEx, UPS, USPS as well as CanadaPost

Allows printing shipping labels.

Provides live Tracking information for shipments.

Intelligent packing algorithms for effective packing of items into custom boxes.

Lets you offer discounts or add a markup on shipping rates along with Price adjustments.

Also has an Insurance option for packages.

Show the estimated delivery date for all shipping options, and much more!
Along with the shipping plugin, you can make use of ELEX WooCommerce EasyPost Return Label Add-On to get the return shipping labels printed without much hassle right from your store.
Get your prepaid Return shipping labels printed right from your WooCommerce store
All you need to do is install and activate the add-on on your WooCommerce store. Once done, go to Dashboard > WooCommerce > Shipping > EasyPost > Return Label, you will find the following screen as shown below :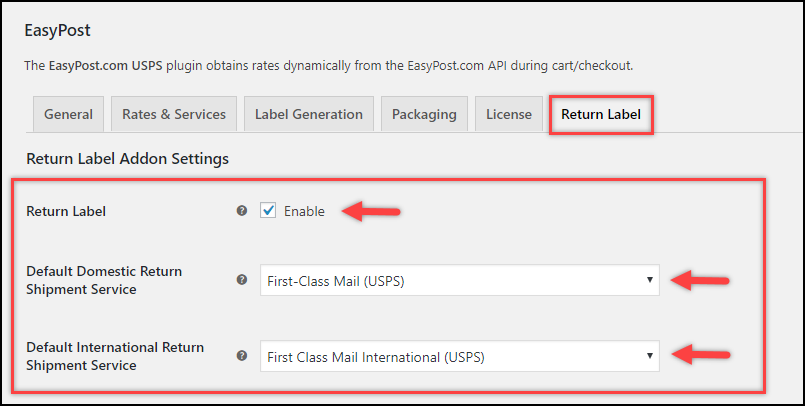 Here you can enable the Return Label option as well as choose the default Domestic and International shipment service from the shipping options available. Again if you want to auto-generate the label, then you can check the following options as shown in the image below :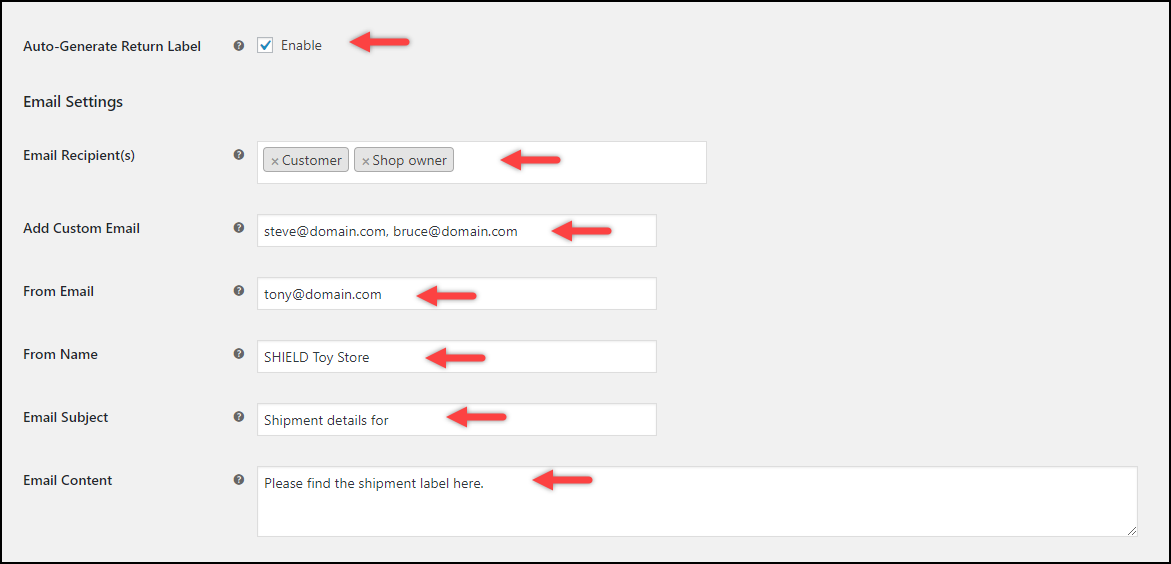 Here you can also set the email ids to which you want to mail the auto-generated return shipping labels as well as the content for the same. You can also set the email subject and content for "shipment failed" notifications, using the below settings as shown in the image below:

For return shipments for which you want to allow another shipment address, you can enter the same in the settings in the plugin. The plugin lets you enter an origin address in the ELEX EasyPost shipping plugin as well as in the ELEX EasyPost Return labels add-on settings for returning the shipment or providing a new address for shipping the return shipment.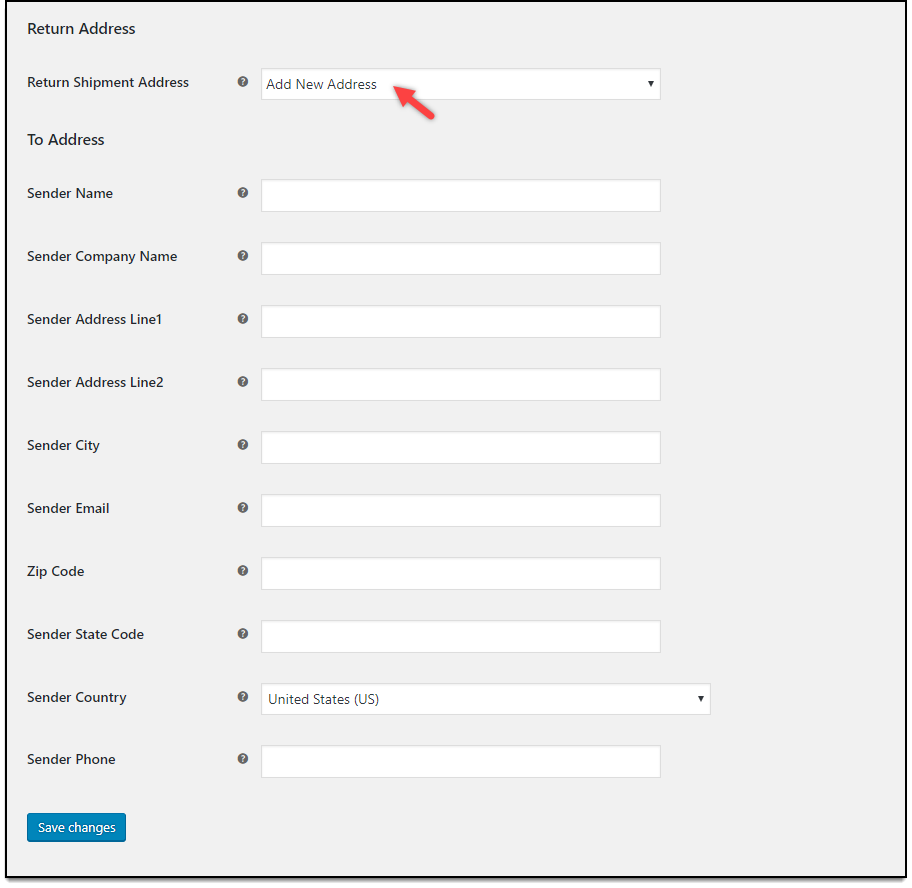 Once these settings are done, when a customer purchases an order, in the order page, you can see settings to return the shipment with the option to enter the quantity to return too.
Once you have chosen the quantity and the item to return, you get the shipping label for the same. The label looks like the one given in the image below.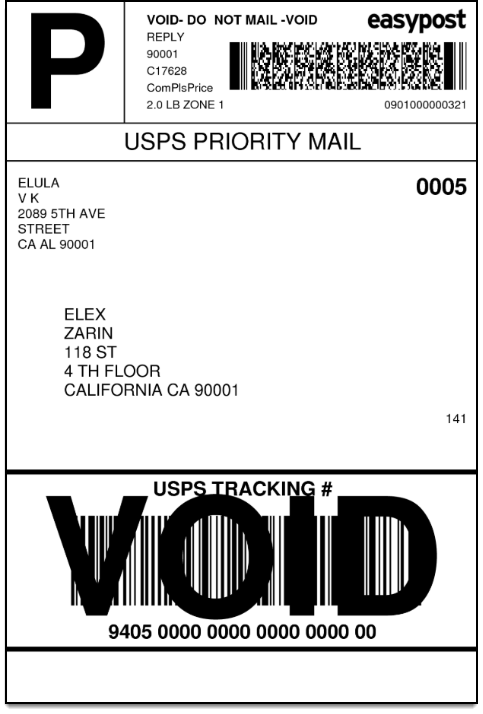 You can similarly print the FedEX and UPS prepaid return shipping labels without much effort.
Strengthen your Customer base, with prepaid return shipping labels
Getting return requests from your customers is not something you can avoid, but again you can simplify the process with the right process in line. With cutting edge technology, you can ensure to keep your customers happy. By allowing them to grab a quick and simpler option which is not cumbersome, will help to upkeep your brand name, and consequently, benefit the business.
Don't forget to check out the ELEX EasyPost Shipping & Label Printing Plugin for WooCommerce and ELEX WooCommerce EasyPost Return Label Add-On.
Further Reading: