In this article, we take a look at how to provide an accurate estimated delivery date for Australia Post shipping on your WooCommerce store.
Introduction
Delay in delivering a product is something no customer would prefer. Providing an estimated delivery date on the orders purchased is quite welcoming and also leads the customer to place the order rather than abandon the cart. Not showing the estimated delivery date leads to confusion among the customers, they require to see the dates upon which they are likely going to receive the product purchased. It reduces the concerns caused due to anonymity regarding the dates. Shoppers always prefer to see the estimated delivery date, in order to priorly plan the purchase. Hence most of the shipping carriers began to provide the estimated delivery date on their cart and checkout page.
The Estimated Delivery Date for Australia Post Shipping
The estimated delivery date is the date upon which the item purchased is supposed to arrive at the customer's location. If you are shipping via Australia Post, then you can make use of the estimated delivery options to display the estimated delivery date on your cart and checkout page.  Basically Australia Post has a certain specified estimated delivery date, for each service.
| Australia Post Options | Estimated Delivery Date |
| --- | --- |
| Express Post parcels and Express Post letters | Next Day Delivery |
| Parcel Post | Delivery in 2 or more business days |
| Priority letters | 1-4 business days |
| Regular letters | 2-6 business days |
Similarly, you can include this estimated delivery date in your WooCommerce store easily using the ELEX WooCommerce Australia Post Shipping Plugin with Print Label & Tracking plugin. In the plugin settings, you can do the setting in the Rates and Services tab.
Upon enabling the Estimated Delivery Date Setting, you get the following options as shown in the image below.

When you enable Estimated delivery date settings, you can see the working days to be selected from the list as well the cut off time and the lead time. Other than that you can also set view options as the estimated delivery date can be shown as a number of days or the date. If a cut off time is specified, then the order placed after the cut off time will be considered to be shipped only on the next day.
The lead time is the number of days before you can initiate the delivery process. Upon setting the View Options, as date, you can see the estimated delivery date displayed on your cart and checkout page.
Upon setting the estimated delivery date view options as, date, you can see the date instead of days.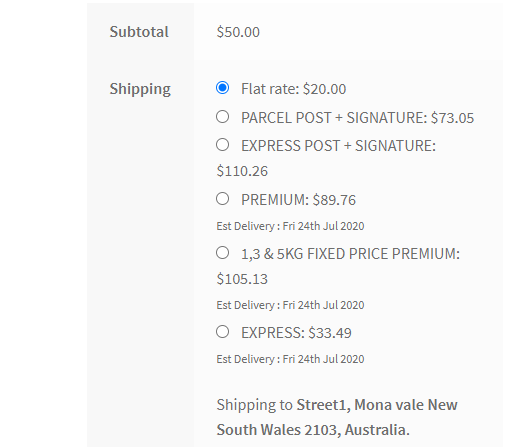 To Wrap Up
Displaying the estimated delivery date, you are thereby reducing the anxiety of the customer and also ensuring your services are prompt in delivering the items without any delay. This is one of the ways in which you can gain the customers' confidence and also build your brand and gain profit.
Further Reading: