The success of your online business and consumer happiness depend on shipping labels, which may appear to be a little piece of the ecommerce jigsaw but are essential to both incoming and outbound logistics. Shipping labels assist people and technology to understand the origins and destination of your item by sharing crucial information with your supply chain.
An identification label that aids in describing and identifying the contents of a container or shipment is a shipping label. Important details including addresses, names, weight, and tracking barcodes are included on these labels.
In the absence of visible shipping labels, your clients' orders may be misplaced or handled carelessly, resulting in a negative customer experience, weakened brand loyalty, and eventually decreased revenue.
The days of providing handwritten instructions on where to send the order and how to process them are ended thanks to the latest technology and automation. Today, shipping the product to your consumers requires automatic printed labels.
In this post, we'll go through a detailed guide that explains the north and south of a shipping label along with everything in between.
A Shipping Label: What is it?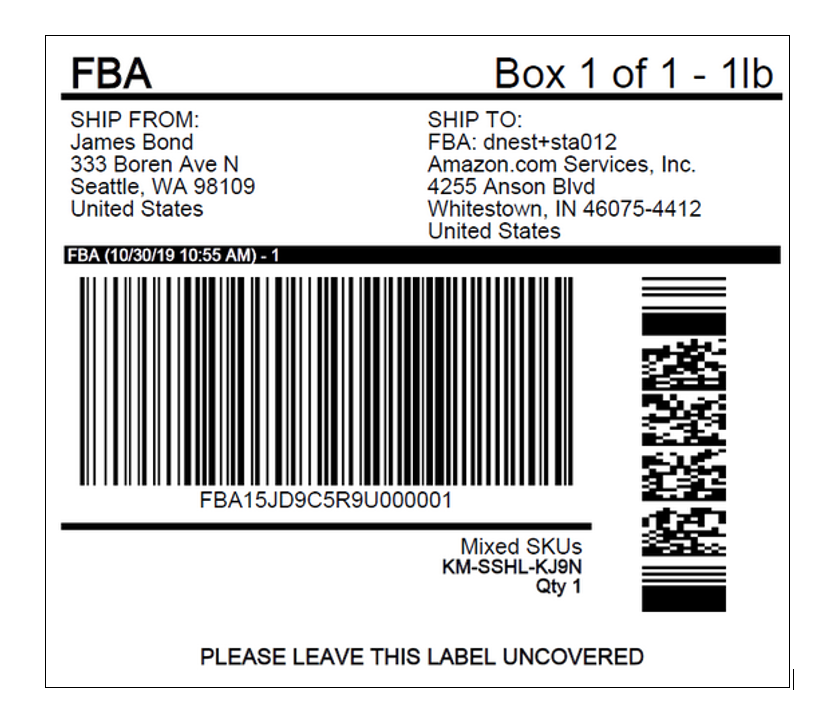 The most important details for a carrier to deliver a package from their start destination (your warehouse) to their final destination (the customer's hands) are shown on shipping labels.
Postal code, nation, tracking number, date, package quantity, weight, address, validity, and ship street, city, and state are among the crucial pieces of information (area). Shipping labels may also provide a description of the contents, particularly if the package is being sent internationally.
In order for the carrier to verify that the service for which payment has been made is supplied, labels also contain information on the shipment type (such as 1-day delivery, Standard, etc.).
Because every label is different, you cannot recycle old labels. Each delivery requires the creation of a new label.
The Function of Shipping Labels
The information needed to guide items to the right locations, track them through every step, and guarantee the right service is offered is shown on a shipping label. Each shipping label template used by a carrier is unique. They must be understandable and simple to comprehend because they are intended to be read by both people and robots. Use their templates since each carrier created their label to coordinate with their particular sorting and delivery procedure.
There are barcodes, numbers, and letters on a shipping label. The process depends on each of these. To certain parts of the chain, each section delivers information.
The majority of the data is generated automatically by the carrier. The key details you require are:
the name and address of the sender

the address and name of the receiver

The method of shipment
Ideal methods while using shipping labels
There are a few pointers that might be helpful when making a shipping label.
Recognizing your shipping requirements
Understand your shipping requirements as a company or an individual first. How frequently do you transport goods? How far may things be shipped? What sort of goods? To understand your needs completely, the following questions must be addressed.
Verifying the shipment details a second time
It's also crucial to double-check the details on the shipping label to prevent a problem later on. Not only should you double-check that you have the correct information, but also that you have correctly recorded it.
Prepare the shipping capital
Make sure you have the finances available because shipping costs money and can be pricey depending on the volume, size, and location of the delivery.
Link up with a shipping company
Shipping companies have simplified the shipping procedure for both novice and seasoned e-commerce enterprises. Locating a nearby carrier might aid you with this procedure, particularly for self-fulfillment businesses.
Team up with a 3PL (3rd Party Logistics)
Be sure to collaborate with a 3PL like ShipBob or ShipStation, as a final piece of advice. Your fulfillment process may be handled by ShipBob, giving you more time to expand your company.
In most circumstances, the process of processing an order includes the generation of shipping labels or the creation of a shipping label. The shipping labels that carriers use in their delivery must adhere to strict guidelines. Unfortunately, a lot of small businesses who mail just a few packages each week purchase labels from a carrier's office, which results in their paying for postal charges at a very expensive rate to pursue.
Creating your own mailing labels provides additional benefits, such as lower postage costs and the ability to schedule package pickups rather than going to the post office. To reduce manual input as much as feasible, there are several techniques to create shipping labels and do so swiftly.
How to Create a Shipping Label
In most circumstances, the process of processing an order includes the generation of shipping labels or the creation of a shipping label. The shipping labels that carriers use in their delivery must adhere to strict guidelines. Unfortunately, a lot of small businesses who mail just a few packages each week purchase labels from a carrier's office, which results in their paying for postal charges at the wholesale rate—a very expensive course to pursue.
Instead of standing in line at the post office, consider making your mailing labels and scheduling package pickups to save time and money. In order to create a shipping label, you must follow the instructions given by the carrier.
These are your two choices:
Label creation and payment are done at the local branch.

The postal service charges list costs for shipping labels, making it the most expensive pricing category.
This will not allow you to manually construct a new framework or manually complete a shipping label. Making suitable shipping labels, however, is a crucial part of shipment management, and employing efficient shipping management software may make your job in this area much simpler.
It is possible to create a shipping label in one of two ways:
Use a shipping provider's website to get a shipping label for a single transaction: Fill out the shipping label format on the website of the shipping company before downloading it to your computer.

Automate the printing process by using a fulfillment partner or a shipping aggregator: The production and distribution of shipping labels are both automated.
There are other possibilities, including the pay-as-you-go model, which is appropriate for smaller merchants, and recurring premium subscriptions, which are appropriate for developing e-businesses. Shipping labels are used by e-commerce businesses to expedite the delivery of their orders. 
Now that we have a basic understanding of how shipping labels work, let us take a look at a few plugins that can help automate this process for your Ecommerce business.
Shipping and Shipping Label Plugins
Without a question, shipping is an essential component of every eCommerce business. One part of an online store that needs careful consideration is this one. You must take extra care to get your delivery plan properly each and every time because an erratic method will quickly irritate your clients. You need to be able to compute precise shipping rates if you want to keep your costs in check. Orders must be shipped fast and effectively, and you must inform your consumers of the progress of their orders. 
These top shipping plugins for WooCommerce will assist you in handling every part of shipping, including displaying real-time shipping rates, creating and printing shipping labels, tracking, and even providing your customers with an expected arrival date.
You can fully automate WooCommerce UPS, WooCommerce USPS, WooCommerce FedEx, and WooCommerce Canada Post shipment with the ELEX EasyPost Shipping Plugin for WooCommerce, a WordPress add-on. The cart and checkout sections of your online business will display FedEx, UPS, and USPS shipping prices when you use this plugin. Based on the customer's location and additional details like the product's weight and dimensions, the shipping charges will be computed automatically. If you upgrade to the commercial edition of the plugin, you may print shipping labels and give clients tracking links.
Features:
Real-time shipping costs for UPS, USPS, Canada Post, and FedEx are shown by the plugin.

Directly from the WordPress dashboard, print mailing labels for UPS, USPS, Canada Post, and FedEx.

Customers may view the various expected delivery dates for the various shipping services that are offered.

Both the store owners and the consumers can follow their shipments.

Flat Rate USPS Boxes are offered.

Possibility of adding handling charges in terms of money or a percentage of value to each shipping service.

Using the weights and dimensions of the goods in the cart, create packaging.

The UPS, FedEx, USPS, or Canada Post pickup request add-on for ELEX WooCommerce enables you to plan a pickup.
Price: $69 annually for a single site.
This plugin assists in fully automating USPS shipping in your business. It allows you to display shipping costs on the cart/checkout page, pay postage and print labels from within WooCommerce, pack things automatically into boxes, and monitor orders.
This plugin utilizes data such as product weight, box size, shipping location, and so on to display USPS postage prices from your Stamps.com account. Furthermore, it applies to both local and international shipping services. You have the option of returning the real prices returned by Stamps.com or using any of the discounted rates that are offered. This plugin allows you to define a conversion value for international shipment when several currencies are involved.
Features:
A wide range of services are available, including Priority Mail Express, USPS Critical Mail, and Priority Mail Express International.

'Automatically generate and print mailing labels after paying postage from your Stamps.com account.'

Shipping tracking number added to order notes for faultless shipment monitoring.

A built-in box packer makes packing a breeze.

From the plugin settings, you can easily change the price of a given service.

Stamps.com Account Manager will assist you in adding dollars to your account.
Price: $69 for a single site billed annually.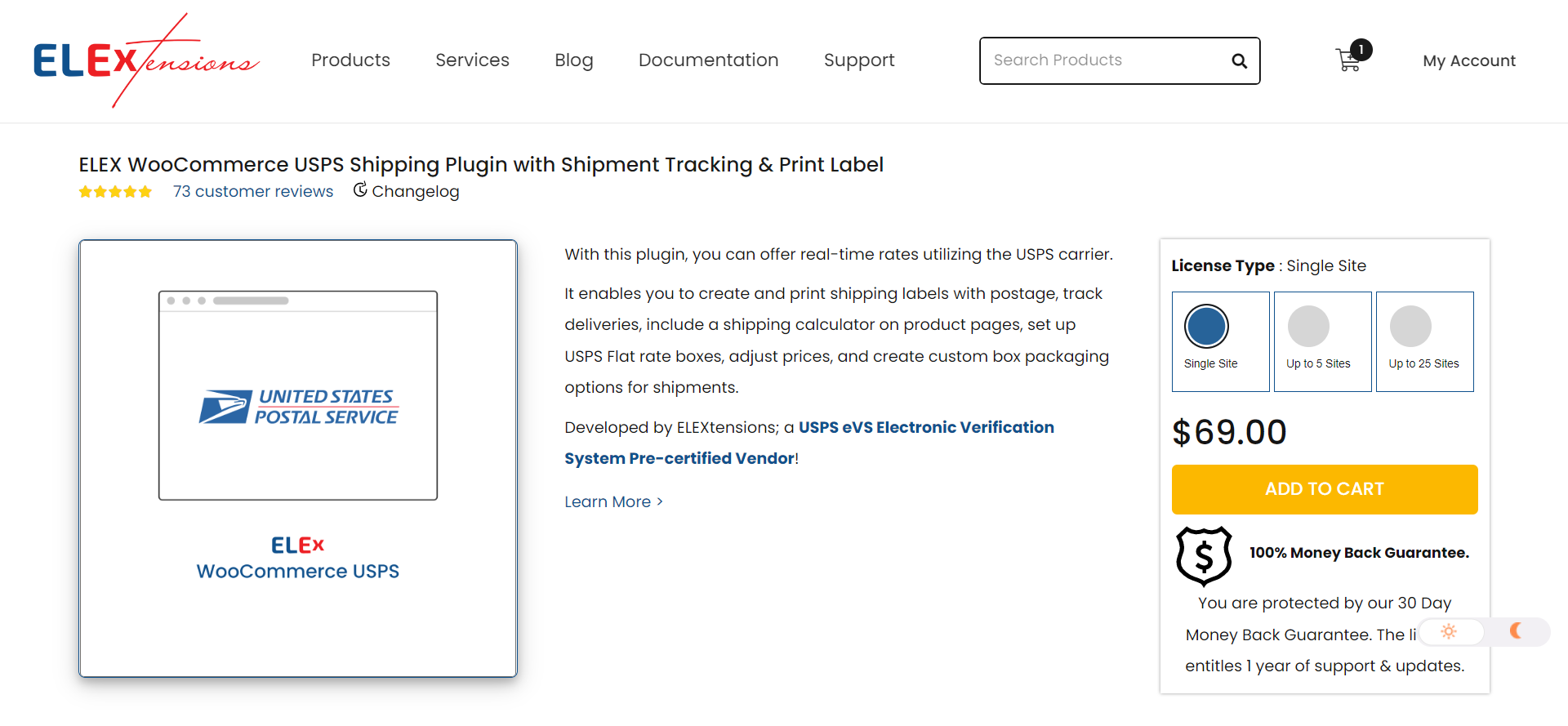 ELEX USPS Shipment Method for WooCommerce automates the integration of USPS (US Postal Service) shipping. Based on the shipping address and cart information, the plugin retrieves shipping rates from USPS APIs. All available shipping services and pricing are presented for clients to select from based on postal codes and other characteristics.
Based on numerous characteristics such as product weight, box dimensions, and shipment destination, the plugin retrieves USPS postage costs for both local and international shipping services.
Features:
The plugin retrieves postage prices from the US Postal Service for both local and international shipments.

Shipping Calculator integrated within the plugin

Customers may track their packages using USPS.

Tracking of USPS shipments for store administrators.

Options for Shipment Packaging

Turn on USPS Flat Rate Shipping.

Set handling costs in terms of dollar amount or percentage value for each shipping service.
Price: $69 annually for a single site.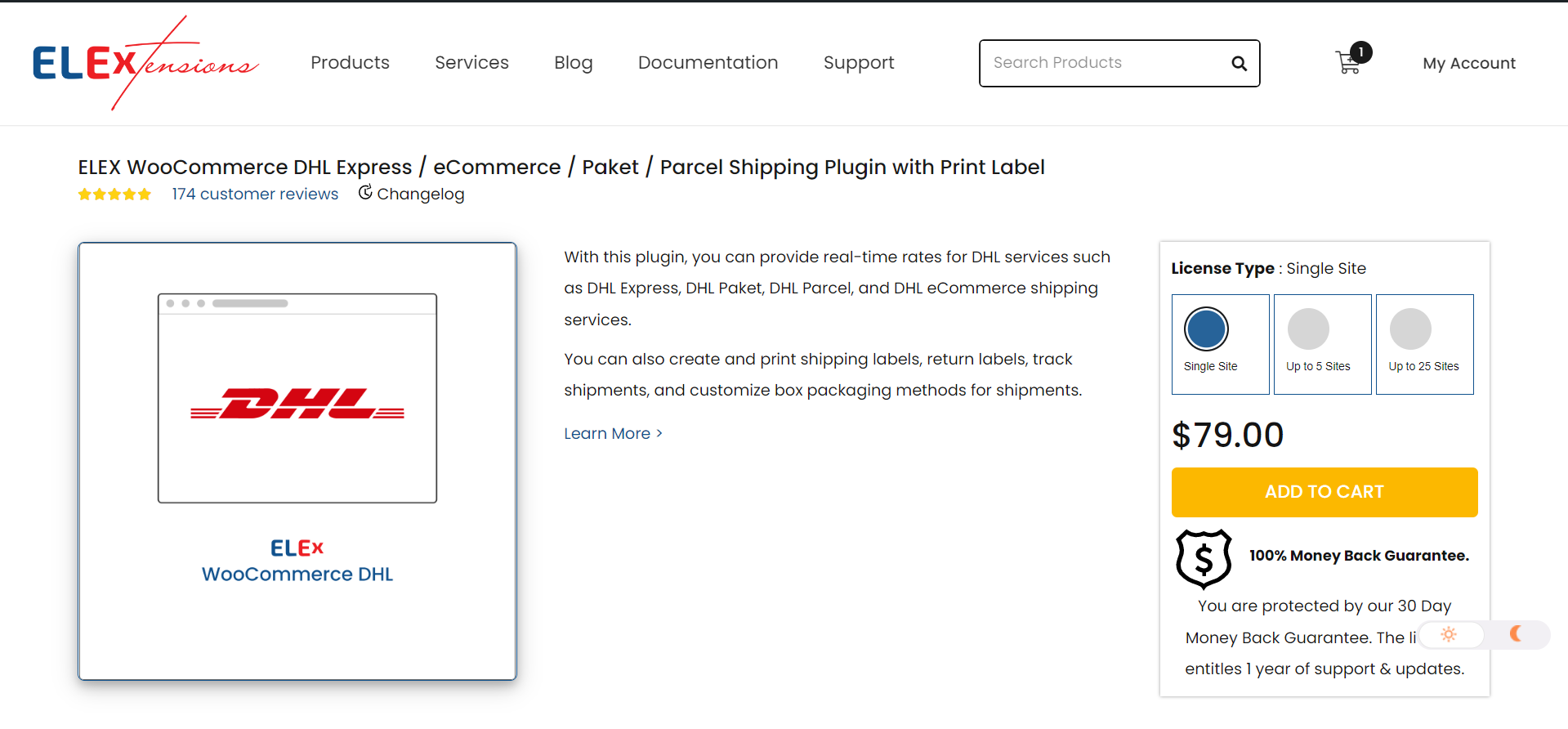 The ELEX WooCommerce DHL Shipping Plugin with Create Label gives store owners access to DHL shipping prices and the ability to print shipping labels for DHL Express, DHL Paket, and DHL eCommerce. Shipments may also be tracked from the individual WooCommerce order page. In addition to creating and publishing Archive Air Waybills, Commercial Invoices, and Proforma Invoices, they can handle return shipments and print return labels. The plugin also assists store owners with parcel packing configuration. Store owners that sell overseas may make their items Customs-ready by including the necessary information on individual product pages.
Features:
DHL shipping prices are available based on product weight, package size, and shipment location.

Create a DHL shipping label

DHL Archive Air Waybills can be printed.

Create a Commercial Invoice for your products

Observance of EU Regulations

Include the Shipper Tax Registration Information for Seamless Shipments.

Request for Parcel Pickup
Price: $79 for a single site annually.
This is one of the most effective plugins for integrating Australia Post shipping services. In addition to displaying shipping charges, the plugin allows for shipment tracking, parcel packing, and label printing. You can provide real-time prices for Australia Post services like eParcel, StarTrack Courier, and MyPost Business with this WooCommerce Australia Post plugin.
Features:
Estimated Delivery Date 

Live Shipping Rate 

Print eParcel Shipping Label

You may quickly construct an Order Summary once the shipments have been created.

eParcel Services provided by Australia Post 

Australia Post MyPost Business Service

StarTrack Shipping Labels from Australia Post

For Seamless Shipments, include an Import Reference Number.
Price: $69 annually for a single site.
Customers may pick or create packages, compute shipping charges depending on the shipper and receiver's postcodes and addresses, and make labels without having to visit the backend dashboard. It will also generate tracking links and email both the sender and the receiver the shipping label and tracking information. With the aid of this plugin, you can add a separate shipping calculation page to your website. It is most effective for firms who require their consumers to ship things to them on a regular basis.
Features:
Shipping costs and anticipated arrival dates for all available shipping services are calculated in real-time based on the shipper's zip code, address, and country, as well as the weight and dimensions of chosen goods.

To choose the most convenient shipping choice, compare the costs and projected arrival dates of the different shipping providers. Currently, the plugin supports FedEx, UPS, USPS, and Canada Post services.

Create a shipping label with a tracking link.

Choose a packing choice or design your own.

Create a lot of packages at once.

The Shipping Calculator Has Its Own Page.
Price: $79 for a single site billed annually.
ShipEngine is a pioneer in the area of multi-carrier shipping logistics. It enables customers to compare shipping rates from multiple carriers, verify delivery addresses, produce and print mailing labels, and much more while keeping the development process incredibly simple and uncomplicated. The ELEX ShipEngine WooCommerce Multi-Carrier Shipping & Label Printing Plugin is a multi-carrier shipping plugin for e-commerce businesses, online retailers, and storefronts. Shipping may be connected with a number of carriers to get real-time shipping quotes. It works with UPS and FedEx to enable multi-carrier shipping.
By displaying actual shipping prices on the cart and checkout pages, the plugin successfully optimizes WooCommerce UPS and WooCommerce FedEx delivery and helps you and your customers choose the best shipping provider.
Features:
To receive the most recent UPS and FedEx shipping costs for domestic and international shipping services, the plugin accesses your ShipEngine account.

You may purchase, generate, and print UPS & FedEx shipping labels right from the backend of your website.

enables customers to see expected delivery dates on the checkout and shopping cart pages.

the capacity to track deliveries.

Ability to alter prices and add handling fees, as well as the choice of different services for each plan.
Price: $79 annually for a single site.
Conclusion
Shipping plays a crucial role in the selling process. In spite of this, many individuals ignore it. To ensure that they are visible and error-free when scanning, shipping labels must be placed on the box's largest surface. The quantity of service, the carrier, and supplementary services like insurance and tracking all affect the shipping costs. The more expertise you have, the more efficiently your business may run when it comes to printing labels, choosing the right carrier, and using the right packaging.
Further Reading