Hold Mail: How to Temporarily Stop Mail Delivery with Different Shipping Carriers
Managing an online store is quite a big task. More importantly, you need to implement the right shipping strategies that will keep your customers happy. Even though most of the shipping carriers offer Sunday and Saturday delivery to make it convenient for your customers to receive the package, certain glitches may happen. One such problem is when your customers are away from the location when the package arrives. So here we have an ultimate solution to hold your mail or package while your customers are away. All you need to do is place a vacation hold or a hold mail request to shipping carriers like UPS, FedEx, and USPS, who will stop the delivery of packages until a specified timeframe.
It is important to keep in mind that after a couple of unsuccessful delivery attempts, most shipping carriers return your item to the sender or any other addresses specified to return the item. And they will mark the item as a "failed delivery". Most of the time, the items are kept on hold for two weeks, and later on, it is returned to the sender. If you do not want to miss out on important mail or deliveries, it is ideal to place a 'hold mail' request to the shipping carriers.
Let's take a look at how you can request a hold mail or vacation hold request to USPS, UPS, DHL, and FedEx.
How to Hold Mail and Packages with USPS
USPS Hold Mail request is free and easy to access online, in person, and by phone call. The best part of USPS Hold Mail is that they keep your mail on hold for about 30 days safely at your local Post Office until you return. You can always choose to extend the hold request or even forward the mail to the desired address with no hassle. The request for hold mail can be placed a month ago or as early as the next scheduled delivery day.
By phone call:
You can activate a hold mail or package request by calling USPS during business hours one day prior: 1-800-ASK-USPS.
In-person:
Fill out an authorization form at the local post office during business hours. We can print and fill this before the visit as well. Arrive before the closing time to activate a vacation hold with USPS starting from the next day.
Online:
If you are looking for an online method to opt for hold mail, you need to sign up or log in if you already own an account. The next thing to do is verify whether the service you are looking for is available in the local area. You can provide the requested address and then verify it easily.

You need to provide a valid mobile number for identification and then answer the questions to verify your identity. Remember that once this verification is done, you need not go through this cycle again and again in the future. This is a one-time process.
Once the verification is done, USPS hold mail will ask you to determine the total number of days you want them to hold your mail. The next thing you need to determine is how you want to retrieve the mail after the days mentioned in the hold mail are over. You will get an authorization mail and a confirmation number to the provided email address.
How to Request a Vacation Hold or Redirect a Package with FedEx
You can make use of the vacation hold or even redirect a package to keep your mail on temporary hold. This option is completely free of cost !!
How to place your packages on vacation-hold?
Step 1: To avail this feature you need to enroll in the FedEx Delivery Manager. You can sign in or sign-up if you are new to it. Upon login click on Vacation Hold in your profile. You can find Vacation Hold under Manage Delivery from the shipping notifications too.
Step 2: Choose the date range that you want to hold up the mail or package. Any package sent via FedEx Express and FedEx Ground will be held for 14 days and will automatically resume delivery after the mentioned end date. If not, ensure to extend the vacation hold request any time using the FedEx mobile app.
Step 3: Click Confirm when you know you have provided sufficient information. The delivery will be kept on hold for 14 days.
If you do not want the vacation hold option, you have yet another way to keep your packages safe when you are away, which is the hold at a location option that is more like a redirection. Suppose you are not available at the location and want to redirect your package as it is urgent, you can make use of this option. Here are some things you can do to get it right.
Track your packages and manage your delivery. Then request to redirect to a

participating store

.

Set up a new delivery location. We should do this before the end of the business day before the package is supposed to arrive at the original address.

You can stop by the store and then collect your package with no hassle.
Remember to carry your ID card and the tracking number when you are arriving for pickup.
Missed your FedEx delivery?
If you missed your FedEx delivery by any chance, again no worries!!
FedEx holds your mail up to 10 days for FedEx Ground and five days for FedEx Express before they returned to the seller or the shipper. All you need to bring along is your id proof and the tracking number when you are arriving to pick up the packages.
Don't forget to check the working hours of the nearest FedEx center.
You can always schedule a pickup for your FedEx package with ease.
Know more about schedule pickup requests for FedEx packages right from your WooCommerce store.
How to Hold a Package with UPS
If you have any package arriving through UPS and want to create a hold request, then you need to get this done using the UPS My Choice. UPS will hold your mail at the UPS Store, UPS Access Point location, and UPS Customer center or at any of their retail partner locations. The choice of location is completely what suits your needs.
If you find other options like leaving the package with the neighbor or sending it to another location; you can manage it all by accessing UPS My Choice. You can set your preferences easily here at no additional charge. The customer center can hold your packages for almost five business days. However, if your redirecting location is farther, you will be charged a transportation fee.
You can also request a hold request on the first and second delivery attempts using the UPS InfoNotice. You can see a delivery notice when you have missed your package.
How to Hold Shipment with DHL
DHL has a vacation hold option, which lets your shipment be held until a defined date upon your request. These items will be held at the DHL Express service center for a custom period until a further request from you. After the defined vacation time, the carrier will resume delivery to the home addresses.
You can also opt for DHL On-Demand delivery to deliver the package to the neighbor, security guard, or a leasing office. It is possible to generate a pickup request for the package. So if you are not home, you can postpone the delivery to a particular date or you can pick up the package at the desired time and from a location of your choice.
Cost of Vacation hold with DHL
The DHL Express Vacation hold is free, but you need to sign up for the on-Demand service.
How long does DHL hold the package with DHL vacation hold?
DHL Express holds the package for 7 days. Once the package is received, a reminder is sent to the receiver.
Avail of the hold mail option while on vacation and be stress-free
You can go on a vacation, without the worry of missing out on your mails using this option.
With these above-mentioned hold, mail, or vacation hold mail options by USPS, UPS, FedEx, and DHL you are never going to miss out on your mail. Everything falls right with the preparation. All you need to do is prepare for the hold request way ahead of your vacations and enjoy your stress-free vacation. Make sure you sign up for the right services before you head for the vacations. And yes of course you can opt for the pickup options for these packages as well.
If you want to set up a pickup request for your WooCommerce store, you can do it with ease using the shipping plugins and add-ons that make it happen. With these shipping plugins, you can simply create a pickup request right from the store.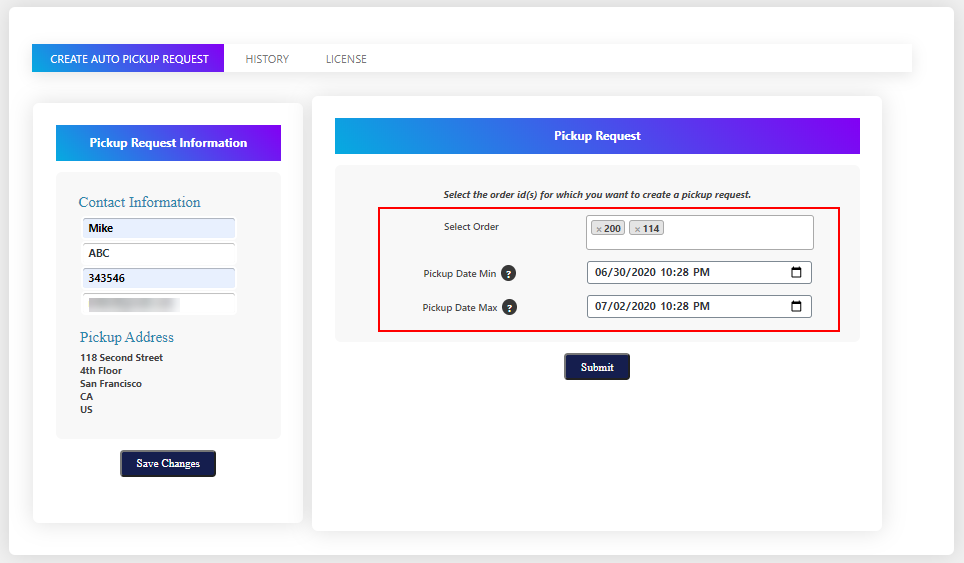 A simple add-on ELEX WooCommerce EasyPost Pickup Request Add-On is enough to get this process simplified on your store. Once you generate the pickup request, you get a pickup Id according to the request you placed.
Read more about the add-on from the product page.
Further Reading: