The key to your success is a satisfied customer. A satisfied customer is essential to the survival of small businesses. Customer service is a department that every business should have. The most crucial components of running a small business are support and query management, which helps customers with issues related to the products and services you offer. Customer service becomes more difficult and important when you have fewer resources to accomplish critical tasks and fewer employees who perform multiple roles. 
When you own a small business, every choice you make has a big impact on how your customers perceive your brand and, as a result, how loyal they are to it. To earn their trust, you must do everything possible, including answering questions, accommodating additional requirements, and sometimes simply being available to them around the clock to prove that they matter.
What exactly is a Help Desk Software?
A Help Desk Software is a comprehensive suite that streamlines customer support and enables businesses to handle customer issues and inquiries in the shortest possible time frame. Help Desk software is a set of tools designed to provide information and support to customers and end-users about products and services, resolve issues, or provide instructions on how to use the products or services.
If you're on a tight budget and have a small team, you might think that answering customer queries from a shared inbox is the best option for providing customer service. The constraints of using a shared inbox, on the other hand, become apparent only as your company grows.
If you continue to provide support through a shared inbox, you'll face these major challenges:
Response time
Some critical customer issues might not have been delegated on time, and a few may even slip through the cracks if there isn't a streamlined workflow in place to route incoming conversations to the appropriate support agent. 
Agent time and energy
New customer conversations, those that are open, and those that have been resolved are difficult to keep track of in shared inboxes. Caused by a lack of visibility, multiple agents may respond to the same customer conversation, resulting in a waste of time.
Decreased Agent productivity
Repetitive questions or basic how-to doubts may come up during customer conversations. Typing out the same message repetitively will consume your team's time if they don't have an easy approach to dealing with these basic questions.
Eventually, each one of these obstacles prevents you from providing exceptional customer service and maintaining long-term relationships with them. A customer service software for small businesses, on the other hand, will assist you in tracking and managing customer interactions, providing support across multiple channels from a single location, and increasing productivity with ease. As you scale your customer support workflow, a helpdesk tool like WSDesk can help you say goodbye to these problems and focus on providing pleasant customer experiences.
What services does WSDesk provide to small businesses?
The ELEX WordPress Helpdesk plugin provides all of the necessary features for a helpdesk system, in addition to being very easy to use and most importantly, free. Because it is lightweight and AJAX-based, it will not slow down the loading speed of your website. All of your customer complaints are converted into trackable support tickets by this plugin, making your job easier and faster.
You must first download and install the plugin from the ELEX product page before we can begin setting it up.
To install the plugin, go over to your WordPress dashboard's plugin page, click Add New > Upload Plugin, and then choose the WSDesk Basic zip file you downloaded.
After the plugin has been installed, there are two ways to access its settings:
Select WSDesk from the WordPress left sidebar menu. 
Or, go to Plugins, then Installed Plugins, and finally, WSDesk – WordPress Support Desk from the WordPress left sidebar menu.
The WSDesk Quick Setup Wizard will walk you through configuring some default settings that will help you get up and running with the plugin.
1. The Support Email, the Starting Ticket ID, and the Page Titles can all be customized and configured from here
In the first step, you can configure five fundamental settings:
Support Email: This is the email address that will be used to respond to support requests.
Starting Ticket ID: You can enter a unique starting ticket number if necessary.
By default, the plugin creates three pages: a support page, an individual ticket page (for viewing particular ticket conversation), as well as an existing ticket page (for the existing tickets).
Support Page Title: The title of your support page will be displayed at the top.
Individual Ticket Page Title: The title of each ticket page is displayed at the top of the page.
Existing Ticket Page Title: This is the title that appears at the top of the existing ticket page.
2. Ticket Fields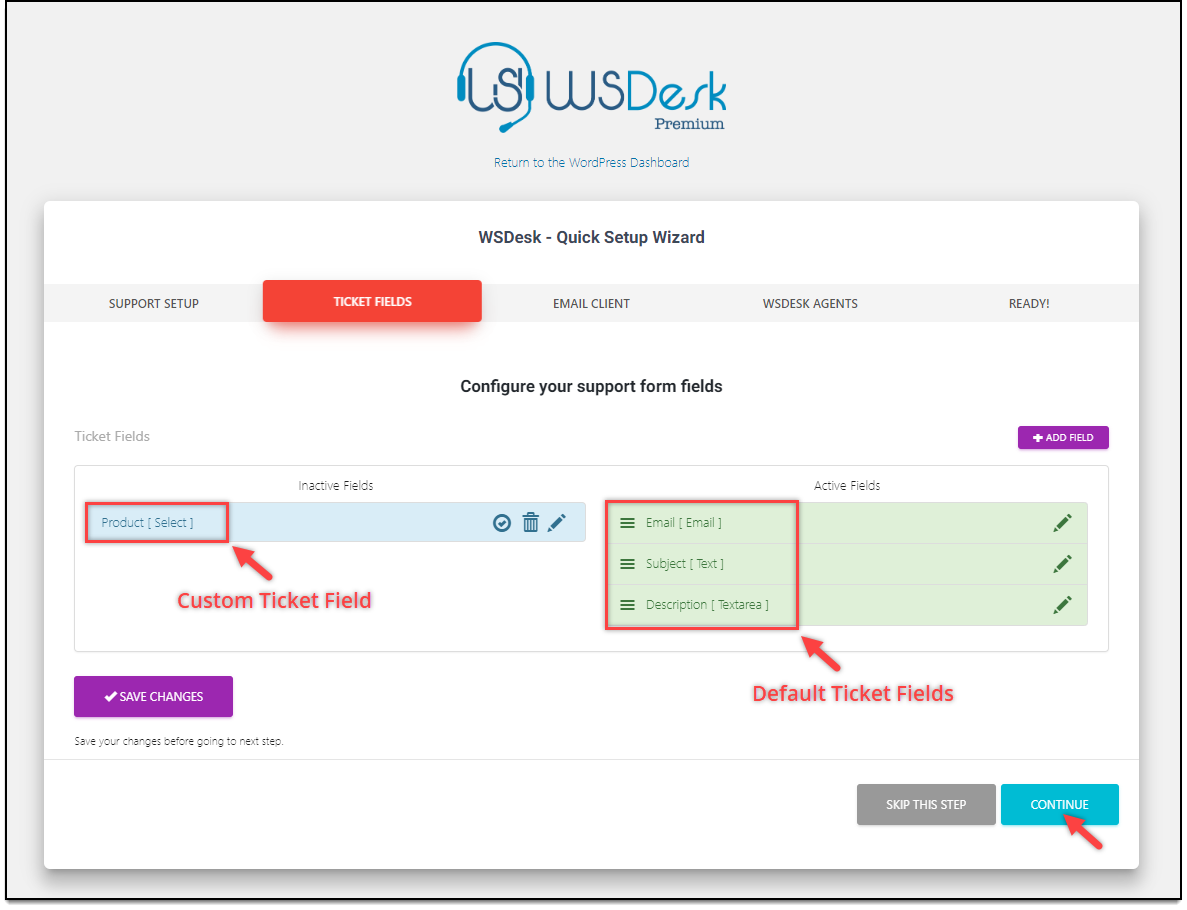 You can personalize your Support Form by using Ticket Fields.
The ticket fields allow customers to provide details about their issue or problem.
The support form will contain three fields by default:
Email: The email address of the ticket raiser.
Subject: The subject line of the ticket.
Description: The issue in thorough details
You can add new fields and rearrange them to suit your needs.
3. Link your email to WSDesk via IMAP
Your emails will be automatically converted to WSDesk support tickets once IMAP email integration is complete. The IMAP Server SSL URL & PORT, the email address, and the password for the account from which the emails are to be retrieved must all be entered.
4. Add Support Agents
You can use existing WordPress user profiles or create new ones by clicking the add agent button in the top right-hand corner to transform them into WSDesk agents and supervisors.
5. Ticket Generation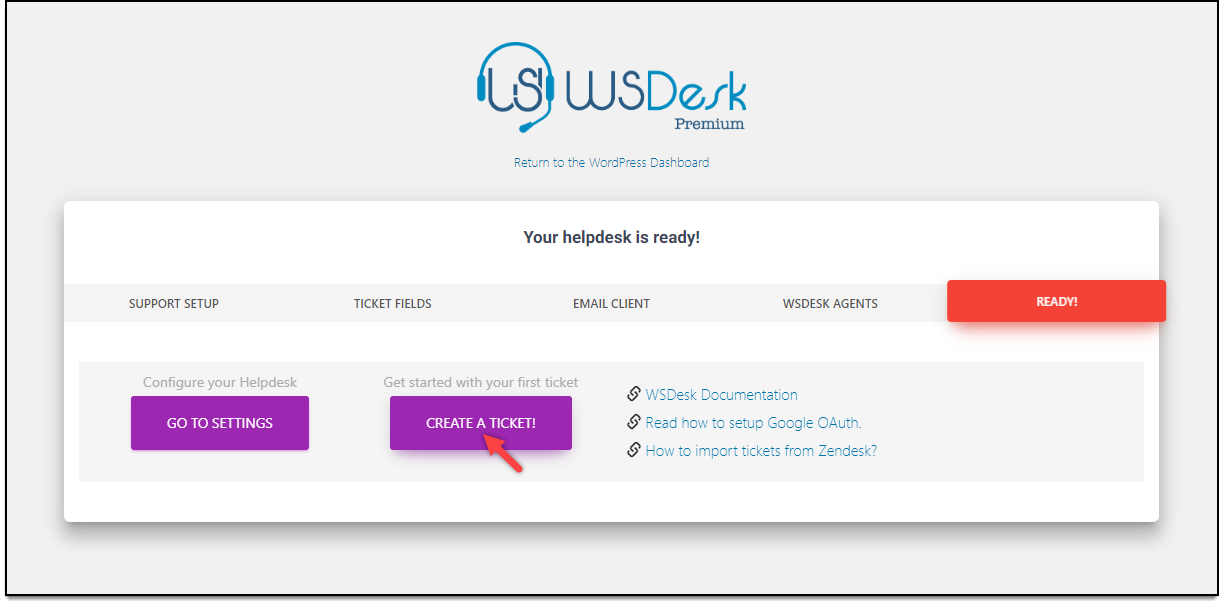 The configuration is complete when this final process is completed. To get started, click Create a ticket.
You will be directed to your support page created by the plugin. 
With the ticket fields you've configured, your customers can now access the support page. This page allows customers to submit a new ticket or check the status of an existing one. They must provide their email address, a subject, and a description of the problem or query to create a new ticket.
The customer will see a screen similar to the one shown below once the ticket is submitted.
To Wrap Up
That's all there is to it! With the help of the ELEX WordPress Helpdesk plugin, you can successfully build a free help desk for your small business. It will improve the efficiency of your entire customer support workflow. Consider upgrading to the premium version of the WSDesk plugin if you enjoyed using the free version mentioned in this article. Please leave a comment below if you have any questions about web-based ticketing systems.
Further Reading