Are you an expert in your domain of business? And stuck with how to make extra revenue from your business? Then you can find the answer here.
Offering support to your clients is a necessary and mandatory thing for helping them to get used with your products. Initial support is mainly needed in software products and complicated machines. If your business owns a WordPress website, how can you offer support through your website? Or you own a WooCommerce store, and your customers need support from you if you sell tools or some hardware parts in your online store. As we know they will definitely need your assistance to set up and need a session to understand its usage. In these scenarios, how can you help them?
You may offer some documentation, tutorial videos, and a support forum for free, to find the answers for their doubts. This will definitely help them to get started with your products.
But offering fast and customized support for individual customers is not an easy task. Because you need to get back to their queries as soon as possible. And maybe your clients are in different countries. Hence the working time will be different. In such cases, you may need to recruit one employee for client management. As it is customized assistance, you can charge for it from your customer. How can you charge it from your customers in a systematic manner?
Usually, when it comes to adding a new function in your WordPress or WooCommerce site, we will go for plugins, right? Similarly, if you want to add this automatic pay for support in your business, you can go for a plugin and or an Add-On.
In this article, let us discuss how to configure pay for support in your WordPress or WooCommerce site.
Before getting into that, let us discuss why your business needs to configure this payment for your support and its benefits.
Why Your Business Needs Pay For Support?
As a business owner or a shop owner, we always want to earn more income. For that, we will implement different strategies, update the services in our business and invest in various marketing techniques. But these are the common things we do to improve the business and for earning more customers to our online stores.
But, paying for support is a strategy every online shop owner and business owners to adopt for earning more from their assistance. This is the same method that every doctor, counselors, and lawyers charge for their sittings. Same thing we can set up virtually using some plugins and add-ons.
This set up mainly focuses on credit-based systems. That is, charge for support is mainly implemented to offer premium, fast and individual support for the customers. The queries raised by a customer are called tickets. These tickets can be an enquiry, suggestion, feedback or query for support. We can convert these queries for support to income. How can we do that?
First, let us take a real-life use case and move on to setting up it on your WordPress website using the plugin and Add-On.
Use Case
Let us take the example of doctors.
There will be Pediatricians, Endocrinologists, Neurologists, Psychiatrists, etc in a hospital. If they are using this charge for support system, it will be like a customer can go and choose one subscription plan. Here it will be $100 for 10 sittings, $150 for 17 sittings and so on. Once a customer chooses the $100 plan, he will get 10 credits for each sitting. When he consults a Neurologist once, 10 credits will be deducted from his account and 10 points will be added to the Neurologist's account. After 10 sittings, the customer's account will have zero credits, then he or she can renew the plan or choose a new plan. If a doctor wants to add credits to a particular customer's account he can do it manually. And also for new registered customers, they can offer some free credits or discounts. After the account gets zero points they can choose a subscription plan and pay for it.
This is how it works.
Now let us move on how to implement it.
For that, in this article let us take one of the handy add-on for configuring pay for support in your WordPress site. It is Pay For Support Add-On for WSDesk WordPress Support Ticket System.
How To Set Up Pay For Support With ELEX Pay For Support Add-On
ELEX Pay For Support is a handy add-on that works with WSDesk – ELEX WordPress Helpdesk & Customer Support Ticket System Plugin that helps you to manage customer tickets. The plugin helps you to receive the tickets and reply to the customers. In addition to that, it offers additional features to simplify your customer experience. It is a premium help desk plugin, which will help you to make the complete process in a systematic way without any confusion.
As we have discussed, the pay for support is an Add-On that makes the pay for support process easy to manage. It uses a credit system. This means the support or assistance service you are offering is a virtual product, which can not purchase, sell, or download. You can create many subscription plans according to your requirements. And set the credits and prices. When a user chooses one plan, a certain amount of credit will be deducted from his or her account and points will be added to the person who assists the user. After exceeding the credit limit, he or she can renew the plan or purchase a new subscription. This is how it works. Now we can go through the process step by step with the plugin.
Go to the WordPress dashboard and install the plugin. After activating the plugin, go to the tabs.
Then choose "Create Rules". There you can create the subscription plan.
Here you can set a name for the subscription plan, the product ID for which comes under this plan. And in Set Price, if you are offering a plan of $100, that is 20 credits for each $10, then enter 10 there. On Set Credits, you can enter 20, as the credits for each $10.
After creating the rule, move on to "Manage Rules" to review, edit or delete the rules you have created if required.

Here you can see the rules you have created. Their name, product ID, price, credit. You can choose to edit and delete options accordingly.
Then you can choose the "Triggers" option to edit the credits of ticket status. Here the ticket statuses are corresponding to the WSDesk account. All the statuses you have entered there can be found here. You can find unsolved, solved and pending statuses here. And you can set how much credits should be deducted for each ticket status.
You can go to the saved credits and edit the credit deduction amount and you can delete them.
This option will be very useful for customers who pay offline. And credits will get deducted when an agent responds to it. This auto-deduction can be configured by using triggers.
Then you can go to the next step. You can go to "Apply Credit Rule". There you can set the subscription plan for your users by simply selecting from the drop-down menu.
In the next step, you can go to "History". There, you can see the users and their subscription details. You can find the date, user email ID, request (that is WSDesk ticket number), credit status, credits deducted from the particular user account and the credit balance present in their account.
You can also download the details for future analysis.
And you can also look at the analytical report from here to check the overall performance of your pay for support tasks.
You can see the status of new requests, agent requests and new and solved requests in the past seven days. Using this report you can understand the potential of the plans and its reach. That will help you to improve the plans in the future.
Want to do a simple branding on the subscription? You can add your company logo in the "My Account" tab by entering the logo URL. And you can update it. It will be visible with the subscription method and credit balance.
If you go to the user profile page, on the individual page, you can find the users' credit balance and the details. Here you can manually update the credit balance individually.
You can find the subscription details of a particular user in a simple tab.
Or if you want to see it as a timeline, that is the date, time, status, request number, credit deduction and credit balance of each and every credit.
In WSDesk, you can go to the ticket page. In the history tab, click the respective ticket number, it will be redirected to the ticket page.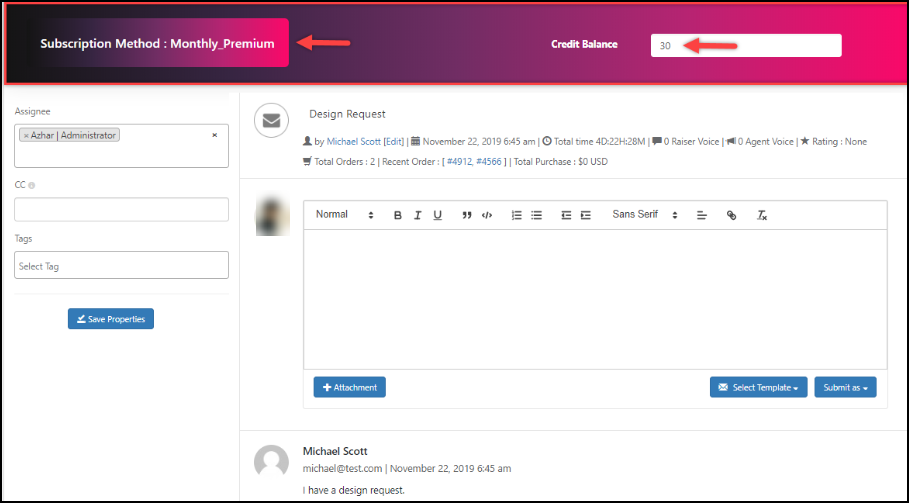 Here you can find the credit details, credit balance and subscription plan of the particular ticket from a user.
Now let us conclude.
Conclusion
Getting paid for support is definitely an extra source of income. The majority of the businesses are taking this step to earning more income as well as offer premium services to their users. It is not an onerous task to sell your expertise in the form of support or assistance to the people who need it urgently. So using the simple steps with this plugin and add-on, you can set it up on your WordPress site. Whatever domain maybe your business, it has features to set up the plans and manage your users individually without complications.