Instagram is a social media platform where users can explore and share their interests. With millions of daily users, Instagram is one of the most popular social media platforms, with photos and videos serving as the primary content delivery. Instagram Shops, which are a must-have feature for any company with a solid marketing plan, were introduced in the company's biggest update of 2020. People can use it to shop because it provides them with an aesthetic storefront where they can discover new brands and products. It also makes pricing and product information simple to find.
Instagram Shopping is a tool that enables eCommerce businesses to build a digital catalog of their product lines that can be shared directly on the platform. People learn further about products right in the app, then purchase them immediately on Instagram or the company's eCommerce website by clicking through. If you own a small business, Instagram offers convenient tools that will help you list your products and make it convenient for the customers to buy.
Here are three reasons to start selling on Instagram:
Makes it easier to find products
Customers can now discover products more easily than ever before thanks to Instagram's distinct advantages such as shoppable tags! Customers can check out products and make quick purchase decisions by using these tags in their image posts. Customers wouldn't have to shop directly from your primary business page, which is a bonus. When your ads appear in their Feed and Stories, or when they find you through hashtag searches, they will be able to shop for products.
Reduces the number of steps involved in shopping
You can bring your storefront to the customer's phone through Instagram shopping, making the shopping process way more efficient. It is no longer necessary for an online shopper to jump from link to link to make a purchase. Only with a few simple clicks, what was once just a wish to buy is now more likely to become a reality.
Visual content marketing
Instagram Shopping makes it simple for you to use visual content to advertise your products to customers. You're not only intriguing a buyer to buy a product when you create shoppable posts with Reels, Instagram Stories, and photos, and you're also establishing your brand as a valuable choice. The more people who like posts with shopping tags, the more likely you are to be discovered.
How does the Instagram Shopping feature work?
Posts with a shopping option are identified by a white shopping bag icon.

A white shopping bag, visible in the upper right corner of the image, helps customers recognize items with a shopping feature. The process of shopping is as follows:

When you tap on the image, a small window appears with the linked product's description and price.

You can go directly to the product in the company's online shop by clicking on the arrow in the window.

As usual, you can finish your purchase on the brand's website.
How to feature your products on Instagram Shopping for WooCommerce
To get your inventory onto Instagram, you'll need to first create a Facebook page and catalog feed. You must enter all necessary information about the products into the Facebook Catalog for your products to appear on the Facebook Marketplace and Instagram Shopping. The only disadvantage is that individually entering each product's details into a spreadsheet and uploading it to Facebook takes a significant amount of time. We'll show you how to speed up the process by using a catalog feed plugin. You can extract product information from WooCommerce stores using the ELEX WooCommerce Catalog Feed for Instagram Plugin to help create product feeds faster.
Prerequisites
An online store powered by WooCommerce 

Your business's Facebook page.

An Instagram business account
Getting started with creating the product feed
By clicking here, you can get the ELEX WooCommerce Catalog Feed plugin. You can also read this article to know how to download ELEX plugins and how to install and activate them. You can begin creating your product feeds once the plugin has been installed and activated. To begin creating a Facebook Shopping Feed, go to the WordPress Sidebar menu and select ELEX Facebook Shopping Feed > Create Feed.
Generic settings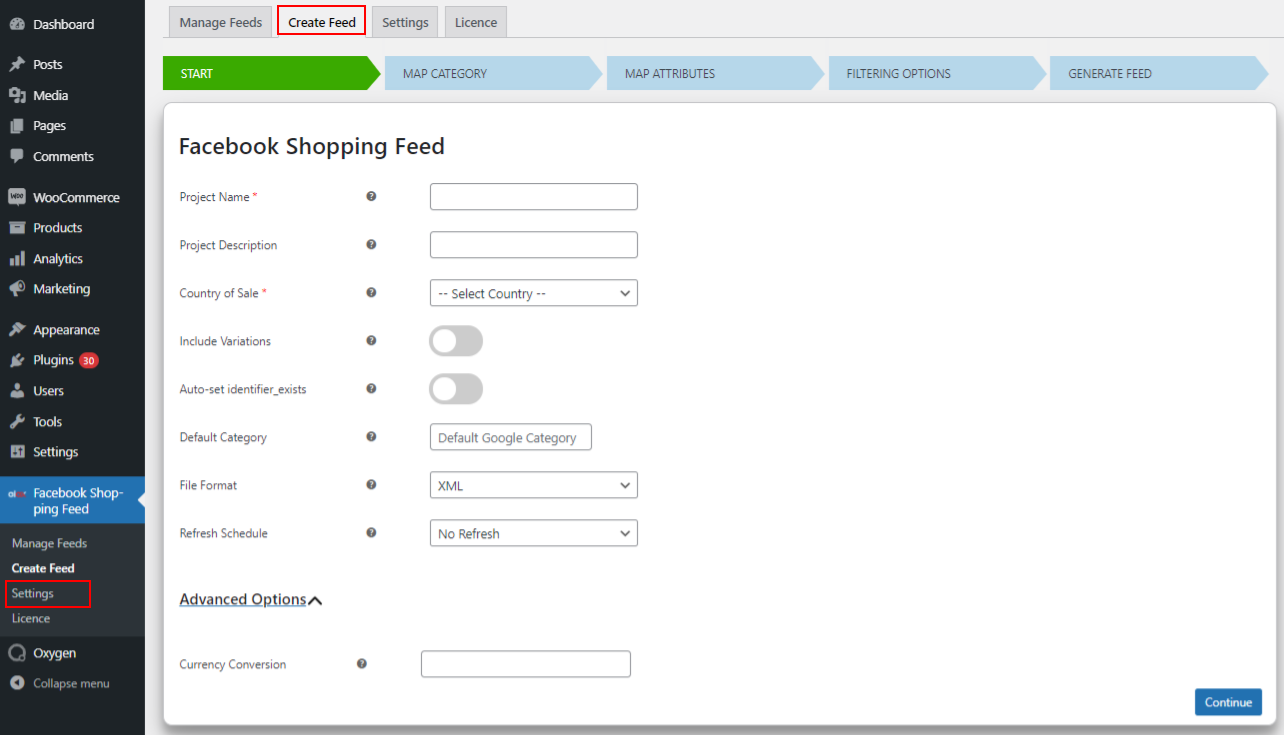 Project Name: To make it easier to identify a product feed, give it a unique name.
Project Description: Enter a description for the product feed. The project name will be used as the description if this field is left blank.
Country of Sale: Choose the country where you want to focus your Facebook marketplace or Instagram shopping sales.
Include Variations: Check this box to include all of your products' variations.
Auto-set identifier_exists: Allow catalog feeds to add products without distinctive product identifiers like GTIN, MPN, or Brand to the Facebook Catalog by enabling Auto-set identifier exists.
File Format: Choose CSV, TSV, or XML as the file format based on your requirements.
Refresh Schedule: Cron jobs can be scheduled to refresh the generated catalog feed on a daily, weekly, or monthly basis.
Currency Conversion: If you're trying to sell your products in a country where the local currency isn't the same as yours, you can include a rate of exchange here.
When you've finished configuring the above options, click Save & Continue.
Map Category
It is important to map your products to Google's default category for them to appear in the Facebook or Instagram marketplace for customers who are looking for them. Start typing the necessary category in the Google Categories text box, and then select the appropriate option from the suggested list. When generating the feed, only mapped categories will be taken into account. Multiple products can be added and mapped using a single Google category. You can also add more rows and delete the ones you've already created. 
Map Individual Products
You can use this feature if you don't want to use the 'Map Category' option to map all products in a category to a Google category.
Individual products can be mapped using Google categories in this section. Just fill in the product names and map them to Google categories. Click the Continue button once you've made your choices.
Mapping Product Attributes
Your product attributes must be mapped to Google attributes. By default, all Facebook Marketplace-required attributes will be listed in the Recommended Attributes tab. The whole list of default attributes is entirely determined by the country of sale that you selected during the first stage of the feed creation process. You can use the edit button to enter a custom value if your products don't have a specific attribute value that corresponds to Google attributes.
Filtering Options
You can filter products based on their Stock Quantity and Sold Quantity to generate feeds with specific products. Additionally, exclusive feeds with featured products can be generated.
Stock Quantity & Sold Quantity: Filter the products by choosing a condition from options like Equal to, Greater than or Equal to, and Less than or Equal to, then a value to compare the products to. Only if the conditions are met will the products be added to the feed.
Featured Products: Only products marked as 'Featured' in the product feed will be included if this option is enabled. You can also prevent specific products from being added to the feed by entering their names in the excluding products text area.

To generate your catalog feed, finally, click the Generate Feed button. If the feed generation was successful, you'll be taken to the Generate Feed tab, where you'll see all of your products.
Uploading the generated Catalog Feed to Instagram and Facebook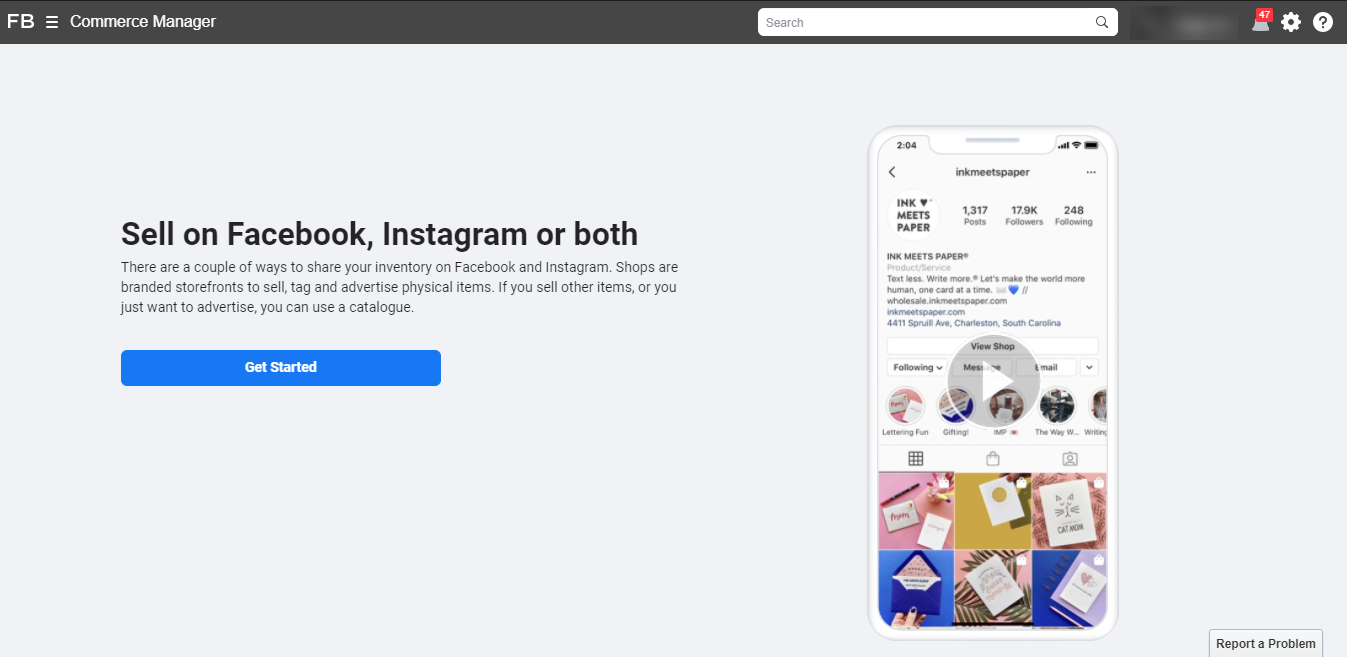 Navigate to the Facebook Commerce Manager to upload the newly created product feed. A Commerce Manager account is required to add products to the Facebook Catalog. After you've created your account, you can create a new catalog. To do so, go to the Catalogs section and click the + Add Catalog button.
The Catalog type can now be selected. In this case, we'll be using eCommerce products. Since we'll be adding information about the products in bulk using a CSV file, we'll select Upload Product Info and then click Create. A new Catalog will be created.
After clicking the View Catalog button, you can add products in bulk to your catalog. A new tab will open, allowing you to choose the data source from the Catalogue section.
From the Add Items menu, choose to Add Multiple Items.
File upload, Scheduled feed, and Google sheets are the three methods for submitting your product details to Facebook's marketplace, which will appear in a new tab. Click the Next button after selecting the File upload option. Select the generated feed from your system by clicking the Upload button.

You can go to the Settings section of your Facebook page once you've finished signing up for both Instagram and Facebook and uploading your product feed to Facebook. Click the Connect Account button under the Instagram option. After the Catalog and Instagram have been connected, log in to your business account via the Instagram app.
Navigate to your profile's Settings, then to Business, and finally to Instagram Shopping. Take the steps they suggest. Your product feed request will be forwarded for review. You can add more details to your Instagram shopping platform and begin tagging your products in posts and stories once it has been approved by the Instagram team. 
This is how you can list your products on Instagram Shopping by generating a feed with the ELEX WooCommerce Catalog Feed for Facebook & Instagram plugin. That's it! We just went over how to link your WooCommerce store to your Instagram account. Enabling customers to view your WooCommerce product catalog on your Instagram page allows them to continue browsing Instagram while simultaneously viewing and buying your products. As a result, using Instagram shoppable posts to promote your products online and promote the growth of your e-commerce business is a brilliant idea. If you have any questions regarding Instagram shopping, let us know in the comments section below.
Step-by-step instructions for installing the ELEX WooCommerce Catalog Feed for Facebook & Instagram plugin can be found here.
Further Reading