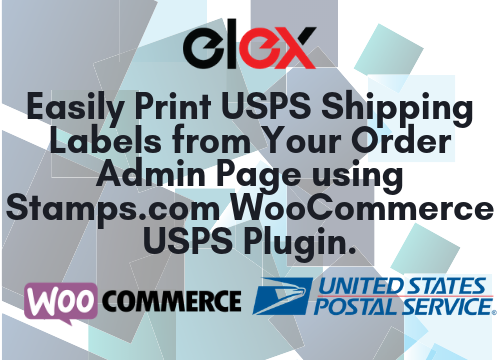 Easily Print USPS Shipping Labels from Your Order Admin Page using Stamps.com WooCommerce USPS Shipping Plugin
In this article, we will discuss the steps involved in the printing of WooCommerce USPS Shipping labels from the Order Admin page of your WooCommerce.  We will be using the ELEX Stamps.com Shipping Plugin with USPS Postage for WooCommerce for integrating WooCommerce USPS Shipping products and services.
Introduction:
Printing shipping labels for your WooCommerce orders is a crucial part of the fulfillment process. If your WooCommerce store uses third party shipping carriers like USPS, this can become tricky as you need to visit the USPS website and input the shipment details manually. It's a repetitive task that is prone to errors and therefore best suited for automation. The ELEX Stamps.com Shipping Plugin with USPS Postage for WooCommerce features the ability to print WooCommerce USPS shipping labels for all your orders right from the Order page of WordPress.
Prerequisites:
To enable printing of WooCommerce USPS Shipping labels, you will need to first integrate WooCommerce USPS Shipping by installing and activating ELEX Stamps.com Shipping Plugin with USPS Postage for WooCommerce.
ELEX Stamps.com Shipping Plugin with USPS Postage for WooCommerce 
ELEX Stamps.com Shipping Plugin with USPS Postage for WooCommerce is for WooCommerce stores that do not need USPS e-VS. Electronic Verification System provides special shipping rates and services for customers that ship in high volume only. This plugin also supports the complete integration of WooCommerce USPS Shipping methods. Moreover, the plugin is a Stamps.com Approved Integration Partner. With this plugin, you can –
Access real-time rates from USPS (United States Postal Service).
Print shipping labels.
Track shipments.
Pack items into custom boxes.
Offer discounts or add a markup on shipping rates, with Price adjustments.
Ensure packages with insurance amount.
Generate bulk shipment.
Configure USPS Flat Rate boxes, and much more!
You will also be needed an account in Stamps.com for using this plugin. It charges a small monthly fee apart from what you pay in shipping, postage, and label printing. What's more the plugin comes with a Test Mode for you to try out the plugin and the API services. When you're ready to print postage and labels for real orders, you can toggle the mode back to Live.
Integrating WooCommerce USPS Shipping:
Here's a tutorial on how to get and install the plugin. Once it is installed and activated,  you can find the settings to configure the plugin, under WooCommerce > Settings > Shipping > Stamps.com- USPS. 
Under the plugin's General Settings, you will need to provide you Stamps.com Login Username and Password. Additionally, you can toggle Debug Mode and choose the Test mode from the API Mode dropdown for debugging and testing purposes. Ensure the Real-time Rates box is toggled. When a customer adds items to his or her cart, the ELEX Stamps.com Shipping Plugin with USPS Postage for WooCommerce fetches real-time shipping rates from Stamps.com USPS based on the origin and destination address. This is helpful for customers as they won't have to leave your store to calculate shipping for each WooCommerce USPS Shipping option.
Stamps.com – USPS Insurance:
Additionally, this plugin can also help you configure insurance for shipments through Stamps.com. Taking an insurance cover for your WooCommerce USPS Shipping packages is both money and time-saving. Claims are usually processed in under 7 to 10 days. What's more, there are no forms to fill and there's no need to visit the post office. If you wish to enable Stamps.com package insurance, simply tick the checkbox next to Insurance. 
Configuring USPS Shipping Rates:
You can choose to enable or Disable real-time Rates in the plugin settings. Enabling this will show customers the live rates under each configured shipping option. You can opt to enable displaying only the cheapest shipping option for customers at checkout/cart pages. Unticking the box shows all the applicable shipping options and methods to your customers. They get to pick what option they want. The Fallback rate is used by the plugin in the event Stamps.com USPS fails to return live shipping rates. This ensures their orders can go through despite technical setbacks and reduces abandoned carts for your WooCommerce business. 

In the Rates and Services tab, you can easily pick which services you wish to make available to your customers. You can even tune the prices to your liking using the Price Adjustment fields. This is especially handy in configuring promotional discounts or hiking the price to account for handling or other expenses. 

When your customer visits your site and adds items to his/her cart, all the WooCommerce USPS shipping services you configured in the Rates & Services tab are shown to them, Here they can conveniently pick the service that they want their items shipped with. Once they have completed the transaction, you can access the details from the Order page of your WooCommerce 
Configuring WooCommerce USPS Shipping Labels:
Head on over to the Label Generation tab of the plugin. Here you can find all the settings that can be used to configure printing WooCommecre USPS Shipping labels.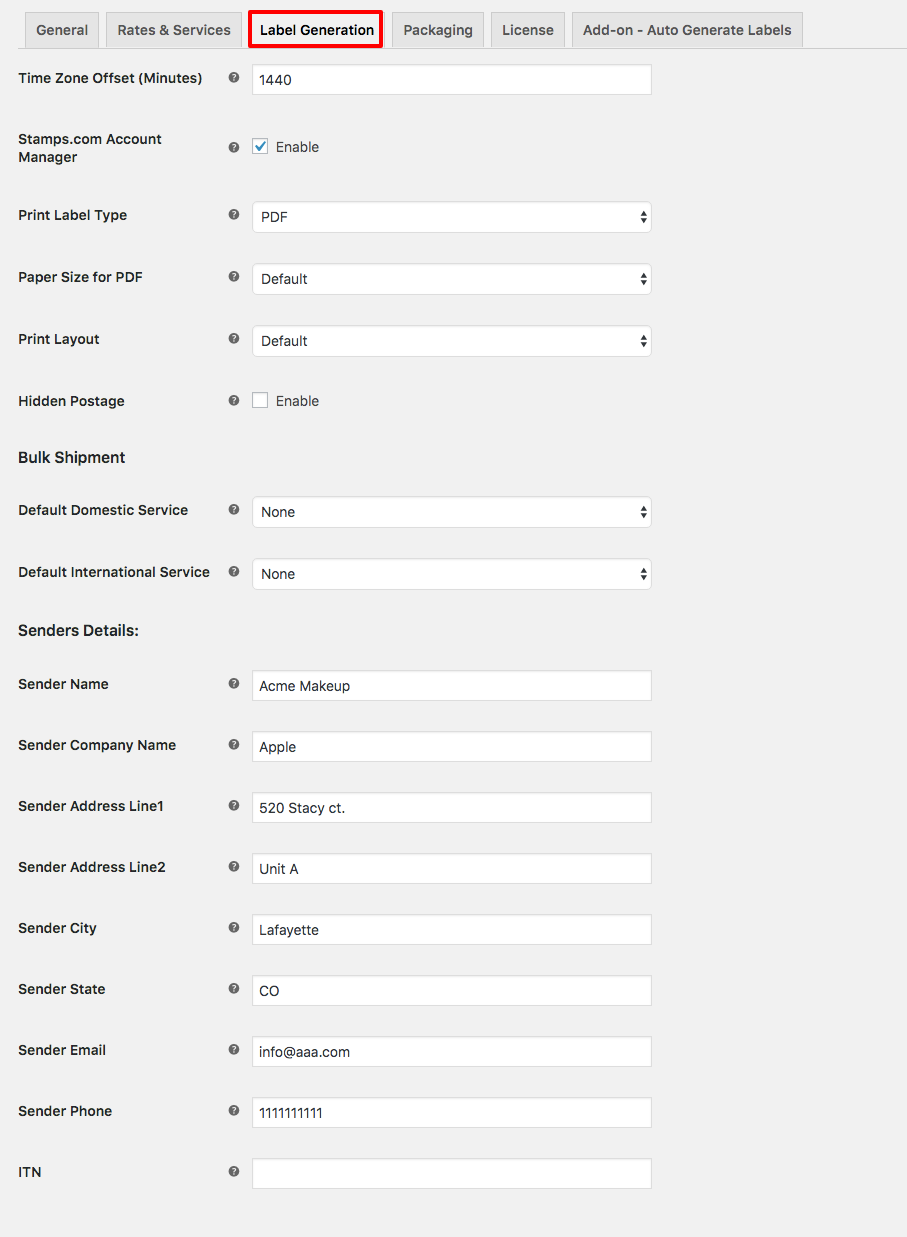 Using the Print Label Type field you can set the shipping labels format. The plugin supports various formats for this purpose. If you choose the PDF format, you can also set the paper size for the generated PDF file using the Paper Size for PDF field. With the print layout field, you can easily set how the shipping label is oriented in the generated document.
Enabling Hidden Postage will cause the omission of shipping costs from the shipping label. This is useful for WooCommerce store owners that wish to hide the cost of shipping from their customers. 
The plugin also comes with the option to activate the Stamps.com Account Manager on your WooCommerce Order pages and the ability to offset the shipment time, which is included in the shipping label.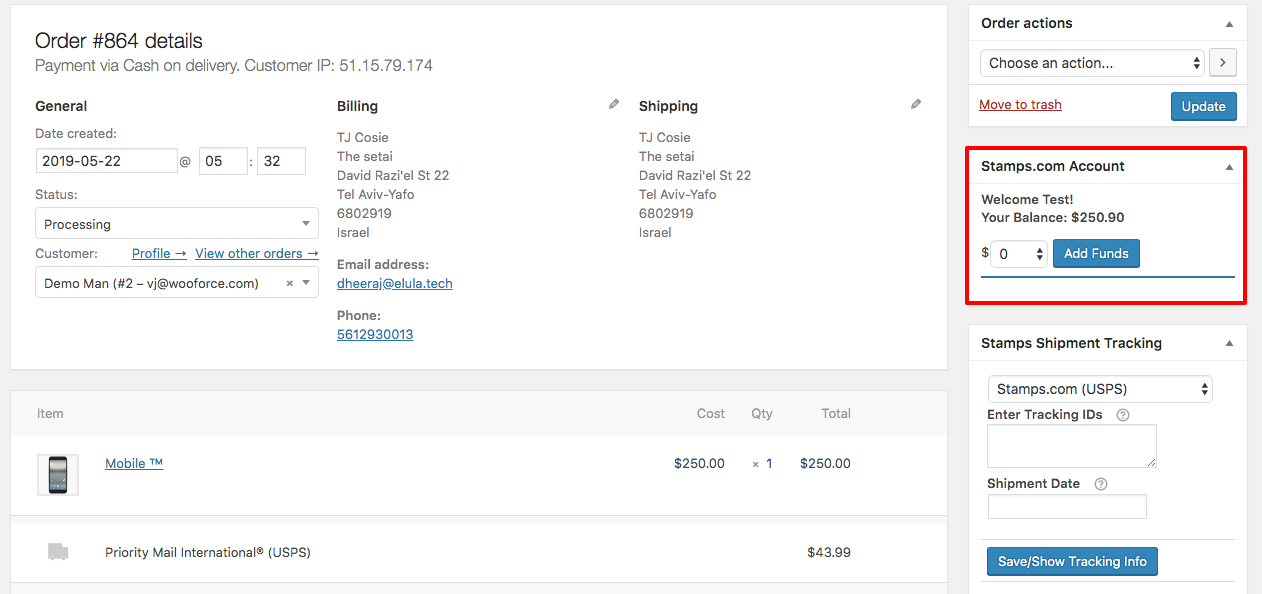 It's important to note that the Sender Details have to be filled in. These details are used in the API requests sent by the plugin to Stamps.com.
What's more, you can include International Transaction Number(ITN) in the shipping labels. These are particularly helpful for Automated Export Systems(AES).
Additionally, the plugin allows for the selection of a default shipping service for both international and domestic bulk shipments. Using the ELEX WooCommerce Stamps.com USPS Bulk Label Printing Add-On you can easily generate consolidated shipping labels for bulk shipments. Moreover, the add on provides additional functionalities that make bulk printing of shipping labels easy as pie.
Printing USPS Shipping Labels from Order Admin Page:
When a customer places an order on your site and pays for it, you will be able to see in your Orders page in WooCommerce. From here you can edit the Billing and Shipping Addresses, add or edit customer notes and choose from the Order actions. These include emailing an invoice to the customer, resending order notifications, and regenerating download permissions.
From the Order Admin page, navigate to the Stamps.com Shipment Label section. For the new order, you will see a "Generate Package" button.
 Click on it to bring up the package configuration window. The  ELEX Stamps.com Shipping Plugin with USPS Postage for WooCommerce has multiple box packing configurations.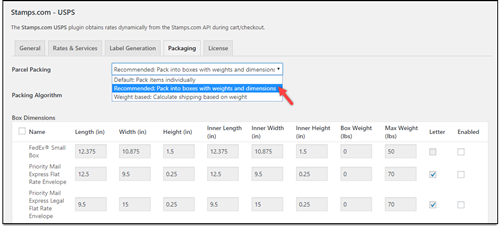 Depending on which configuration you chose, packages are generated for the items in the shipment. From the Order details page, choose the preferred service and the preferred package type. Once done, click on the Create Shipment button to initiate the shipment creation.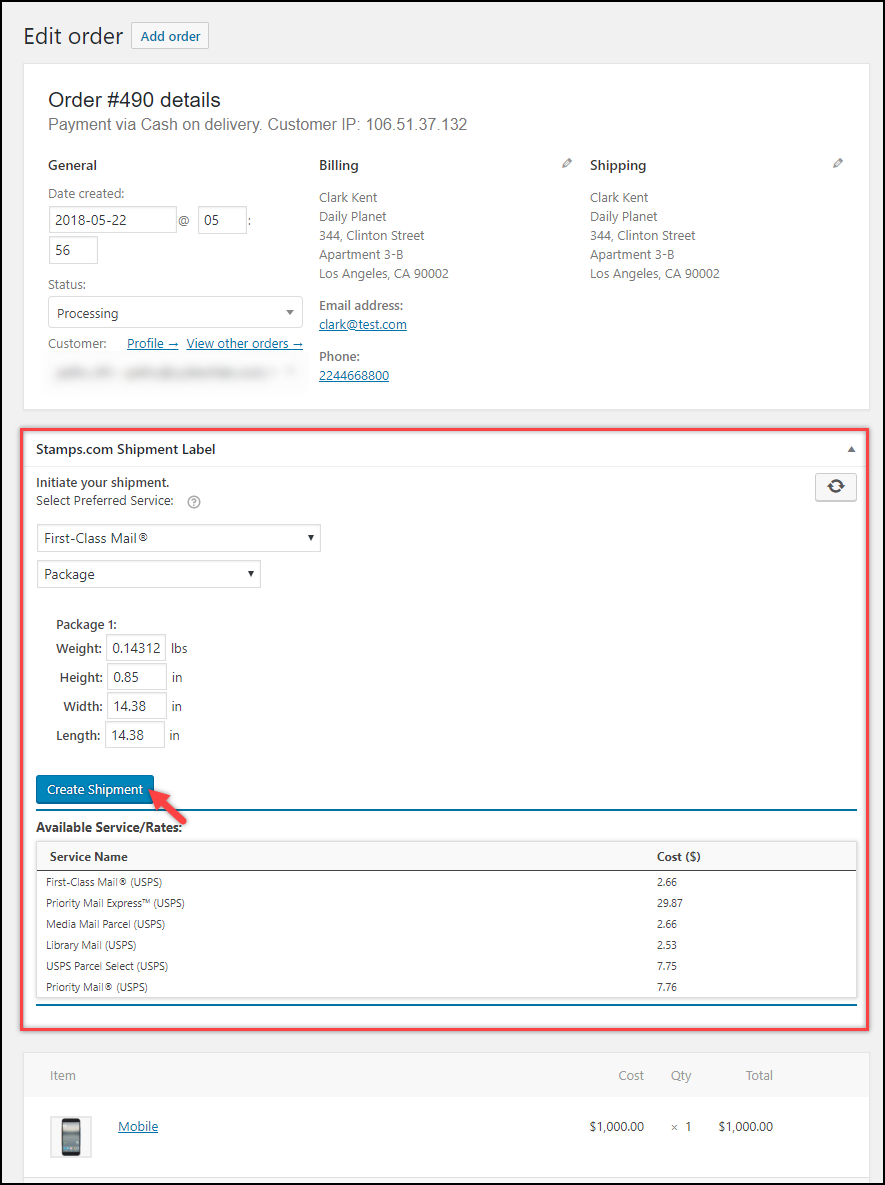 Once the shipment is created, the order details are sent to both yourself and your customer. What's more, you can also use the ELEX Stamps.com USPS Auto-Generate & Email Labels Add-On to configure automatic label printing based on the order status. These labels are then sent to the customer via email by the add-on itself. 
Clicking on the View Label button in the WooCommerce Order page after the package and shipment creation lets you proceed with printing the shipping label. Heres a sample shipping label generated for a customer in Los Angeles, who opted the USPS domestic shipping service.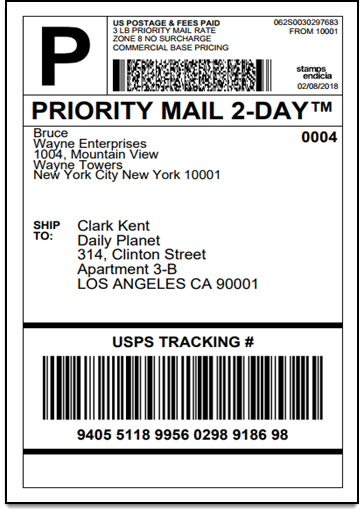 The shipping labels contain a USPS tracking number and a barcode as well.
Conclusion:
Printing shipping labels straight from WooCommerce is a great way to improve operational efficiency by saving time and effort which can be delegated elsewhere. We detailed the steps involved in configuring WooCommerce USPS Shipping Label printing using the ELEX Stamps.com Shipping Plugin with USPS Postage for WooCommerce. Apart from this, the plugin can also be used to
Enable Live Shipping Rates and Delivery Tracking
Pack items into custom boxes.
Generate Order Summary/Manifest
Ensure packages with insurance
Adjust prices of WooCommerce USPS Shipping services.
Generate bulk shipments and more.
The add on provides the functionality to automatically generate and email notifications containing shipping labels and tracking URLs. You can find more information about the plugin here.