DHL provides easy solutions for preparing shipment returns. These return shipment solutions are ideal for retail products, confidential documents, and repair returns. Using the ELEX WooCommerce DHL Express / eCommerce / Paket Shipping Plugin with Print you can easily create return shipments for DHL as well as print return labels.
Introduction:
No matter how good your product or service is, there will be customers who will want to return an order or a part of an order. Handling returns for WooCommerce is tricky as there's no functionality to generate or print WooCommerce USPS Shipping return labels let alone return labels. Setting up good WooCommerce shipping policies is critical to the success of any WooCommerce site and handling returns is an important part of this process.
What you'll need?
For printing DHL return labels for shipments, you need the following:
1. ELEX WooCommerce DHL Express / eCommerce / Paket Shipping Plugin with Print Label to integrate DHL WooCommerce Shipping. Being an Official DHL Partner, the plugin lets you
Access real-time rates from DHL Express, Paket and eCommerce services.
Print WooCommmerce DHL shipping and return labels.
Print Commercial invoices and Archive Air Waybills.
Track shipments, Enable Estimated Shipping Dates,
Pack items into custom boxes.
Configure the price of the services using the Price Adjustment fields.
Enable Shipping Insurance
Generate bulk shipments and much more!
2. DHL Credentials: You will need DHL account credentials for the plugin to access DHL servers and data. To get these details you will need to create a DHL account and contact your DHL account manager to get Site ID and Site Password details.
DHL Return Shipment Options:
DHL offers flexible return label options like creating return shipments and return labels for WooCommerce stores. Using DHL services you can prepare and include printed labels in outbound shipments. Moreover, DHL services allow for the printing custom documentation and even return shipment instructions for inclusion in generated shipments.
DHL lets you include the return labels with outbound shipments. These can be tracked using DHL tracking for visibility and control. Printing return labels require a DHL account number. DHL account numbers are not included in return labels to prevent unauthorized usage.
Integrating DHL Shipping options into WooCommerce:
Step 1: Access the Plugin Settings
First, install and activate the plugin. Once it is done the plugin settings can be accessed from WooCommerce>Settings>Shipping>DHL EXpress
You need to fill out the DHL Account Information in the General settings tab of the plugin. This will connect the plugin to your DHL account and allows the plugin to access the DHL API for DHL shipping services and products like Live Rates and Label Generation/Printing.
 From the General Settings tab,  we can enable or disable Real-time rates. Once enabled, based on the Shipper Address and the destination zip code, the plugin fetches live shipping rates from the DHL  servers and you can display them to your customer. Enabling the Shipping label option will let you configure the label generation and printing using the plugin.
You can also enable or disable DHL Shipping insurance from the General Settings. Setting a currency for your DHL shipping is also possible. The plugin pulls the currency your WooCommerce store is configured with currently and conveniently displays the rate of conversion.
2. Rates & Services:
After configuring the general settings, click on Save. In the next step, we will configure the DHL Rates and services for your WooCommerce Store. Proceed to the Rates & Services tab of the plugin settings.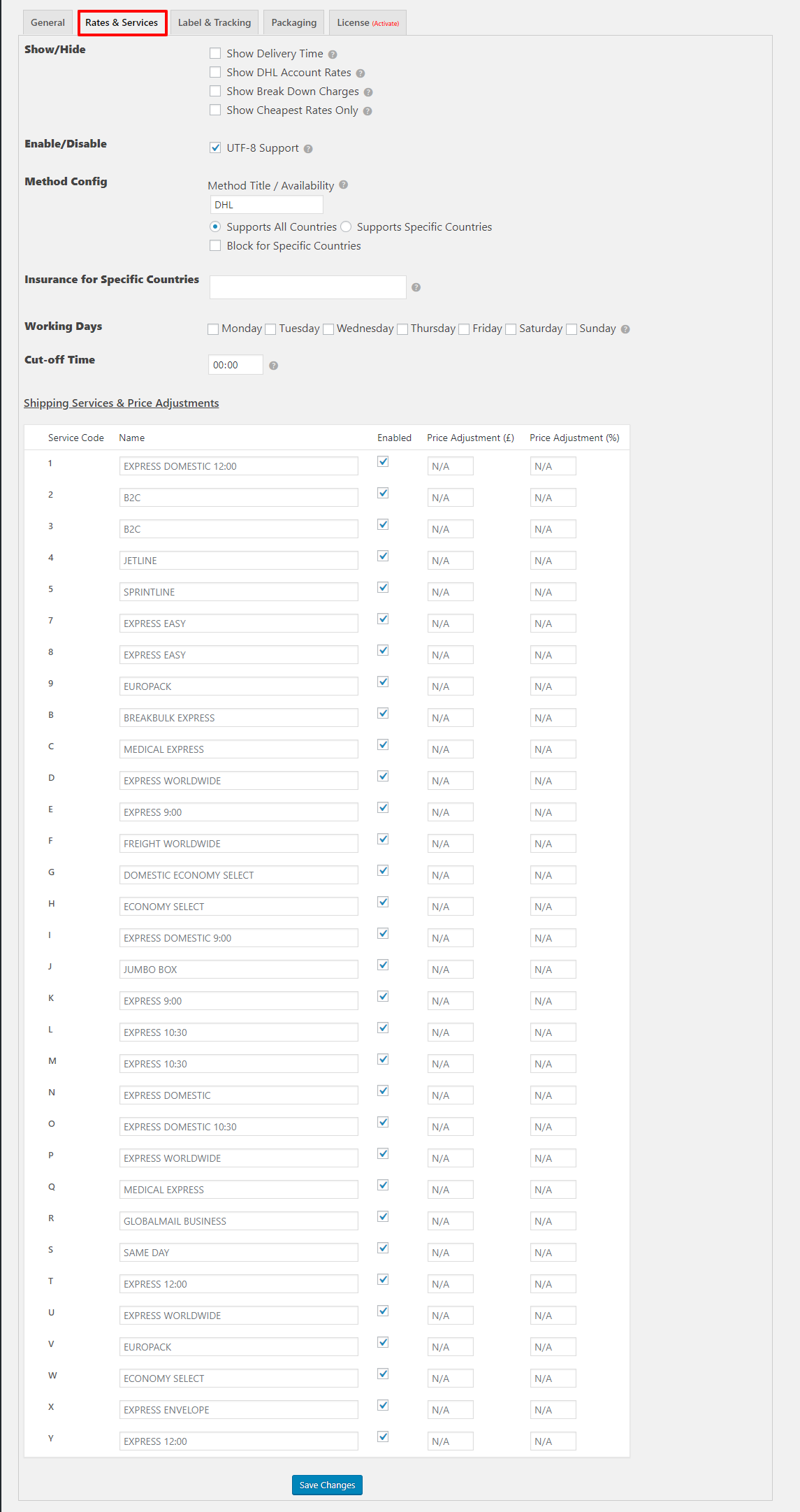 Under the shipping services and Price Adjustment section, you can find all the DHL Express services that you can choose to enable from. The plugin has support for the following DHL shipping services:
DOMESTIC EXPRESS 12:00
B2C
JETLINE
SPRINTLINE
EXPRESS EASY
EXPRESS EASY
EUROPACK
AUTO REVERSALS
BREAKBULK EXPRESS
MEDICAL EXPRESS
EXPRESS WORLDWIDE
EXPRESS 9:00
FREIGHT WORLDWIDE
DOMESTIC ECONOMY SELECT
ECONOMY SELECT
DOMESTIC EXPRESS 9:00
JUMBO BOX
EXPRESS 9:00
EXPRESS 10:30
EXPRESS 10:30
DOMESTIC EXPRESS
DOMESTIC EXPRESS 10:30
EXPRESS WORLDWIDE
MEDICAL EXPRESS
GLOBALMAIL BUSINESS
SAME DAY
EXPRESS 12:00
EXPRESS WORLDWIDE
EUROPACK
ECONOMY SELECT
EXPRESS ENVELOPE
EXPRESS 12:00
Enabling them is as simple as ticking the checkbox next to the shipping service name. The plugin lets you give the DHL shipping service a descriptive name if you wish. This helps customers make better decisions regarding which service is best suited for their product. What's more, the plugin also lets you adjust the price of the DHL services you enabled. Using the Price Adjustment fields you can increase or decrease the price of the returned DHL shipping rates. This can be done using a percentage or by a flat amount. It's particularly useful to WooCommerce owners who want to fully configure the rates of DHL services.
From the Rates & Services tab, you can choose to enable the display of only the Cheapest Shipping Rates instead of all returned ones. You can also break down the DHL charges and enable or disable estimated delivery dates for your customers. The plugin also lets you choose the countries that you wish to enable DHL shipping insurance for. Additionally, the plugin features setting up the working days and cut off time for your WooCommerce store. This is factored in during DHL Shipment creation. You can also limit offering DHL shipping based on the destination country. Once done click on Save to proceed to configure Label & Tracking.
3. Label & Tracking
In the Label & Tracking tab, you will find multiple DHL shipping services that you can choose to enable or disable on your WooCommerce Store. These are as follows:
PaperLess Trade
Saturday Delivery
Cash on Delivery
Select default service for Label Generation,
Direct Download of labels and shipping documents
Delivery Signature at Checkout
Print Label for customers
Proforma Invoice
Using the Shipping Label section you can choose the size for printing DHL shipping labels. The plugin also lets you choose the output for your generated shipping labels. You can also choose to include or exclude the price of shipping in the label.
Using the plugin you can give a description of the goods being shipped. This is useful for international shipments. Including your WooCommerce store logo on the label is also possible using the plugin. Additionally, the plugin features support for the Archive Air Waybills and DHL Duty Payment configuration for international shipments.
You can also enable or disable DHL pickups. By requesting a pickup, DHL personnel will come to your store's physical location to pick the shipments up for shipping, thereby saving you a trip to the DHL office.
You can also choose to enable DHL Tracking on your WooCommerce store as well as configure a DHL Tracking Message to your customers. DHL offers a wide range of Optional Services – from non-standard deliveries and billing options to climate neutral shipping. In this way, we give you the flexibility to choose the service that best fits your needs when using our express delivery services worldwide. Using the plugin you can choose to enable or disable these DHL special services for your WooCommerce Store.
Return DHL Shipping Labels:
Enabling return DHL shipping label generation using the plugin is straightforward. You will find the Return Label section in the Rates & Service section. Using the Enable Return Label checkbox you can enable or disable return label generation and printing. Please note that to generate and print DHL return labels for your orders, you will need to provide a DHL account number for Return Labels.
If the address that you wish the returns be shipped to differs from your Store Adress, you can enable the Return Address not the same as Shipper Address option. This will prompt you to enter the address of the destination for DHL returns using the Return Shipment Address fields.
Generating DHL Return shipments is very easy. Navigate to the orders page of your WooCommerce store. Choose the orders that you wish to generate return shipments for.
You can choose multiple orders as well. Then, using the Bulk Actions dropdown menu, choose to Create DHL Express Return Shipment. This will then use the DHL return account number to signal DHL that the particular order is a return and should be shipped to the return shipping address. Then you can proceed to generate the DHL shipment, configure the packaging and generate the return DHL shipping label. A sample DHL return shipping labels is as follows: 
Return Label for DHL Paket Service
If you have enabled return label option while creating a shipment, you'll receive a return label with shipment label as well. But remember, return labels cannot be generated for international services.
Below screenshot shows a sample return label.
Conclusion:
These are all the steps to be followed to enable DHL services and products on your WooCommerce store. Creating return shipments from your WooCommerce store itself is super easy and will definitely improve the operational efficiency of your store. The ELEX WooCommerce DHL Express / eCommerce / Paket Shipping Plugin with Print Label features seamless DHL integration into WooCommerce. Configuring WooCommerce DHL shipping options and services using the plugin is extremely simple. To try out the features of the plugin you can check out the live demo site, here.
Or you can download and install the ELEX WooCommerce DHL Express / eCommerce / Paket Shipping Plugin with Print Label (Free Version). The free version features:
Access real-time rates from DHL Express service.
Set a custom method title for DHL shipping method.
Option to set the Conversion rate if your store's currency differs from that of DHL.
Option to show Estimated delivery time for each service in the Checkout page.
Option to show only DHL Account rates.
Option to show breakdown charges in the Checkout page.
Option to enable UTF-8 support.
Option to offer DHL Express shipping service all over the world or to specific countries.
You can download the free version of the plugin from here.