eCommerce is a rising field with numerous options to flourish. To be successful in eCommerce, you have to be a successful marketer too. What if you don't want to market and just own a bulk items shop or storehouse and then do the selling. Wholesaling is all about it. All you need is a storehouse, where you can house the bulk quantities and let the other retailers come to you for purchasing. It is easy to create a wholesale website to sell your products online.
So let us take a look at the following to understand more about wholesaling and how can you go about starting one wholesale website and start selling.
What is Wholesale?
Wholesale is when a business buys goods in bulk from manufacturing units or even from other distributors and warehouses with a view to selling them in the retail market.g. While buying goods in wholesale, the buyer gets a good profit as the price is comparatively less when you buy goods in bulk quantity.
Even wholesalers can also sell as a retailer when they want to. They can sell products in a range of 1 to 100 or more in quantity.
What is Wholesaling?
Wholesaling is all about selling bulk quantities to other retailers who propel your revenue by selling the products at individual levels. The retailers become the middlemen to sell your goods to the customers. The best part of wholesaling is that all you need to find to sell is a product in demand and the retailers for the same. Popular brands like Worldwide brands, Walmart, etc. are some of the popular names in wholesaling who have become pioneers in the field.
The major advantage is that you do not need to set up a shop to sell your goods. Even though, there are many popular wholesale brands who are actually setting up a shop like experience for their customers to purchase from them directly.
Why do you need wholesaling?
Wholesaling has an umpteen number of advantages. When you consider a wholesaler, all they need to find is perfect retailers to reach out to the customers. Here are some reasons that highlight the benefit of starting a wholesale business:
Augment your sales without spending much on marketing
In the case of selling, you need to find customers through additional marketing strategies and invest in marketing online and offline sources. When it comes to wholesaling, you need not worry about reaching customers or marketing for the same. The retailers shoulder you through responsibility by doing the same. Hence your marketing costs and responsibilities are slightly lessened.
Entering new markets with less risk
When it comes to wholesaling, you would need to sell products that are already in demand and needed in bulk. Taking into consideration the demand for the products, you can choose to sell products that are needed or in trade. This reduces your overall risk of selling.
Provide wider outreach
When you are reaching out to retailers, they provide the base to reach out to a larger audience without any hassle. Retailers give you space to market your products to customers from various locations. Hence you can spread your reach over a vast geographical expanse.
How can you create a wholesale website?
In the case of setting up a retail site, you need to ensure you have clear data about the quantity, quality and product availability for selling. Keep in mind that you are selling the products to the distributor, other retailers, etc. who then sells the products to the consumers through their shops or eCommerce websites. For a wholesale website, you need to have a regular eCommerce site with all your products with wholesale pricing data.
You can easily build a wholesale website using WooCommerce, which lets you seamlessly integrate with many plugins that will help you build a powerful website that can sell your products and reach out to potential customers. There are many things to consider when you are planning to build a wholesale website.
Do you want to display the products like a catalog?

Do you need to hide the prices of your products?

What if you want to restrict the selling to a certain minimum order quantity(MOQ) to the wholesalers?

How do you go about the pricing strategy for wholesale users?

Do you want to set up role-based pricing for your retailers?
Answering the above questions will let you structure a complete Wholesale website effortlessly. WooCommerce has plenty of plugins that can easily work in favor of developing a successful wholesale website. Take a look at how you can easily set up a WooCommerce Wholesale website.
Quick Steps to set up a Wholesale website using WooCommerce
When you are planning to set up a wholesale website, the first thing you need to consider is whether you are creating a pure wholesale business website or offering a certain retail option to customers. You can choose your approach from the wide range of options available depending upon your context.
WooCommerce is one of the promising options to develop a Wholesale website. It is easy to set up a WooCommerce website. You can set up a regular eCommerce website and then convert it to a  wholesale business site using certain recommended plugins which will ease your process to set it up.
Create a WordPress WooCommerce website and set up themes

Create an account on WordPress.org and then get WooCommerce installed on it. Once you are ready with the WordPress WooCommerce site, you can easily get a domain from popular domain providers and register with them. Also, you need to set a theme for your wholesale website that makes your website impressive to the visitors.
Set up products and payments 


Once your store is ready, then you need to add products to the page which you have decided to sell. You can also set up various payment gateways, to ensure that your end-to-end selling is successfully implemented. Popular ones like Paypal etc. are widely chosen by vendors who are owning a website. Some of the popular ones are Stripe, Paypal etc. 
Adding products is easier using WooCommerce. You can either manually enter the products or even bulk import the products. WooCommerce facilitates both the ways to help eStore owners.
Once the products are set up in the store, you need to plan the layout of the same. In order to set up a catalog mode for your store,  you can make use of the ELEX WooCommerce Catalog Mode, Wholesale & Role Based Pricing plugin. 
Launch Wholesale categories and pricing
When you have a wholesale website, you need to ensure to sell the right quantity of products to the retailers who are approaching you. In order to make your website search friendly, you need to include categories to the products which will ease the product search for the retailers. Pricing is also an important factor to be considered while setting up a wholesale business website. You need to set up bulk pricing if you are setting up a wholesale website, as the retailers will be buying the products in bulk. 
You can make use of the ELEX Bulk Edit Products, Prices & Attributes for WooCommerce plugin to put up bulk pricing for products as your retailers are purchasing products in bulk. Using the plugin you can easily update or even edit the product properties to suit the need for both simple and variable products.
Set up a contact form to let retailers contact you
It is important to set up a form to help your retailers to contact you for product related queries or set up a business with you. You can create a simple contact form using popular WordPress plugins like WPForms, Gravity Forms, Ninja Forms, etc. With a form, it is easy to create effective communication between you as a wholesaler and the potential retailers. These form builders help to customize the form as per the need of the wholesaler. If any new retailer visits your website and wants to establish a business connection with you, then they need a way to connect easily, contact forms are perfect for this.
Role-based pricing strategy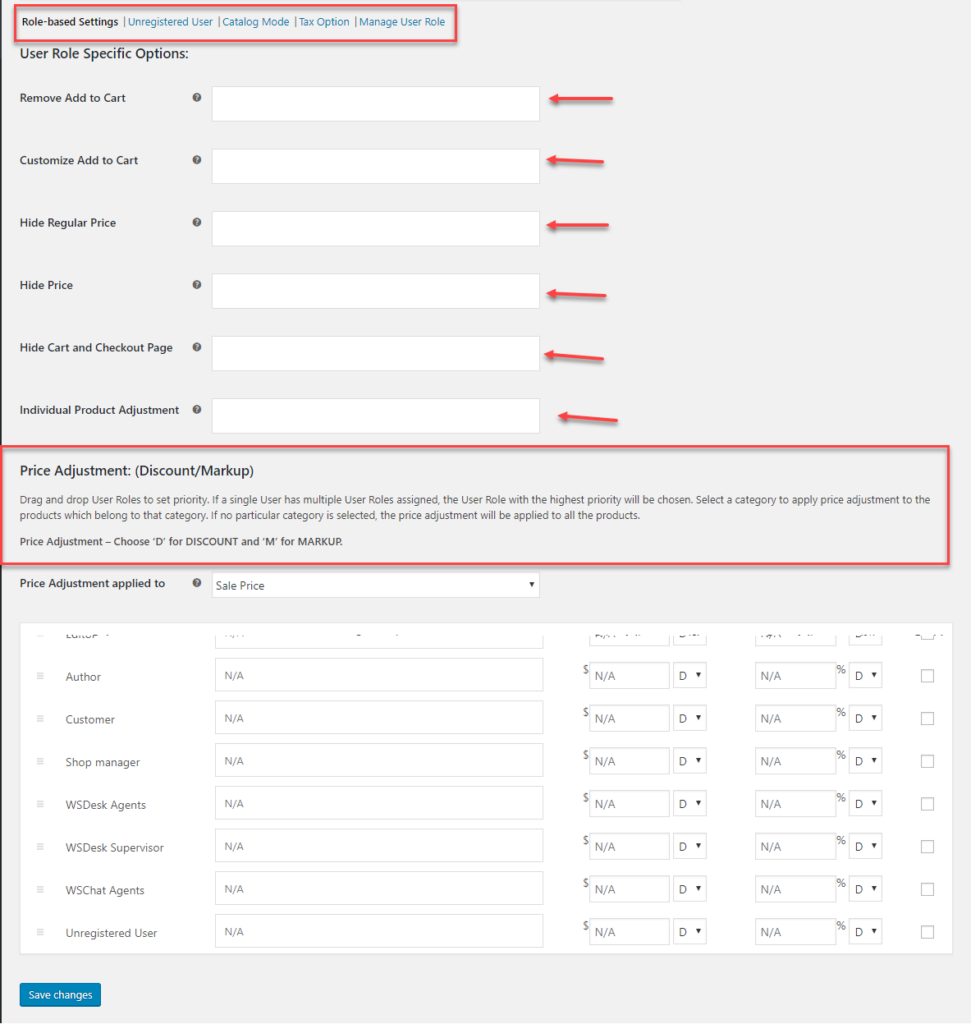 Role-based pricing eases the usage of your Wholesale store in a better way. With the role-based pricing, you can pose your store as you want it to look like to certain users. With properly defined user-roles, you can customize the store as per the users who are visiting your wholesale website. Using the ELEX WooCommerce Catalog Mode, Wholesale & Role Based Pricing plugin it is easy to set up pre-defined user roles and then set up a pricing strategy.  Basically the plugin solves few problems and makes it easy to set up a wholesale website on WooCommerce.
Let us take a look at what all can be done using the plugin :
With the role-based plugin, you can set up user-roles and then define the pricing strategy.

Enable catalog mode for your website; wherein you can just hide price etc. and even Add to Cart button. Catalog mode setting helps to maintain a simple catalog like the website to display the products alone. 

With the plugin, it becomes easy to ensure that only registered users can purchase the products from you. If you are an unregistered user, you can easily redirect the retailer to the contact form and then let them place a request through the same.

Another great advantage is that your retailers who are interested to purchase the products can request a quote for the products they are purchasing in bulk. You can also use ELEX WooCommerce Request a Quote Plugin to switch your store into Request a Quote mode for the specific user roles. This way you can retain certain retailers, who are potential for your business. 

Even adjusting prices, taxes, etc. based on products, product variation, etc. is also possible.
Wholesale Strategy on the basis of Cart Amount
Wholesalers nowadays look for various methods to expand their business. Most of the wholesale businesses are looking for implementing dynamic prices for their individual users. Setting up individual price structure on user-roles is again a cumbersome job. Hence most wholesalers need a competent system to handle the same. When you are into selling products in bulk quantity, you can offer certain discounts on the basis of :
number of products

certain product combinations

check out cart data

or even a category
When you want to offer certain discounts on the account of these criteria, you can easily set it on your admin panel using a simple Dynamic pricing plugin. A dynamic pricing plugin can assist in setting the dynamic prices and maintain for bulk quantity by applying price rules.
Dynamic Pricing for WooCommerce
Using ELEX Dynamic Pricing and Discounts Plugin for WooCommerce, you can configure complex rules to apply flat discount values or percentages. It is easy to set up prices dynamically too.
Applying various rules on the plugin settings will help to set up your store to provide dynamic prices based on several criteria.
Product Rules for Dynamic Pricing
Product rule-setting helps you to set different rules for your individual products.
You can specify the offer name you want to suggest.
You can also decide whether the rule is applied to selected products, all products in the category or all products in the cart.
Choose the products or combination of products from the existing store.
The rule can be based on quantity, price and even weight.
Also, you can provide the minimum and the maximum quantity that the rule must be applied to.
Also, the discount type like a flat discount, a percentage discount, or even go for a fixed price and fix the discount amount priorly.
The price adjustments offered on the products or the cart.
Even on the basis of user roles, the rules can be set up.
A set of rules for a date-range as specified by the admin as well is also possible.
As a store owner, you can also set restrictions for purchases.
Once it is done, you can apply the rule.
Once the product rule is created, you can also create multiple rules for other products or categories depending on what kind of discounts or price features you want to implement.
It is easy to apply for price adjustments, applicable roles or even plan a date for giving discounts as well as restrictions in these product rule settings.
In the above rule, you can set rules based on individual products. The following are some scenarios wherein the rules are applicable.
Buy a minimum quantity of a product and then get a discount of 15%.

Buy products with minimum quantity 5 or above and a maximum of 100 and more, to get a flat discount of $20.

Apply a 10% discount on the bulk quantity of products for a particular role.
You can also apply discounts on certain order combinations too. Like buying one product with another one get a discount of 15% on purchase etc.  There is yet another way to offer a discount for bulk purchases, by checking the overall cart amount.
Cart Rules for Dynamic Pricing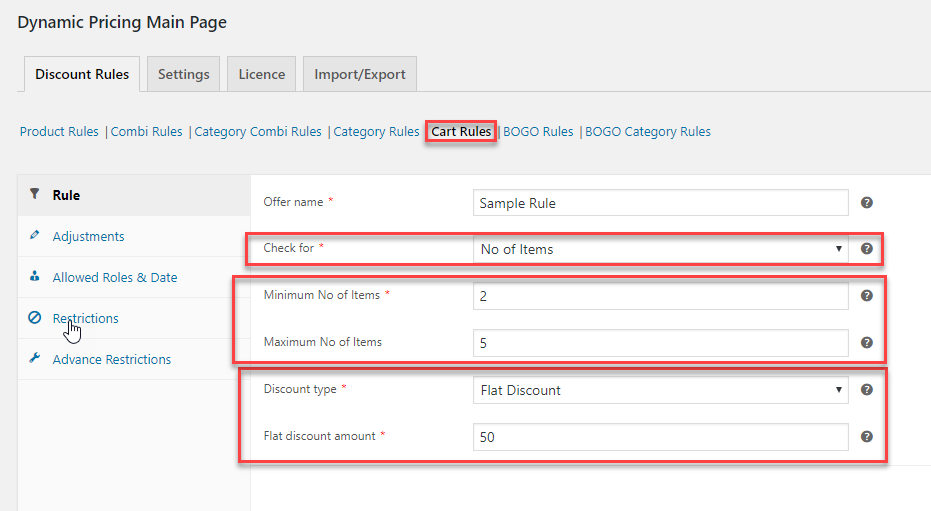 You can easily create rules based on the number of items in the cart (like setting a minimum and a maximum number of items). For example, you can apply a cart rule where the rule is applied for the number of Items. In this example, if the minimum number of items is  2 and the maximum number of items is 5 in the cart, then a flat discount of 50 can be applied to the overall cart.
In this way, it is easy to set up rules based on any attribute like orders, no. of items, cart checkout based, and much more.  These rules can also be customized based on the user roles set in the website.
Restricting Wholesaler for Minimum Order Amount
When you own a wholesale website, you might want to restrict the purchases to a minimum order amount for certain users. In this way, it is easy to give restricted access to the quantity of the order being purchased. Setting up a minimum order amount for your WooCommerce Wholesale store is just quick using the ELEX Minimum Order Amount for WooCommerce plugin. The plugin settings are quite simple and easy to understand.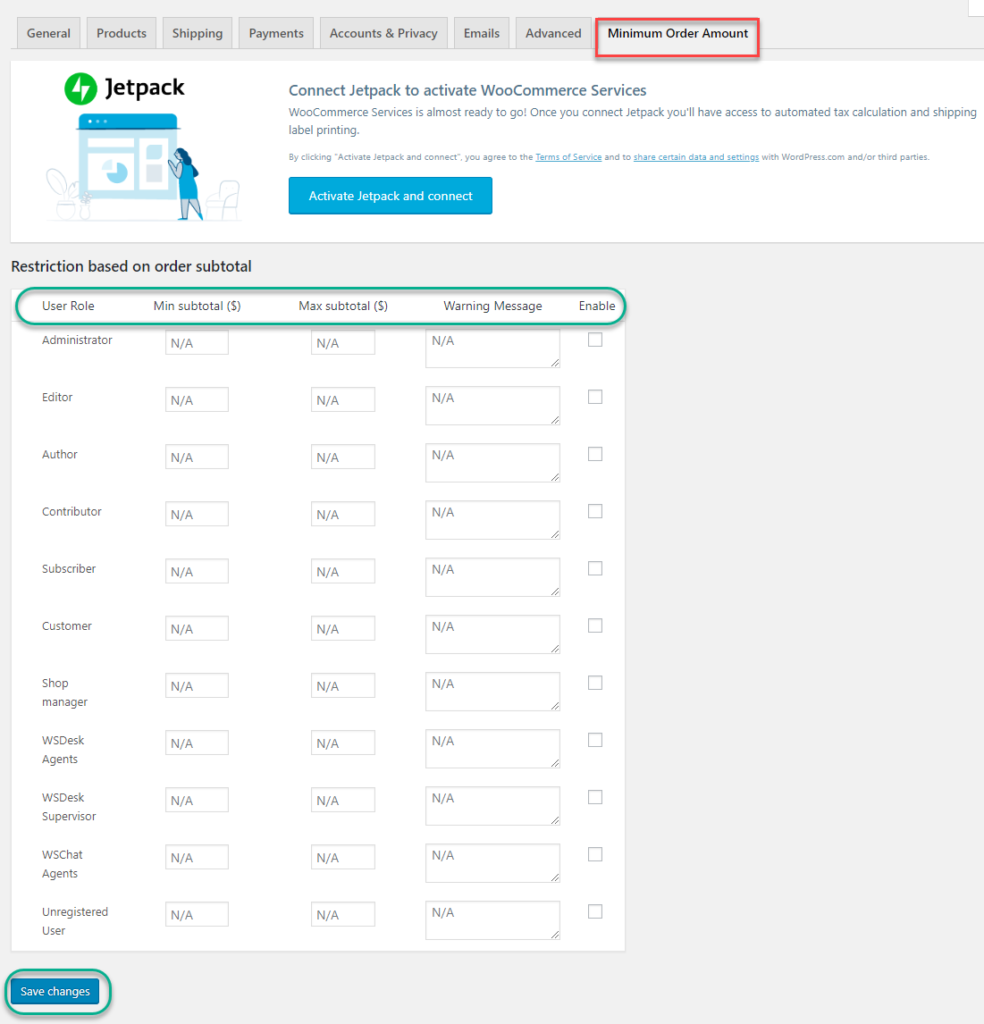 As you can see, the rules are based on user roles. It is easy to enable or disable the rules. It also lets to post a custom message when a user tries to purchase beyond the restricted amount of purchase.

Hence, when the order amount limit is crossed for a certain amount as given in settings, then the "Customer" user will get a warning message.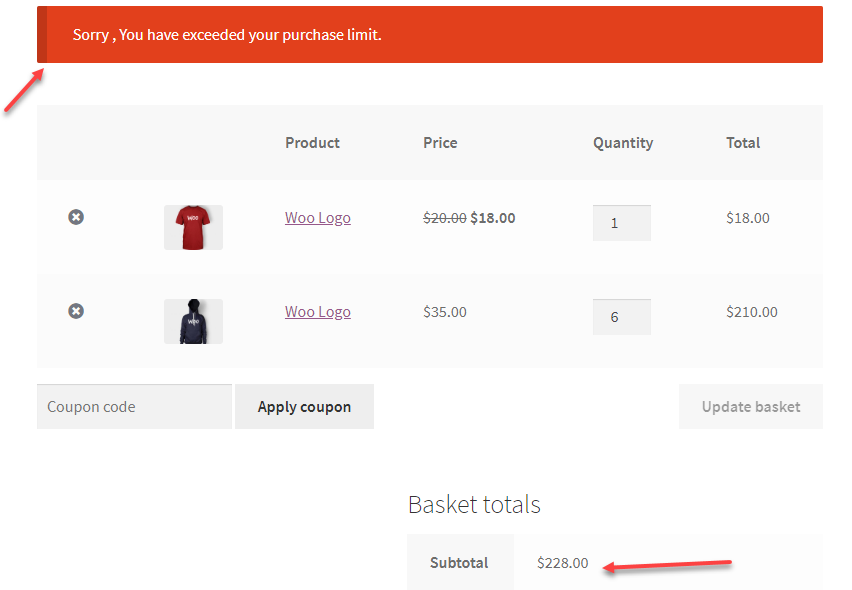 The rules can be modified on the basis of user roles and applied to the store.
Your store is all ready for selling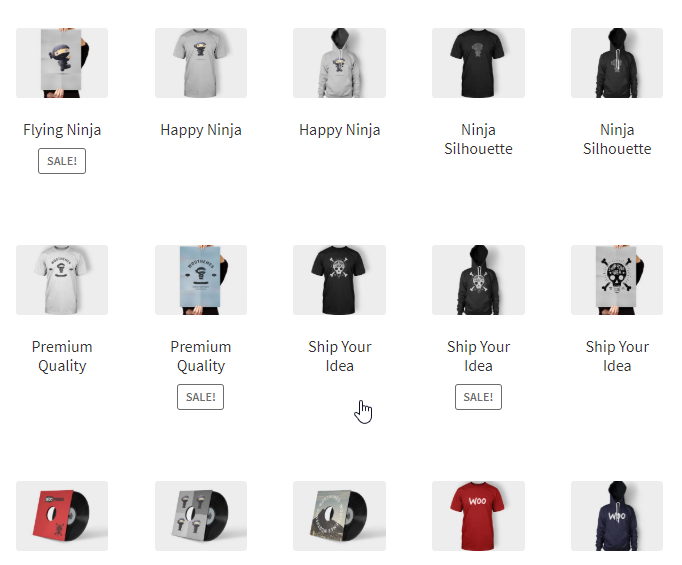 The above settings help you create a  wholesale website and start selling your products online. Once your user roles and strategies are defined, you are all set to sell your products online. You can also set a Minimum Order Quantity setting using the ELEX Minimum Order Amount for WooCommerce (Free) plugin which will restrict the retailers in purchasing order beyond a certain limit. With this, the wholesaler can implement restrictions on the purchase limit.
Conclusion
The above steps will help you simply create a Wholesale website from scratch and start selling your products online. To successfully run a wholesale business, it is important to understand the purpose of maintaining an efficient wholesale store.
Further Reading