Websites typically have five seconds to make an impactful first impression on prospective customers. How many times have you visited a website, didn't find anything interesting, and immediately closed the site?
As modern-day consumers, we thrive on instant gratification and get bored if the website doesn't have anything worthwhile to hold our attention. This not only makes you lose out on prospective sales but also increases your website's bounce rate, which affects the overall search rankings.
Video content is the sole solution to this problem. If a website features engaging video content, the regular consumer will stay on it for 80% longer. Increased click-through rates, number of orders, retention, conversions, and profitability can be attained by integrating a video gallery into your website.
So, what is the process for adding video galleries to your website? The steps for building a WordPress website that displays a video gallery from your YouTube channel are covered in detail in this article. So let's get going.
Benefits of Creating a Website and Displaying a Video Gallery From Your YouTube Channel
The written information on your website is crucial for SEO and customer acquisition, but so is video content. Actually, it might even be more significant.
According to the latest trends, there has never been a higher level of video viewing and its benefits for your company cannot be overstated. Including a video gallery on your website has a number of benefits:
Quicker Information Transfer
Users generally need plenty of time to read through information unless they have lightning-quick reading and thinking speeds. Most people prefer not to have to waste longer than three minutes looking for the information they require.
A video quickly and without much interruption conveys the message. With everything customers require right in front of them, it visibly and audibly hooks your audience. This doesn't imply that you should substitute your existing text, but rather that you should add more detail using simple visuals so that your audience can understand it better.
But adding videos makes the process of retaining visitors' attention and converting them into paying customers easier, as they have a simplified understanding of what your business has to offer.
Boost Your Position in Search Engine Results
To date, in the world of SEO, content is considered king, which applies to videos as well. Despite the possibility that web crawlers won't index the video's content, the way the metadata is optimized for the video is what plays a vital role.
A further SEO boost can be achieved by using keywords in the video's title, caption, video description, tags, and alt text. Furthermore, YouTube is a property of Google. Your business will therefore benefit naturally from improved visibility on Google's search results page. 
Higher Engagement
Your visitors are significantly more likely to interact with a video than a paragraph of text when they click on a home page that includes a video. A video's audio and visual components are more likely to draw viewers than a lengthy written text article. 
Large blocks of text may be intimidating if you're not committed to your research. A video is quick, allowing you to quickly explain a product to your customers and provide them with answers to their questions quickly.
Shorter Sales Funnel
Consider a user who lands on your website, browses around your site, isn't quite sure what they're looking for, perhaps gets lost, and decides not to contact you because they are unsure or confused.
Alternatively, picture a visitor arriving on your website and watching your informative video about the products or services you offer, and then, once they are certain they are interested in what your company has to offer, hitting the "Contact Us" button below the video gallery.
Thus, adding a video gallery to your website may lessen confusion and eliminate pointless steps from the sales funnel. 
How to Create a WordPress Website to Display your Video Galleries on?
In case you do not already have a WordPress-based website, let us quickly guide you through the high-level steps of creating one. 
Purchasing a domain name and hosting
A domain name and a hosting account are the prerequisites for creating any form of website. A domain name is a term used to describe the distinctive web address of your store. Mywebsite.com is a good example.
A specific kind of Internet hosting service called web hosting enables both individuals and companies to make their websites reachable over the Internet. A domain name and web hosting can be purchased from GoDaddy.com or any other hosting company of your choosing.
You might utilize the name of the company that already exists as the domain name for your store or come up with a unique name. Generally speaking, you want a memorable and appealing domain name that is original.
After selecting a domain name, you can finish the installation and pay the setup charge. You now have a domain name where you can add your video gallery and a hosting plan to host the website on the internet.
Installing WordPress
Although you can manually install and set up WordPress, the process can be a bit complicated and time-consuming. We would recommend opting for a hosting platform like GoDaddy, Hostinger, or Bluehost, as they have one-click integrated WordPress installation options that will activate WordPress on your new website immediately.
For more details, watch this video for a step-by-step guide on how to create a WordPress website.
Selecting a Theme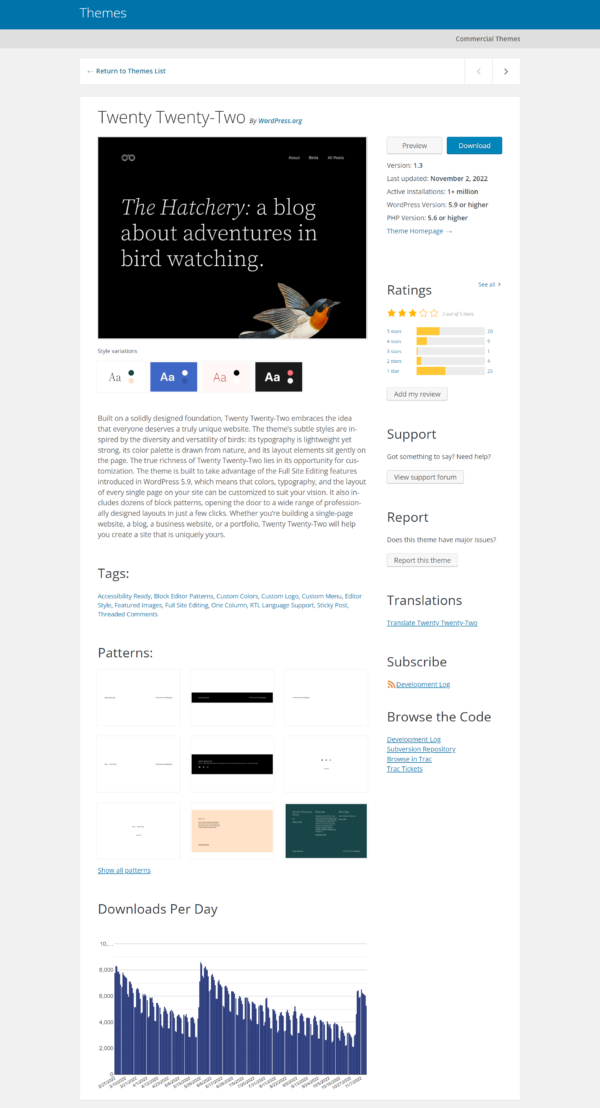 Using one of the many themes offered by WordPress, which each offer a wide range of designs, formatting types, colors, fonts, and other design options, you can modify the appearance of your WordPress website.
Go to your admin dashboard on WordPress to select the theme that best suits your needs. Click Themes from the Appearance menu. A new screen will open, allowing you to explore the available themes.
To start customizing, just install the most suitable theme after you've found it.
Creating Pages to Add Your Video Gallery
Posts and pages are typically how newly added material on a WordPress website is displayed.
To add a page to your website, go to the WordPress admin dashboard, click Pages, and then click Add New.
First, give your page a title. Then you may add content, embed videos, and add pictures. Repeat this process to create multiple pages for your site. Click Publish when ready.
Now your WordPress website is ready to display a video gallery. You can customize it further or add plugins to expand its functionality. 
Let's take a look at the most simple and efficient way of displaying a video gallery from your YouTube channel.
The Most Simple Way of Displaying a Video Gallery
YouTube makes it comparatively difficult for people to showcase video galleries on their websites by default. Plus, WordPress only supports the addition of one YouTube video at a time.
Therefore, manually embedding each video into a WordPress YouTube gallery requires switching between your website and YouTube.
It can become time-consuming as a result. Moreover, since nothing can be modified without coding, your WordPress YouTube gallery might not adhere to your website's design and style.
You may still easily display a YouTube gallery on your website by using a WordPress YouTube plugin.
Even if you don't know much about technology, you may display your gallery of videos with the assistance of a beginner-friendly plugin like ELEX WordPress Embed YouTube Video Gallery.
With the help of this plugin, you may display YouTube channels, playlists, videos, and galleries on your website. It is perfect because it is also user-friendly for individuals who are just starting with WordPress.
With the help of the plugin's numerous customization options, you may customize your YouTube gallery as needed. Using the simple editor that includes a live preview, you can quickly and easily customize the layout of your YouTube galleries.
You can also create unlimited galleries that include unlimited videos, playlists, or even channels, set up predetermined automated syncs, add an intro video or a subscribe button if needed, select pagination type, and do a lot more.
Begin by purchasing and downloading the ELEX WordPress Embed YouTube Video Gallery plugin from the product website. After that, you should install and activate the plugin on your WordPress website. Not sure about the best course of action? You may install a WordPress plugin by following our detailed tutorial. Once the plugin is installed and activated, you can move on to the next stage and start creating your YouTube gallery.
Add a gallery name and category in the create tab, then enter the source URLs for the videos, playlists, or channels you wish to include in the gallery and click add to the source list. The live preview feature allows you to view the gallery as it will appear once it is published. This page allows for the customization of the source list, color mode, desktop layout, subscribe button, and intro video.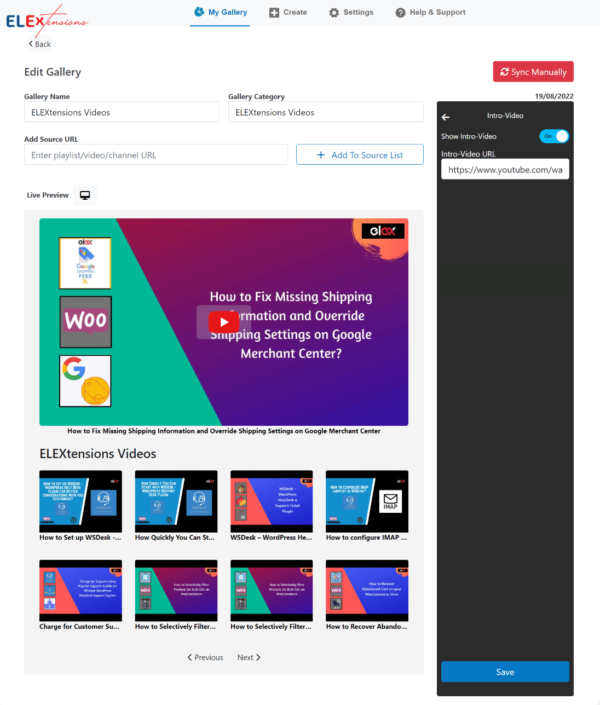 Next, add your YouTube API key under the settings tab > configuration settings. Then, decide whether or not you want to enable automatic gallery syncs, and if so, select the most appropriate time interval. You can go through the product documentation to know how to access the YouTube API Key.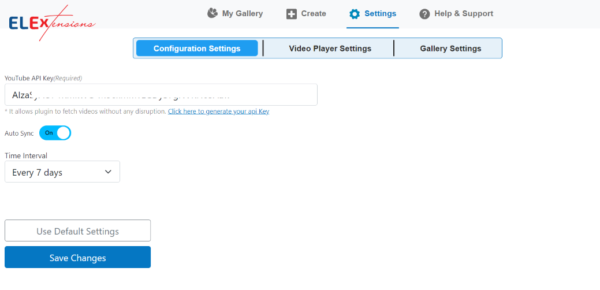 You can pick between pop-up and inline play modes, as well as the overlay color and overlay blur, under video player settings, where you can specify the default global video player settings.
You may then specify the default global gallery options, including the choice to show or hide the header or YouTube subscribe button, configure the channel URL for the subscribe button, select the color mode, layout, and pagination method, and more.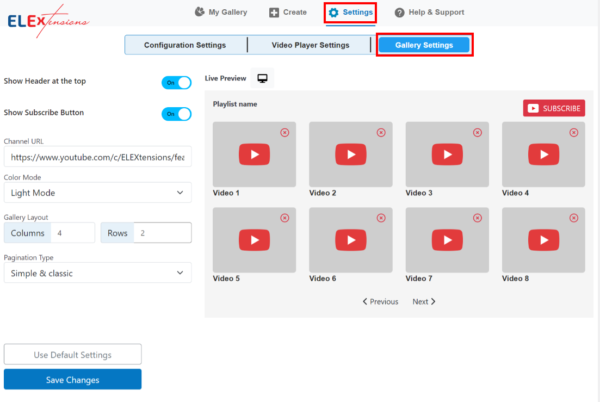 The shortcodes for each gallery that has been generated can be found under my gallery.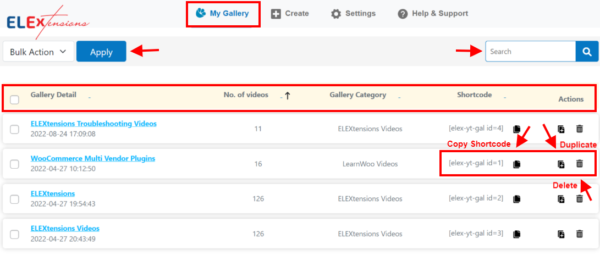 You can easily add the gallery to your WordPress website by copying and pasting this shortcode into the created WordPress page's backend. Shortcodes can be chosen from the drop-down menu in the block editor by clicking the "+" button.
Then, after pasting the copied shortcode, click update. You can easily display one or multiple video galleries from your YouTube channel by following these simple steps. Check out how it will appear on your website.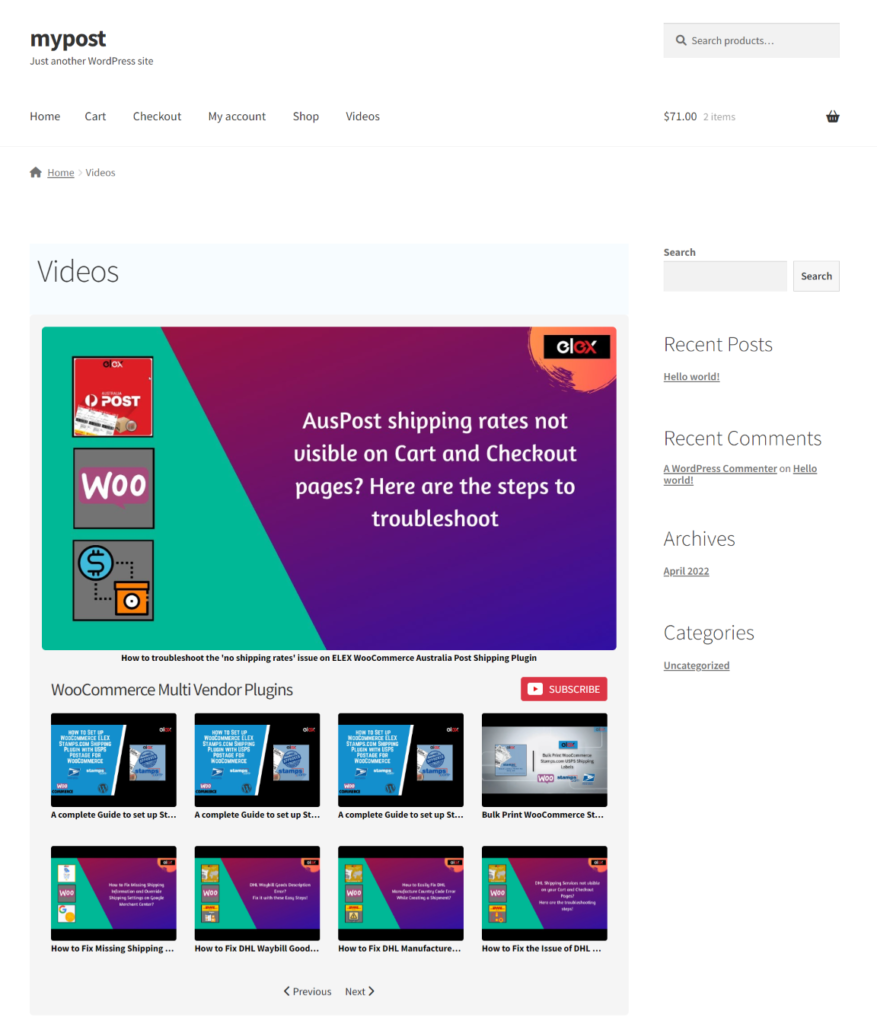 There are numerous additional customization and tweaking possibilities available with this plugin. The product documentation includes a detailed step-by-step setup tutorial for the plugin. 
Wrapping Up
We hope that this article made it easier for you to create a website displaying a video gallery from your YouTube channel. If you have any questions about displaying YouTube video galleries on your website, please leave them in the comments area below.
Further Reading