When you are managing an eCommerce store, you must know exactly why it is important to choose the right shipping option. DHL and USPS are two prominent shipping services, which are in demand for their exceptional services. Both these shipping carriers have their set of unique services and their pros and cons. Here we take a closer look at both these shipping carriers to get a better understanding and to help you choose which among these is best for you. Let's learn more through a comparative study of DHL vs. USPS here.
Choosing the right shipping carrier doesn't always mean that you found the right shipping partner. It also means finding the right ally for establishing a better connection with your customers, by offering varied services to your customers. Better shipping means offering a faster and better quality of service to your customers.
DHL vs. USPS
DHL is headquartered in Germany and has a presence all over the world, playing a vital role in shipping globally. USPS, on the other hand, is based in the US and has exemplary services offering domestic and global shipping. Here is a small comparison of the DHL vs. USPS delivery timeline.
| | | | |
| --- | --- | --- | --- |
| DHL | | USPS | |
| Service | Delivery Time | Service | Delivery Time |
| DHL SmartMail Parcel | By end of 2-3 business days | Priority Mail Express | Overnight Guarantee |
| DHL SmartMail Parcel Plus | By end of 2-3 business days | Priority Mail | 1-3 Business Days |
| DHL SmartMail Parcel Return | By end of 1-3 business days | USPS Retail Ground | 2-8 Business Days |
| DHL Smart Mail Flats | By end of 2-5 business days | | |
| DHL SmartMail Bundle Printed Matter | By end of 2-5 business days | | |
USPS is the primary mail option in the US and is mostly used for shipping packages weighing less than or equal to 70 lbs, both domestically and internationally. Whereas, DHL is a private shipping carrier, with a maximum parcel capacity of 150 lbs. 
DHL is a far more effective option for cross-border shipping, while USPS is popular for domestic shipping as it is an entity of the US Federal Government offering postal services within the US locations. USPS is ideal for shipping small to lightweight packages in a cost-effective manner.
Which is cheaper: DHL Vs USPS
The cost of shipping, as we know, completely depends on the weight and dimensions of the package, as well as the distance the package has to travel. Since USPS's presence is more in local areas, it is the cheapest option for shipping within the US locations. DHL is a popular choice when you are shipping to international locations as compared to USPS.
For example, if you want to ship a package weighing 5 pounds from New York to London, the rates will be:
| | | | |
| --- | --- | --- | --- |
| shipping services | Shipping Option | Delivery Time Frame | Cost for Shipping |
| DHL | Express Worldwide | 1-2 business days | $68.23 |
| DHL | eCommerce Parcel Direct | 9-11 business days | $46.34 |
| USPS | Priority Mail Express International | 5-12 business days | $89.48 |
From the above chart, you can see that DHL is an ideal alternative for shipping internationally. Especially since the estimated delivery time for express is 1-2 business days.
Which is faster? DHL vs. USPS
The speed you choose to get your delivery will directly affect your cost. Hence if you want to determine the fastest option to ship, your cost for shipping is also going to be higher. Both DHL and USPS have shipping options that offer you both domestic and international shipping services. You can make use of USPS shipping services when you are shipping something that is of the smaller size of low value for a low budget as it is the most economical option for shipping. Whereas, if you want to ship internationally, then DHL is the best. Remember, you are going to incur certain additional charges for those faster deliveries.
DHL Services
Here is the list of DHL services offered:
DHL eCommerce – Packet Priority

DHL eCommerce – Parcel Priority

DHL Express Worldwide

DHL eCommerce – Packet Plus

DHL eCommerce – Parcel Direct

DHL Economy Select

DHL SameDay Sprintline

DHL Express Easy

DHL global mail Business
DHL same-day delivery option is the best when you want to receive your urgent deliveries with no issues.
USPS Services
USPS offers many affordable international and domestic shipping services.
USPS Priority Mail Express International

USPS Priority Mail International

USPS First Class International

USPS First Class

USPS Parcel Select

USPS Media

USPS Flat Rate
Most of the deliveries happen within 1-3 business days through Priority Mail Express. The main ones are USPS same-day and USPS next-day delivery options, which offer a quick overnight delivery possibility to most locations in the US. USPS Media Mail takes around 2-8 business days for mailing.
Advantages and Disadvantages of DHL
Let's look at the pros and cons of DHL shipping.
Advantages of DHL:
Notable international presence in roughly around 220 nations.

Express delivery available to service points.

Effective air and sea delivery services.

Capability to transport larger parcels cost-effectively.

No pickup fees.
Disadvantages of DHL:
Inadequate US presence.

Higher shipping costs.

Typically, more surcharges as opposed to USPS.
Advantages and Disadvantages of USPS
Here are some of the advantages and disadvantages of the USPS shipping service.
Advantages of USPS:
Shipping rates are more economical compared to DHL.

Wide variety of service options available.

Access to nationwide locations across the United States.

Obligated by law to deliver to all United States postal addresses in all jurisdictions.

Free package tracking available.

No surcharges on parcels.
Disadvantages of USPS:
A maximum shipping weight of only 70 lbs is allowed.

Has only limited package tracking services.

High insurance costs.
DHL vs. USPS: Choose One Suits Your Needs
Both USPS and DHL offer an array of services that are advantageous in one way or the other. But, as mentioned earlier, if you require cross-border shipping, you should go for DHL. And if you are looking for localized shipping options within the US, then USPS is the best.
If you are planning to include USPS shipping services in your WooCommerce store, you can make use of these plugins:
Each of these plugins lets you make use of various USPS shipping options as well as offer effective tracking options with label printing, right from your WooCommerce store. These plugins can easily include the USPS shipping services in your WooCommerce store.
If you want to include DHL shipping services in your WooCommerce store, you can use the ELEX WooCommerce DHL Express / eCommerce / Paket Shipping Plugin with Print Label plugin. The plugin has varied features that come in handy when you are managing a WooCommerce store. Few features offered are as shown in the below infographic.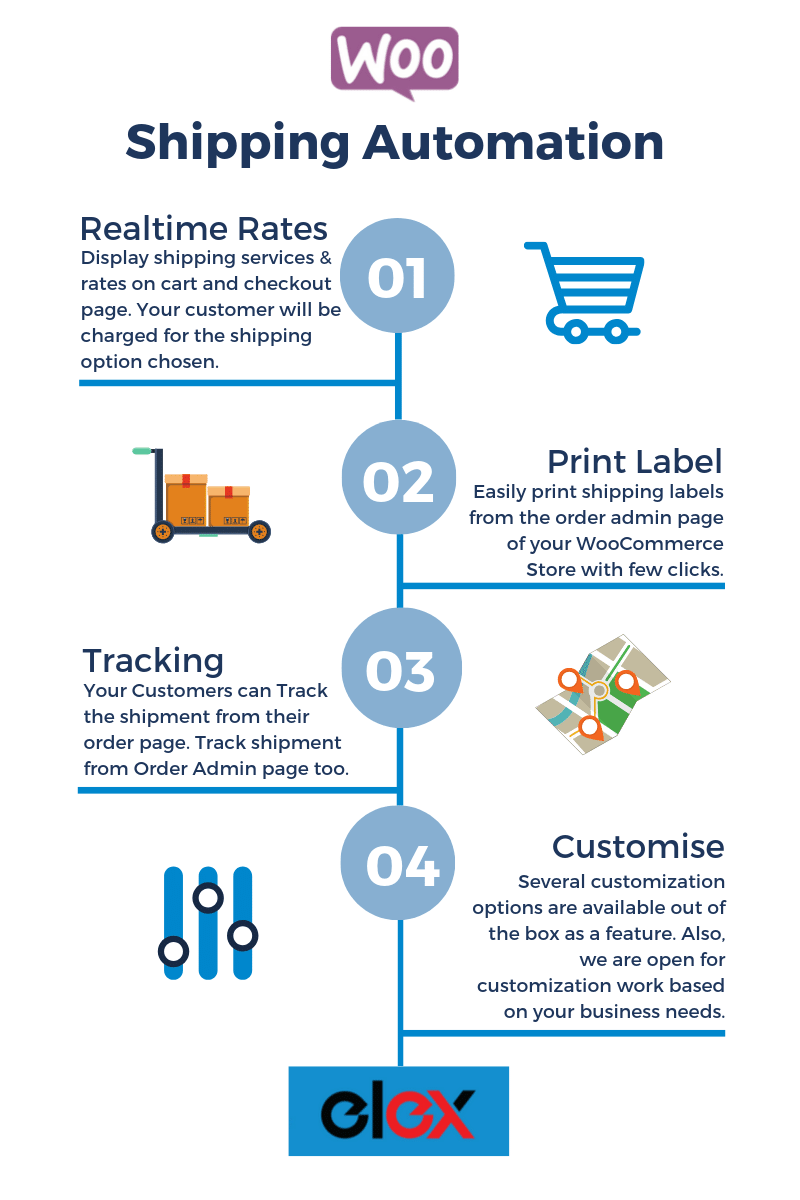 Know more about the plugin from the product page.
Further Reading: