Everything You Need To Know About DHL India Shipment Tracking
DHL is a good option if you are looking for a hassle-free product tracking solution, proof of consignment, invoices for custom clearance, etc. Let's learn more about DHL India shipment tracking in this detailed guide.
What is DHL India Shipment Tracking service and its benefits?
DHL India is beneficial for any store owner who is based in India and wants to deliver products in an Indian location or outside India. DHL India shipping service also allows you to easily track the delivery status and exact delivery time. Your customers can also track their packages after their shipment is underway using the DHL service.
What is the Shipment tracking number? Where can you find it?
A shipment tracking number is generated when a customer places an order online. A tracking number has a unique set of combination of numbers and letters that identifies your shipment for national or international tracking.  Usually, the store owner should provide a tracking number or ID to the customers. 
How to track your DHL shipment?
When the shipment tracking number is generated you easily access the DHL tracking page then insert your tracking number and search the current status of your shipment. This process is very cumbersome and time-consuming if you do this manually for individual shipments. To make the process more convenient you can integrate a plugin that would allow you to generate a tracking number automatically and send it to the customer through a confirmation email. To integrate DHL shipment tracking on your WooCommerce store you can use a simple plugin like ELEX WooCommerce DHL Express.
This plugin allows you to manage your WooCommerce store conveniently with DHL. You can easily access DHL shipping services and directly show shipping rates and services on your customers' cart and checkout pages. It also allows you to print shipping labels from the admin panel of your WooCommerce store. And most importantly, it allows customers and store owners to track their orders conveniently using DHL express. This plugin is rated 4.9 out of 5 reviewed by more than 127 existing customers. 
How to Install the ELEX WooCommerce DHL Express plugin?
You can visit the ELEXtensions website and purchase the plugin. When you have downloaded the zip file you can easily go to the Plugins tab on your WordPress dashboard and click the Add new option. Click Upload the new plugin option and select your downloaded file. Click the Activate button when you are done. You are all done to set up and manage your DHL services using this automated plugin. 
How to set up the ELEX WooCommerce Express plugin?
When you are done installing and activating the plugin you will see the list of installed plugins. Here, you can click the DHL Express option just like displayed below. 
You will see the settings section window like below you can also access this setting page by clicking the option WooCommerce > Settings > Shipping > DHL Express > General
You can easily integrate this plugin to suit your shipment needs with DHL. Let's take a closer look at each of these options in much more detail.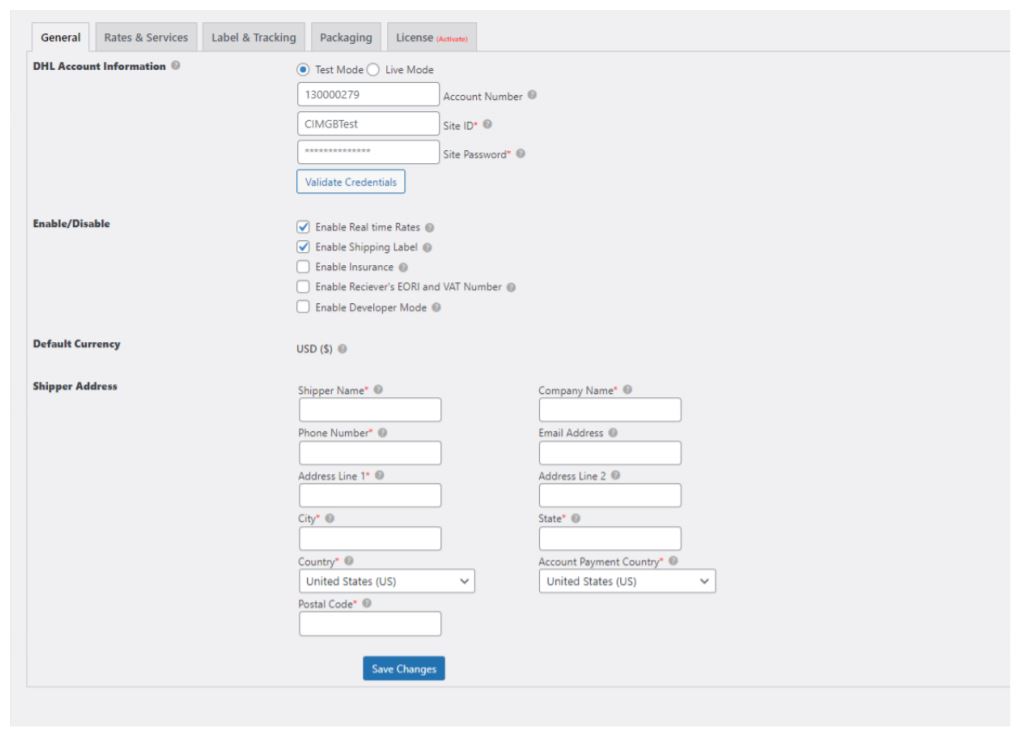 General
DHL Account Information
Test Mode or Live Mode: You can switch to Test Mode if you still need to test your DHL shipping orders and then choose the Live Mode option to enable this on your website for customers.
Account Number: Here you need to enter your DHL account number which can be obtained from a DHL sales representative.
Site ID: Insert the site id which can be obtained from the DHL integration team.
Site Password: Your password can also be obtained from the DHL integration team.
Once you are done you can click the Validate Credentials button.
Enable/Disable
Real-time rates: You can fetch real-time rates from the DHL server on the cart and checkout pages.
Shipping Label: If you want to create labels for your orders on the admin page enable this option.
Insurance: Insure your products for safer delivery by enabling this option.
Receiver's EORI and VAT Number: Add receiver's VAT and EORI fields in the checkout.
Developer Mode: You can use this option to troubleshoot the plugin.
Default Currency
Your default currency will change according to your shipper address and the selected country.
Shipper Address
You can use these fields to enter shipper details such as name and contact number and write the address in the provided fields.
Rates and Services
Show/Hide
Enable the provided options to display delivery time, DHL account rates, show breakdown charges, and display only the cheapest shipping rates.
Enable/Disable
You can enable the Dutiable option for International non-EU shipment. You can enable the DHL tax option to deduct the tax specified by DHL. The UTF-8 Support option is useful to detect rates for UTF-8 characters such as Chinese or Japanese language. 
In the Insurance for Specific Countries, you can select countries that you want to display for insurance cover.
Working Days and Cut-Off time
Here you can specify your working days and a cut-Off time, which will be applicable for delivery.
Shipping Services & Price Adjustments
In the below fields you can customize the shipping services and adjust the price according to your convenience. Also, you can enable or disable the provided shipping service options. 
Label & Tracking
Here you can Enable these options
Paperless trade: This option allows you to electronically transmit commercial and proforma invoices.
Saturday delivery option: If your online store delivers on Saturday you can tick this option.
Cash on delivery: COD option will be available while you track and print labels if you tick this option. 
Default services for label generation: If you enable this option, the same shipping service which is selected by the customer will be printed while generating labels. Otherwise, you can change the service from the order admin page.
Show selected services on Rates & Services section: After you tick this option it will display only those selected services from Rates & Services section while printing the label.
Direct download: This option will allow you to directly download the shipping label from the admin panel instead of opening it in a new tab window.
Customers to print labels: If you enable this option customers can also print labels from the My account page.
In the Shipping Label, you can specify size and type for printing labels.
In Shipping Contents Description you can provide a default description for your shipping.
Shipper Comment: You can specify a comment using this field. 
Upload a Company Logo using the Choose Image box. 
In the Duty Payment option, you can specify who will duties for the shipment.  
Archive Air Waybill can be downloaded if you tick this option. 
In the Bulk Shipment option, you can choose the default service for domestic shipment which will also generate bulk shipment labels from the order admin page. The default service will be selected if there is no DHL service chosen during the checkout process.
If your products are restricted commodities or dangerous goods you can choose the default Special Service. You can also configure it for individual products, just go to Products Admin Settings Page > Shipping > Special Service. By enabling this option, a compliance warning will be displayed on DHL labels.
The tracking option is very useful for tracking the shipment location enabling this option would allow you to send a tracking message directly to your customer's email address.
Commercial Invoices can be generated through DHL Invoice Generator or Classic Invoice Generator.
After you tick the Tracking option you will see additional options like below.
By enabling the DHL Email Service option you can ask permission from the customers to send their email id to the official DHL shipping service. In the Shipper Message, you can type any relevant message that you want to send to the customers.

When you tick the Pickup option you will see additional fields. After the order has been placed by the customer you can select after how many days you want DHL to pick up the order from the warehouse. You can also assign the available time frame and include your name and contact information. 
When you tick the Shipper Registration Details option you will receive the commercial DHL invoice with all the necessary details.
Packaging
In the Packing Options, you can select how your products will be packed individually. You have three available options here.
Default: Pack items individually
Which will pack your items individually in a different package for each.
Recommended: Pack into boxes with weights and dimensions
This option will pack your items based on the weight and dimensions of the product.
Weight based: Calculate shipping on the basis of the order total
This will pack your items after considering the total weight of the whole package 
You can select the option which is best suited for your WooCommerce products.
The option below depends on the option you select in the first step. Select the package type, or individual weight value, or set dimensions.
License 
After you use the API Licence key and Licenced Email id and Activate it you will be in constant touch with the support team and get regular updates for the plugin. Now, you are ready for DHL India shipment tracking.
DHL India Shipment Tracking step by step process
Let's head over to the website and order a product in an Indian location. You can see the shipping rates and estimated delivery time. When you click the Place Order button it can be accessed from the WooCommerce tab on WordPress.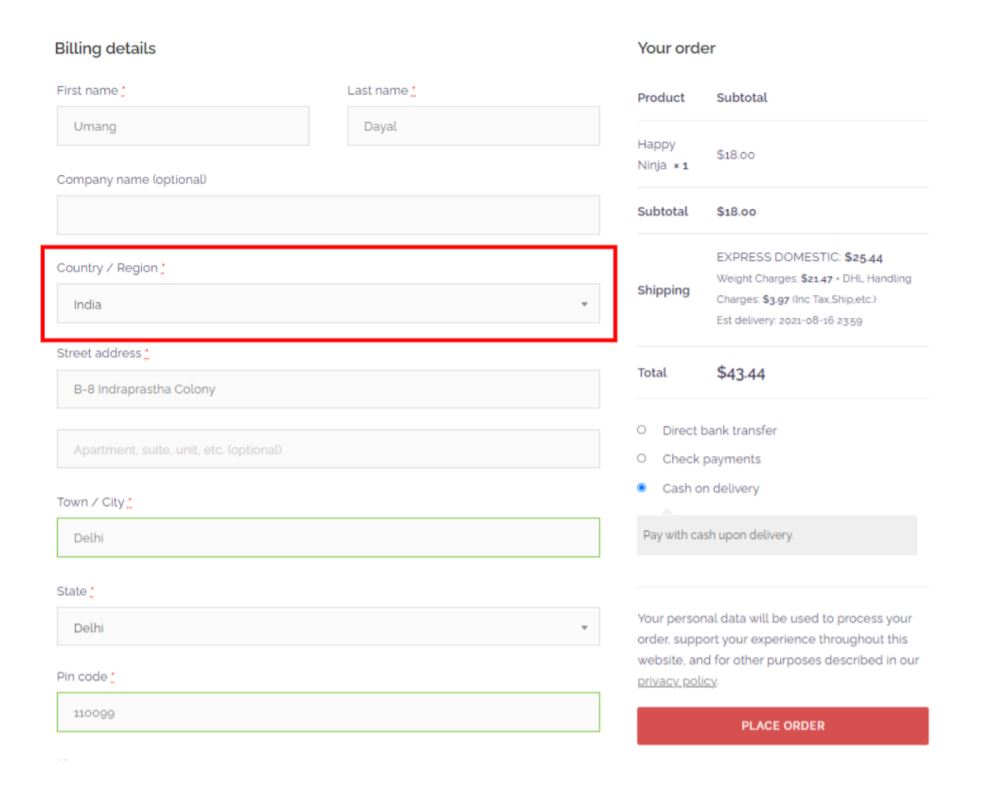 Now, go to WooCommerce > Orders. Click on the latest order from the list. You will see a screen like below. Here you can edit your billing and shipping address. The order number and delivery method are displayed on the top left. You can also see customer's details and make changes if required. Order notes will change as and when you make changes to your order status. If you make any changes you can click the Update button.
When you are done, scroll down to DHL Express options. Here, you can change the weight, length, width, and height of the delivery package. When you are done click the Create Shipment button.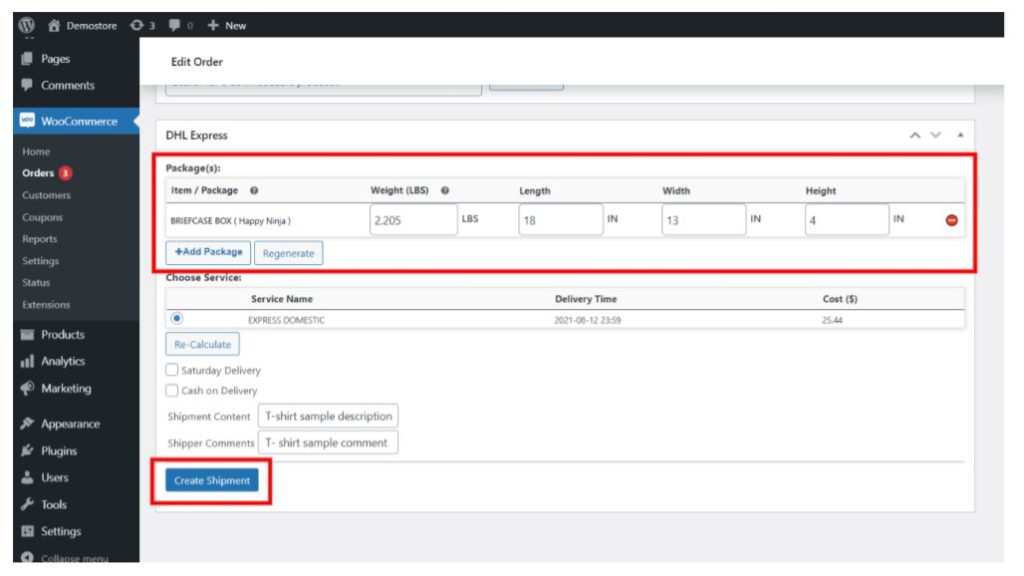 When your shipment is successfully created you will see a screen like below. At the top left, you will see the shipment service name and the shipment number. This number can be used to track your order directly from the DHL website. Just click on the number and you will be redirected to the official DHL website.
After clicking the above tracking number you will see a screen like below. Here you can easily track your shipment status, delivery time, and service area.
If required you can view the More Shipment Details tab where you see delivery time and date and unique piece id. In All Shipment Updates, you can view all shipment details from when it left with the delivery courier till the shipment was picked up.
That's it! Now go ahead and make these changes to your WooCommerce store and test DHL India shipment tracking. If you still have any queries you can leave them in the comments section below. 
Further reading
12 Important Things to Include In Your eCommerce Email Footer
WooCommerce Fraud Detection and Prevention – All You Need to Know