When your aim is to outperform your competitors in Google Shopping, all you have to do is nail Google's Taxonomy. It has become a fundamental element for all Google Shopping campaigns. Here, when you consider WooCommerce as your platform, you can easily classify your products and upload them category wise using ELEX WooCommerce Google Product Feed Plugin.  Adhering to the Google Taxonomy helps Google identify your products easily. Let us find out how Product Categories can be figured correctly in WooCommerce Google Shopping.
Google Shopping simply works on Google Attributes and Google Product category. If you look into Google Taxonomy, there are over 6,000 categories. And mapping them is not rocket science. Indeed, finding the right category for your product takes effort.
Google Product Category – All you need to know
The product category has a direct influence on Google Shopping campaigns. Google Taxonomy looks like this:
If you take a look at ELEX WooCommerce Google Product Feed category mapping you can see the category id and the Google Taxonomy to create a feed.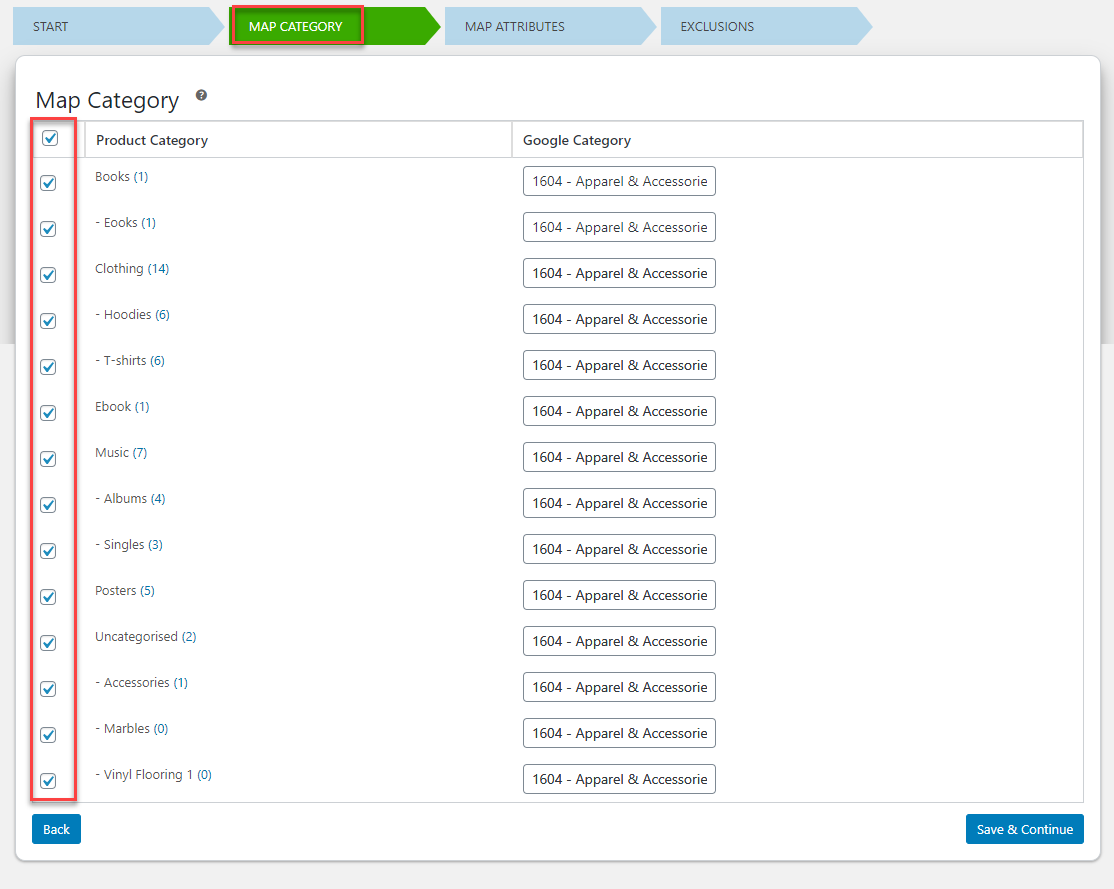 If you know the category-id you can use the same, or just type in the category. Upon which the plugin will list you the products with the matching category.
It is important to see the category correctly for Google to understand what your products are. It is easy to distinguish the product when categories are mapped accurately. Moreover, when someone searches for a product, it is easier for Google to match the query with the product category. In a way, it helps to list the results quickly with respect to the search query.
Google_Product_Category – Definition
We use a google_product_category attribute to match your item with the Google product taxonomy. It is optional for each product though.
Format – Product category ID – full path of predefined Google Product Category.
Get your Google product category downloaded as an Excel file or Plain text.
Why is Google Product Categories important to Google Shopping?
If you consider mapping your products correctly, then it is important to follow Google Taxonomy. Google Shopping can identify products based on other attributes like the title and description, Even then it is quite important to consider using google _product_category. It will just ease the process for Google to know what you are selling.
For example, if you are selling "skirts" then you can use the google product category as see what all you get on searching for "skirt" on a WooCommerce Google Product Feed plugin.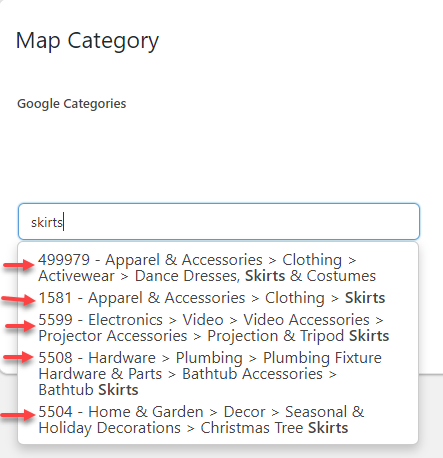 Now you decide on the product you are selling and match the google product category to it. Apparently when we are focussing on the clothing segment, then 1581 – Apparel & Accessories > Clothing > Skirts is the matching product category.  Each product is matched to the exact category in the Google Product Category. So you can see 'Skirts" are not standalone products, they fall under a series of subcategories -1581 – Apparel & Accessories > Clothing.
Another important aspect to consider is Google Attributes. Google attributes are listed with respect to the Google product category chosen. Let's take an example of using ELEX WooCommerce Google Product Feed plugin to assign Google Product category.
When you select your Google Product category as "1581>>Apparel & Accessories>Clothing> Skirt", then the product attributes that are appearing in the Map Attributes page are corresponding to it.
Whereas if you select another product category, the attributes will have different values to take.Like for example.
You get to see attributes specific to that particular product category selected.
Guidelines to follow for Google Product Category:
Setting your Google Product Category right is important for any Google product feed. Follow these guidelines to get it right.
Always use predefined Google Product Category – It is better to use the predefined existing product category for your product. If you want to use a different one, use the product_type attribute to define.
Use the product categories that best describe your product – Not just closely matching one, but the perfect one that describes your product must be used in the product_category. For example, if your product is Speakers, then you can see that the following google categories are valid. The following are the categories from the Google Taxonomy corresponding to the product Speakers.

Electronics > Audio > Audio Components > Speakers

Electronics > Electronics Accessories > Computer Components > Laptop Parts > Laptop Replacement Speakers

Electronics > Electronics Accessories > Computer Components > Tablet Computer Parts > Tablet Computer Replacement Speakers

Electronics > Marine Electronics > Marine Speakers



Electronics > Video > Video Accessories > Television Parts & Accessories > TV Replacement Speakers

Vehicles & Parts > Vehicle Parts & Accessories > Motor Vehicle Electronics > Motor Vehicle Speakers

Now it is important for you to select which product you are selling and then mapping it correctly. If you are selling a simple Speaker then your product must be added to 249 – Electronics > Audio > Audio Components > Speakers product category.

Use a specific category most suited – Like if you are searching for a Speaker for vehicles, then the best-suited product category might be Vehicles & Parts > Vehicle Parts & Accessories > Motor Vehicle Electronics > Motor Vehicle Speakers.
Always follow the updated category list – Google keeps updating its product category list all the time. It is important to stick to the updates.
Every product must have a category – if your product does not contain a category, Google will assign a category to it. It is shown in the Google Merchant Center on top of the Product Page. The assigned product category is further used for any updates regarding the product.
Additional Tips on Google Product Category
Google enforces certain strict guidelines to follow for products to sell. Google Shopping policies have listed what all need to be followed while selling your products on Google. By setting the Google Product Category correctly, you abide by the rules mentioned by Google Shopping. If you are not following the guidelines set by Google Shopping, your account might get suspended too.
To determine the tax rate applicable to states in the United States, the

google_product_category

values are used.




For example, if you select country as the United States, your product attributes will contain the Tax field.



Use the product_type attributes to organize product groups in countries Argentina, Austria, Belgium, Canada, Chile, Colombia, Czechia, Denmark, Hong Kong, India, Indonesia, Ireland, Israel, Japan, Malaysia, Mexico, New Zealand, the Philippines, Poland, Portugal, Russia, Saudi Arabia, Singapore, South Africa, South Korea, Spain, Switzerland, Taiwan, Thailand, Ukraine, United Arab Emirates and Vietnam.
Alcoholic Beverages- Read through the exclusive rules regarding alcoholic beverages by Google.

Using Google defined bundles to add product categories. For example, if you are using electronic items for studio recording then use 505298 – Electronics > Audio > Audio Components > Studio Recording Bundles.
In the case of selling mobile phones or tablets with instalment plans or a contract, then use the following.

If you are planning for Gift cards then use the product category- 53 – Arts & Entertainment > Party & Celebration > Gift Giving > Gift Cards & Certificates.
If you are into selling software subscriptions then use – 313 – Software > Computer Software or even the subcategory 5299 – Software > Computer Software > Antivirus & Security Software.
Important Points to remember regarding Product Category
Categories are important as :
They help customers identify products easily.

To keep the business running and live.
Hence, to do so.
Use fewer categories to describe your overall business.

Choose a specific category representing your business.

Avoid redundant and unclear data.
Conclusion
Hence, you see that even though a Google Product Category looks like a minor fundamental element of your Google Product Feed. It is one of the factors that determines the other functional attributes. You can set it right in the very first place and then all the other attributes that describe your product fall in the right place.
Further Reading