Letting your customers buy a product at a price they decide will make them happier and excited about purchasing from your store. It will increase your sales and site traffic drastically. 
When customers open a product page, they can enter an amount at which they would like to get the product. Interesting, right?
But, what if they enter 0? Or, a very low price, which will be a huge loss for your store?
As a shop owner, it might be a concern when you let customers determine the price to place the order. In order to avoid situations like these, you need to set a minimum threshold price that must be entered by the customer to proceed with the order. If a customer enters an amount greater than or equal to that threshold price, you can allow them to place orders.
What are the uses of featuring a custom price field in WooCommerce stores?
This concept is often called 'Name Your Price' in the WooCommerce ecosystem. As I have already mentioned, this will make your customers super excited to purchase from your store. And, new customers will take a look into your store to buy the products at a reasonable price for them. When many customers are engaging in your store, it will gradually improve your SEO ranking, thereby more customers can find your stores.
Overall, it will definitely increase your sales! If you provide this option by controlling the minimum purchase price, you will be able to manage a profit as well. 
You can also use this option for specific products if you are planning a giveaway program and need to restock new products in your store. And, products that are not sold as expected can also be sold off using this method.
If you are launching a new product in your store, you can provide this option for that product to get quick sales. Furthermore, you will get an idea of how much customers would like to pay for that product. Based on the entered prices by all customers, you can decide a fixed price for that product in the future.
In order to set this custom price field on your WooCommerce store, you need to choose a WooCommerce plugin since there are no default specifications in WooCommerce to configure this.
So, which is the best Name Your Price plugin available for WooCommerce stores?
ELEX WooCommerce Name Your Price Plugin
This simple yet robust plugin allows you to configure the custom price field on your simple and variable products globally as well as at the individual product level. This free plugin helps you to set a minimum order amount in order to restrict customers from placing orders for free or at a very less price. To give more clarity to the customers when they open your product page, you can add a custom text label as well as a description along with the price field.
In addition to these features, you can hide the actual price of the product from their product pages if you do not want your customers to see the original price.
Well, this is the overall functionality of this plugin.
Let us check how you can add a custom price field in your store using this Name Your Price plugin.
Add Custom Price Field with ELEX WooCommerce Name Your Price Plugin
Step 1
Download, install and activate the plugin from its product page or WordPress repository.
To know more about the installation and activation process, go through the product documentation.
Step 2
Go to your WordPress Dashboard > Plugins > Installed Plugins > ELEX WooCommerce Name Your Price Plugin > Settings.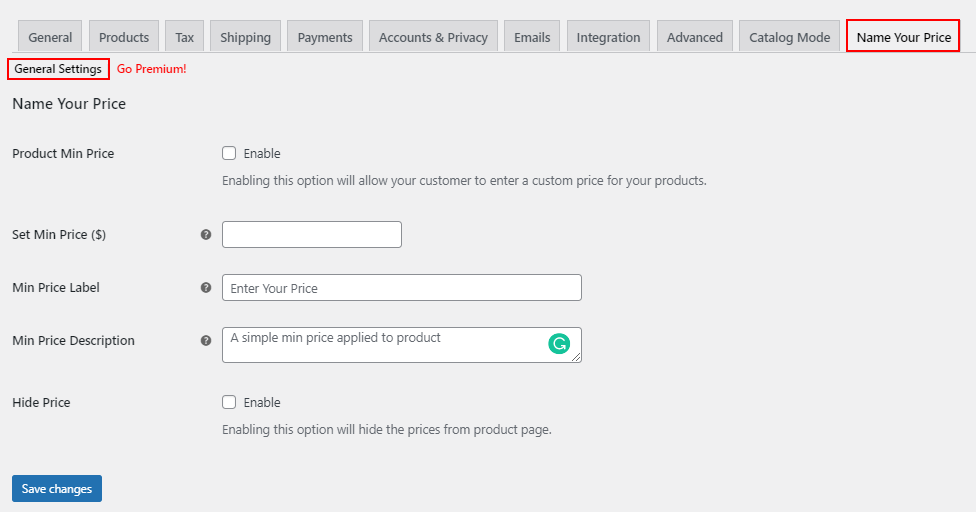 Here, you can configure the following details:
Enable

Product Min Price

to make the custom price field available for customers in your store.

A minimum threshold amount must be entered by the customers to make the purchase in the

Set Min Price

field.

Enter a custom price label to be displayed before the custom price field on the product pages.  By default, it is 'Enter Your Price'.

Enter a price description to be displayed after the custom price field on product pages. By default, it is 'A simple min price applied to a product'.

Enable the

Hide Price

option if you need to hide the actual price of the products from their product pages.
These settings will be applied globally on all products in your store.
If you need to set these options for specific products separately, you can go to the product page dashboard and set the details as required.
Go to the Product data meta box on the dashboard. You can see the Name Your Price option under the General tab.
You can add the required details such as a minimum price, label, and description on the dashboard as per your requirements if you need to apply it exclusively for a specific product. Also, you can hide the product price individually. The details you will enter on the product level will override the global settings on the plugin dashboard.
Similarly, you can set different details for different variations of a single variable product in your WooCommerce store. 
Check an example:
I have enabled the Product Min Price option, entered the minimum amount – $45, a custom label, and a description.
After saving the details, customers can enter details on the product page greater than or equal to the minimum price you have configured.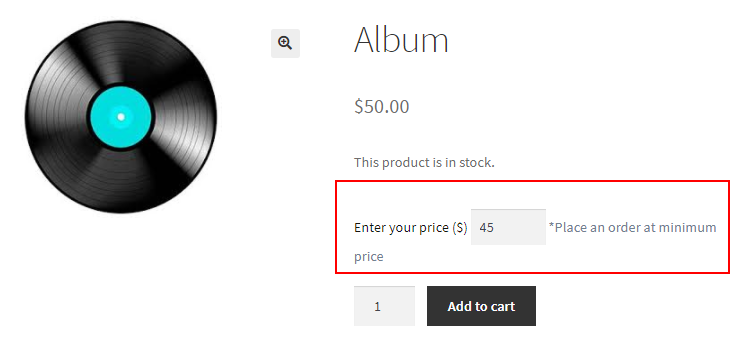 The minimum amount will be displayed on the custom text field by default. If the customer enters a price less than the minimum amount, a message will be shown to them for entering a price greater than or equal to the minimum price to proceed with the order.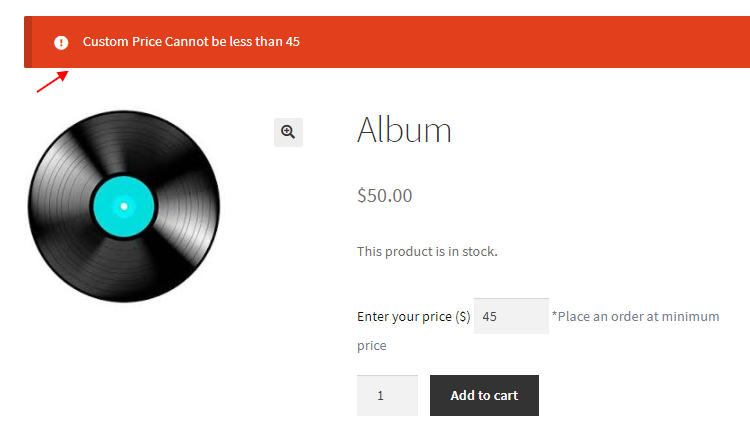 If you do not enter a minimum price, no amount will be displayed on the price field by default and customers can place an order with any amount they wish, as they can even enter 0.
If you enable the Hide Price option, the actual product price will be hidden from the product pages.
This is how you can add a custom price field in the WooCommerce store using simple steps.
To sum up,
It will be interesting for customers to determine the price at which they wish to purchase a product. Also, store owners need to ensure that there will not be any free purchases if they let customers choose a price. Hence, using the ELEX Name Your Price plugin, you can configure these options seamlessly by adding a minimum threshold price to restrict customers from entering a very low price in the custom price field. Also, you can hide the price as well as display custom texts on the product page with this awesome plugin!
Further Reading: