Eager customers might have added the items they wanted to buy from your store to their shopping cart but abandoned it when it came time to checkout. How do you get those customers back?
By carefully crafting smart and engaging emails and discount coupons, of course! The goal is to win them over with a compelling email and encourage them to complete their purchase. While creating custom abandoned cart emails filled with discounts can seem intimidating and time-consuming, it doesn't have to be.
In this article, we'll show you how creating custom abandoned cart emails along with discount coupons can help you recapture some of your lost sales, and how easy it is to create these recovery emails. Plus, we'll go over some best practices for crafting effective emails that will result in customers returning to your store.
What Is Cart Abandonment?
Cart abandonment is a common issue faced by eCommerce stores. It happens when a customer adds items to their shopping cart but fails to complete the checkout process. Left unchecked, these abandoned carts can result in significant losses for your store.
Fortunately, it's possible to combat this problem with the right tools and strategies. For example, using a plugin, you can create custom abandoned cart email templates and associate discount coupons with them. This allows you to quickly and easily target customers who have left items in their carts and entice them back to your store.
In addition to email templates, most abandoned cart recovery plugins also allow you to set custom triggers when sending emails, such as sending a coupon after a certain period of time or after an action has been completed. With these features, you can effectively recover lost sales and turn your cart abandonment rate into an opportunity for improvement.
What Are Abandoned Cart Email Templates?
These emails remind customers of the items they didn't check out, encourage them to finish the checkout process and if necessary provide a discount code or coupon to incentivize them to come back and complete the purchase.
Customizing abandoned cart email templates helps brands increase their customer retention rate by reaching out and creating relationships with current and potentially new shoppers while having the leeway to personalize each of those emails. 
A personalized message can be tailored for each customer based on items that were left in the cart as well as preferences associated with the customer profile. Multiple email templates can be created and linked to specific rules, automating the abandoned cart email process while retaining quality and personalization. 
By meeting customer needs and providing a customized approach, you can increase conversions from abandoned carts while also building customer loyalty to your brand.
Creating Abandoned Cart Email Templates With Discount Coupons
Do you want to create custom abandoned cart email templates for your WooCommerce store? Look no further than the ELEX WooCommerce Abandoned Cart Recovery with Dynamic Coupons plugin.
This comprehensive plugin helps you craft customized, professional email templates and even set advanced triggers for your WooCommerce store. It provides an array of options that let you design, customize and personalize emails while giving customers the incentive to complete their purchase.
In order to start, install and activate the plugin like you would with any other WordPress plugin. For those who aren't so familiar with the process, do not worry! Go to the WordPress Dashboard > Plugins > Add New > Upload Plugin and upload the plugin that you downloaded from the link above.
Now that the plugin is active, you may access it by going to WordPress Dashboard > ELEX Abandoned Cart. 
Let us start by customizing the General Settings. We will go through each of the tabs.
General Settings
Choose the WooCommerce order statuses that represent successful cart recovery, activate the Enable Abandoned Cart button, and specify the time limit beyond which a cart will be declared abandoned next to the Abandoned Cart Time Interval option to label an order as complete.
You may also specify when the cart is considered to be expired and no longer receives recovery emails. (This option is only accessible in the plugin's premium version)
If you wish to track abandoned carts for guest users and just the valid email format, enable the Capture Abandoned Cart for Guest User option under Guest Users Settings.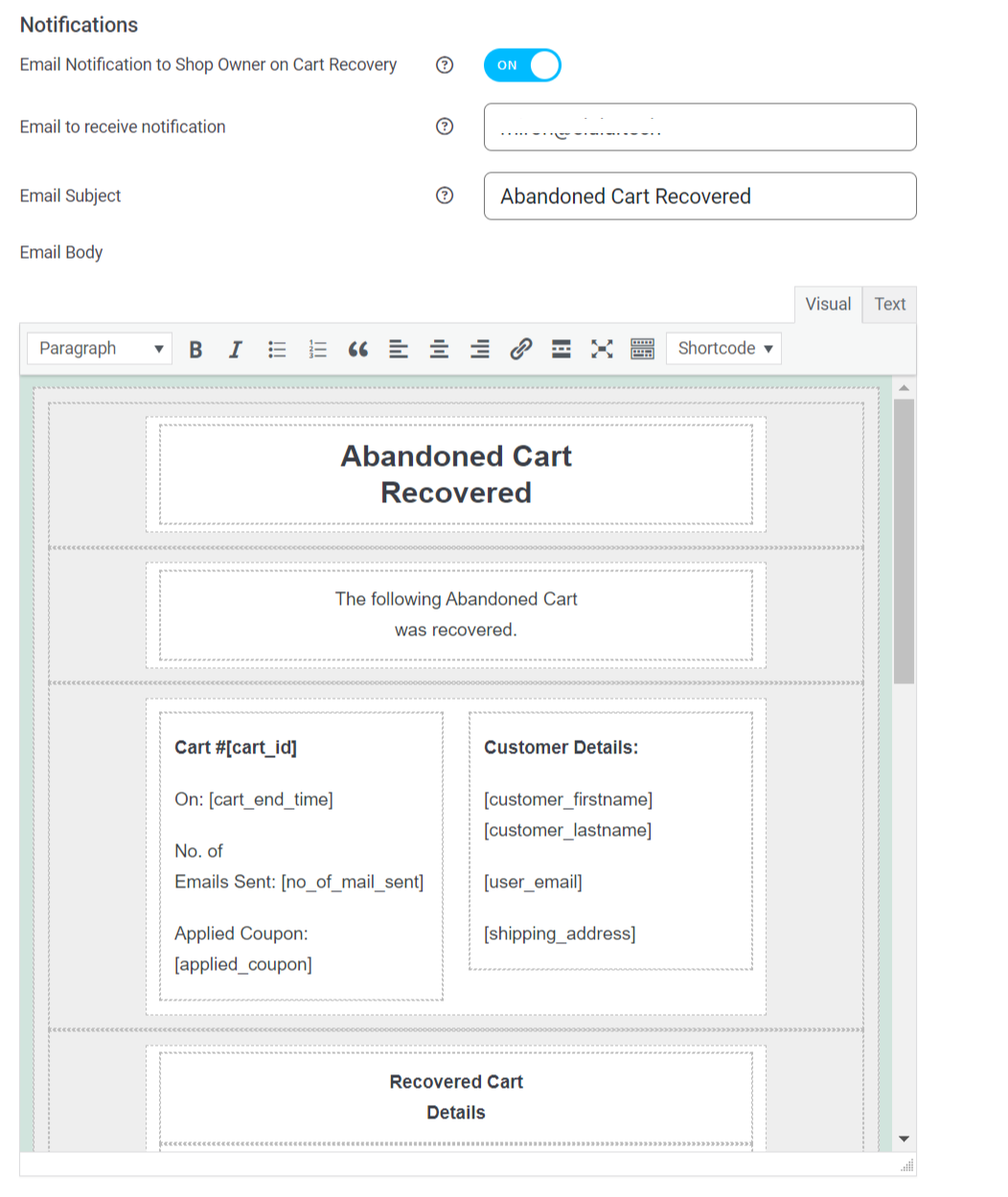 Enable the Email Notification to Shop Owner on Cart Recovery option under Notification Settings and edit the email's text and subject as needed to alert the company owner when the cart is recovered.
The GDPR Settings let you customize where and how the GDPR compliance notice appears. 
Moving on to the Email Settings tab.
Email Settings
You can access the three sub-tabs under Email Settings to select the criteria under which recovery emails should be sent, their templates, and the automatically created discount coupons.
To save your modifications, click Add New Rule, provide an appropriate Rule Name, choose the AND/OR Rule Type, and then click Add Filter. There are several rules that may be customized.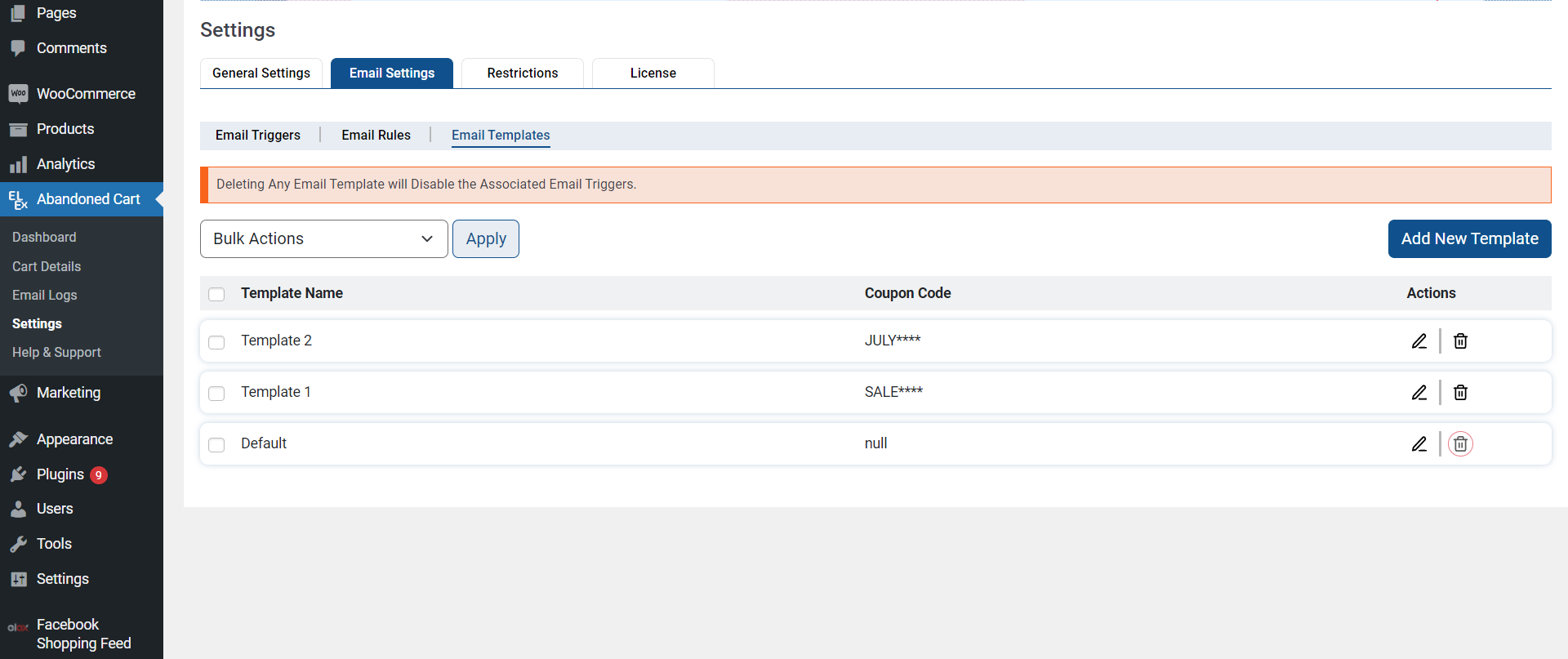 This section is very crucial to this topic as it allows you to create, edit, and delete email templates. These email templates, together with the dynamically created discount coupons, will be sent to the visitor's email address if a purchase is abandoned.
If you select Add New Template, a new email template will be created.
On the Edit Email Template page, you can choose whether to upload a new template or modify an existing one, enter a template name and email subject line, include a coupon code, and more.
Customize the Discount/Coupon

Choose the type of discount, the amount of the discount, and whether you want the coupon to be valid only once or several times. Then, enter the coupon code prefix.
The abandoned cart goods or the customer's email address may also be used to link the discount code.
You may edit the email body and add default options such as [customer_firstname], [customer_lastname], [cart_products], [cart_link], and [cart_unsubscribe]  by using the shortcodes provided. 
When you're finished customizing the template, send a test email to yourself to see how it looks.
The Email Triggers tab of the email settings allows you to customize recovery email triggers. Change the email trigger time, turn triggers on and off or delete them entirely from this page.
Cart Details
Under the Abandoned Cart Details tab, you may go through all the abandoned and recovered cart data.
That's it! Once a customer abandons their cart, they'll get an email with an associated coupon code that can be used for a certain time period. This helps incentivize customers and encourages them to complete their purchases without having to manually input coupon codes during checkout.
Tips for Crafting Effective Abandoned Cart Email Templates for Your Store
Crafting effective abandoned cart emails is a key part of recovering lost sales. Here are a few key tips to help you get started with your own email campaigns.
Keep it simple
Nobody likes an email that's too long, so try to keep your emails concise and clear. Use zero complex words and ensure your most important content is visible in the preview window.
Personalize it
The more personal you can make the email, the better. Try using custom fields in your templating language to insert the customer's name, or send personalized recommendations or product discounts that are tailored to each customer's interests. This will make them feel like you care about them as individuals, which will go a long way in converting customers into buyers.
Use images and videos
Images, videos, GIFs, all of this can be used to break up text and make your emails look more interesting to customers. Visuals can also enhance the value of any promotions or discounts that are offered in an abandoned cart email as well.
Include a call-to-action button
A clear call-to-action button should be placed prominently within your emails so that customers know exactly what they need to do next (i.e., Continue to Checkout, Buy Now). Make sure this button is easy for customers to spot and access by including some contrast between it and the surrounding elements of the email.
Conclusion
In summary, ELEX WooCommerce Abandoned Cart Recovery Plugin with Dynamic Coupons is the perfect plugin for creating custom abandoned cart email templates and associating them with discounts, enabling you to take your WooCommerce store to the next level. This plugin's powerful features, such as automatic email triggers, are sure to reduce abandoned carts and help boost your store's sales.
From tracking abandoned carts to scheduling promotional emails, to associating discount coupons with abandoned cart emails, the ELEXtensions Plugin is your one-stop shop for optimizing your store's email campaigns. 
We hope this post has helped you in your abandoned cart recovery effort!
Further Reading