Shipping will be a crucial part of your online store unless your company sells solely digital products. For any online business, the cost of shipping products must be considered. Almost all online business owners struggle with the decision of whether to cover the expense of delivery themselves or to charge customers. When calculating shipping costs, WooCommerce business owners should take both their budget and their customers' needs into account. If you undercharge, your profit margins will suffer, which will lead to the downfall of your business. Whereas overcharging puts you in danger of losing business to competitors. This is why you need to have a reliable shipping calculator for your business. In this article, we shall discuss how to calculate shipping costs for your WooCommerce store in detail.
You may estimate your shipping costs for any item with a WooCommerce shipping calculator. FedEx, USPS, and UPS are the most popular shipping carriers for WooCommerce delivery in the United States. Delivery dates are guaranteed and package tracking is available from each of these carriers. The delivery costs for any order can be calculated using the free shipping calculators that each of these major shipping companies offer for eCommerce websites.
How are shipping charges determined by WooCommerce shipping services? 
The following are some key elements that affect how much it will cost to ship each item or package:
Weight of the Package
One of the key elements that affect delivery costs is parcel weight. Each shipping service has its constraints on parcel weight. The cost of shipping increases proportionately to the package weight. Weight-based shipping rates are common among WooCommerce services because of their straightforward calculation.
Size of the package
It's not always possible to base a shipment's eligibility only on the package's weight. Blankets, for instance, can take up more room than other lightweight items. The package size is what will ultimately determine how much delivery will cost in this case. Even if the contents are not particularly heavy, larger package sizes frequently translate into higher prices. Typically, shipping providers determine a dimensional weight based on the length, breadth, and height of the shipment.
Distance traveled by the package
The third crucial component is the journey distance, or how much the shipment must travel to reach the buyer. The cost of shipping increases with distance. For deliveries sent inside the same shipping zone, eCommerce businesses typically have flat pricing. Companies have the option of charging a low delivery fee for deliveries made inside their local shipping zone and around the same address as their store. Businesses have the option of imposing a higher shipping fee to deliver to buyers who are located in different shipping zones.
The price of the shipped product
The cost of the product being sent might also affect how much it will cost to ship. Expensive products, such as jewelry or gemstones, may require extra insurance, which must be factored into the expenses. The declared price of the product is the primary factor used by the majority of shipping companies to calculate this fee.
ETA for delivery
The majority of online retailers provide their consumers with both standard and expedited delivery options. Express delivery fees may be greater and added to the shipping charges.
How to calculate shipping costs for your WooCommerce store with the help of plugins?
A plugin, a piece of software, or an online tool called a "shipping calculator" shows users information about shipping prices, services, and methods from one or more shipping companies. It is no longer necessary to visit the websites of each carrier for each package when using shipping calculators, particularly those that compare prices from various carriers. The shipping calculator's outcomes depend on the shipment information that the customer provides. The most important factors for calculating and displaying the various shipping options are typically the shipment's contents, origin, destination, and delivery speed. On a single page, you may see all of the possible options and select the most profitable service. The following is a list of the top shipping calculators for your online store.
You may link your shipping carrier APIs and choose the services that each carrier offers by using the ELEX WooCommerce Shipping Calculator Plugin, making those choices available to your customers. By comparing each shipping option, along with its costs and estimated delivery times, customers can find the one that best suits their needs, create and print shipping labels, and obtain tracking links. FedEx, UPS, USPS, and Canada Post are currently supported through EasyPost. You don't even have to leave the comfort of your home to find out the precise delivery costs using this shipping calculator plugin. There is no need for you to visit any additional other websites. 
All you need to do to calculate shipping costs is enter your address details, and packaging details, and you will be provided with a list of available shipping services. You want to go ahead with the most suitable option.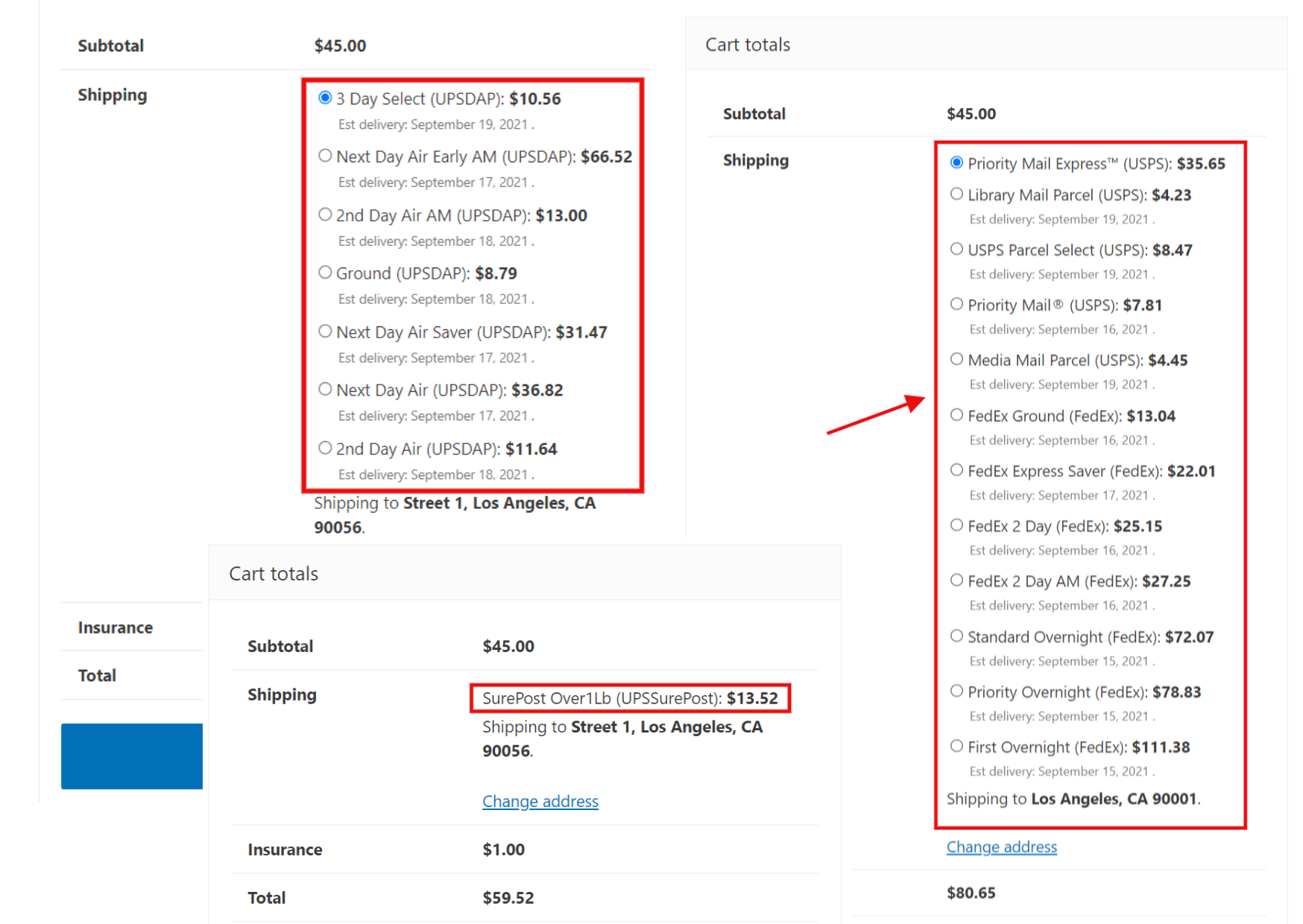 You can retrieve real-time shipping costs directly from FedEx, UPS, Canada Post, and USPS and show them on your cart and checkout pages by using the ELEX EasyPost Shipping & Label Printing Plugin for WooCommerce. eCommerce companies that frequently send their products via these services will benefit from this plugin. The plugin makes use of the EasyPost APIs to show shipping costs on the cart and checkout pages of your website, as well as to let users buy postage and print shipping labels right from the WooCommerce admin.
The plugin shows the estimated arrival dates for every shipping method for every potential shipping carrier on the cart and checkout pages. This plugin not only makes it possible for you to calculate shipping prices, but also streamlines the complete logistics operations with shipping price adjustments, various shipment packaging options, and the option to select multiple shipping companies in the case of multiple purchases.
For online retailers, merchants, and storefronts, the ELEX ShipEngine WooCommerce Multi-Carrier Shipping & Label Printing Plugin offers multi-carrier shipping. The ShipEngine API connects shipments and retrieves live shipping rates from several carriers. To facilitate multi-carrier shipping, it integrates with UPS and FedEx. The plugin effectively optimizes WooCommerce UPS and WooCommerce FedEx shipping and assists you and your customers in choosing the best shipping provider by showing live shipping rates on the cart and checkout pages. Direct shipping label printing and payment are both made possible by the ShipEngine APIs from the backend of your WooCommerce store.
The process of calculating shipping rates is very simple. Again, all you need to do is enter the shipping address details and the list of available shipping options will be displayed on the cart and checkout pages along with the estimated delivery dates.
Wrapping Up
These are only a handful of the numerous options available for precisely calculating shipping for your WooCommerce store. We hope this article has helped you understand how to calculate shipping costs for your WooCommerce store with the help of simple but powerful plugins. If you have any questions regarding shipping cost calculation, please let us know in the comments section below.
Further Reading