WooCommerce is the world's most popular open-source plugin for turning any WordPress site into an online store. Because of WooCommerce's eCommerce revolution, numerous reputable transport and logistics companies have developed shipping APIs. Once connected with a WooCommerce store, these APIs operate as a go-between for customers and shipping providers, communicating important information and boosting consumer happiness. Ecommerce business owners can use the ShipEngine plugin to integrate numerous shipping features such as multi-carrier shipping, delivery date prediction, shipping cost calculator, bulk shipment, and more right on their websites. These shipping plugins help eCommerce websites simplify the tedious and time-consuming process of eCommerce shipping.
Shipping speed and accuracy are critical components of eCommerce businesses. Ecommerce businesses can rely on shipping APIs and ShipEngine plugins for simple shipping, on-time delivery, and more. There are a lot of WooCommerce plugins and extensions on the market, which is a little overwhelming. As a result, we studied and selected the finest ShipEngine Plugin for WooCommerce. But first, let's take a closer look at the significance and benefits of ShipEngine Plugins.
What is a ShipEngine Plugin?
ShipEngine plugins help you to seamlessly connect with hundreds of carriers via the ShipEngine API, allowing you to obtain discounted shipping costs, automatically pack items purchased into boxes, and show accurate real-time shipping rates at the cart, and the checkout pages, among other things. It assists your business in obtaining real-time shipping rates across numerous carriers, validating addresses prior to placing an order, printing shipping labels, tracking shipments, and managing refunds. It streamlines your entire shipping process from the moment a buyer adds an item to his or her cart to the time their purchase is delivered.
Benefits of Using a ShipEngine Plugin
UPS and FedEx shipping rates are updated in real-time
Depending on the product volume, package measurements, shipping location, and other factors, the ShipEngine plugin obtains UPS and FedEx shipping prices from your ShipEngine account for both domestic and global shipping options. The retrieved real-time services and charges are presented on the cart and the Checkout page.
UPS and FedEx shipping labels can be printed
With the ShipEngine Plugin, you can create as many shipments as you want and print shipping labels from the WooCommerce order admin page. The shipment details will be transmitted to your ShipEngine account automatically with the help of the ShipEngine API. The postage on these labels is automatically charged to your ShipEngine account.
Customers will be informed of expected delivery dates
You can inform your buyers of the estimated length of time it will take for their product to arrive at the provided delivery address with the ShipEngine plugin. Based on the API's returned data, the estimated delivery dates will be shown on the cart and checkout pages once enabled.
Tracking shipments
ShipEngine will add the UPS and FedEx tracking numbers returned by the label creation process to the order data and include them in the order fulfillment email. This function allows both customers and store employees to track the shipments.
For each package, choose different services
If a customer orders several items, the store administrator may select a variety of services for each shipment based on the shipping requirements.
The Best WooCommerce ShipEngine Plugin

Although there are a number of ShipEngine plugins available in the market, the ELEX ShipEngine (FedEx & UPS) Shipping Method Plugin for WooCommerce is the best one. By providing real-time shipping prices on the cart and checkout pages, it allows you to seamlessly automate WooCommerce UPS and WooCommerce FedEx deliveries. The ShipEngine APIs allow you to pay for postage and generate shipping labels directly from your eCommerce store's backend. This plugin has everything your eCommerce business needs to improve its shipping operations, including multi-carrier shipping alternatives and efficient order tracking.
How to set up the ELEX ShipEngine Shipping Method Plugin?
To know how to download, install, and activate the ELEX ShipEngine plugin, read this article.
You have two options for accessing plugin settings after installing and activating the plugin:
You can either go to your WooCommerce Dashboard and under the menu on the left and side, click 'ShipEngine' under 'WooCommerce'. Or You can navigate to the 'Plugins' page from your dashboard and click 'installed plugins' > 'ELEX ShipEngine Shipping Plugin' and click 'Settings'.
Now that we know what the plugin has to offer and have it installed, let's get started with the configuration.
General settings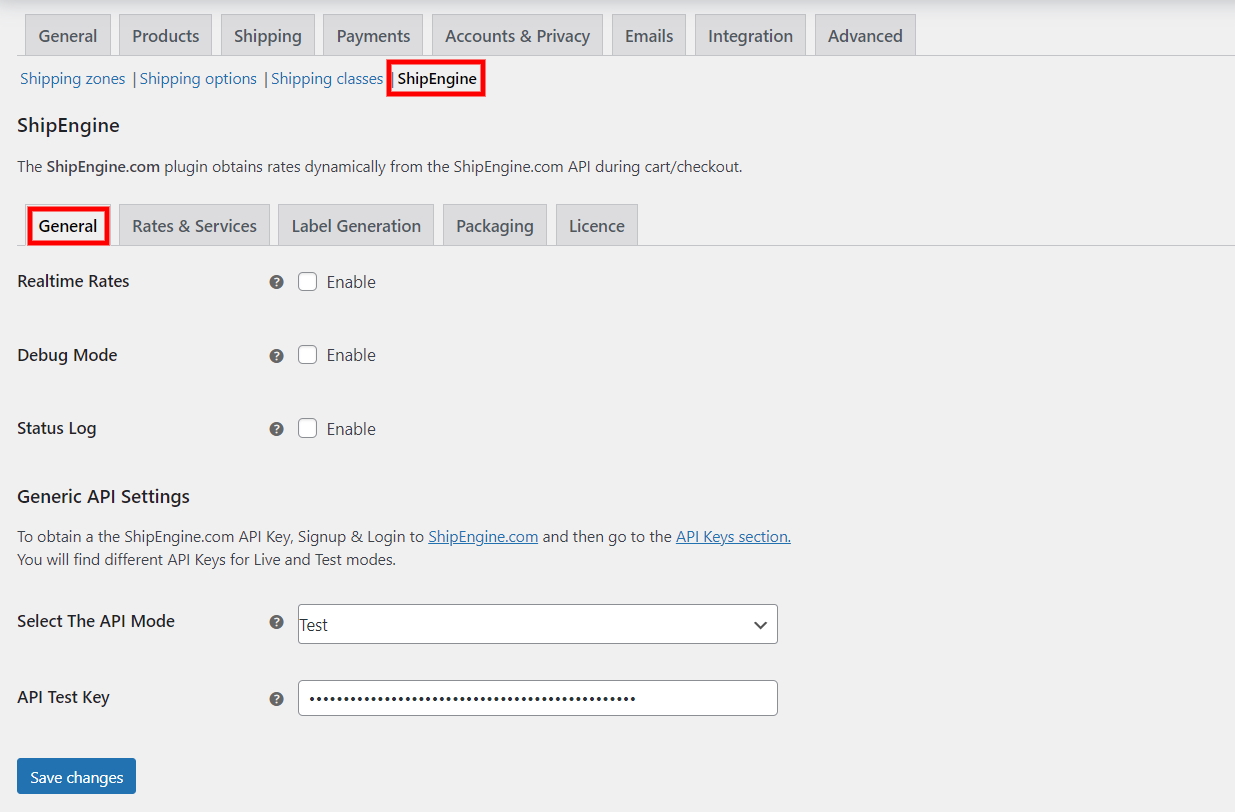 Under the general settings, you will find the option to toggle the Real-time rates, Status Log, and Debug mode on and off. To display real-time shipping rates from UPS and FedEx you must turn on the 'Real-time rates' option. On this page, you will also find the Generic API settings wherein you need to select an API mode between Test and Live and enter the API key obtained from ShipEngine. If you do not have a ShipEngine account, you can create one in no time by going to the ShipEngine Signup Page. 
Rates & Services Settings
Under the rates and settings tab, you will have to set up the basic rates and settings, the estimated delivery date settings, and the carrier and rate settings. 
Under the basic settings, you need to enter the sender's shipping details like zip code, state code, and country, along with the countries you would like to make your method available to, and assign a name to your method title.
Under the estimated delivery date settings, you can enable or disable the option to display estimated delivery dates on the cart and checkout pages, set your working days and set a cut-off time for your orders. 

Under carrier rates and settings, you can set a fallback rate which will be displayed in incase ShipEngine fails to retrieve real-time rates. Choose the rate type, add handling fees if necessary, and select the shipping carriers and shipping services you want to activate.
Label Generation settings
Label Printing API Settings, Default shipment services, origin address, and third-party billing are the main settings that you will find under the label generation settings tab. Under label printing API settings, you can set the file format for the generated shipping labels, set insurance, set label size, and select the default shipment services.
Under origin address, you need to enter the sender's contact and address information and under third-party billing, you can enable third-party billing for UPS.
Packaging settings
Under the packaging setting, you have two options when it comes to parcel packing – you can either pack items individually or pack them into boxes based on weight and dimensions. When it comes to the packing algorithm, you have the option to choose between volume-based packing or stack first packing based on your requirements.
This will bring us to the end of the setup process. Once the plugin is up and running this is what the cart and checkout pages will look like for domestic and international shipping.
In the screenshot below, you can see the generated label:
Wrapping Up
This is how you can quickly install the best ShipEngine Plugin for your WooCommerce store and significantly simplify your shipping processes. If you have any questions regarding ShipEngine plugins, please let us know in the comments section below.
Further Reading