7 Best WooCommerce Payment Gateway Plugins
Payment is one of the main features of a WooCommerce store. When a user makes a purchase from your store, he or she needs to pay for it from the checkout page. Payment gateways are the channels that make payment by the customers reach you. While setting up your WooCommerce store, it is necessary to set the payment gateway as well. It should be secure as well as fast. Because any flaw that could happen during the payment may lead to loss of trust in your WooCommerce store and it will affect your business. And after the payment, the customer should be able to check out from your store without any interruptions. So the entire process should be smooth and flawless.
There are many efficient payment gateway plugins that come up with advanced features. You can choose the perfect one according to the requirements of your business. In this article, let us discuss 7 top-notch WooCommerce payment gateway plugins. They are,
Stripe

Amazon Payments Gateway for WooCommerce

PayPal Checkout

Authorize.net

Square

PayPal Express Checkout Payment Gateway for WooCommerce

Mollie Payments for WooCommerce
Let us go through one by one and analyze its features.
1. Stripe
Stripe by WooCommerce allows you to accept payments directly to your WooCommerce store for the web as well as mobile. If you do not want to redirect your customers to a separate externally hosted checkout page while accepting the payment, you can use this WooCommerce extension. If the customer stays on your WooCommerce store during the checkout rather than redirecting to another site, it will help to improve your store's conversion rate. It is a free extension you can download from the WooCommerce store.
It helps you accept all major debit cards, credit cards, and local payment methods as well. It is optimized for mobile with Google Pay, Apple Pay and Payment Request API support. The main advantage of Stripe is that it offers a smooth checkout experience after the payment without redirecting to any external checkout sites and compatible across different devices and browsers.
It offers high security with advanced machine learning fraud protection tools to prevent and detect any fraudulent activities with Stripe Radar. You can check your Stripe dashboard to know the overall activities and your account balance, as well as its built-in reporting feature, helps you to get the financial reports such as a monthly report, payout report and transaction-level balance breakdown that will show your balance as line-by-line activities.
2. Amazon Payments Gateway for WooCommerce
Amazon Payments Gateway plugin offers the option to pay for the goods and services purchased by the user from your WooCommerce website or mobile app with the address and payment method stored in the Amazon account using a direct debit bank account or credit cards. It helps your customers' shopping experience smoother and interesting by letting them spend much time shopping and less time for checkout. It supports both HTTP and HTTPS websites.
An 'Amazon Pay' button will be displayed on the checkout page after the activation of this plugin. The customer can simply click on the button to make the payment. You can add a custom seller policy on the Checkout review page for giving special instructions to customers. It is a freemium plugin. Its premium version offers more advanced features such as displaying the 'Amazon Pay' button on the cart page itself to make the payment faster, and a dedicated Amazon Payment overview page for viewing all the transactions processed by Amazon. In addition, it also offers a smooth refund process and many more customization options.
3. PayPal Checkout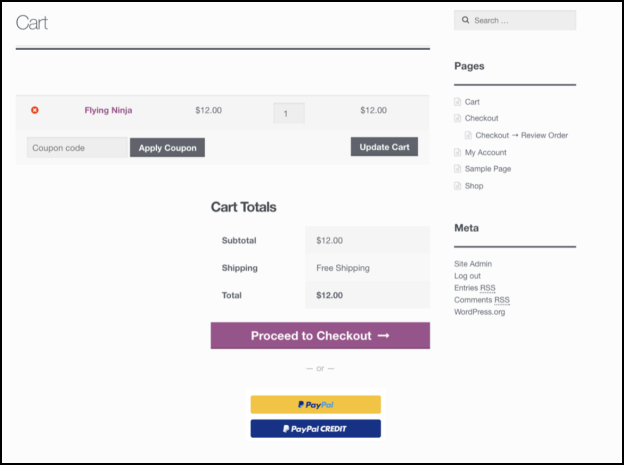 PayPal Checkout by WooCommerce is an extension to integrate PayPal payments to your WooCommece store. PayPal is one of the most popular and trusted payment gateways around the world. You can customize the look and feel of the entire payment process. And this extension offers automatic updates, hence the latest features will be automatically added to your WooCommerce store. It offers a fast and easy way of payment to customers when they pay with PayPal or any major credit or debit card without ever leaving your site.
It is a free extension and it accepts all major credit and debit cards such as Visa, American Express, Diner's Club, MasterCard, JCB, and Discover. The interesting feature of this extension is, it helps the users to use PayPal payment for their purchases, even though they do not have a PayPal account. And this extension also allows the customers to pay from the product page and cart page. This also comes up with a number of customization options for the layout.
While you are using this extension, you do not have to worry about the security issues or any other fraudulent activities as the security is handled by PayPal. You can simply focus on your WooCommerce business rather than thinking about the security issues in the transactions.
4. Authorize.net
Authorize.net Payment Gateway for WooCommerce by ELEX is a freemium plugin, which offers a fast and secured option to accept credit card payments. Authorize.Net is a popular payment gateway service provider based in the US that offers secure, easy and affordable credit card and debit cards services such as debit cards such as Visa, MasterCard, Amex, Discover, Diners, and JCB. This plugin also will not redirect your customers to an external checkout page while doing the payment. This also will let your customers stay in your WooCommerce store and will help you to increase your conversion rate as well. In this plugin, you have an option to capture the payment details as soon as the payment is done from the Checkout page.
Its premium version offers many more advanced features. In its premium version, besides the above-mentioned card payments, it also accepts eCheck payments from your WooCommerce customers having Checking, Business Checking or Savings accounts. It also offers an overview page to view all Authorize.net transactions and refunds processed and helps you easily accept payments for your WooCommerce Subscription products. There is also an option to process partial as well as full refunds from the WooCommerce admin order page and Authorize.net overview page as well. You will find several more customization options in addition to its advanced features.
5. Square
Square by WooCommerce is free for integrating sales, customer data, and inventory as well as managing everything in a centralized platform and does all the payments across a single channel. If you have multiple retail stores such as physical stores as well as an online WooCommerce store, centralizing its inventory and payment is a bit difficult. The square extension is a solution to this problem. You should have an account in Square, using that account details you can integrate your WooCommerce store into the Square payment gateway.
It accepts payments anywhere at any time as it accepts all major credit cards as well as debit cards. But Square is only available in Australia, Canada, Japan, the US, and the UK. It is automatically updating its features, hence you do not worry about the frequent updations. It offers high protection and ensures security from fraudulent actions as well as their fraud prevention team monitors your account and its transactions 24/7. You can use its customization option to improve the security of your transactions by two-step verification, account change notifications and employee permissions.
You do not need to synchronize your WooCommerce products to Square and Square to WooCommerce as the two-step process. The inventory management of Square will automatically synchronize between both platforms accurately.
6. PayPal Express Checkout Payment Gateway for WooCommerce

This WooCommerce PayPal plugin is an easy and popular solution for integrating PayPal Express Checkout payment gateway with your WooCommerce store. Its robust set of features and easy-to-use interface works like a charm to help you provide your customers with a great payment experience in your store.
It's a freemium plugin, and with the free version you can accept payments via major debit and credit cards, allow buy now pay later, and it also suggests available payment methods by auto-detecting customers' device/location. To enable faster checkout you can even add the checkout button at the cart or product page. If you upgrade to the premium version of the PayPal for WooCommerce plugin you can access advanced features such as guest checkout, subscriptions, mini-cart, and more.
7. Mollie Payments for WooCommerce
Apart from the payment methods offered by WooCommece, you can add more payment methods to your WooCommerce store using Mollie Payments for the WooCommerce plugin. This is one of the popular plugins to help you to integrate many payment gateway options to your WooCommerce store. If you are using this plugin, you do not need to worry about security or the favorite payment method of your customers. You can simply drop them ready-made into your WooCommerce store using this handy plugin. This is a free plugin, you can download it from WordPress plugins.
It supports various credit cards, debit cards, European and local payment methods, international payment methods and pay after delivery payment methods. Using this plugin, you can edit the product orders, title, and description of every payment method in your WooCommerce store checkout page. This plugin also helps to process partial and full refund payments. As your customers can choose their favorite payment method, they will be satisfied and this will increase the conversion rate to your WooCommerce store. You can also keep track of your payments using this plugin.
Conclusion
Payment Gateway is an important part of the WooCommerce store, as the transactions are done through the different payment methods. While choosing a payment gateway plugin, we have to think about security as it is the most important thing in financial transactions. There are some plugins which will support many payment methods and some plugins support limited payment methods and available in certain countries only. So while choosing, you should consider all the features and should check whether it will satisfy your requirements. Hence, choose a plugin that offers your customers their favorite payment methods as well as one which will help you to increase the conversion rate.