Do you want to upload your products to Facebook so that you may sell them there as well? Manually entering all product details in a sheet and feeding them to Facebook is a tiresome procedure. We'll walk you through how to automatically connect WooCommerce to Facebook Marketplace step by step in this guide with the help of a Facebook Shopping Feed Plugin.
People can use the Facebook Marketplace for Business to search, sell, and buy anything. Companies can sell their products alongside normal Facebook users on this marketplace. All transactions are completed through Facebook Messenger, which allows businesses to engage directly with customers. E-Commerce businesses can generate a catalog of the products they want to sell and personalize the store visuals to match their brands' look and feel. Furthermore, you can use Facebook and Instagram advertising and stories to sell your products. Facebook Marketplace is completely free, and the best part is that it can be integrated with your WooCommerce store.
For businesses, there are several advantages to using Facebook Marketplace.
Find buyers who are interested in your products
Facebook Marketplace is an excellent investment for your business because it allows you to reach out to potential buyers. You're reaching out to people who are already looking for similar products to yours. 
Assume you're in the business of selling shoes. When someone searches for a specific shoe, your product listings will appear alongside those of other eCommerce stores that sell shoes. They're more likely to be interested in your product because it matches their search. As a result, you're reaching customers who are interested in the things you're selling.
One-stop-shop 
By showcasing your products on Facebook Marketplace, you can provide all of the information a buyer needs without requiring them to leave Facebook. Users can learn everything they need to know about the product from this listing. There is a detailed description section that goes over the product and its features. The listing also includes pricing information, such as the product's price and the seller's shipping policy. You are more likely to make a sale if you can provide all of the product information in one place. Furthermore, because users can purchase things directly from the Facebook app without visiting any third-party website, they are more likely to do so.
Free exposure
You can get brand exposure for your business by using Facebook Marketplace. Even if you do not run Ad campaigns and list your products for free, your brand's name appears below the product when you list it on Facebook Marketplace. Even if people are not making a purchase, some free exposure never hurts.
Free Product Listing
There is no membership fee to pay, allowing you to list your products on Facebook Marketplace for free.
Mobile-friendly listings
Mobile-friendly listings are important because 98 percent of Facebook users access the site through their phones. When you post a listing on Facebook Marketplace, it is already mobile-friendly. As a result, you don't have to worry about tailoring your listing to appeal to these users.
Personal connections with customers
The opportunity to communicate with your audience on a one-on-one basis is one of the most beneficial elements of Facebook Marketplace for businesses. Someone can send you a message if they like your product and want to learn more about it.  It allows prospective customers to have a direct line of communication with you, allowing them to get quick responses to their questions. By communicating with prospects and responding to their inquiries in real-time, you can make sales quickly with Facebook Marketplace.
Ad Campaign Performance Analysis
You may review the analytics from your ad campaigns in the Facebook Advertising Manager if you decide to run ads for your products. This is how you can determine how effective each ad is and monitor which of your products are performing well and which are not. 
Best Free WooCommerce Facebook Shopping Feed Plugin

The ELEX WooCommerce Catalog Feed for Facebook & Instagram is one of the best plugins for driving better-qualified leads and more exposure to your eCommerce store by displaying your products on Facebook Marketplace. It seamlessly creates product feeds by extracting product details from WooCommerce stores to showcase them on Facebook's marketplace. You can use the ELEX WooCommerce Catalog Feed for Facebook & Instagram Plugin to promote additional sales and increase the visibility of your products. 
Features: 
Easily promote your products on Facebook Marketplace.

Create and manage an unlimited number of feeds

Make Product Feeds for Variable Products.

Sell Products to Specific Countries.

Set the Product Feeds to Refresh Automatically.

Map your Product Categories using Google Product Categories

To increase your reach, map your product attributes to Google attributes.
Facebook for WooCommerce links your WooCommerce store to Facebook, making it easier for customers to find your online store. You can pay for advertising, acquire new consumers, set up a shop on Facebook to sell your products, and track the insights of customer actions on your website. 
Features:
The plugin helps you Sync your WooCommerce catalog with Facebook Marketplace.

To enhance retargeting advertisements, find new consumers, and track ad effectiveness, you can install the Facebook pixel.

You can effortlessly communicate with customers within your eCommerce site or on Facebook using Facebook Messenger.

Upon installing the plugin, WooCommerce allows you to buy Facebook and Instagram ads directly from the dashboard.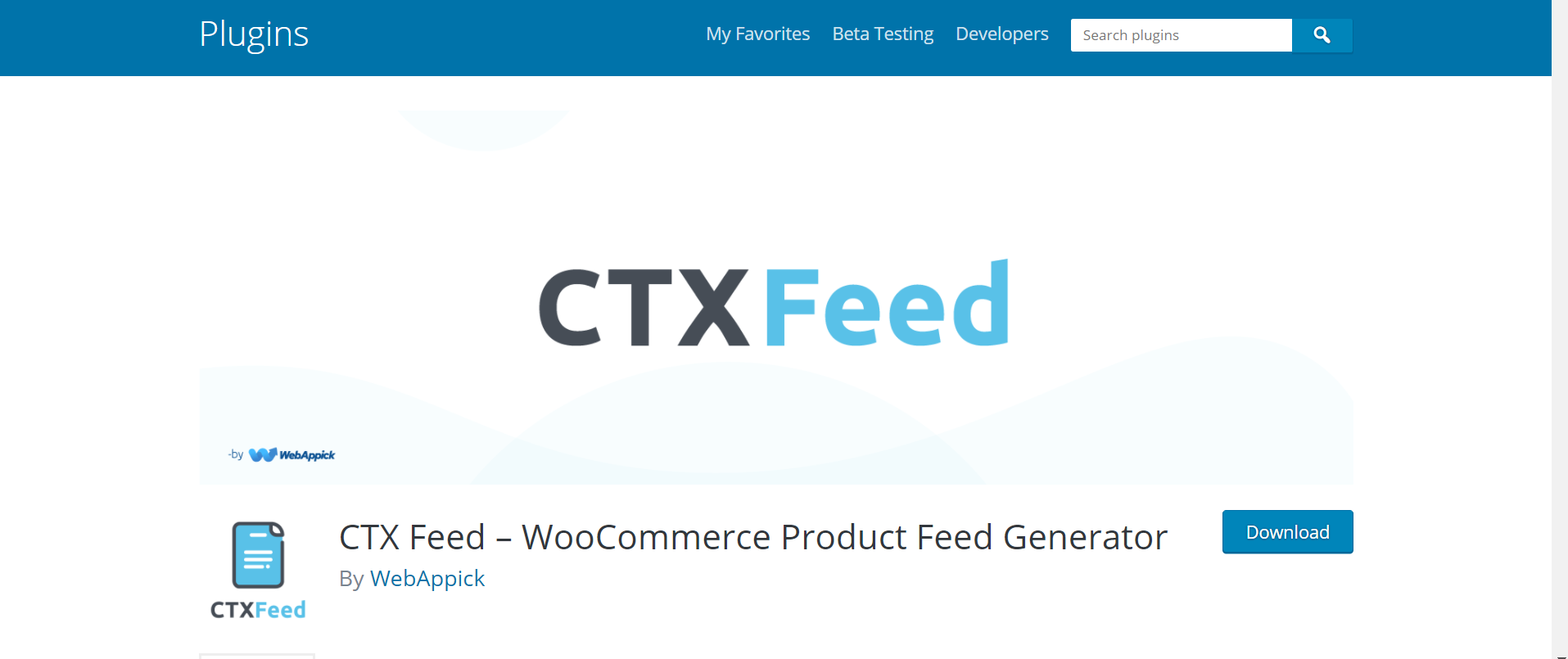 This powerful plugin allows you to promptly and effortlessly generate the most streamlined and error-free product feeds for your WooCommerce store, enabling you to target the most popular global and local product marketing channels such as Google Shopping or Google Merchant, Facebook Product Ads, Instagram Shopping Ads, Pinterest Shopping Ads, and many more. 
Its goal is to make it easier for you to create and distribute product feeds across multiple marketing/shopping channels. There are many different methods for updating product information on a set schedule and syncing the update to the corresponding channel via HTTP or FTP.
Features:
You can create as many product feeds as you want for as many channels as you want.

Easy to use user interface.

Over 100 pre-configured templates to help you get started quickly.

Custom templates.

Batch feed generation

Auto product feed update
The WooCommerce Product Feed Manager makes generating your WooCommerce Product Feed easier than ever. You can generate an accurate product feed with your WooCommerce products for any marketplace you want to list them on in just a few clicks. Create flawless product feeds for over 180+ merchants such as Google Shopping, Facebook, eBay, and Instagram by using pre-defined merchant templates.
Features:
Unique Identifiers Custom Fields

Mapping of Advanced Categories

Supports Variable Products

Google Merchant Center Feed auto-sync
You can quickly create and manage WooCommerce product feeds for popular merchants and marketplaces such as Amazon, Etsy, Google, Facebook, Snapchat, Instagram, Bing, and others with this WooCommerce Product Feed Export plugin. ExportFeed not only simplifies the creation of product feeds but also supports product categories with variations in native import files. You can instantly create custom feeds tailored to your needs using their user-friendly interface. ExportFeed is the most straightforward way to improve your product listings and campaign results while also greatly boosting your reach and, as a result, conversions.
Features:
Product feeds are generated by individual products or by category.

40+ sales channels to help increase sales.

Auto-sync listings

Scheduled listing updates

Product variations are supported

Advanced commands & feed customization options
We hope you now have a better understanding of the benefits of using Facebook Marketplace, as well as how the WooCommerce plugins mentioned above can help you showcase your products there. If you have any questions regarding WooCommerce Facebook Shopping Feed Plugins, please leave a comment.
Read more:
6 Best Google Shopping Feed Plugins for WooCommerce
How to reduce shipping challenges with a WooCommerce Shipping Calculator?