Best WooCommerce Catalog Mode Plugin for your WordPress eCommerce Store
Want to make your eCommerce store look more like a product gallery or enhance a few things to make your customer request a quote for the price? You are in the right place! This is all possible using a simple WooCommerce catalog mode plugin. It has so many more inbuilt features that can be quite handy to give your eCommerce store a perfect new look. With  ELEX WooCommerce Catalog Mode plugin, your site will become all the more accessible. It is an ideal plugin that helps you achieve the perfect catalog for your eCommerce store.
Here are a few details which make ELEX WooCommerce Catalog Mode plugin the best catalog mode plugin for your eCommerce store. 
Why do we need a catalog mode plugin?
You need a catalog mode plugin :
when you want to make your store look different for different customers. 

want to run a successful wholesale shop

quote different prices to the customers.

you may not want all your customers to buy certain products.

You may want to portray a different catalog for unregistered customers 

Also, maybe when you want the customer to take a few steps before purchasing a product.
All these can be achieved using the catalog mode plugin. Individual pricing on a per role basis can also be achieved using the premium version of the plugin.
Features of ELEX WooCommerce Catalog Mode Plugin
Customizing your WooCommerce eStore using the WooCommerce catalog mode plugin is much easier. Let us walk you through the features of ELEX catalog mode plugin that makes it the best one for your eCommerce Store
Remove Add-to-Cart Button
In your shopping cart, if you do not want to include an Add-to-cart button in the shop page, you can disable the same using the catalog mode plugin. You can easily place another text in place of the same.
You can make the settings change on the product page as well as on the Shop page. Placeholder Text helps to keep the text placed in the place of the Add-to-cart button.
Customize the Add-to-Cart
Instead of removing the add-to-cart button, you can also set up a link in the placeholder text to redirect it to another page. The customization option lets you add a URL, a text or even changes the text on the button as per your need.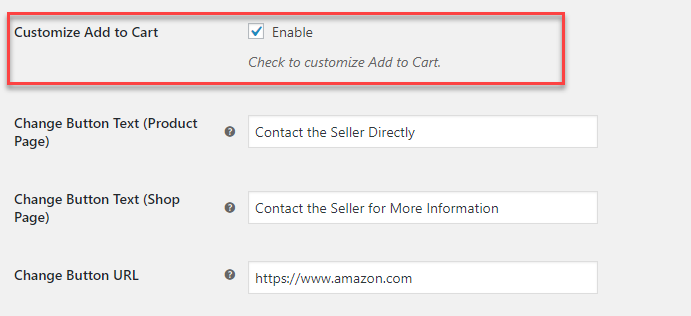 Once you add these changes, you can see that the add-to-cart button is modified.
On clicking the same, your customer can be redirected to a particular link specified by you. You can do the same when you want your sellers to visit your website directly.  You can also use the same feature to place a "Request a quote" to let the customer contact the seller for a quote. This feature will let you include some affiliate product links in your estore.
Hide Prices
If you are running a big wholesale store, and you really want to hide the product prices, you can do the same using this feature. When this feature is enabled, the add-to-cart button is also removed at the same time. This can be efficiently used when you want to apply certain price rules for the customers.

This way the prices on the products can be kept hidden.
Hide Cart and Checkout Page
Using this particular setting, hide the product cart page and even the checkout page.

With this setting, your desired customers get to see only the products with the specification but not the price as well as the shopping options.
Exclude Administrator Setting
If you wish to exclude the administrator role from every catalog mode settings, then you can use this checkbox.
Set Catalog Mode specific to Individual Products
When you want to set catalog mode for a few kinds of products then it can be done using the ELEX WooCommerce catalog mode plugin.
To conclude
In order to make your eStore into the perfect catalog mode, make use of this best free plugin that eases your work. With a WooCommerce catalog mode plugin, it is easy to make a custom call-to-action button on the product pages.
Further Reading