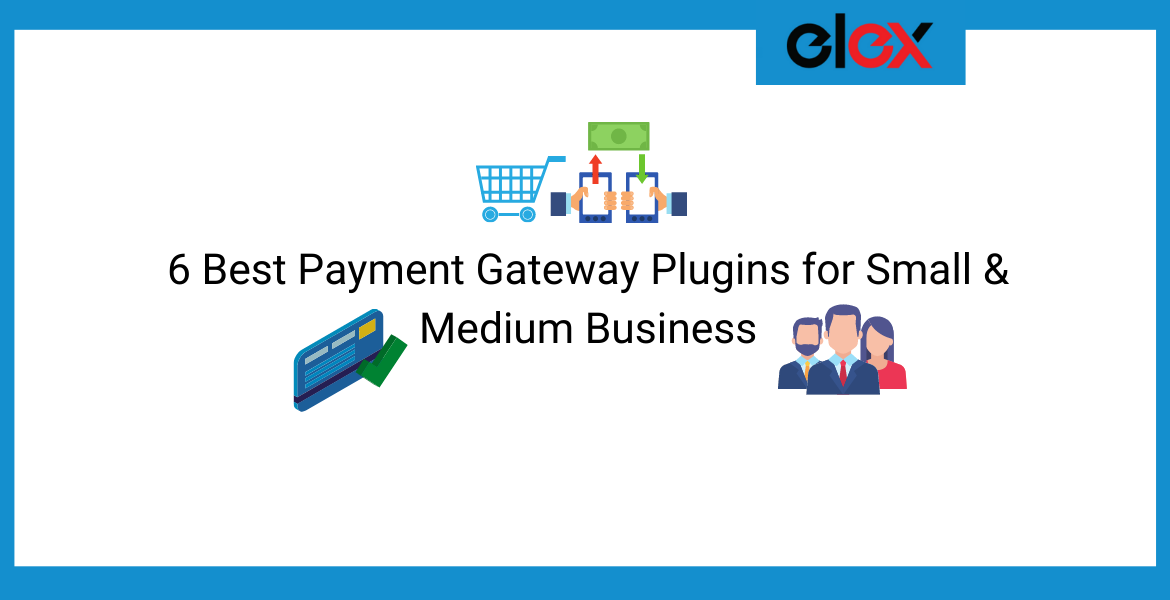 6 Best Payment Gateway Plugins for Small & Medium Business
Choosing a secured payment gateway plugin is an important decision that you need to take very carefully even though you own a small, medium, or large scale business. In this article, I would like to discuss 6 best payment gateway plugins for small and medium businesses. Since you cannot compromise on your customers' security and their bank account details, it must offer fast transactions as well as safe and secured services. When it comes to small to medium businesses and startups, they need a payment gateway plugin that is handy with optimal features to make the secured and fast payments and some customization options if required.
Another important feature you should look into in a payment gateway plugin is, after the checkout process, your potential customers should not be redirected to third-party webpages. As reports show, redirecting to your WooCommerce webpages itself improves the conversion rate! Well, it is a simple but important feature. Moreover, it will increase the time your customer spends on your store and it will help to rank on Google search results above your competitors. Interesting, isn't it?
Yes, there are a number of features we need to consider before choosing a plugin for our WooCommerce store. Especially in the initial stage of your store's set up itself, you need to integrate with a payment gateway plugin. 
If you are ramping up on the WooCommerce business and searching for an affordable and robust payment gateway plugin for your store, here in this article let us discuss it. You can go through their features thoroughly and if you find it will satisfy all your requirements you can go ahead!
1. ELEX WooCommerce Authorize.net Plugin
This awesome plugin by ELEX will be a perfect choice for your store if you are looking for a secured, cost-effective, and feature-rich payment gateway plugin to integrate Authorize.Net with your WooCommerce store. As Authorize.Net has been the trusted payment method by millions of shoppers, the majority of the customers will pick Authorize.Net to make their transactions for faster and secured payments.
It's basically a freemium plugin, that is, you can either try its free version as a trial and if you find it really effective, you can upgrade to its premium version which comes up with a handful of advanced options to make your customers' payment experience more convenient and satisfying. Both free and premium versions support major credit cards & debit cards like Visa, MasterCard, American Express, Discover, JCB, and Diner's Club. Different customers choose different payment methods. If you can provide almost all the methods, no customers will leave your site with disappointment that they could not find their favorite payment method. Here, this payment gateway plugin never lets your customers be disappointed!
Especially in the WooCommerce business, it is quite common that it requires authorization and then captures the payment. This feature is available on both versions. And it will not let your customers leave your site after the checkout by redirecting them to your site itself. If you want more advanced features for providing your customers with the best checkout experience other than the features I have mentioned above, you can upgrade to its premium version. The premium version offers features such as:
Supports recurring payments if your store sells subscription-based products.

Full and partial refund captures in simple clicks.

Accepts eCheck payments, if your customers have Checking, Business Checking, or Savings accounts.

A consolidated overview that displays all the transactions through Authorize.Net, from there you can capture refunds as well.

Customers can save their card details to make the upcoming transactions faster.

And a handful of customization options to customize the checkout page and buttons, etc.
2. Stripe
Stripe by WooCommerce is one of the handy and affordable plugins for a small and medium business as it is free to integrate with your WooCommerce store. This payment gateway plugin helps you accept payments directly on your WooCommerce store for the web as well as mobile seamlessly. It will not redirect your customers to any other third-party pages during the checkout process. They will be directed to your webpage right after the checkout.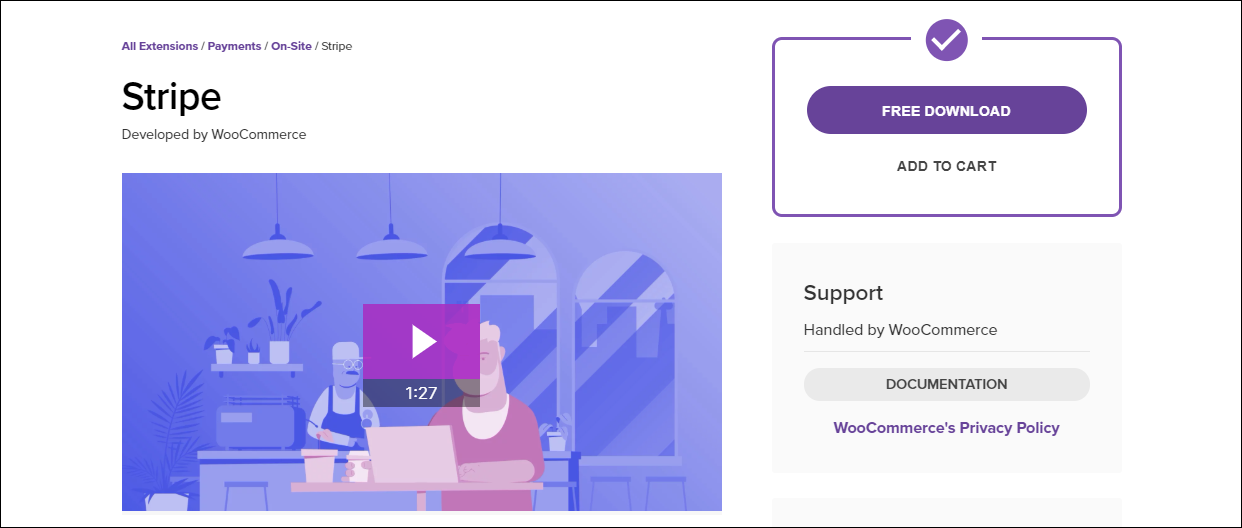 It accepts all major debit cards and credit cards including Apple Pay, Google Pay and optimized for mobile with  Payment Request API support. Its compatibility across different devices and smoother checkout make the customers' checkout experience fast and secure. Other features it offers are:
Supports local payment methods.

High security with advanced fraud protection tools for detecting and preventing any fraudulent activities with its Stripe Radar.

Built-in reports that provide financial reports such as a monthly report, payout report, and transaction-level balance.

Optimized checkout flow for increasing conversion rate.
3. Square
Square is also a free plugin by WooCommerce which helps small and medium businesses to make their transactions efficiently without any flaws and errors. If your business has multiple branches including physical stores, you can centralize sales, customer data, and inventory, and you can manage everything across a single channel with this handy payment gateway plugin.
The only thing you need to do for integrating your business with Square is, having an account with Square! The rest of the steps are quite easy. It accepts all major debit and credit cards, but you can only integrate Square with your store if your store is located in Australia, Canada, Japan, the US, and the UK. Since it is from WooCommerce itself, you do not need to worry about its frequent updates. It will update its features automatically. Interesting, isn't it?
Well, look at the other features it offers:
Protection from any fraudulent activities as the Square team monitors your account and its transactions 24/7.

Customization options to improve security by two-step verification, configuring account change notifications, and employee permissions.

Automatic synchronization of Square with your WooCommerce store by inventory management of Square.

Authorize and capture later features.

Supports recurring payments and WooCommerce pre-orders.
4. ELEX Amazon Pay WooCommerce Plugin
Many customers have their own Amazon account and they save their credit card details on that, and they trust and prefer Amazon Pay for making payments! So it is important to offer Amazon Payment method in your WooCommerce store for letting customers checkout from your store with their favorite payment method.
This plugin is also a freemium plugin. You can display a seller note in the checkout review page with this plugin. Since it is a highly secured plugin, it supports and makes secure transactions of HTTP and HTTPS sites. These features can be found in both free and premium versions. Well, what if you need more advanced features? You can upgrade to its premium version at any time.
Check the features you will get after the upgrade:
Option to add Amazon Pay checkout option in the cart page itself for making the transactions faster.

Option to authorize the payments and capture them later.

Easy capture of partial and full refunds.

Consolidated overview page that provides a report of all transactions done through Amazon Pay and the option to capture refunds in one click from there itself.

A handful of customization options to provide the Amazon Pay theme to your checkout page by displaying the button and banner of Amazon Pay and many more.
5. PayPal Pro
If you are looking for a payment gateway plugin that integrates PayPal to your online business, you can choose this plugin. It provides a number of features that will improve the customer checkout experience, and provide secure and convenient transactions for small and medium businesses. It is a premium payment gateway plugin that helps you to accept credit card payments directly to your WooCommerce store.
Since it is a premium plugin, customers only need to enter their credit card information on your store. The rest of the activities and processes are fully managed by the PayPal Pro plugin. You can only make use of this plugin if your store is located in the US, UK, and Canada. In addition to that, if your store is located in Australia you can make use of PayPal Pro Payflow services. Other advanced features of this plugin are as follows:
Highly secured transactions without any security breach.

Easy integration if you are an existing account holder of the PayPal Pro merchant account.

Smooth checkout flow and customers never leave your store during the checkout process.
6. CyberSource
Cybersource is a premium payment gateway plugin that helps your small and medium business to accept credit card payments via CyberSource directly on your site. It supports major credit cards, debit cards, and it is one of the best options to integrate Apple Pay with your store. Once the customers enter their credit card details, all the transactions are managed by Cybersource. You can simply sit and relax!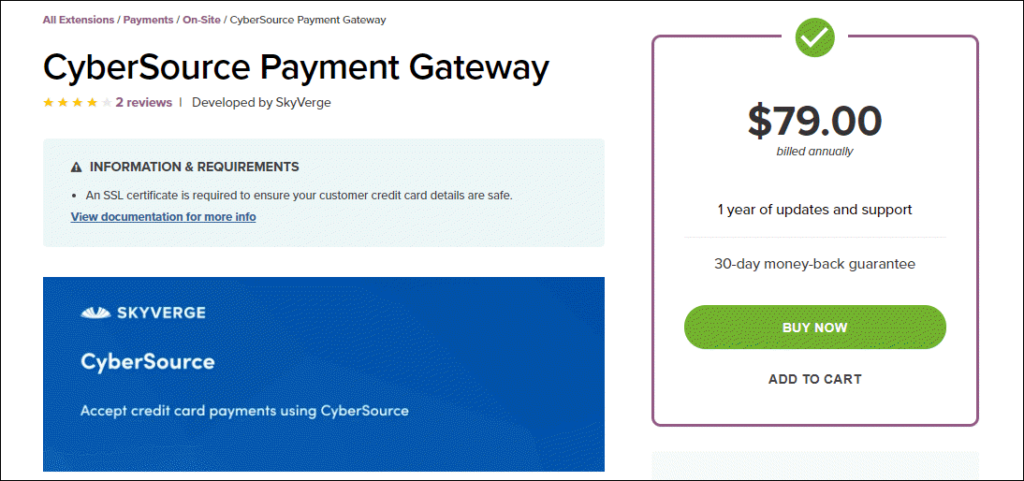 Your customers will not leave your site during the checkout process and will be redirected to your store. They can save their credit card and account details to your store safely with this plugin for making the transactions faster henceforth. Other advanced features provided by this plugin are:
Efficient fraud prevention system.

Supports subscription-based payments and WooCommerce pre-orders.

Automatic refund option.

Shows detailed decline messages if any error or flaw occurred during the transactions.
Wrap Up
Even if your online business is small, medium, or large, you need to provide flawless transaction payment options. In this article, I have listed 6 payment gateway plugins for small and medium businesses. You can choose one among them that will satisfy all your and your customers' requirements for safe payments.