Best 7 Must-Have Plugins for WordPress
The majority of the businesses use the WordPress platform to give a digital face for their business. Not only for business, but WordPress has also been supporting bloggers and small scale to large scale merchants to sell their products online through its WooCommerce plugin. So you can customize a raw WordPress site according to your need with a number of plugins. A WordPress site can be modified and designed according to your needs with WordPress plugins. There are free plugins you can easily download as well as paid plugins to subscribe to advanced features.
There are some features that must be there in your WordPress site to make it more user-friendly and convenient to use for your website visitors. They might be your customers, shoppers, or a regular reader of your blog! Hence, in this article, I would like to discuss with you 7 must-have plugins for WordPress website to increase the potential of your business or blog website.
They are:
WSChat – ELEX WordPress Live Chat Plugin

WPForms

Yoast SEO

WSDesk – ELEX WordPress Helpdesk & Customer Support Ticket System Plugin

WP Rocket

UpdraftPlus

MonsterInsights
WSChat – ELEX WordPress Live Chat Plugin
It is very common now to see a pop-up of a chatbot on the corner of a website right after we open it. Because the new customers, as well as the existing customers, find it very easy and convenient to contact you through chats. It is the fastest and more friendly way to reach you out.
WSChat – ELEX WordPress Live Chat plugin is the best chatbot plugin in the market as it comes with a handful of advanced features to improve your customers' chatting experience. It is an AI integrated live chat plugin by Dialogflow by Google's machine learning that helps you to trigger automated replies to your customers even if you are not available online. It does not have any external dependency and you can store your data exclusively on your server. This premium plugin offers unlimited agents profiles and chats history. And makes the agents' jobs fast and efficient with its features. You can also customize your chat widget for fitting into your website's theme and color. You can also monitor the real-time viewers of your WordPress site with their information, that will help you to initiate a chat from your side, and so on.
WPForms
Every business website needs a contact form to let the customers contact you for any inquiry or communication regarding the sales. WPForms lets you add the contact form in your WordPress site seamlessly without any technical complexities. Its user-friendly interface helps to configure the form by drag and drop the form elements with its form builder.

This plugin has both free and premium versions. With its form builder, you can build any type of contact form as you need. If your website is a non-profit organization or selling a few products, you can switch it into a payment form. It provides features to create survey forms, online order forms, email subscription forms, conducting polls, besides simple contact forms. You can also customize your WordPress user registration forms with this plugin. And this plugin helps to integrate payment methods and marketing platforms without complexities. This handy plugin helps to create the required form for your WordPress website in just 5 minutes!
Yoast SEO
Even though WordPress comes up with features to power SEO (Search Engine Optimization) of your business' website, you can improve the potential by integrating with this SEO plugin for WordPress sites. This plugin has many features and tools to increase the traffic flow to your website. Well optimized sites will drive more customers to your site, by ranking your site on the first page of Google SERP(Search Engine Result Page).
In accordance with Google's SEO algorithms, this plugin has features to support you for the SEO best practices. It helps you to create sitemaps, adding meta titles and descriptions, social media optimization, and easy integration with Google Search Console. If you have integrated this plugin with your WordPress website, you do not have to worry about the 301 redirects if any page URL has been changed. This plugin has an option to do 301 redirects in simple clicks. And also, even if you are not aware of any broken links in your WordPress website, it will detect the changes in the URLs and do an auto redirection for preventing broken links to your website.
WSDesk – ELEX WordPress Helpdesk & Customer Support Ticket System Plugin
While running a business and handling hundreds and thousands of customers, it is quite normal to receive queries when the customers are stuck on using your products or services. This robust WordPress helpdesk plugin makes your customer support system more efficient and powerful.
Maybe new customers will come up with some presale queries, at the same time some existing customers will reach you for a solution to their problem. This plugin helps to get back to all your customers by assigning these queries to the agents to give solutions to them. It offers features to store and handle unlimited tickets and agent profiles. You can categorize and sort the tickets according to their status and create templates for making the replies to the customers faster. It is rich in customization features and helps to trigger a certain notification to the agents for making the support assistance more systematic and fast.
You can also analyze the overall performance of your helpdesk system and the performance of each agent. And it will also work well on WooCommerce websites, as you can integrate with WooCommerce seamlessly with this plugin. It has both free and premium versions. You can go for its premium version for unlocking more advanced features.
WP Rocket
The loading speed of your website plays an important role for the customers to choose your site among the competitors. WP Rocket will help you to improve the speed of your website. If they are visiting your site for the first time, and your site is like taking too much time for loading, they will leave within 2-3 seconds. This will affect a drop in your website traffic and gradually it will lead to reduced site visitors and customers for your business. There could be so many reasons that determine your site speed.
Maybe too many images or videos, or a poorly optimized website, and so on could lead to decreased loading speed. For that, this offers a free image optimizing service named as 'Imagify' for optimizing images on your website to improve the speed. In order to boost the loading speed, you can use this handy plugin that does not need complex configuration steps. This will improve the speed of your website and thereby the overall performance of your website. It will automatically turn on the page cache, Gzip compression, and cache pre-loading. It also comes up with features such as CDC support, minification, lazy loading images, and DNS prefetching. Since it is a premium plugin, you have to subscribe to integrating it with your WordPress website. As it is a beginner-friendly plugin, you find it very easy to configure.
UpdraftPlus
If you are an online business owner, this plugin will help you make your tasks for setting up and storing automatic backups on a remote location such as FTP, S3, Dropbox, Rackspace, and Google Drive. This plugin will also help you to restore your WordPress website from its backup. This will help to protect your WordPress site from hacking, any server crashes, dodgy updates, or simple user errors.
If you need advanced features such as priority support, you can upgrade to its premium version. Or if you need only the basic features for your WordPress website, you can use its free version plugin. You can also schedule how frequently your website should back up such as every 6 or 12 hours, daily, weekly, fortnightly, or monthly, etc accordingly. And it restores your website directly from your WordPress control panel.
MonsterInsights
MonsteInsights is one of the must-have plugins for WordPress website to analyze the overall performance and traffic details of your website. This Google Analytics plugin can be used to link your WordPress website to Google Analytics.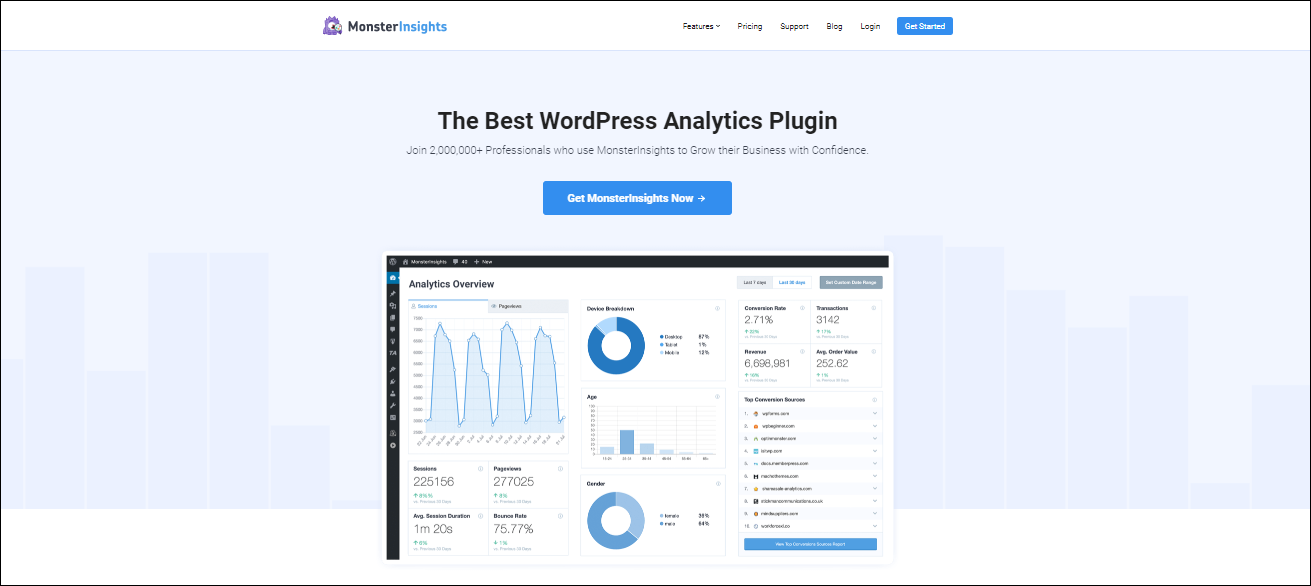 Its advanced feature helps you to understand and analyze how the users engage in your site, from which location you get more customer flow and how much time they spend on your website, and so on. And it gives all the website performance statistics on your website dashboard itself. Hence it makes it easier to understand the data and statistics on Google Analytics if you have found it a bit difficult to understand. This analysis reports and statistics regarding your website will give you the insight to understand where your website needs improvements, how you can increase the traffic and improve the customer engagements etc. This plugin has both a free and premium version. The free version comes up with basic features. If you want to unlock more advanced features, you can subscribe to the pro version.
Conclusion
In this article, I have listed 7 must-have plugins for WordPress website. For making your business' website more efficient and customize its features and functionality according to the business domain and its nature, you can use these plugins. You can go through each one's product pages and check their features thoroughly for more details before going to integrate with your WordPress site.