Live chat is essential for a business to keep a continuous interaction with the customers. The best part about using live chat is that it churns potential customers out of random visitors and drives sales. With live chat, it is possible to extend the support assistance, reduce conflicts and also engage customers in a better way. Customers who expect a quick resolution to their queries intend to depend on live chat support. To deliver instant business solutions, businesses are also dependent on live chat support, hence most small to big companies have implemented live chat support extensively.
Handling customers is not an easy business. To upkeep your brand, you need to ensure that your business provides excellent support to your customers. In order to ensure a consistent approach to your customers, you must follow certain best live chat practices. It is important to follow the same across every hierarchy to deliver quality services that meet customers expectations.
Best Live Chat practices to follow to impress your client
Let us browse through some of the most proven best live chat practices that will surely leave a positive impression on your client.
Place your live chat correctly for proper visibility
Chat window placement might sound impromptu, but it is an important aspect to consider. Most live chat windows are found on the right-hand corner of your screen. It seems to be a spot that can easily grab the attention of the user and also stands away from the main screen which does not interrupt the main screen.
Placing the chat window in the right space helps in co-browsing. It helps customers to chat as well as browse at a time when the customer needs step-by-step assistance.
Live Chat Monitoring Page Wise
It is not just the landing page the customer visits, hence it is important to keep a check on other pages as well. With efficient live chat monitoring, it is easy to monitor the pages on which the customer is visiting and provide assistance. Live chat plugins like WSChat, offer easy assistance to monitor the live chat, which gives information about browsers and the pages customers are browsing from.
Keep Response time low
Avoid increased rates of cart abandonment by reducing response time. In order to do the same, make use of canned responses or even pre-chat responses. Either way, you can save your time for responding to the customer. Canned responses can be saved prior and then used accordingly. Yet another way is to use a pre-chat form, especially when you are offline or away. You can collect the necessary information, which will make the customer not feel stranded. Using WSChat, pre-chat form, customize the pre-chat offline form and keep it relevant to your business needs.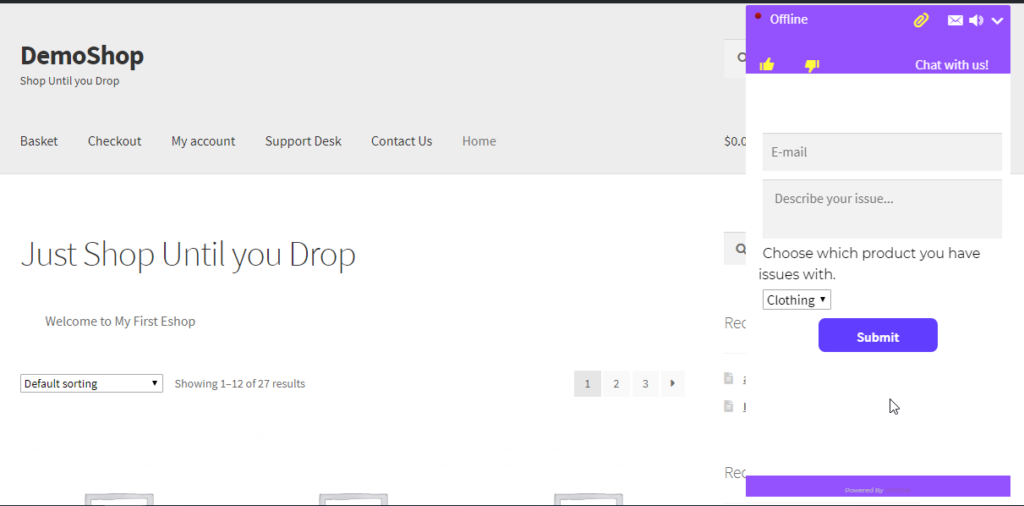 Keep clarity on Operational hours
Clarity about your support team availability is important. If your business support is available 24/7, you need to announce the same. If you are not available 24/7 but have particular business hours, then specify the same. It is ideal to disable the live chat when you are not available to answer your customer queries in real-time. You can use a pre-chat form and set it up when the chat is offline.
Be Human and establish a bond with the customer
It is important to establish a connection with the customer to make them feel that you are supporting them. It helps the customer to understand the conversation in a better way. You need to personalize the chat by addressing the customer with their name. A connection needs to be established with the customer while conversing. Empathize and acknowledge when they pour in their concerns and never try to wrap up the conversation immediately. Even some businesses opt for voice and video call to provide a much more effective option to help customers.
For example, take a look at this conversation in example 1:

Example 1 :
   Customer: Hi, I would like to get my order with order number #1287767 to be delivered by Friday.
   Agent: Your order #1287767 will be promptly delivered on Friday.
The above conversation is kind of a blank statement. It would be better if we put the same statement like in Example 2 shown below.
Example 2 :

Customer: Hi, I would like to get my order with order number #1287767 to be delivered by Friday.
Agent:  Hi, Kindly let me take a look at the order.
Customer: sure
Agent: Thank you for your patience. I appreciate it. Your order #1287767 will be surely delivered on Friday. In addition, I personally updated the shipping agency to deliver your order right on time.
In example 2, the agent is ensuring to be more humane in the conversation and helping the customer in a very clear conversation. It is always better to converse with the client in a less robotic way to keep them happy.
Focus on Solutions
Most of the support agents might just focus on establishing a connection and then assisting the customer. It would be rather better to focus on solutions than just randomly replying to the customer. A support agent must ensure that the reply that is given, is actually benefitting the customer. It should be able to give an ideal solution or at least a step closer to the solution.
Example 1: 

Customer:  I would like to know why my order was not delivered.

Agent: I understand your concern. We apologise for the inconvenience caused to you. The order was damaged during the transit, hence the order was returned to the seller. We have initiated a refund against the order.If you would like to place the same order again I can assist you on the same.

Example 2 :
Customer: I would like to know why my order was not delivered.
Agent: I understand your concern and we apologise for the delay. We cross-checked your order with the delivery agents,due to unforseen weather conditions during transit,there is a delay in the order. The order wll be delievered by tomorrow before 9 PM.
Integrating a CRM with a live chat
CRM comes in handy when you need to keep your data intact. Integrating a CRM with the live chat, helps you save all the conversational data and also keep it for generating leads in the future. The data stored can be a source for potential clients which can make your business grow. Most live chats are integrated with a helpdesk plugin. If you take the example of WSChat, it is also integrated with WSDesk in the simplest way to assist customers quickly and promptly. Integration with an efficient ticket management system helps to store data for further references.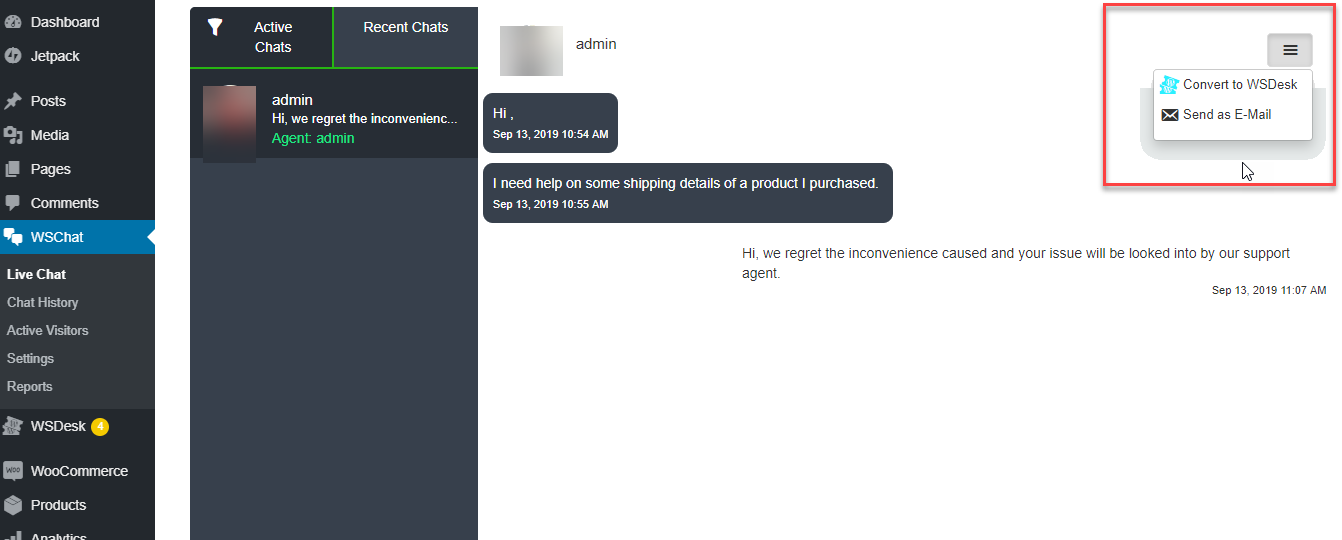 Using a helpdesk plugin like WSDesk, integrated with the live chat, it helps the customer in times of post-purchase assistance. If ever the customer requires any specific assistance that needs to be looked into beyond a live chat agent, a helpdesk comes handy. Moreover, a helpdesk plugin can also track down information on the user, regarding their past purchases or even their interests, etc. and offer much more for them, like a completely personalized shopping experience. It would be an ideal way to retain a potential customer by enhancing their overall experience.
To Wrap up
The above tips can help you offer great assistance to your customers. Make sure you choose the right tools that can provide you with all the necessary features to offer better assistance. The right combination of tools and agents will keep your customers contented.
Further Reading