Introduction
Do you want to start an eCommerce business, without huge investment and inventory to manage? Then dropshipping is the ideal solution. The dropshipping business sets you free from the various process like shipping, managing the inventory, or investing in the inventory as well as the initial huge investments required for starting an eCommerce business. All you just need is a right dropshipper and a dropshipping eCommerce website to sell the dropshipping companies' products.
What is dropshipping?
The dropshipping business model helps anyone to sell online without managing their own inventory. In this supply chain model, the retailer who is selling the products does not manage the inventory, shipping, etc, they sell their products as their own by purchasing from various dropshipping suppliers. The main way of earning is through commissions by selling dropshipping products.
So where do these retailers get their products from?
Certain companies allow their products to be sold online through other retailers to reach out to the vast areas for selling their products. In this way, the dropshippers need not worry about marketing their products. All they do is manage the inventory, share their product details to the retailers and then ship the products once the sale happens to the given address by the retailer.
Here are some major Dropshipping companies who are prominent ones in the market: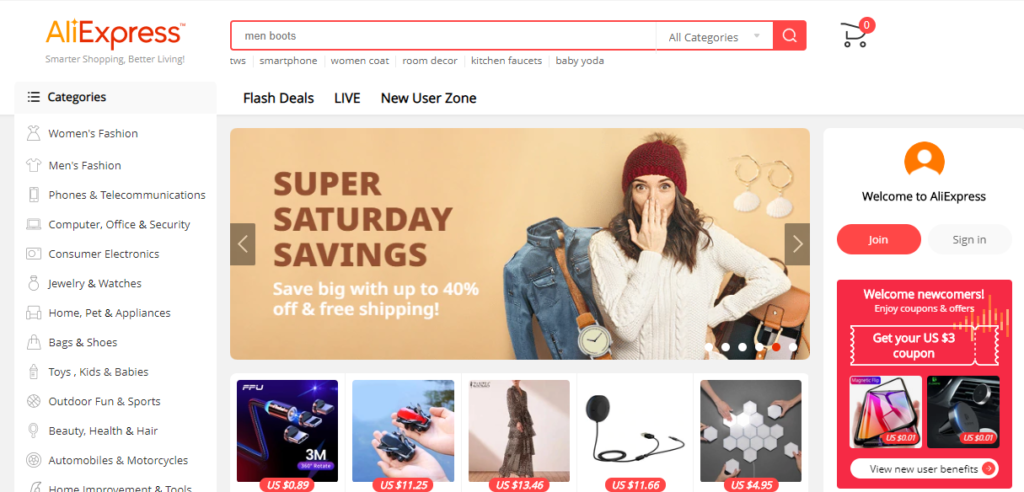 A popular platform for any dropshipping companies. With just a free sign-up, you get plenty of products to sell. You get to choose a plethora of products from various product categories from the AliExpress platform like electronics, footwear, DIY, cosmetics, accessories and a lot more.
Pros: Offers millions and millions of products to sell from the list with free shipping worldwide.
Cons:  As they offer free shipping worldwide, the shipping takes almost 10-60 days to reach the destination.
An ideal wholesale supplier directory that facilitates connecting the dropshipping supplier with the dropshipping companies and facilitates their growth. You can get a collection of products from the dropshipping companies but they are not free. Even for a sign-up, it charges close to $67/annually.
Pros: Provides a list of legitimate list of dropshipping companies. It also gives an insight into the popular products to choose from the list which are best-selling.
Cons: Sudden stock shortage will be experienced which is hard to handle.
Doba is yet another dropshipping supplier that helps to streamline the order management in an efficient manner. It has a directory of wholesalers and manufacturers to choose from. All you need to do is, select a product and start selling.
Pros: Over 2 million products offered for around 200 suppliers. Easy and quick access to products from various suppliers. You can bulk export from the store easily. Once you register with them, you get notified about discounts, seasonal products, etc.
Cons: Subscriptions plans are not cheaper. It has more expensive products on the list compared to AliExpress.
It contains a list of suppliers and products. The Wholesale2B is more into like an integration system to connect with suppliers. You get to purchase products and then sell them on any online platform like Amazon,eBay, WooCommerce, Shopify, etc.
Pros: Every plan has listing tools that help to upload products in just a click. You can also view the product catalogs from suppliers freely. The plans are affordable too.
Cons: You need to pay a 20% restocking fee when products are returned from the customers. Not many support channels to assist when needed.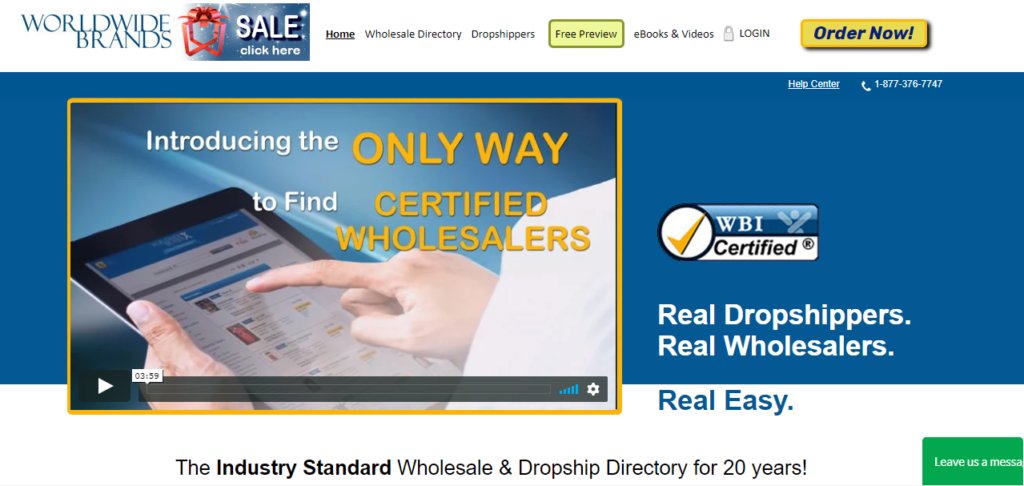 Worldwide brands contain a directory of both dropshipping suppliers and retailers who can exchange products in bulk at ease. The list has genuine ones who are completely reliable.
Pros: No restriction in the minimum number of orders. The dropshipping companies have to undergo strict verifications before appearing the list of dropshipping suppliers. Hence the list contains the best ones in the market. You can easily manage a business with multiple vendors from a centralized location. The one-time fee is reasonable and the membership never expires. The Worldwide brand directory is always updated from time to time with the list of products and suppliers.
Cons: It is not easy to make a profit by selling as some products may not perform well in the market. Moreover, you need to provide a resale certificate when placing a bulk order with the provider.
Wholesale Central has a list of dropshippers and wholesalers. Anyone can access the directory freely, at no charges. The directory has a great collection of product niches and is organized by product category.
Pros: Free to use and easy navigation.
Cons: The directory contains less list of Dropshippers.There are no automated tools that can help in business, hence no tools to integrate. Weak support.
Dropship Direct
It provides free access to the products in the store using the free account. You can select the product and then get the item to ship to the customers.
Pros:  Registration is free. The products are delivered without mentioning the supplier details. You have a great collection of products to select from.
Cons: Lacks a research tool. The website is unintuitive.
Sunrise Wholesale contains dropshippers and wholesalers offering a wide range of products in various categories like home decor, garden decorations, sports, and fitness, etc.
Pros: You can sell anywhere with a fast delivery option. It contains built-in shipment tracking.
Cons: Limited product choices. There are no international shipping options.
A simplified dropshipping model to work with. Specialized in consumer electronics and games. Has private label shipping and fast processing.
Pros:  Has the cheapest plan for subscription fees. If you are interested in consumer electronics, then this is the simplest and the low-cost one you can work with.
Cons:  There are no research tools available as well as no website integration to make work easy to upload products to the website.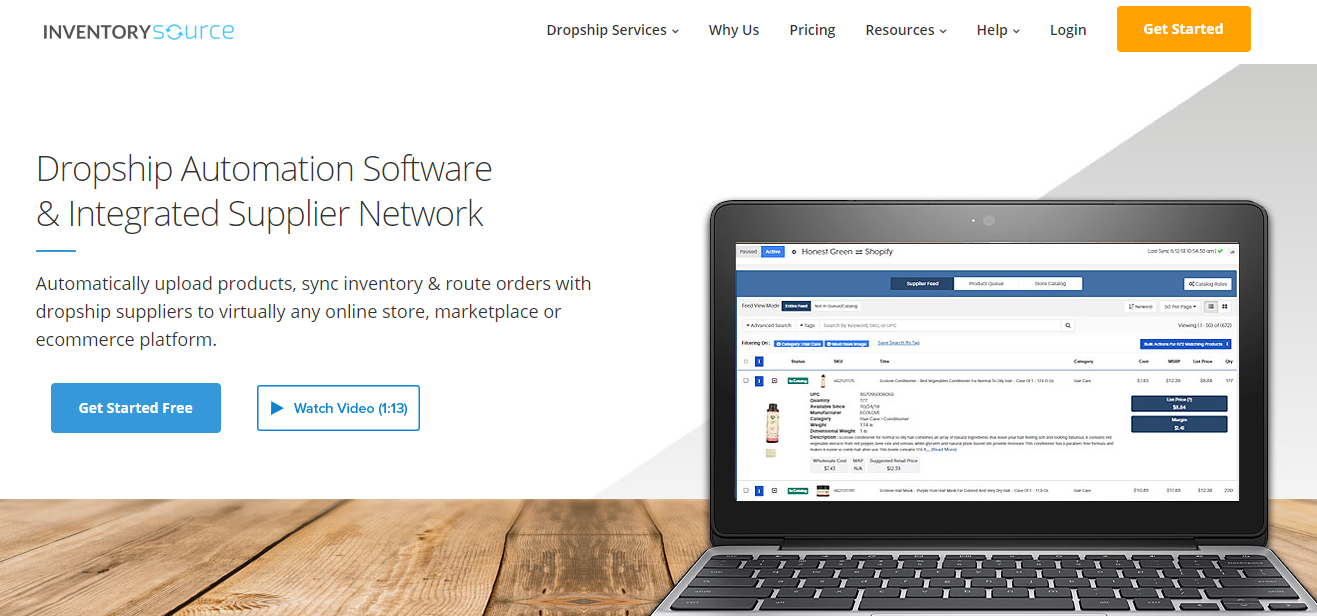 Inventory Source provides access to more than 150 suppliers and also lets us upload the product data in bulk. The tools provided help to find the best supplier that suits the need of the retailers. It also contains detailed product information.
Pros: The services offered are varied like inventory management, order automation, etc. You get vast product selection. Free access to the InventorySource account.
Cons: There is no market research tool. Each supplier has a separate fee.
Conclusion
Irrespective of the pros and cons, Dropshipping is the best way to earn easily. You need to select the best dropshipping providers and then build your store. You can also build a multi-vendor dropshipping marketplace for selling the dropshipping products easily. Also, dropshipping wholesale stores are easy to set up on a WooCommerce store. All you need is the right strategy to sell your products on popular marketing platforms like Google Shopping to reach the targetted audience to augment your sales.
Further Reading