Your customers want your brand to converse with them with ease, timeliness, and personalization. When linked with your existing systems and processes, a good live chat plugin for WordPress offers all three and more. By quickly addressing customer issues, live chat allows you to provide outstanding customer service. It can also help you increase sales by responding to inquiries in real-time, eliminating buyer dilemmas, and providing an assuring human touch. Are you on the lookout for the best WordPress chat plugin? Do you require assistance in determining which one best matches your company's requirements? There's no need to look elsewhere! We've done the homework for you and compiled a list of the top live chat plugins for your website. They're simple to use, give excellent results, and will help you improve your website's performance.
What Are the Benefits of Using a WordPress Live Chat Plugin?
Chat plugins are extremely beneficial for both customers and businesses. Most people prefer communicating over chats to making a phone call or sending emails back and forth. Customers' questions can be answered without taking up days or hours of correspondence with live chat plugins. As a result, live chat can keep customers happy and satisfied while also converting leads into paying customers.
Using a live chat plugin has several advantages, including the following:
Significantly cut down on cart abandonment rates.

Offer promotional discounts and cross-sell

Boost your overall revenue

Increase customer engagement 

Generate more leads and streamline the sales funnel

Increase brand loyalty
The 6 Best WordPress Chat Plugins 2023
Let's get into the best live chat plugins without any further ado. We suggest you analyze them carefully against your specific business requirements.
It is a simple, efficient, AI-powered automated chat response solution that allows you to easily connect with customers and convert their issues into trackable tickets. WSChat enables you to create and trigger canned responses to people's questions by allowing you to interface directly with Google's Dialogflow. Aside from ordinary conversations, you may capture and share photos and videos from the chat box, send and receive files, send the entire chat record to a user's email ID, and get fast customer feedback on their support experience. The plugin allows you to proactively initiate a conversation with visitors to help them better understand the services or products you offer. The plugin is hosted within your own website servers and does not rely on any external APIs, making the process as simple as possible. 
The LiveChat WordPress plugin is a versatile yet efficient choice for integrating live chat into your website. It is compatible with a wide range of WordPress site generators, making it simple and straightforward to set it up. LiveChat also works with popular e-commerce platforms like WooCommerce and other popular content management software. If you're in the e-commerce business, LiveChat's WordPress Plugin can be useful. Visitors are greeted by a friendly chat window at the bottom of the page when they use LiveChat. That chat box is consistently visible across your website and is only a simple click away. Your consumers can then offer feedback and rate their chat experience with your support agent when the chat is completed.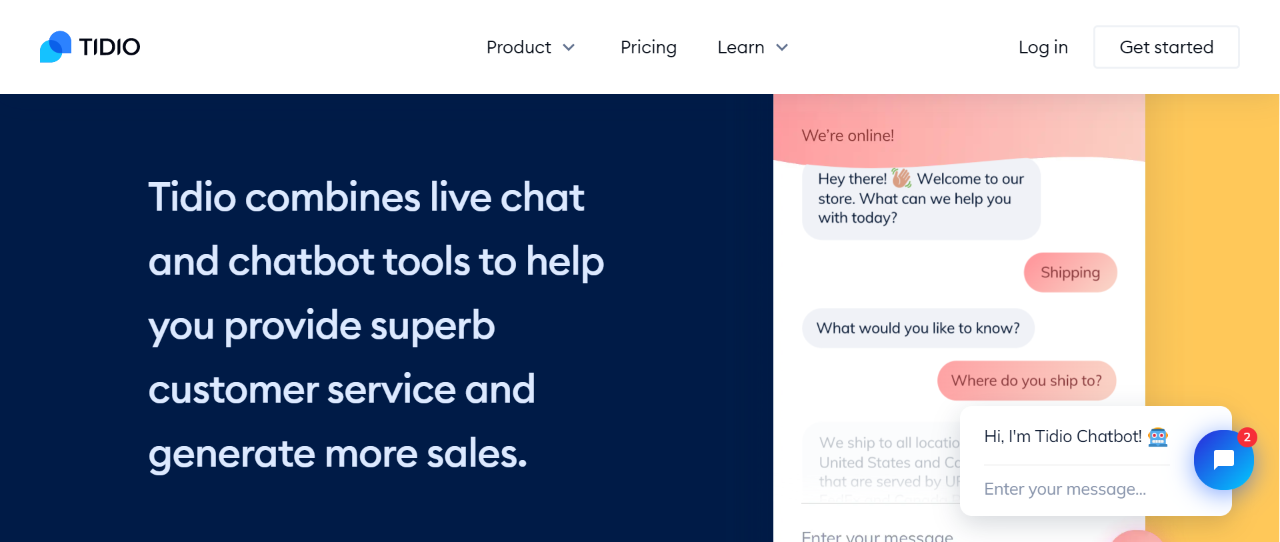 Tidio is the next firm on our list, and it provides an efficient live chat plugin with positive customer reviews. It's built for WordPress sites, and it includes email marketing services and a live chat feature. Installing and activating the plugin is simple. The plugin dashboard allows you to manage all customer interactions. A separate application for managing chats is also available.
Installing the plugin allows you to open several chat boxes on different pages of your website. You can utilize the plugin's email marketing tools to stay in touch with site visitors after they leave your website. This way, you can employ innovative approaches to convert website visitors into paying customers. The Tidio Live Chat plugin is a great option if you have a WordPress website and want to add a live chat feature. You can follow up with consumers after they leave your website thanks to the integrated email marketing, transforming your help channels into a sales funnel entrance point.
HubSpot provides live chat and chatbots to help your customer support agents do their job more effectively. You may talk to visitors in real-time using HubSpot and the whole chat history with customers is saved in the plugin. Additionally, HubSpot's 24/7 AI chatbots can assist customers during non-business hours. Bots are capable of qualifying leads, answering queries, and scheduling meetings as well.  Live chat, helpdesk, automated chatbots, and much more are all included in the Service Hub package, which is available as a WordPress plugin. To guarantee that your communication process is streamlined and efficient, you can scale your support services and connect all of your communication channels together.
The live chat software from Olark is noted for its stunning balance of complexity and ease of use. Once activated, you can set process rules, personalize your chat widget, save conversation history, and do a lot of other things. You can also add API calls and configure your Olark live chat to translate any chats to your website visitors' set language from within your WordPress admin panel. Every chat box receives a comprehensive overview of the customer's activities on your website.
You can even see the pages they've visited as well as their activity on those web pages. After the conversation has concluded, the customer can provide feedback and rate the support service. Olark will be ideal for companies that rely on customer service interactions to help them sell more. It will also be of great help to small teams aiming to effectively enhance their customer support service workflows or midsize organizations trying to scale.
Crisp Live Chat Plugin is another fantastic live chat plugin. You may leverage many marketing technologies, such as Customer relationship management and email campaigns, with this plugin. Crisp Live Chat Plugin is a free WordPress plugin that adds a stunning and efficient live chat feature to your website. This plugin is a great option if you want to grow your mailing list and sell more efficiently. You will generate more leads if you use this plugin to improve your communication with customers. Crisp advertising and marketing tools are available to you through the Crisp Live Chat Plugin, which you may use to engage with your visitors.
To Wrap Up
This brings us to the end of our list of the top six WordPress live chat plugins. You need to know your exact requirements,  processes, existing structure, and potential expansion goals to accurately select which of the top WordPress chat plugins is suitable for your business. Which one you choose will be determined by your individual requirements for live chat. If you have any queries about live chat plugins, please leave your questions in the comments section below.
Further Reading