Assume your internet store is experiencing tremendous growth. Your messaging is customized and persuasive, you've integrated product suggestions, you're consistently optimizing your funnel with a/b testing, and your traffic is increasing month after month.
Would it surprise you to find that more than two-thirds of your transactions are probably not closed?
Retailers lose $18 billion in annual sales because over 75% of online customers abandon their shopping carts before checking out. Although it could be unavoidable, merchants can reduce the amount of shopping cart abandonment.
So what distinguishes a cart email approach as unique? Well, consider the figures: Emails about abandoned shopping carts had open rates of over 45%, compared to the typical email open rate of approximately 15%. That is three times as many.
The purpose of this post is to focus on the strategies that are maybe the most effective yet underutilized strategies for recovering lost sales from abandoned carts with the help of recovery emails.
A Brief Understanding of Abandoned Cart Emails
A follow-up email known as an "abandoned cart email" is sent to a user who leaves a website without making a purchase from the products they had in their shopping cart.
A cart abandonment email is intended for 7 out of 10 customers who abandon their carts before completing the transaction. By doing this, you may frequently recoup 10% or so of lost sales.
The major advantage is that, with the appropriate setup, you can create an automated abandoned cart email sequence that sends out and recovers lost sales.
Look at these statistics to understand the importance of recovery emails.
Opening rates for cart abandonment emails are 45%.

The click rate for cart abandonment emails is 21%.

50% of the clicks result in a returned on-site purchase.
There are several email formats that you may use to communicate with your clients. With those figures, however, abandoned cart emails outperform practically every other kind of communication in terms of return on investment (ROI). Emails sent in response to cart abandonment have a high open and click-through rate.
However, achieving this ROI is not a given. You must first understand the causes of cart abandonment if you're going to send emails that are actually successful.
Why do shoppers leave their carts behind?
You can't do much about some abandoned shopping carts. Some consumers never intended to purchase anything; they were only browsing or doing price comparisons.
But disregard your concerns about them. The folks you should pay attention to are ones you can get back, such as those who were only sidetracked or perplexed by your checkout procedure. These folks, as opposed to others who are just looking, leave their baskets empty for things you can change.
Here are the main causes of cart abandonment as well as ways you can address them.
The added expenditures are significant. Look at methods to decrease unforeseen delivery expenses, for example by switching mail services or utilizing less expensive packing. Since Shipping costs are one of the main reasons for cart abandonment, it is better to offer free shipping.

compelled to create an account. Many websites that give users the opportunity to register nonetheless let them check out as guests.

prolonged checkout time. Is your checkout procedure very difficult? Look for stages that you can combine or perhaps totally omit.

No way to view the total price. At every stage of the checkout process, show the most recent cart totals to prevent adding "surprise" fees at the last minute.

lack of confidence in the website. To relieve your clients' concerns, display your eCommerce security certifications by displaying a badge as well as testimonials.

website crashes or problems. Even if some crashes are beyond your control, you should nevertheless test your website on various browsers and mobile devices.

A sluggish delivery estimate is provided. Customers demand prompt delivery in the era of next- or same-day shipping. It is better to offer quick as well as smooth shipping.
How to check the frequency of shopping cart abandonment?
What is your rate of shopping cart abandonment? You may use tools and techniques like: to determine why customers are abandoning your checkout process.
Google Analytics helps you examine your website's consumer journey to see where exactly they are leaving.

Conduct research to understand your target market's expectations for comparable items and their buying patterns.

Surveys are ideal to identify pain issues you may improve, and ask consumers through email about your checkout process and their purchase intentions.

Learn how people actually behave by seeing where they click on a website, how far they scroll, and the graphical outcomes of eye-tracking testing with heat maps and click maps.
Most purchases may be recovered if the underlying causes of cart abandonment have been identified.
Gaining back lost sales depends on understanding why a product was added to a cart. Once you get the response, you can start drafting the ideal emails for abandoned shopping carts.
Before we get into the examples of ideal recovery emails, let us take a look at the crucial features of an abandoned cart email.
Crucial Aspects to Include in Your Abandoned Cart Emails
Best practices for abandoned cart emails go beyond understanding what to put in emails and how many mailings to send. To increase open and click-through rates, each email should be properly written.
Create a catchy subject line
The first thing email recipients see is the subject line. The likelihood that receivers will open your abandoned cart emails improves with a catchy subject line.
Create a customized email
Abandoned cart emails should also be personalized, much like marketing emails. This might be as straightforward as addressing your receivers by name or as complex as creating customized follow-up emails using data from list segmentation.
Showcase the items in the abandoned cart
A screenshot of the items in their basket, along with pricing and totals, is one of the most crucial components of an abandoned cart email. It is personalized by including the items from the abandoned cart.
Provide social proof
Social proof is "important to growing your brand," according to entrepreneurs, for a number of reasons. They are beneficial for growing existing leads as well as for developing your business.
When compared to your top rivals, social proof may make your brand appear more engaging, which may cause customers to reconsider their options.
CTA (Call-to-Action)
You should persuade customers to finish their purchases in your abandoned cart emails.
Your consumers will save time, find it simple to evaluate their options and be more motivated to finish the transaction if you provide a CTA button that leads them straight to the checkout.
Examples of Ideal Abandoned Cart Emails
North Face
Few cart recovery emails make use of visual clues to support their points. With their innovative cart abandonment email that uses a guy climbing as the visual indication, The North Face establishes a standard.
A visual cue is a sensory indication that directs users' focus toward crucial components.
Important Elements:
Use suggestive signals to sway judgment

More conversions are assured by an abandoned cart message that lowers the effort of the reader.

The email is legible and makes decision-making simple because of its color scheme.
J.Crew
The elegant brand image that J. Crew seeks to project is evident in their approach to their cart abandonment email. There are call-to-action links for additional pages on the website, in case the buyer wants to look at new arrivals, fall finds, or styles J.Crew likes, in addition to letting the user know that there are things in his or her shopping basket.
Have you ever noticed how their email mimics the layout of their online store? This is done on purpose so that the user can remember the acts they made before receiving this email.
Important Elements:
A classy email design that stays true to the company.

There are several ways to buy in other categories as well, such as new releases and the fall sale.

A user interface that is comparable to that of their online store aids in preserving familiarity.
Thrive Market
From a wide collection of abandoned cart email instances, here is an intriguing angle. You may find out how much money you'll save by shopping at Thrive Market rather than at other stores. Additionally, the call to action button is green and has other neutral hues. Thrive Market is making sure they don't overburden their cart abandoner with information with an email this is direct and to the point.
They also identify the items and the amounts the buyer may save on each in this second section of their email. At last, they provide a promo code as a final inducement to close the sale. The text that appears underneath the voucher also aids in persuading customers of its value.
Important Elements:
An illustration that compares the customer's potential savings with those of other competitor websites.

Utilizing a straightforward, minimalistic style and contrasting hues.

A discount code and persuading text to entice customers to move forward.
23 And Me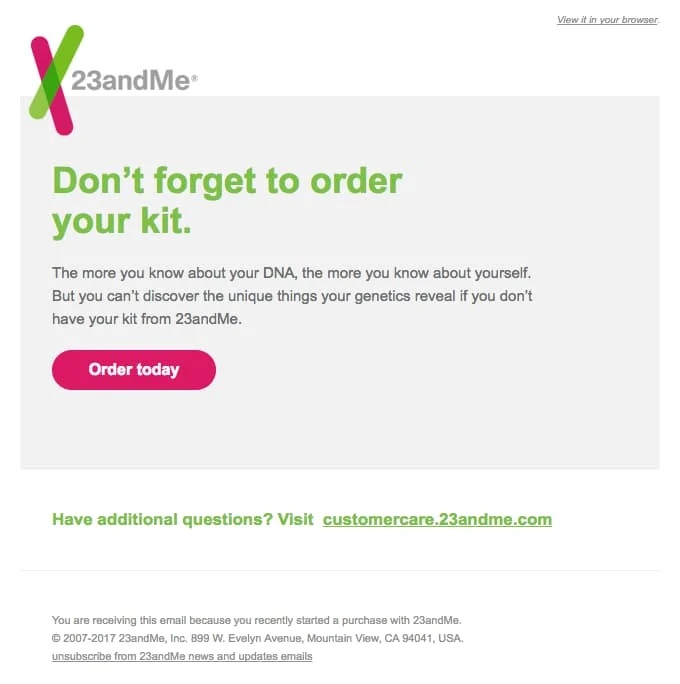 23 And Me's abandoned cart email is concise, to the point, and contains only three words: "Don't forget to get your kit," the text for the call to action button, and the ending phrase to answer any queries. With the help of this email, clients may avoid being sidetracked by unimportant information and concentrate on doing the action 23 And Me wants them to: making a purchase.
This somber and straightforward email ensures that the customer is not overloaded with irrelevant information and does not stand out in their inbox. The light color scheme, which I utilized in this email, may readily be blamed for this.
Important Elements:
Keep the copy concise, focused, and free of unnecessary details.

Urgency is the key factor in the material, including words such as  Order today", and "don't forget to order your kit"

Include space for an email address in case the customers have any questions.
Ugmonk
Only text emails for cart recovery? That's a first for sure. And for that reason, Ugmonk's strategy for their abandoned cart email is so unique and novel. They struck a home shot in terms of engagement by focusing only on personalization and giving the impression that the owner and designer are getting in touch with you personally to answer any questions.
The email text also has two in-line call-to-action buttons, allowing the buyer to finalize their purchase immediately if they choose. Try it out as it's a straightforward strategy that your target audience could enjoy.
Important Elements:
a sincere and useful message that is individualized.

Providing the ability to respond to correspondence promotes interaction and trust.

Remind customers of the items they left in the cart by providing a preview via link.
Puma
In this email, Puma really cranks up the sense of urgency, and it works. The geometric style of the call to action button and its contrast brings attention to it .
Puma is largely a retail shopping brand, so take note of how one call to action directs the customer to locate a local store. In terms of originality of thinking and inventiveness, this cart abandonment email performs well.
Important Elements:
Design that closely resembles the brand's logo and colors

Plays on the idea of scarcity by stating that some items will be out of stock

Another layer is added to the conversion funnel by the opportunity to find a shop at the top.
Google Store
This is a perfect example of an abandoned cart email because it includes every element: Great copywriting, a clear call to action button, personalization by showing the customer's cart details, and urgency through creative copywriting. With text like "Going, going, (almost) gone" customers are engaged with the email. They also feel compelled to complete their purchase so they don't miss out.
This email closes with a call to action to subscribe to their product and service updates. Again, Google focuses on ensuring the customer feels like they don't want to miss out on anything. And do it well.
Important Elements:
The email provides a good copy along with a catchy title.

The minimalist design helps customers stay distraction-free.

Highlights customer perks like free shipping.
DoggyLoot
Who doesn't enjoy seeing lovely puppy pictures? And it's simply frosting on the cake for you when people identify your brand with pets. This email from pet-related online retailer Doggyloot is sweet but not over the top.
Hurry, don't let these discounts escape! is a quote that accurately describes the brand and its target market. The call to action button language reads, "Fetch your goods now," and when we look at the same thing more closely, we see, "Lots of licks." This email has a lot going for it in terms of text, relevancy, and the capacity to connect with its target audience.
Important Elements:
The dog's image appeals to the reader's empathetic side and personalizes the message.

"Lots of licks" and "collect your goods" are in keeping with the brand's message in the text.

The email has a Deals and Subscriptions area at the top that focuses on client retention.
Mango
This is just one of several abandoned cart email samples that include an urgent call to action. Here, the message is unmistakable: "Finish your purchase before they sell out!"
This is a fantastic illustration of a subtly executed cart recovery email. Along with the product photograph, Mango also provides the customer's preferred size, color, quantity, and price in pounds in the email. Despite seeming very light on the eye, Mango's high-contrast, recurring call-to-action buttons are effective!
Important Elements:
keeps the design straightforward and uncomplicated.

Make sure to draw attention to important information about the product in the email so that the recipient can quickly decide.

The email encourages people to continue shopping by including a CTA.
ASOS
With this email, ASOS has nailed brand recognition. It resembles the store's site remarkably, and with good reason (we mentioned above). Along with some light comedy in the headline and content, the messaging is also true to the brand. The ASOS marketers are well aware of their target customers.
To aid the recipient's recollection, the email includes a photograph of the item in the cart. The email serves as a reminder to recipients that delivery is free and returns are simple. Removing the danger of making the purchase, will increase conversions.
Important Elements:
By separating the email into many parts, it makes the user interface less cluttered.

Focuses attention on the product by spending nearly the whole email doing so.

Highlights advantages such as free delivery and simple returns.
Dollar Shave Club
Since Dollar Shave Club is recognized for its superb marketing, it should come as no surprise that it is one of our samples of abandoned cart emails that is the most enticing. The interesting image of the bear hiding its eyes will entice people to read the email.
The content is written in conversational, informal language that is ideal for the target market of the organization. This is continued in the client testimonials, which are introduced with the phrase "Don't Just Trust Chuck." Overall, I really like the sense of fun and individuality.
Important Elements:
By using the mascot and phrases like "Shave Time, Shave money," the design and language stay true to the brand.

By including customer testimonials in the email, one may increase social proof.

focuses with the CTA on client retention and exclusivity Enter the Club.
Conclusion
You are immediately situated in front of the curb when you set up an abandoned cart series. The abandoned cart email may be approached in a variety of ways, without a question. We advise testing each of the several approaches to discover which resonates most with your audience.
Emails sent in response to abandoned shopping carts may surprise customers everywhere they interact with the business. You may regain lost money and win your customers' confidence and loyalty with strong copywriting and branding.
Further Reading