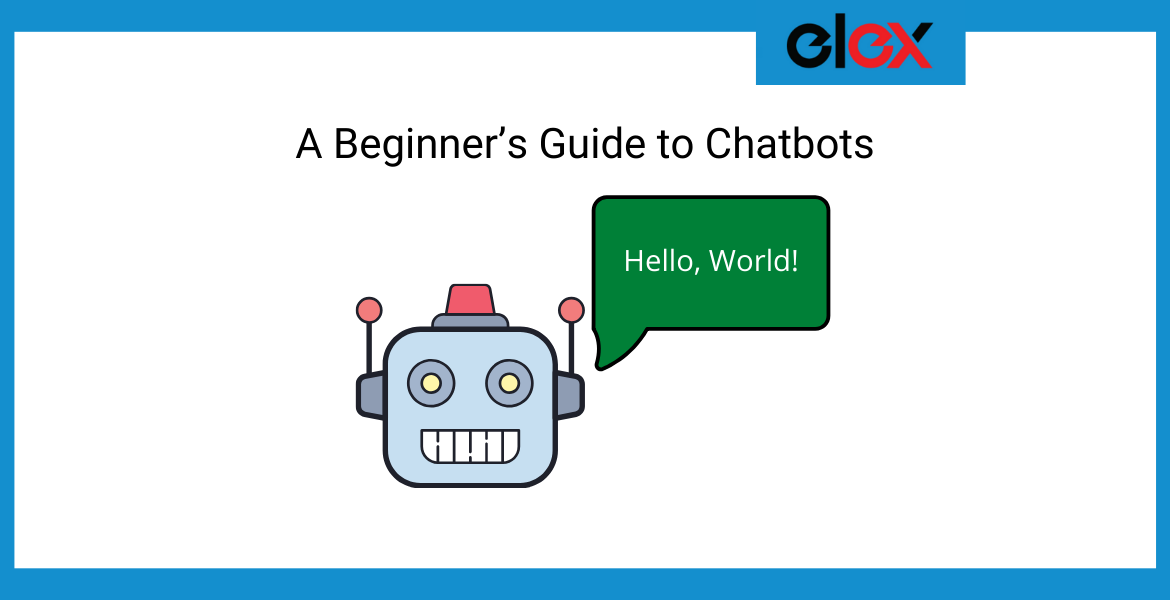 A Beginner's Guide to Chatbots
This article guides you through different topics like what are chatbots and why are they important, how chatbots are used by companies for marketing and some of the effective tips to build a chatbot conversation.
What are Chatbots?
Bots are nothing but software that does automated tasks. Bots coming under chat platforms are known as chatbots. Chatbots are meant to have a conversation with humans. For example, the user could ask a question or give an instruction to the bot and it will respond or do the action.
There are some common misconceptions regarding chatbot conversations. The first thing is that people think that it is not possible for a chatbot to solve human issues. They think that chatbots create frustrations when the expectations are not met.  Another misconception is that many of them think that chatbots can only communicate through text or voice. But actually, chatbots can interact with humans via graphical interfaces or graphical widgets.
Chatbots can work with different chat platforms such as Facebook messenger, SMS, or Slack. Each platform has different functionality and features which determines the ways in which the chatbots can interact with the user. The actual behavior of the chatbot is determined by the bot itself.
Why are chatbots important for customer experience?
Chatbots can be used in many ways to improve the customer experience.  This includes providing customer service, presenting product recommendations and engaging customers through targeted marketing campaigns, etc. When customers get everything in handy with quick response, then why should they bother about the human technical support which held them long in a call. Sometimes even makes them wait for several business working days.
Chatbots collect authentic information from customers. Based on this information they can provide real-time information to human operators. So with this, we can say that chatbots act as virtual operators. By analyzing the past data and current data, these live agents can give significant information and answers to the clients based on the user experience.
One of the main advantages of a chatbot is "Reduced Human Error." Even though, saving customer's time and providing them accurate solution or information would be the primary goal of every company. In that case, we can trust Chatbots. Even now or later we may forget, but Chatbots don't! Everything is pre-designed with the set of customized queries. If in case the chatbots are not able to fetch the information, then it will take you to the FAQ section. There you can see the frequent queries and their solutions.
Another way how chatbots are important for customer service is that no human can work 24*7 but chatbots do! So you don't need to worry if your customer is having a different time zone. These chatbots can do the work for you by giving instant replies to all your customers which will increase your customer experience.
How to use chatbots for marketing and sales?
With the advancement of Artificial intelligence(AI) and Natural Language Processing(NLP), chatbots have been evolved significantly in recent times. They are now very much advanced that they can be used for extremely sophisticated and versatile tools that can help you automate a number of your business processes. Apart from using it as your customer care, chatbots can be also used for marketing and sales. Below are some tips to use your chatbots for marketing and sales.
1. Offers a personalized experience
What if you are interacting with someone whom you already know? It can completely change the nature of a conversation. Chatbots can collect all your previous data from social media and other platforms. If a customer comes up with a query, the chatbots can give them accurate answers and can provide them with a bit of personalized shopping advice based on the user's previous purchase history. When the users get to see this personalized advice, chances are high that they buy your product. Thus you can market your products through chatbots.
2. Wider audience reach
Since chatbots are mostly found on social media messaging platforms, they have the potential to reach a wider audience. They can reach a new customer base for your brand by tapping into new demographics. Chatbots can be easily integrated into different social media messaging applications and make your product easily reach your new customers.
3. Collect and analyze customer feedback and data
Chatbots provides you an opportunity to collect feedback from your customers. Unless there is something interesting to do so, people don't want to spend their time completing surveys. A chatbot makes it more interesting and collects the customer feedback by naturally introducing questions to their conversations.
In addition to that, with the right machine learning tools, your chatbot can analyze feedback and other information that is gathered from users, giving you more insight into what your audience truly wants. With this you can create a marketing strategy focussing on your customers, thus creating more of an inbound marketing approach.
4. Send appropriate notifications
Your customers won't be interested in your email notifications regarding your new releases or new updates or services etc. So by using a chatbot, you can analyze the data and send personalized notifications to your customers. This can make marketing easy and interesting.
5. Make the interaction more fun
There is no doubt that chatbots can bring you quality information. Apart from that, using a chatbot can make the interaction more fun. For example, take Whole Foods chatbot. This chatbot allows customers to search for recipes by using simple emojis through Facebook messenger. Using chatbots this way can make your marketing more fun and interactive. Not only that, it can leave a lasting impression on the user. It can also increase the number of visitors to your site.
6. Make your brand proactive
Most of the brands have a lazy approach to contact their customers for marketing. They only communicate with those who have contacted them before. A chatbot can automatically send a welcome notification as soon as a new customer visits your webpage or social media profile. This approach makes you seem more proactive and can improve your audience interactions.
7. Make your buyer's journey easy
Developing a relationship with your buyers at every stage of the sale process is very important for each and every company's marketing strategy. Chatbots collects necessary details and create personalized messages to lead your consumers through their buyer's journey. By doing this you can convert most of your website visitors to your buyers.
8. Improving social media presence
You can make your customer service team answer each and every question on your social media profile. But it is extremely time-consuming and expensive. With a chatbot enabled, you are making your brand available to your customers 24 hours a day and seven days a week. Not only for saving money, but chatbots can also improve your brand's social media presence and thus improve sales.
Tips to keep in mind when you built a chatbot
As chatbots are widely accepted by more and more companies you can see more of the companies implementing them on their social media and websites. As we know, chatbots can be used for many reasons but most of the companies use it as customer support. The following are some of the tips to keep in mind when you built a chatbot:
1. Define goals
Before you start building a chatbot, you must define the purpose of the chatbot for both your company and the audience. The chatbot can be used for different purposes such as collecting your audience data, providing social media support, increasing your website traffic, boosting sales, etc. These are the ways your chatbot can help your business.
Apart from that chatbot can help your customers in many ways. It can offer easy access to information regarding services and products, providing quick support, entertaining customers while they speak to a human representative of your brand, solving many problems related to orders and accounts. Whatever may be your use, be sure you are clear about it because you don't want to lose the focus when designing the conversation flow.
2. Improve customer experience
In most cases, it is easy to understand that if you are talking to a human or a chatbot. Make sure that your customers know that they are talking to a chatbot. You can do this by providing a welcome message. Another important tip is to make sure of quick replies. This will help guide customers to better outcomes.
You can also add emojis wherever possible. This will make the conversation more friendly and fun. Contextual responses are also very much important. Whenever a user chooses a quick reply option, the bot will send an answer and provide another set of questions if necessary. At last these quick replies will lead to a solution to the issue.
3. Designing the conversation flow
Designing the conversation flow is one of the most challenging parts while building a chatbot conversation. We are all humans and we are prone to make mistakes. There can be typos that are something that some chatbots aren't yet designed to understand. Also, try to create yes or no questions so that you will get specific answers which will be more effective.
4. Make chatbot with a good personality
With the advancement of artificial intelligence, you don't have to launch a chatbot that's limited to specific sentences. Try to build a chatbot that has some personality. You can impress your customers and make your brand reputed if your chatbot is having a good personality.
5. Back your chatbot with a human
The technology used in chatbots is not perfect. So it is necessary to back your chatbot with a human representative. Provide your audience with the chance to speak with customers in order to avoid unsatisfied customers.
Additional tip: If you are planning to create a Chatbot from scratch, take a look at these tips from the industry experts.
Concluding comments
Chatbots can be useful in many ways which is the reason why it is difficult to give a proper definition for it. The chatbots can be useful in many ways like ordering food from a restaurant, retail stores to share promotions for their customers, a marketing campaign that asks questions to customers, to help customers make e-commerce purchases, to answer customer service questions, to monitor employee or customer satisfaction, to enable customers to book flight tickets and to know relevant information at the airport.
All these are examples of how chatbots can be useful in your business.
So how are you going to implement your chatbot? Let us know in the comment section below. Hope this article was helpful.
---
Explore our blog section for more articles.
You can also check out WordPress and WooCommerce plugins in ELEX.