Have you ever found yourself wondering just how to leverage discounts for your WooCommerce store? If so, you're not alone. Believe it or not, many e-commerce owners struggle with this same issue.
It's understandable, discounts are a great way to entice customers and boost sales, but manually setting and/or updating discounts can be a real headache. Fortunately, there's another way to automate discounts: Smart Coupons.
In this article, I'll explain exactly what Smart Coupons are and how they can help you quickly set up automated discounts for your WooCommerce store in the form of abandoned cart emails. Let's get started!
What are Smart Coupons?
So, what is a Smart Coupon? It's an automatic discount for WooCommerce shopping carts that are designed to simplify your discount strategies. It's easy to set up and configure, plus it enables discounts for first-time customers, repeat customers, loyalty programs, and more.
With Smart Coupons, you can quickly create customized coupons that directly connect to your WooCommerce store. That means promoting discounts becomes easier than ever, you can set them up for a specific deal on any product or promotion code for multiple products in one go.
Plus, you'll be able to target particular groups of customers with unique discounts that are tailored to their interests and preferences. Smart coupons also allow you to set expiration dates on the codes so they won't affect your overall revenue plan over the short- or long term.
Bottom line: there's no reason not to get started with Smart Coupons right away. With a few clicks, you can save time and money while boosting customer engagement through automated discounts.
How do Smart Coupons Help Recover Abandoned Carts?
Do you want to make discounting easier on your WooCommerce store? Then you'll definitely want to look into Smart Coupons. Smart Coupons are an interesting feature provided by a bunch of plugins that help merchants save time and money by automating discounts for abandoned carts.
Here are some of the benefits you'd get when using Smart Coupons:
Easily set up discounts applicable to multiple types of products

Send automated discounts & coupons through email

Automatically apply coupons to user accounts when they make a purchase

Control the start and end date for coupon codes

Offer bulk discounts for multiple purchases at once

Track the total number of coupons used & redeemed by customers

Generate coupon codes from the back end and monitor their usage in real-time

Set up unique parameters for each discount code like maximum usage limit, minimum order value, specific product, etc.
With these awesome features, you can easily automate discounts on your WooCommerce store and save a lot of time in the process. Smart Coupons are an essential tool for any WooCommerce store looking to make their discounting process easier and more efficient!
Benefits of automating abandoned cart recovery
Sending your customers automated abandoned cart emails is more than just good customer service, it's a great way to increase sales and rebuild shopper trust. Leveraging targeted coupons and personalized messages can help you recover abandoned carts more effectively.
To get started, here are some of the benefits of using automated abandoned cart emails:
Generate revenue from orders that would otherwise be lost

Re-engage with potential buyers quickly

Improve customer loyalty by providing helpful incentives

Reach customers at critical moments in their purchase journey

Keep your brand top-of-mind with shoppers who didn't complete their purchase
By sending timely reminders and discounts to customers, you can keep them engaged in their buying process and help them return to your store to complete their orders. It's a win-win solution for both stores and shoppers!
How to Set Up Automated Discounts Using Smart Coupons
If you're looking for a way to set up automated discounts for abandoned carts in your WooCommerce store, the ELEX WooCommerce Abandoned Cart Recovery with Dynamic Coupons plugin could be the answer for you. With this plugin, you can easily set up automated discounts that you can assign to customers who abandon their carts.
In order to set up the coupons, we need to first tweak the plugins' settings. Start by installing and activating the plugin on your WooCommerce website. 
Once the plugin is active, you may go ahead and access the plugin's settings by going to WordPress Dashboard > Plugins > Installed Plugins > Abandoned Cart > General Settings. Now let us go ahead and customize the settings in order to enable smart coupons.
General Settings
Under the General Settings tab, you may go ahead and enable the abandoned cart recovery feature along with customizing miscellaneous settings.
To designate an order as complete, choose the WooCommerce order statuses that indicate successful cart recovery, enable the Enable Abandoned Cart option, and enter the time limit beyond which a cart will be labeled abandoned next to the Abandoned Cart Time Interval option.
You may also decide when the cart will be declared expired and will no longer get recovery emails. (This is a premium feature.)
Enable the Capture Abandoned Cart for Guest User option under Guest Users Settings if you want to track abandoned carts for guest users and only the valid email format.
Under Notification Settings, enable the Email Notification to Shop Owner on Cart Recovery option and change the email's text and subject as needed to notify the company owner when the cart is recovered.
GDPR Message Configuration
You may change where and how the GDPR compliance notification displays using the GDPR Settings. 
Next, navigate to the Email Settings tab.
Email Settings
You may use the three sub-tabs under Email Settings to customize the criteria for sending recovery emails, their templates, and the automatically generated smart coupons. This tab is crucial for setting up and customizing the email templates along with their associated discounts.
Under the Email Rules tab, click Add New Rule, provide a suitable Rule Name, choose the AND/OR Rule Type, and then click Add Filter. There are various rules that can be modified.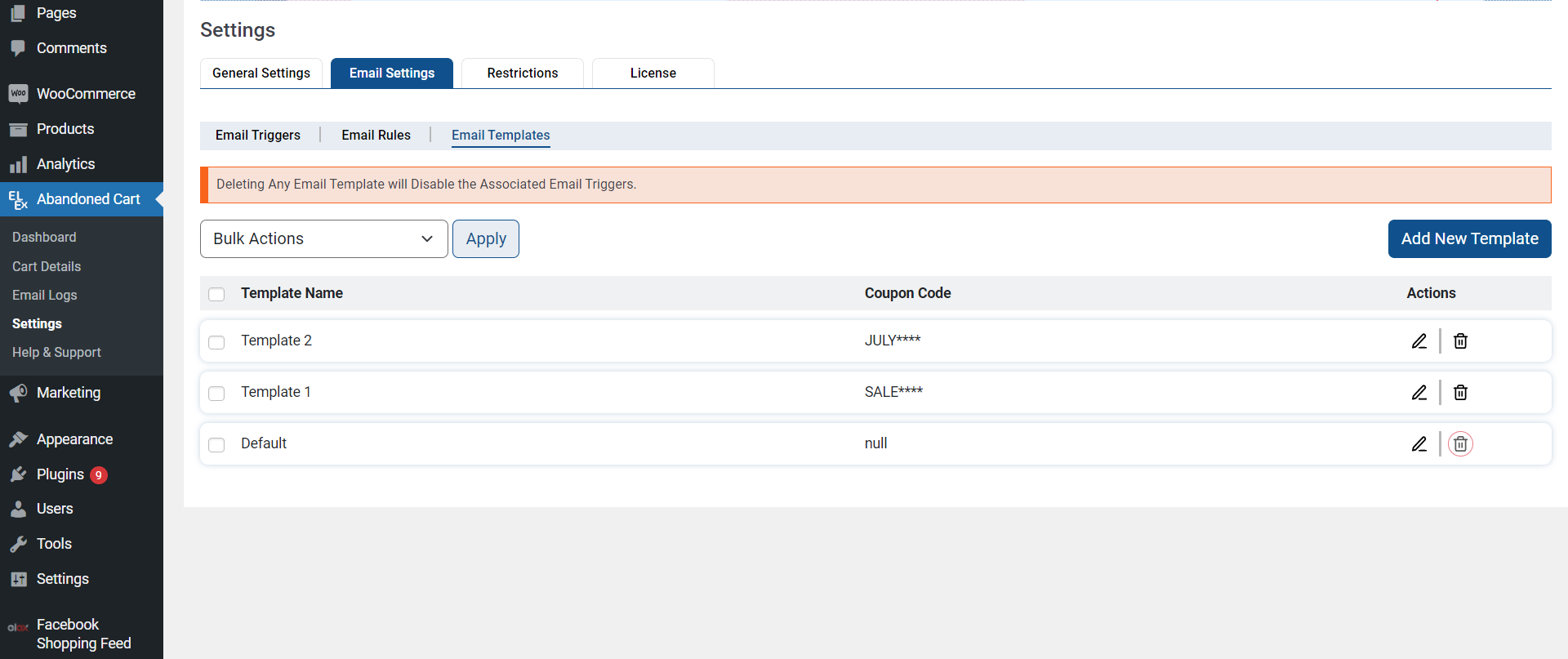 This part is critical to understanding this topic since it allows you to create, update, and remove email templates. If a purchase is abandoned, these email templates, along with the dynamically generated discount coupons, will be sent to the visitor's email address.
A new email template will be produced if you select Add New Template.
Personalize the Smart Coupons
You may select whether to upload a new template or alter an existing one on the Edit Email Template page along with the ability to insert a smart coupon and more.
Select the discount type (Fixed, Percent off, etc.), the amount of the discount, and whether the coupon should be valid only once or multiple times. Then, enter the prefix of the coupon code. (Such as SALE50, with the term "SALE" being the prefix)
The discount coupon can also be linked using the abandoned cart products or the customer's email address.
Using the provided shortcodes, you can edit the email body and add specific elements to the email such as [customer_firstname], [customer_lastname], [cart_products], [cart_link], and [cart_unsubscribe].  Once you are done customizing the template, you may send a test email to yourself to see how the email turns out.
You can adjust recovery email triggers under the Email Triggers tab of the email settings. Change the email trigger time, toggle triggers on and off, or remove all triggers from this page.
Cart Details
You may view all abandoned and recovered cart data under the Abandoned Cart Details page.
By automating the discount process with Smart Coupons, you can save time and resources while still giving customers a great shopping experience. Plus, you'll be able to track your campaigns and see which ones are most effective at driving conversions, helping you make smarter decisions about marketing strategy and promotions in the future.
Best Practices while providing discounts for abandoned carts
When it comes to providing discounts for abandoned carts in WooCommerce, there are some best practices you should keep in mind.
Keep the discounts small
Although it might seem like a great idea to offer large discounts, this can create the wrong impression of your brand. You want to make sure your customers consider your products valuable and don't feel they're being given a discount because what you're offering isn't worth a lot.
Avoid spamming customers
The emails as well as discounts should not be sent too frequently as this can also give potential customers the wrong impression of your business. In general, it is recommended to send only one or two emails and limit them if possible.
Personalize messages
The more specific you can get when personalizing messages sent out with the discount offers, the better results you'll get. Customers need to feel that the discount offer was specifically created for them, so make sure to add personalization such as their name, items they were interested in, or any other relevant information.
Using Smart Coupons will help you automate discounts for abandoned carts and make sure that it doesn't have an adverse effect on conversions. But by following these best practices, you can get even better results from using Smart Coupons.
Conclusion
In conclusion, utilizing smart coupons to automate discounts for abandoned carts in WooCommerce is a smart and practical method to recoup lost sales and promote customer loyalty. You may attract clients who have abandoned their shopping carts to complete their purchases and return to your store by giving discounts or incentives. Smart Coupons allows you to set up automated discount rules, measure coupon usage, and modify your offers to meet the needs of your business. 
You can streamline your sales process, minimize cart abandonment rates, and eventually expand your business by using this method. Consider utilizing the ELEX WooCommerce Abandoned Cart Recovery with Dynamic Coupons plugin if you want to boost your online sales and customer satisfaction.
Further Reading