If you are all done customizing your WooCommerce store and planning to use DHL services for shipping, then this article will guide you on how to add DHL shipping to WooCommerce for free. Let's discuss which plugin is most suitable for your needs and also discuss the premium features of the plugin.
How to Add DHL shipping to WooCommerce for Free?
To use DHL services on your WooCommerce store you can download the free version for ELEX WooCommerce DHL Express. It will display DHL shipping services and real-time rates on your cart and checkout pages where customers can choose and order products. 
Features of ELEX WooCommerce DHL Express Free Plugin
Access real-time rates from DHL Express service.

Display DHL account rates and set up a custom method title for the DHL shipping.

Show Estimated delivery time on the Checkout page and adjust prices for DHL shipping services

Display only the cheapest shipping rates from DHL and enable UTF-8 support for special characters used in the Japanese or Chinese language.

Show breakdown charges for shipments and choose to deliver in every country or just specific countries. 
Let's see how to integrate this free plugin on your WordPress.
Just visit the above link and download this plugin. Now, you can install it through the option Plugin > Add New. Upload the plugin and click the Activate button when you are done.
If you want to get the detailed information you can read the documentation for the premium version of this plugin here: How to set up WooCommerce DHL Express in ELEX WooCommerce DHL Shipping Plugin with Print Label? It also includes all the premium features which we will discuss later. 
To set up this free plugin, go to WooCommerce > Settings > Shipping > DHL Express > General. In this tab, you can easily configure real-time rates and enter store details. Let's see how to configure each of these options.
Choose the Test mode if you are still in the development phase of implementing this plugin on your WooCommerce website. When you are completely satisfied and want to use DHL services for customers you can select the Live Mode. 
In DHL Account Information you can add the Account Number, Site ID, and Site Password which you can get after registering with DHL. Just follow this article step by step and create your DHL Express account: How to Create a DHL Express Account and Configure them in ELEX DHL Express Plugin? 
Click Enable Real-Time Rates, this option will display the DHL shipping rates on the checkout page when a customer tries to order a product.
When you select the Enable Insurance option it will provide insurance for the United States region and use the default currency for conversion. 
If you are facing any problems while displaying the real-time rates on your WooCommerce store you can Enable Developer Mode and see what issues you are facing and debug errors.
The Default Currency will change according to your Shipper Address, for example, we are using a Spain address above so it's displaying EURO as the default currency. You can easily add your store address and also enter the store information such as your Company Name, Email Address, and Phone Number. When you are done click the Save Changes button.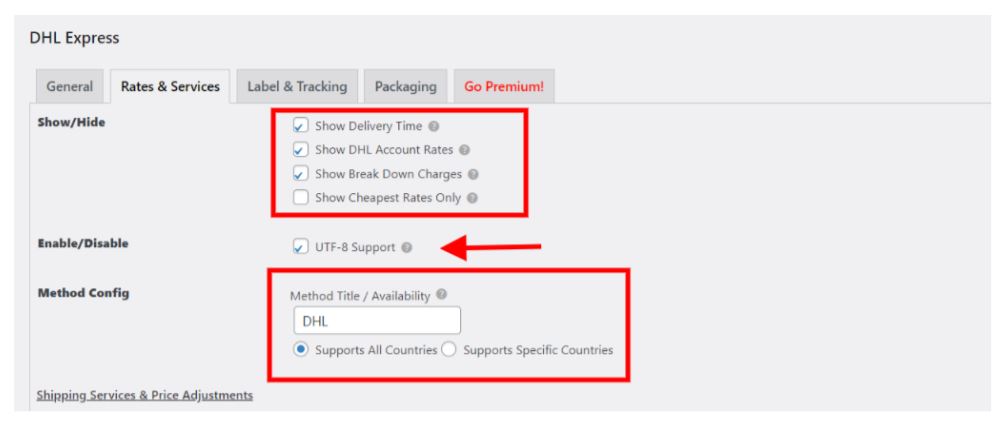 When you check the Show Delivery Time option it will display the estimated delivery time on the Checkout page. 
Show DHL Account Rates will fetch the real-time DHL account shipping rates. 
When you enable the Show Break Down Charges option, customers can view the breakdown of shipping charges on the cart and checkout pages. It includes DHL handling charges, remote area surcharge, and weight-related charges.
Enable the Show Cheapest Rates: Will fetch the cheapest rates and display them on the cart and checkout pages to the customers. 
UTF-8 Support: This option enables the support for UTF-8 characters for languages like Japanese and Chinese. 
In the Method Config option, you can assign a custom DHL method title or heading. You can also allow DHL shipping services to all countries or specific countries.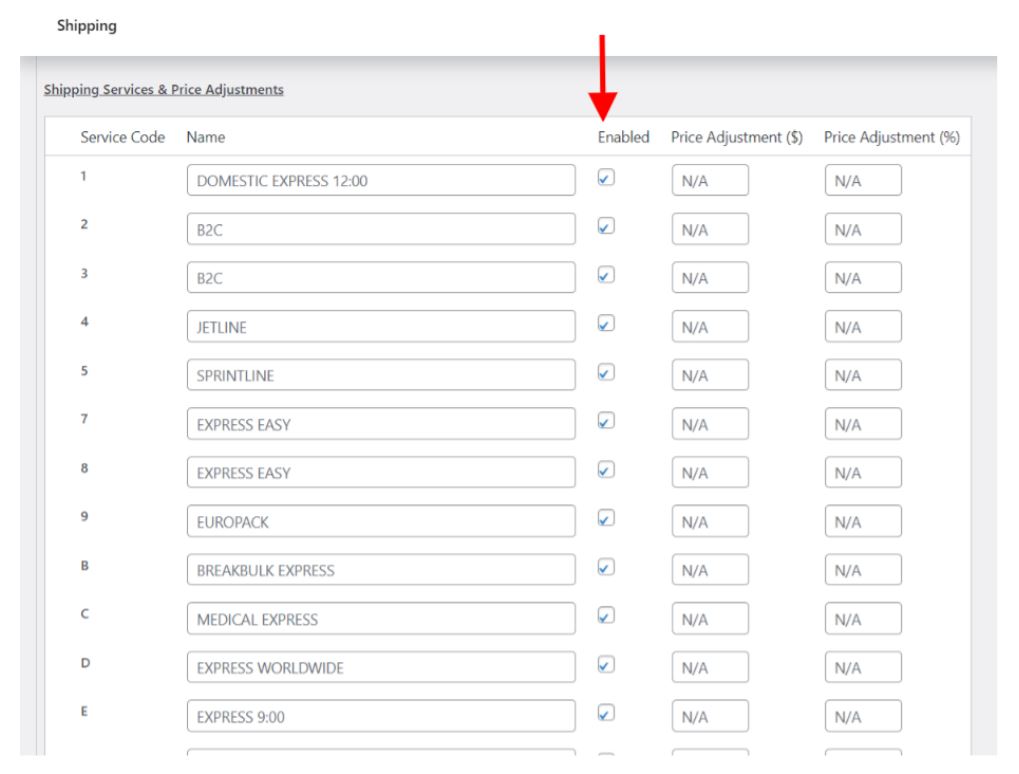 Shipping Services & Price Adjustments: Here you can check all the DHL shipping services provided for WooCommerce and supported by the plugin. You can tick the available services according to your preference. When you are done, click the Save Changes button.
After you are done with the customization you can see that DHL shipping services are displayed on the Checkout page and the Cart page. Customers can choose the available shipping services provided by DHL and order a product conveniently.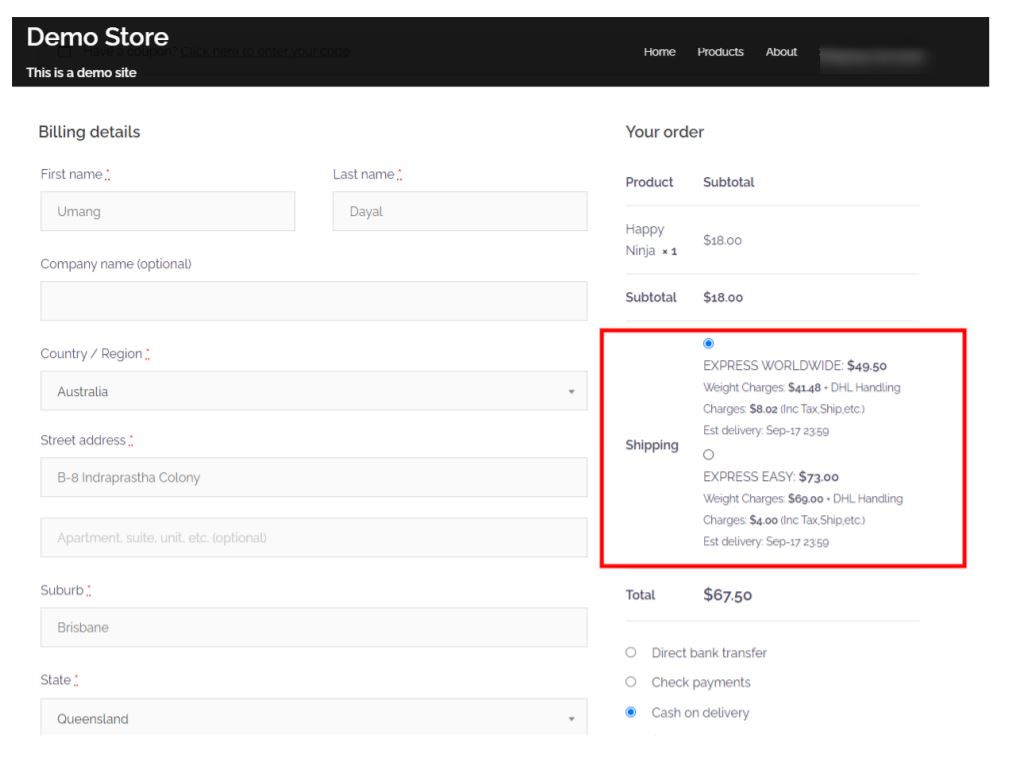 If you are looking to print labels, enable tracking features and manage packages, you can opt for the premium version for this plugin. Let's see what premium features you can use on your WooCommerce store.
Print Label with Postage: Create your own DHL shipping labels and download them easily in a PDF file format. Automatically pay postage on these labels with your DHL account. Customize these labels in the admin panel and select between international or domestic shipping labels with a tracking barcode. You can also print bulk labels (learn how).
Enable Return Shipment: You can configure the option for returned items, print DHL return shipping labels, and also explore the custom shipping services for return shipments.
Print DHL Archive Air Waybills: It works as proof of consignment to track your shipment, ensure the safety of the package, and custom clearance options for international deliveries. 
Print DHL Commercial Invoice: For international shipments you need customs clearance, and using this plugin you can easily create commercial invoices for your packages. Select the DHL Paperless Trade feature for sending the invoice information directly to customs via DHL and avoid physical copies. 
Add the Shipper Tax Registration Details: Take care of tax regulations in countries like New Zealand, Norway, Australia, and EU countries and deliver your products seamlessly with DHL.
DHL Shipment Tracking: After you have generated a label for your shipment you will be provided with a tracking number that can be used to track the current status of your shipment. You can also send this information to customers through the integrated email option in this plugin.
Parcel Packaging Options: You can choose to pack your items individually, assign custom boxes with correct dimensions according to the product size, and arrange their packaging based on weight.
To access all the features and create a seamless shopping experience for your customers, you can opt for premium services offered by this plugin or can use the free version for now. Just follow the above steps to add DHL shipping to WooCommerce for free. If you have any doubts or ideas to share you can use the comment box below.
Further reading
How To Integrate DHL India Shipping With WooCommerce?
Top 12 Reasons For Delay In Shipment & How To Resolve Them
What is Google Merchant Center? How to add WooCommerce Product feed in Google Merchant Center?
How to Get a DHL Account Number? Step By Step Instructions