Have you ever wondered how many sales you're missing out on due to abandoned carts in your WooCommerce store? As an eCommerce store owner, you put in hours of work to attract visitors and get them to add items to their cart, only to have customers leave without completing the purchase. 
The good news is you don't need an expensive budget to start recovering abandoned carts and boosting your sales. WooCommerce has built-in tools that allow you to see abandoned carts for free. 
In this article, we'll show you how to view abandoned carts in your WooCommerce store, as well as tips and a free plugin to start re-engaging customers who left items in their carts. Let's dive in!
What is an Abandoned Cart in WooCommerce? And Why Does it Happen?
Abandoned carts are a huge problem in eCommerce. An abandoned cart refers to when a customer adds items to their shopping cart but fails to complete the checkout process. There are a variety of reasons why customers abandon carts, including: 
Distracted:

Customers might start shopping, get interrupted, and then forget to come back and complete their purchase. 

Questions:

Customers might add items to their cart but then have questions about the products, shipping costs, or other details that prevent them from checking out. 

Better pricing:

Some customers abandon carts after finding a lower price for the same items on another website. 

Technical issues:

Website glitches, problems with payment forms, or other technical issues can cause customers to abandon their carts in frustration. 

Lack of trust:

Customers might not fully trust a website and decide to abandon their cart rather than provide sensitive information like credit card details. 
Abandoned carts represent lost sales and revenue for eCommerce businesses. Some estimates suggest that around 70% of online shopping carts are abandoned before checkout. This highlights the importance of reducing cart abandonment rates.
View Abandoned Cart Data in WooCommerce
You must log into your WordPress Dashboard, then head over to WooCommerce > Orders to examine the abandoned carts in WooCommerce. From here, you may get a list of every order, along with information about its status (finished, on hold, etc.). The state of an order as Pending Payment shows that it has been established but that no payment has been started; this is an abandoned order that, if left neglected for an extended period of time, would move to On-Hold and then Canceled.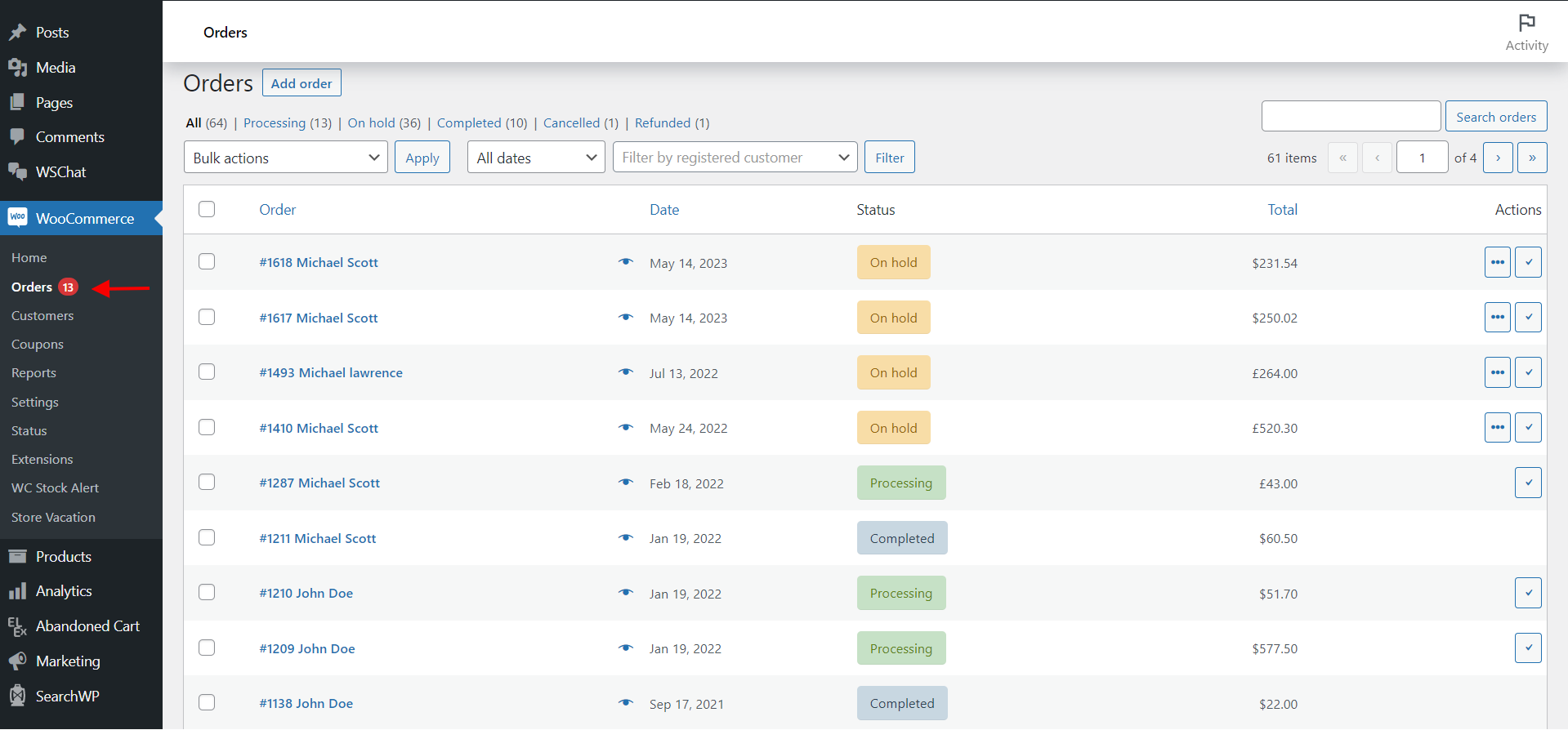 You may use the Advanced Filters option from the Show drop-down menu in your WordPress Dashboard > Analytics > Orders to receive better analytics. Select the desired order state by clicking Add Filter > Order status. This will provide information on the numerous orders made through your website.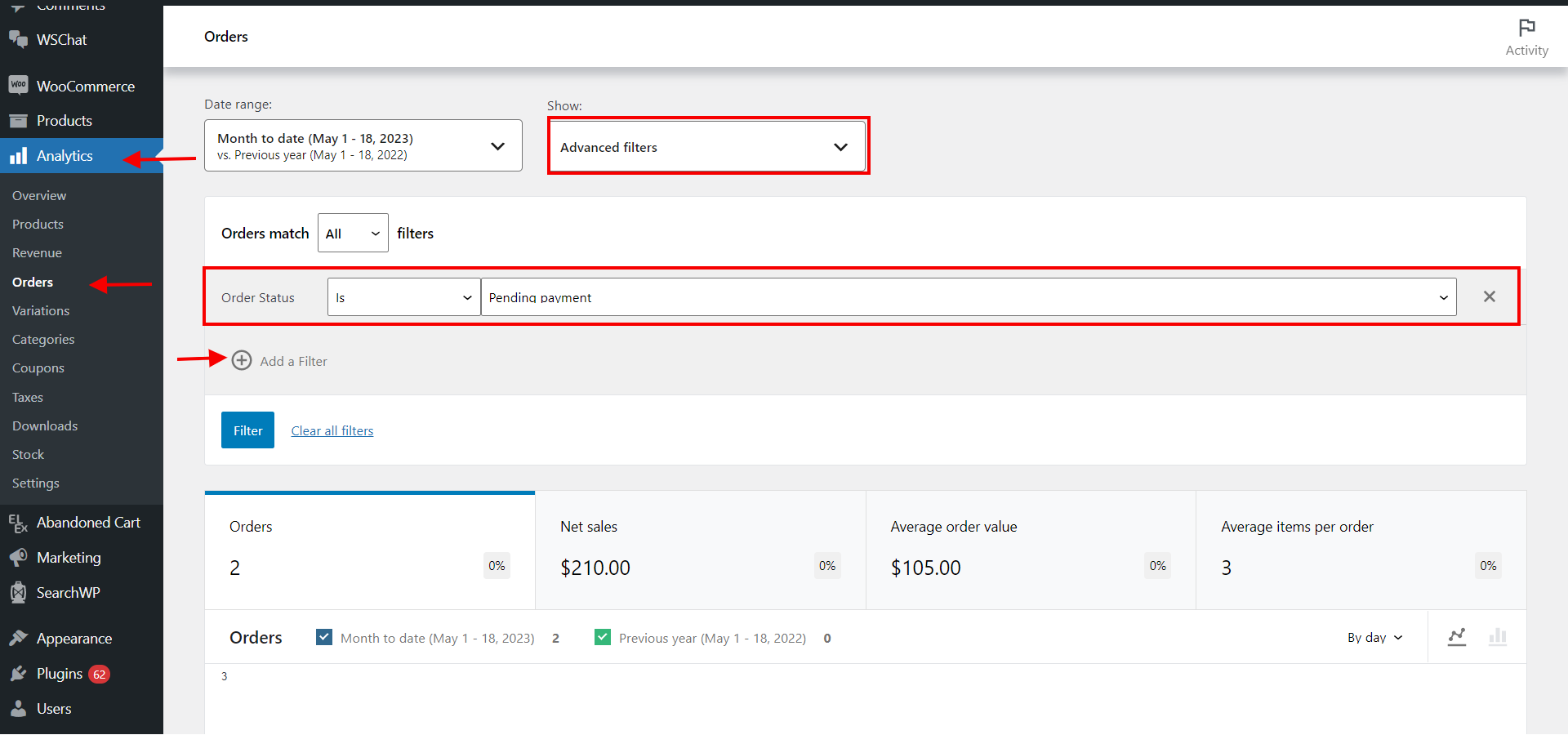 Additionally, you may also head over to WooCommerce > Reports. This graph will provide you with important information related to orders, customers, stock, and taxes. For the sake of viewing abandoned carts, click on the Orders tab. This will allow you to filter the following information based on a time period (7 days, 1 month, etc.)
Orders Placed

Items Purchased

Refunded

Charged for Shipping

The worth of Coupons used

Gross Sales in this period

Net Sales in this Period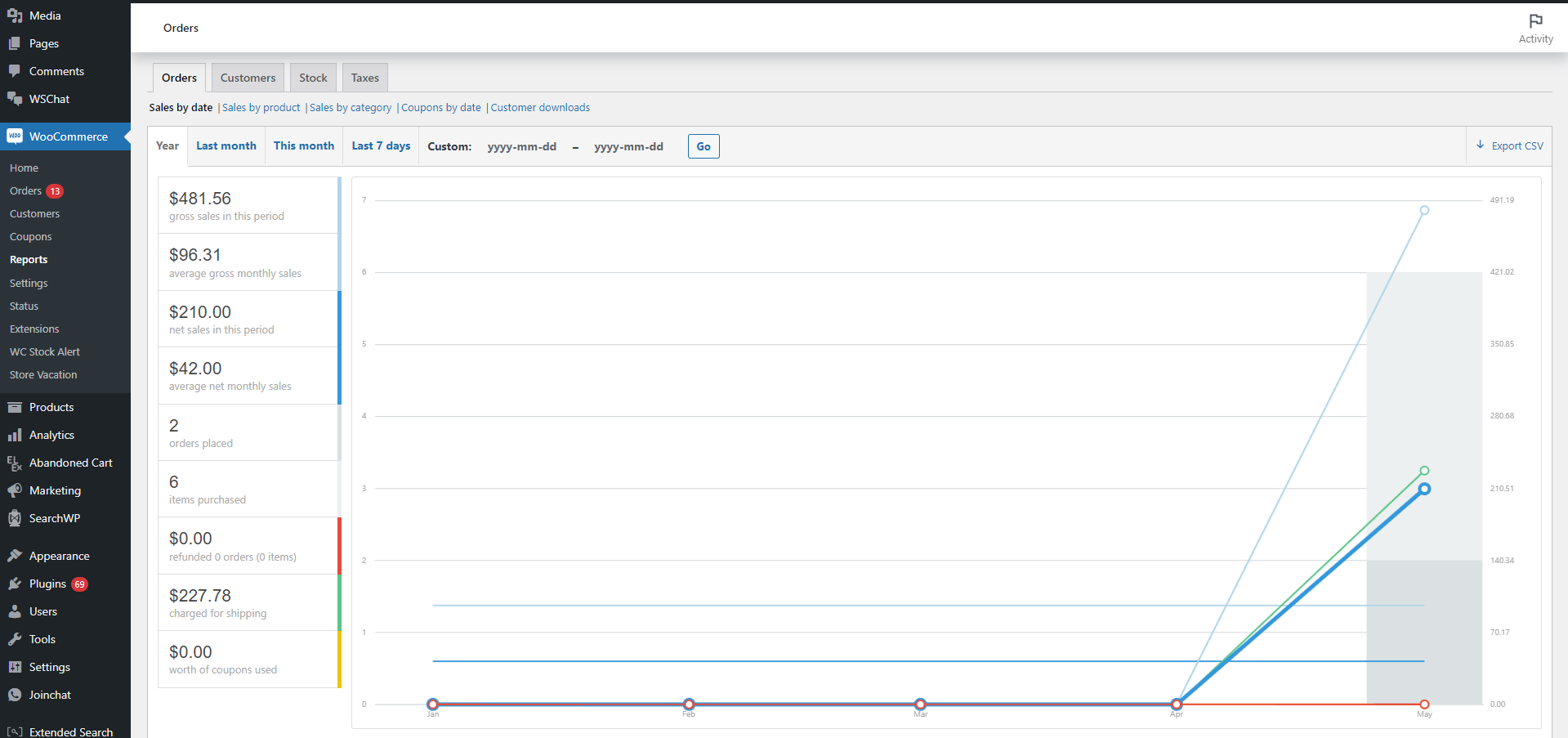 With this info, you have a few options to try and recover the sale:
Send an automated email reminder to the customer about their cart. This friendly nudge may prompt them to come back and checkout.

Reach out to the customer directly to see if they have any questions or need help completing the order. 

Check if the items in the cart are still in stock. If not, you'll want to let the customer know right away before re-emailing them.

Consider offering a small discount or coupon code as an incentive for them to come back. But only do this if it still allows you to make a profit. 
Monitoring your abandoned carts and taking action to recover lost sales can have a big impact on your store's revenue and success. The reports and analytics provide an easy way to understand the cause of cart abandonment, but cannot recover the abandoned carts unless you do something about it. 
In order to recover the abandoned carts, the best and easiest course of action would be to use a plugin.
Abandoned Cart Recovery Using a Free Plugin
The ELEX WooCommerce Abandoned Cart Recovery with Dynamic Coupons plugin is the best option if you want to automate WooCommerce's abandoned cart recovery process. With its robust features, you can quickly set up automated emails and discounts that will be sent out when a customer abandons their shopping cart without making a purchase.
Once the plugin is active, go to WooCommerce > ELEX Abandoned Carts > Settings to adjust your abandoned cart settings. You need to first modify the plugin settings.
Let's start by customizing the general settings before moving on to the email settings.
General Settings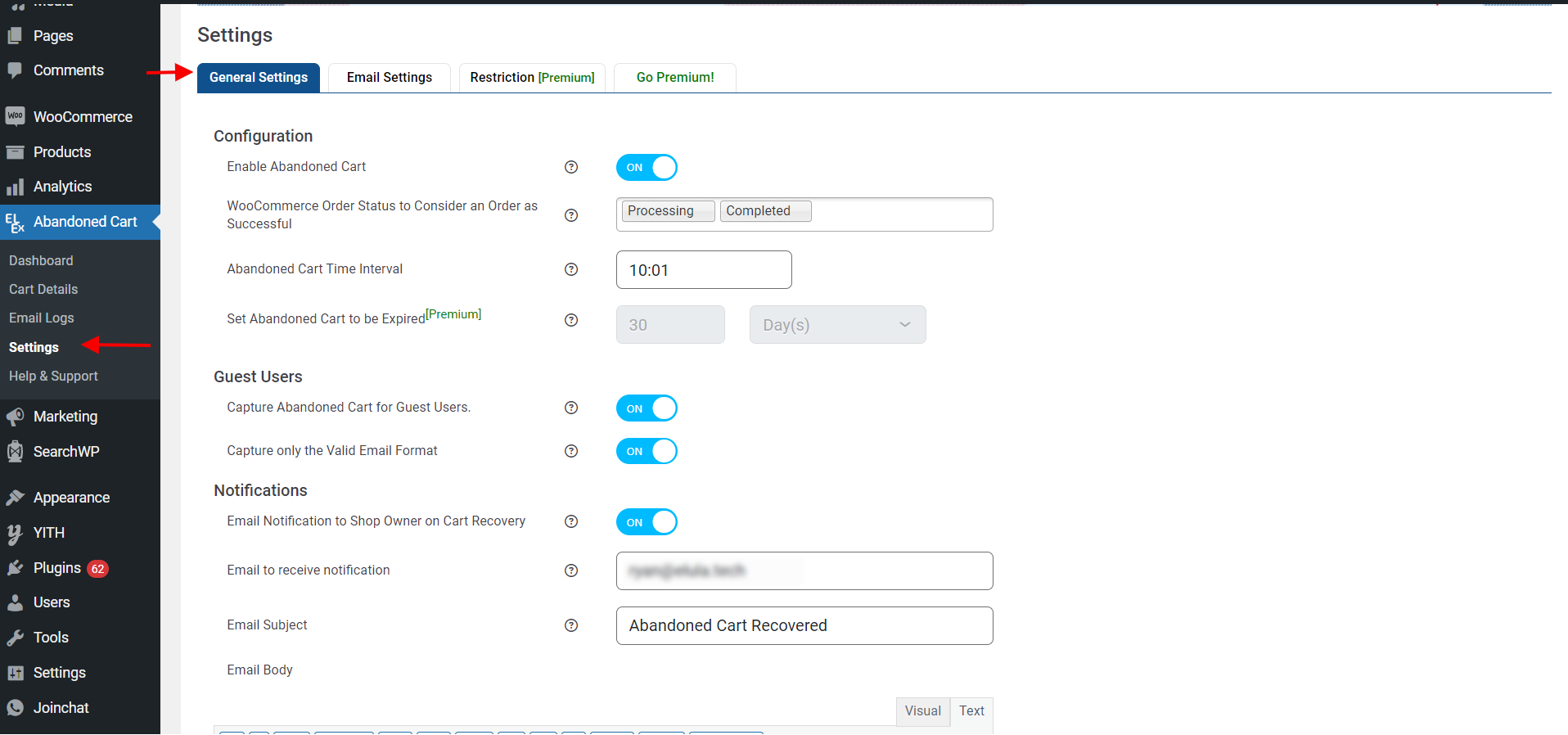 Select the WooCommerce order statuses that represent successful cart recovery, turn on the Enable Abandoned Cart button, and configure the order state to consider an order successful under General Settings to mark an order as complete.
If you wish to track abandoned carts for guest users, enable the Capture Abandoned Cart for Guest User option under Guest Users Settings.
You may customize the email's language and content as appropriate and notify the admin when a cart is recovered by turning on the option to Email Notification to Shop Owner on Cart Recovery.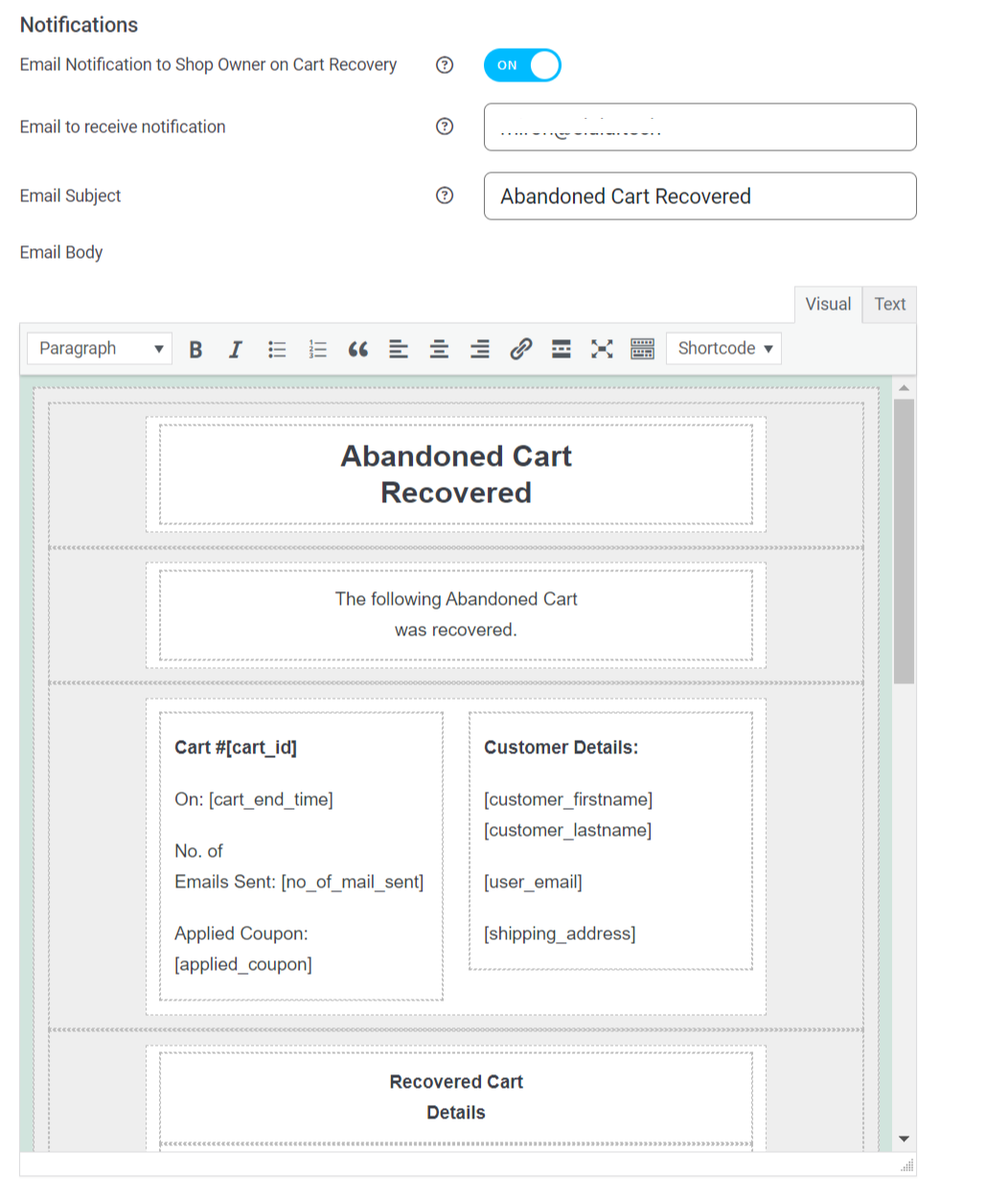 Go ahead and select the Email Settings tab.
Email Settings
You may modify the guidelines for sending recovery emails, their templates, and the addition of the automatically created discount coupons by using the three sub-tabs found under Email Settings.
There are several rules that may be modified to meet your own requirements. Once you decide which rules to add:
Go ahead and Click Add New Rule, provide an appropriate Rule Name, choose the AND/OR Rule Type, and then click Add Filter to save your changes. 
In this section, you may create, modify, and delete email templates. An email with the specially created template will be sent to the visitor's email address if a cart is abandoned. 
If you choose Add New Template, a new email template will be generated. You may add dynamic discounts to your recovery email in the area that follows.
On the Edit Email Template page, you may decide whether to upload a brand-new template or change an existing one, add a template name and email subject line, enter a coupon code, and do a lot more. 
Select the type of discount, the discount's dollar amount, and whether the coupon is valid just once. Then key in the promo code's prefix. The customer's email address or abandoned items may also be linked to the discount code.
You may alter the email text and add default values like [customer_firstname], [customer_lastname], [cart_products], [cart_link], and [cart_unsubscribe] by using the provided shortcodes. 
Once you've finished customizing the template, send yourself a test email to see how it appears.
Under the Email Triggers tab of the email settings, you may modify recovery email triggers. You may turn triggers on and off or delete them completely from this page.
Navigate to the Cart Details section at the end.
Cart Details
The Abandoned Cart Details page allows you to view all information regarding abandoned and recovered cart data.
And there you go! Within a few minutes, your WooCommerce store is ready to combat abandoned carts and automate the recovery process by sending abandoned cart emails such as the one below.
Additional Tips to Recover Abandoned Carts
Recovering abandoned carts can be a tedious process for newbies and seasoned store owners. While keeping in mind the above information, make use of the following tips to improve the recovery process.
Offer coupons and discounts
Once you've identified abandoned carts, offer customers special coupons or discounts to motivate them  to checkout. You can create coupons for:
A percentage off their order 

Free shipping

Buy one, get one deal (BOGO)
Send coupon codes directly to customers via email. Time-limited offers create a sense of urgency, so consider coupons that expire within a week or so.
Send reminder emails
Send friendly reminder emails to customers with abandoned carts. Let them know their cart is still waiting for them and provide a link to easily pick up where they left off. Keep the tone light and casual.
Offer live chat
For high-value abandoned carts, consider reaching out to customers via live chat. Politely let them know you noticed they didn't complete their purchase and ask if there's any way you can assist them or provide more information. Live chat allows you to have a real conversation and address any concerns or objections right away.
Make checkout easy
The easier and faster your checkout process is, the less likely customers are to abandon their carts. Ensure your store's checkout experience is seamless by:
Requiring as few form fields as possible

Offering guest checkout

Providing clear error messages if there are any issues

Giving shipping and tax estimates upfront so there are no surprises at checkout
Optimizing your checkout flow is one of the best ways to recover abandoned carts and increase sales. Focus on convenience and simplicity to give customers an easy path to purchase.
Conclusion
So there you have it, an easy way to check on abandoned carts in your WooCommerce store without paying a dime. Now you'll have insight into how many sales you're potentially missing out on and can work to recover them. 
Maybe it's time for an email campaign to remind customers about those items left behind. Or perhaps you need to make the checkout process even simpler. Whatever the case, you've got the data you need to make more sales and keep your customers happy. So utilize this data and the free ELEXtensions plugin to recover abandoned carts and increase your revenue.
We hope this post has helped you understand how to view abandoned carts amidst recovering them!
Further Reading