Shipping is the one thing that has posed challenges to even experienced shippers. Its complexities are the reasons that we witness a flourishing 20 trillion U.S. dollars (2017) logistics industry. And when you are 'just starting' with shipping, you will certainly need a helping hand. You can go for help in shipping from an industry veteran, a service provider or the internet. So in this article, we'll see 5 tips that will help you kickstart your shipping properly. The article does have a plot based on WooCommerce environment but the tips will be helpful to anyone looking for a beginner's guide to shipping.
If you don't plan your shipping strategy, you can end up losing customers and eventually generating lesser revenue. Your efforts for a robust shipping system start with showing a competitive shipping rate to your customers. This is followed by a safe delivery of the package. Finally, tracking and executing successful returns cement the probability of a happy customer. So, the following tips will help you manage your logistics in a better manner.
1. Know About the Factors Affecting Shipping Charges
Shipping Costs depend upon the following factors:
Product Weight
Product Dimensions
Sender location and Shipping Address
Additional Costs such as Tracking, Address Validation, Adult Signature, and Insurance
We'll see how product weight and dimensions are going to affect the shipping charges. Factors like destination and additional charges are self-explanatory.
Product Weight in WooCommerce
As the weight of the package is used to calculate shipping rates, you need to be careful with the weight of the product. Consider fragile products like a glass pitcher and it has a weight of a few pounds. This is where you need to be careful with the weights of the product. The actual weight of the pitcher should not be the weight you mention in your WooCommerce inventory.
The weight you enter here should include the stuffing you are going to use while you pack them in boxes. So, the first tip would be to include the weight of the product and the additional protective material like foam, bubble wrap, or any other stuffing material you use should be the weight of the product. This is important because this weight is sent to the carrier for calculation of live shipping rates.
In a different case, when you are describing the physical properties of a stuffed animal toy, be careful about the dimensional weight.
One thing that is worth mentioning is the weight of the box and the binding tapes used, should also be a part of the product weight when you are using the basic versions of our shipping plugins. All of the premium XAdapter shipping plugins have the option where you can assign boxes with their empty weights and the maximum box weight. But, the basic versions don't have this option. So while using the basic version, add the weight of the boxes and binding tapes with the shipping weight. Also, if you are going for individual packing or weight based packing, you should include the weight of the box and binding tapes in the product weight.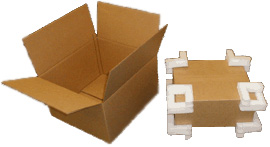 Product Dimension in WooCommerce
Product dimensions should not be confused with 'Shipping Dimension'. The weights and the dimensions of a product can be entirely different from its shipping dimensions. For instance, the product dimension of a smartphone can be 6.5"x 3.5″ x 1′ but the shipping dimension for the same will be somewhat similar to 8″ x 5″ x 4.5″. This is due to the fact that the smartphone comes with other accessories packed in the same box.
Now consider a cylindrical glass jar. The product dimensions here can be 5″ x 3″ x 3″, but this dimension should not be your shipping dimension as fragile products need to be packed with some padding and protective materials. So the dimension which you get after the padding should be your shipping dimension while using box packing.
The dimension you enter in the shipping tab of any particular product is the shipping dimension. And these shipping dimension is used by the shipping plugins to fill the inner volume of the default or the created boxes.

Different Ways of  Showing Shipping Rates
Now that you know the factors which affect the shipping rates, you can focus on ways to show these rates to your customers. There are two ways of showing the shipping rates in WooCommerce. You can choose from the classic (manual) way or install a plugin that automates the process. Let's see how?
Manual
You can set shipping prices based on shipping destination through the WooCommerce Core Shipping settings. You get to create shipping zones and make them precise by using pin codes. So when the shipping destination lies in a particular zone, the flat rate you set will be shown to the customer. You can create multiple zones so that you put reasonable shipping charges in them. The rates here will be a flat rate for a particular shipping zone. Other shipping methods available in the core options are Free Shipping and Local Pickup. You can calculate standard shipping rates through the calculators in different carrier websites.
A table rate shipping plugin will help you simplify the manual shipping rates. The plugin helps you assign shipping rates based on different factors like weight, categories, locations etc. Here is how you can hide other shipping methods when free shipping is available.
Automatic
You can alternatively use shipping plugins for WooCommerce. Plugins give you a convenient way of calculating the shipping rates. The carrier API automatically calculates the shipping rates based on the weight, dimensions and the locations in real-time. That is the main feature present in the basic shipping plugins.
The premium plugins help you in multiple ways. You can
Print postage-paid labels
Let your customers track parcels automatically
Get multiple built-in advanced algorithms for efficient packing of products
Services like Stamps.com and EasyPost provide you discounted rates for USPS postage paid labels.
Play It Smart with Handling Charges
Automation is going to curb a significant amount of your shipping expenses. You can also get a larger proportion of the packing supplies for free, but this can't eliminate handling charges. So you'll have to think of ways you can fit these expenses somewhere. You can be very clear and mention handling charges separately in the charge breakdown. Alternatively, you can calculate the total handling charges and distribute it among the costs of your best-selling products. If you choose a transparent way, customers are observed to have readily accepted such charges.
Our premium plugins have the feature where you can adjust the shipping rates based on $ or % of the rates returned by the carriers. For instance, if the real-time rate is $10 and you have chosen to adjust it by adding $1. In this case, your customer will see a shipping rate of $11. And if you choose to include 10% as the adjustment, your customer will see a shipping rate of $10+ (10%of 10) = $11. This feature can be handy in case of dealing with handling expenses.
2. Choose the Best Carriers
Best carriers for you should not mean the 'best carrier in the world'. It should be best for your business. You should choose the carrier which provides:
The cheapest shipping rates
On-time delivery to both Domestic and International destinations
An established infrastructure
For instance, USPS is a service which has its presence in all regions of the United States. It provides the cheapest possible shipping rates and it does this with the least possible time. You can also get free packing supplies from USPS. When it comes to international shipping it's better to have a service that has its own infrastructure in the destination country. For instance, DHL and FedEx are the most extensive carriers and have their multiple branches in all important cities around the world. So, these carriers will help you in case USPS does not deliver to a location. If you don't want to go for multiple integrations, EasyPost brings together around 110+ carriers under its umbrella at very little cost.
Business Accounts
When you choose a shipping carrier, you should try to get a business account with it. Business accounts come with features like discounted shipping rates, online tools to manage your account, and a representative to help you out with issues related to packing. When you try to register for a business account you will either need to submit your details online or you'll be asked to schedule a meeting.
When you want to print shipping labels from within WooCommerce a business account becomes a necessity. For instance,
Other services like FedEx, DHL, UPS, Stamps.com, and EasyPost are slightly flexible in terms of account types.
3. Know the Customs Regulations
If you are shipping products internationally, make sure you have relevant documents ready before you ship them. These documents should contain details like sender, the product description, package details, and necessary instructions. You can find a complete document set at the Post Offices or on the carrier's website.
A good research on what products are allowed to be shipped from your country and what is restricted in the destination country will be helpful. This will make you aware of some weird restrictions on imports. You don't need to remember a complete list of restricted items, but knowing all about the products you sell will be enough.
Tariffs & Duties- Different countries charge different amounts of tariffs on imports. It also differs on different products types. So mention details about these charges in the product description so that customers don't get surprised while receiving the product.
ELEX WooCommerce DHL Shipping Plugin with Print Label has the option where you can choose the one who pays for the tariffs if there is one.
4. Don't Just Pack, Pack Efficiently
If you have somehow optimized your product's dimensions and the packing volume of packages, it is well and good. But if it feels that you can still pack products in a lesser number of boxes rethink your packing process. A stack-first packing algorithm or a weight-based packing will be significantly helpful to you. Remember, that no packing algorithm is perfect for all products, so go for different algorithms for different products. Here is a comprehensive guide to Box Packing.
Second, go for the economically cheaper options of packing supplies. USPS Flat Rate Boxes are available for free and are strong enough to carry weight up to 25 lbs. Poly mailers are a great option too. These poly envelopes weigh less, which reduces shipping costs. Products of different shape and weights can easily fit in these packets, making them more useful. Australia Post Satchels are a great example of this.
Find more ways to save extra expenses on shipping.
5. Think of Insurance of Packages
The box you send to your customers represents your brand. So you take the best packing materials, stuff package for safety, paste the labels and ship it with the best carriers. And even after all these safety measures, if the product gets lost or damaged, it will pose two threats to your business. One, it may hamper your brand's image and second, you'll lose a product from your inventory without getting paid. On top of that, you'll spend more on shipping the product again. So it's a good idea to have your packages covered.
Most carriers, insurance companies, and technology companies (Stamps.com & EasyPost) provide free insurance up to $100. When the declared value of the product is high than $100, you need to buy insurance for it. When you are not sure of about the safety of the package just buy insurance for it. This article tells how and when it is good to buy an insurance?
Closing Comments
Hope that the article helps you in multiple ways. Remember that a close study of your product properties, shipment volume, and a reliable carrier are the key factors of your shipping strategy. If you have further questions about WooCommerce shipping or the WooCommerce integrations of your favorite carrier, get in touch with our online support.
---
check out the product documentation section for more related articles.
You can also check out other WooCommerce and WordPress plugins in ELEX.