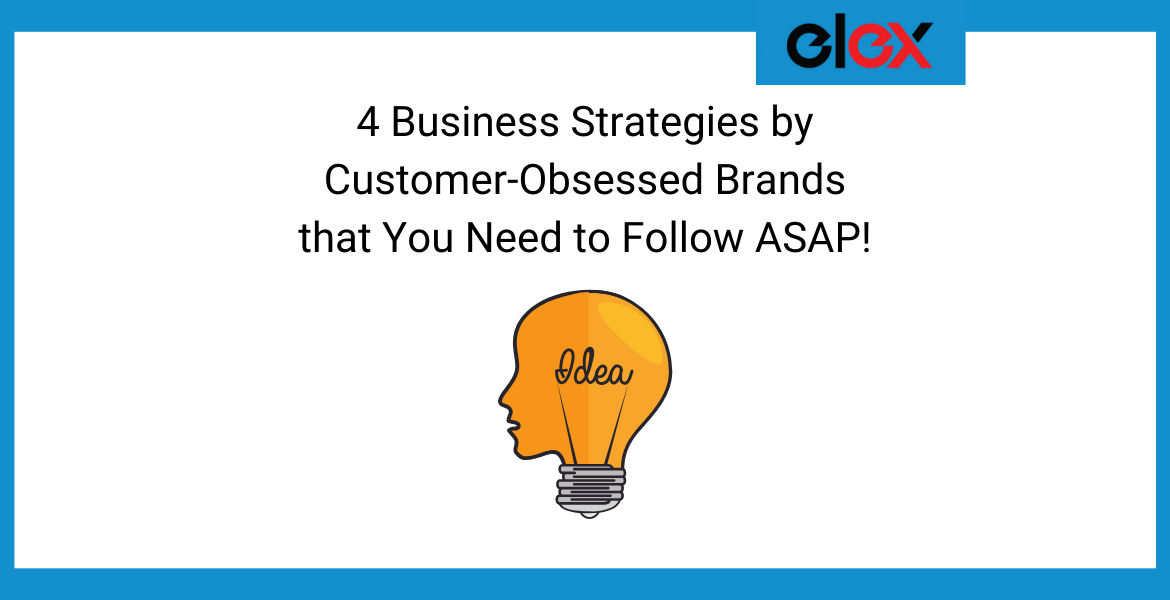 4 Business Strategies by Customer-Obsessed Brands that You Need to Follow ASAP!
Ever wondered what made Apple such a big name?  Or how a newly born company Oneplus, became the flagship killer for many established brands?  Or how Amazon managed to be consistently at the top when it comes to the internet retails?
I suppose you may have wondered that. So in this article, we will discuss some of the reasons which made possible all the above things.
1. Customer obsession
When we look at the business strategies of all the above-mentioned brands, one thing which is common is them being customer-obsessed to the core. Being customer obsessed, these brands are well-assured that even if their products may or may not be the most bought ones, but they will be happily welcomed by their loyal customers. Customer obsession takes away the brand's focus from a widely spread market to just those customers who have been loyal as well as satisfied with the brand.
Say for example; Apple doesn't have to compete to capture the market from Microsoft or Google. It doesn't matter to them if a person who uses a PC, is not buying a Mac and using it. Instead, Apple has its focus set on the fact that a person using a Mac, should not feel the need to go and buy a PC.
To read more about Customer Obsession, click here.
2. Overall customer-centric approach
Those days are long gone when things like internal competition, price, market share, etc. decided the fate of a brand. Today, the only thing that can make or break a brand is the customer. You need to be customer-centric to the most possible extent. The brand, its products, its marketing, and price; all these things need to be customer oriented.
How does Apple manage to compete with Microsoft in the OS and computer's market?
The former's products being expensive than the latter.
Microsoft having more customers than Apple
Microsoft offering more functionality than Apple.
Then how and why?
A simple answer to this question:
Apple is way more customer-centric than Microsoft!!
Apple knows what its customers need, and never fails to deliver them that!!
3. Flexibility to change the business fundamentals
Today, there are fewer chances that a new idea can be more successful than an existing one. Having a new idea or innovating something new doesn't necessarily mean that it will fulfill the needs of the customers. If you have something new to offer to the customers, the best thing you can do is to wait for the right time when the customers will be ready to welcome a change. If they need it, you give it to them. Otherwise, the product will be discarded from the market like it was never even there.
1992: Crystal Pepsi was launched.

1993: the production was stopped.

Reason: the product failed to meet the customer expectations, who didn't appreciate the fact that the beverage didn't taste '100%' like original Pepsi.
Its inventor, former Yum Brands (KFC, Taco Bell, Pizza Hut) CEO David Novak said,
 …..I learned there that you have to recognize that when people are bringing up issues, they might be right!" Novak said. The next step is making the effort to find evidence that either proves or disproves these issues and make your decision accordingly. Then, the final and most important step is explaining why the decision was made.

"If you show them that you've listened and addressed their concerns, then you've given them the input opportunity they need to get committed … [and] then they're going to be more committed to the solution,…
4. Understand customer retention is more important than getting new customers
Which company doesn't want to increase the number of people consuming its products? Each and every company does. But what is more important – getting new customers or retaining old ones?
Customer retention directly as well as indirectly shows that you care about the customers and not just the increase in customers. Be it 50 customers or 5 million, if you are able to satisfy their needs, they will be there forever.
Customers are very impatient when it comes to handling inconvenience. The best thing to do with customers is keeping them engaged in something. Till the time you are developing something don't just expect that the customers will be sitting there waiting for you.
Some popular practices you can follow to keep your customers engaged:
Create an online platform showing the updates regarding an upcoming product, its features, price, etc.
Call your customers; talk to them. Give them a surprise call just to know what they think about your product or brand.
Launch a loyalty program under which the customers using your products more often can get benefits through reward points.
Attend your customers, especially during issues. Just assure them that their issue is being taken care of and keep them posted on any progress.
Amazon Prime; a loyalty program launched by Amazon which offers benefits to its customers on a 1- month Free Trial and if satisfied then only additional charges are applied.

Also,
Amazon has empowered its customer support staff to issue free gift vouchers if any customer is unhappy or dissatisfied with the service. This may not be enough for the inconvenience faced by the customers, but it shows that they genuinely care about customer's convenience.
So these were some of the strategies that have already been implemented by more than one brand. Being customer obsessed has its own risks as well as perks. But by learning from past experiences you can surely decrease the possibility of a risky situation significantly. Let us know your thoughts on the matter, by leaving a comment.
---
Check out WordPress and WooCommerce plugins in ELEX.